Yolanda and Ken set out to find a great beach-front destination to say, "I do," and boy did they nail it. These two were married in an over-the-top St Thomas destination wedding at the Frenchman's Reef and Morning Star Marriott Beach Resort. Not only did they greet their guests (who came from ALL over) with a Mardi Gras themed welcome dinner, but they also treated their guests to nightly beach bonfires and a beachside wedding they'd never forget. The view alone says enough, but I'll say a few words…
Creating memories in an unforgettable location was the M.O. of Yolanda and Ken when planning their destination wedding in St. Thomas. Bringing the family together to celebrate love and longevity was a theme. My favorite unique spin on tradition was when they eventually awarded the bouquet and garter to the couple in attendance who had been married the longest. What a great way to honor a lifetime of commitment!
And good God, those pictures of them on the shore at sunset… the folks at Blueglass Photography really created one of those "picture says a thousand words" scenarios. Yolanda and Ken look divine, in love and just downright gorgeous. Her backless lace dress was sexy, beachy and still every bit as classy and pretty as can be. In keeping with the theme of the island, some of the locals showed up… and by that, I mean lizards! Naturally occurring iguana wedding crashers are a rarity – What a hilarious addition to the joyous occasion full of music, dancing, and a soul train line.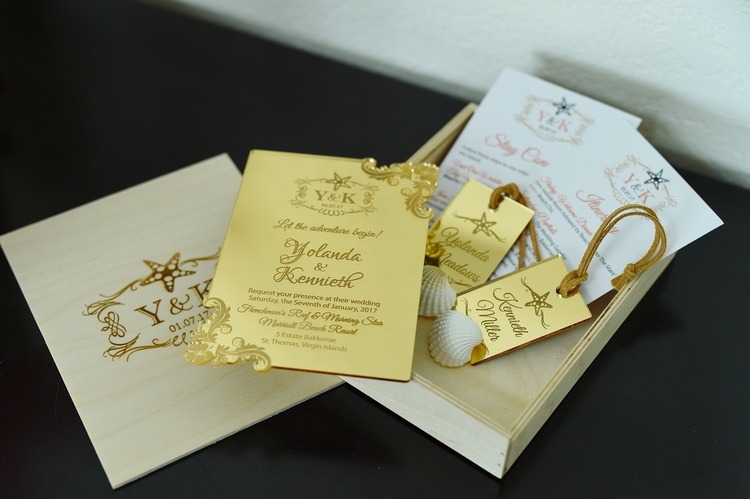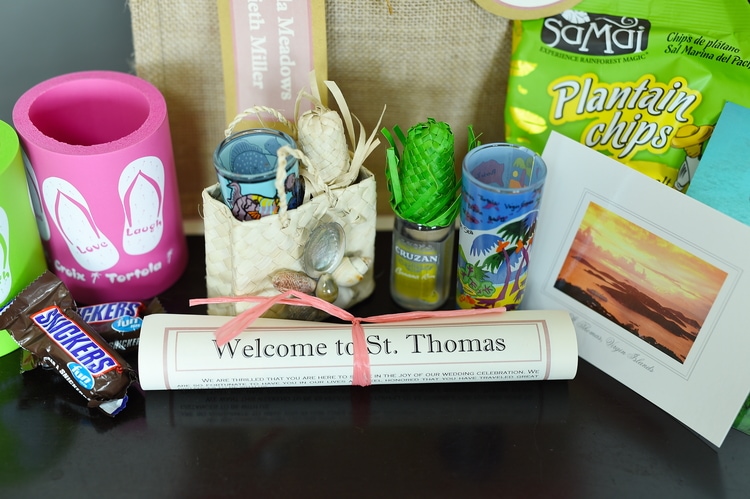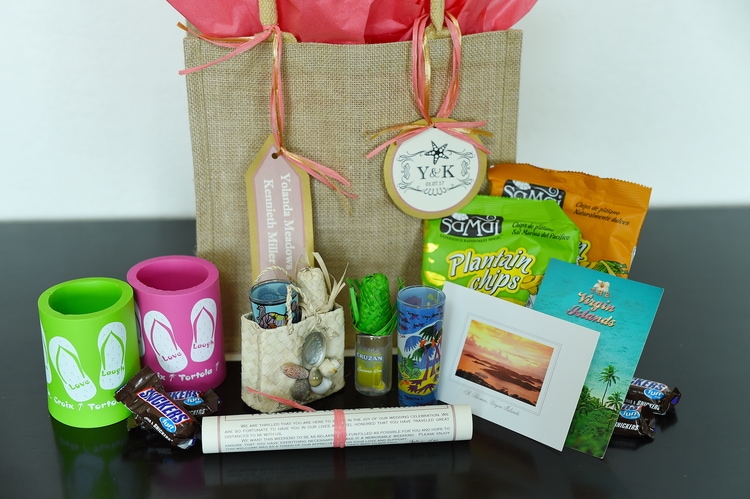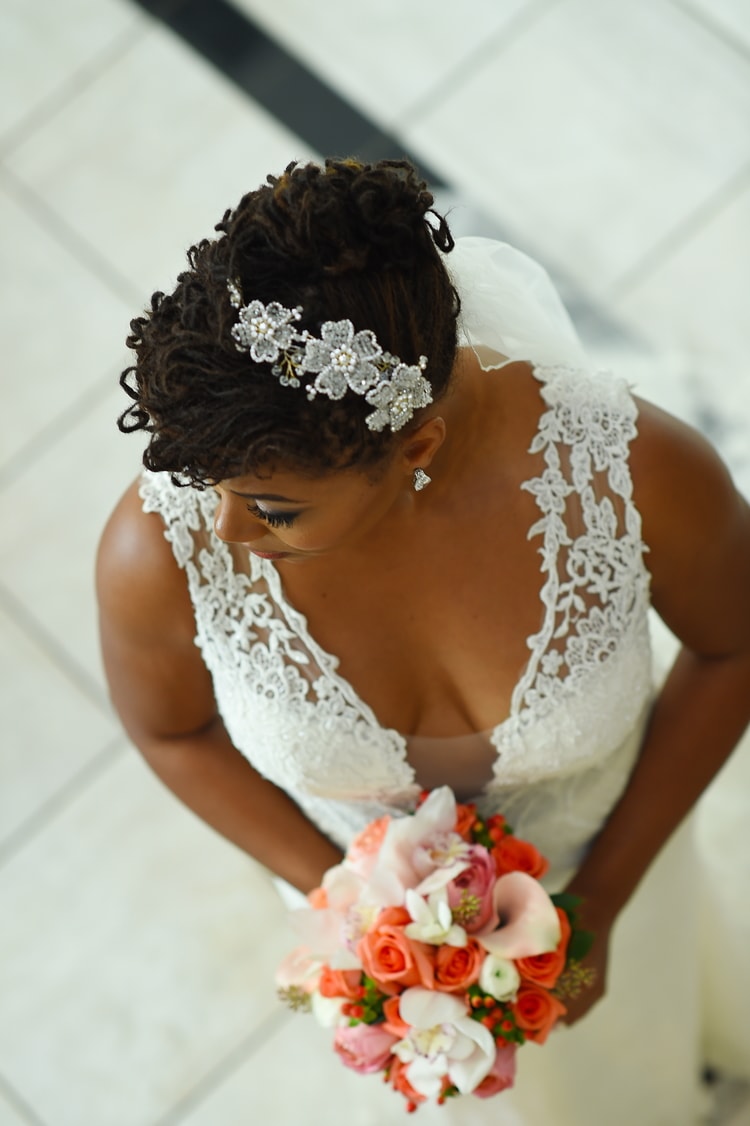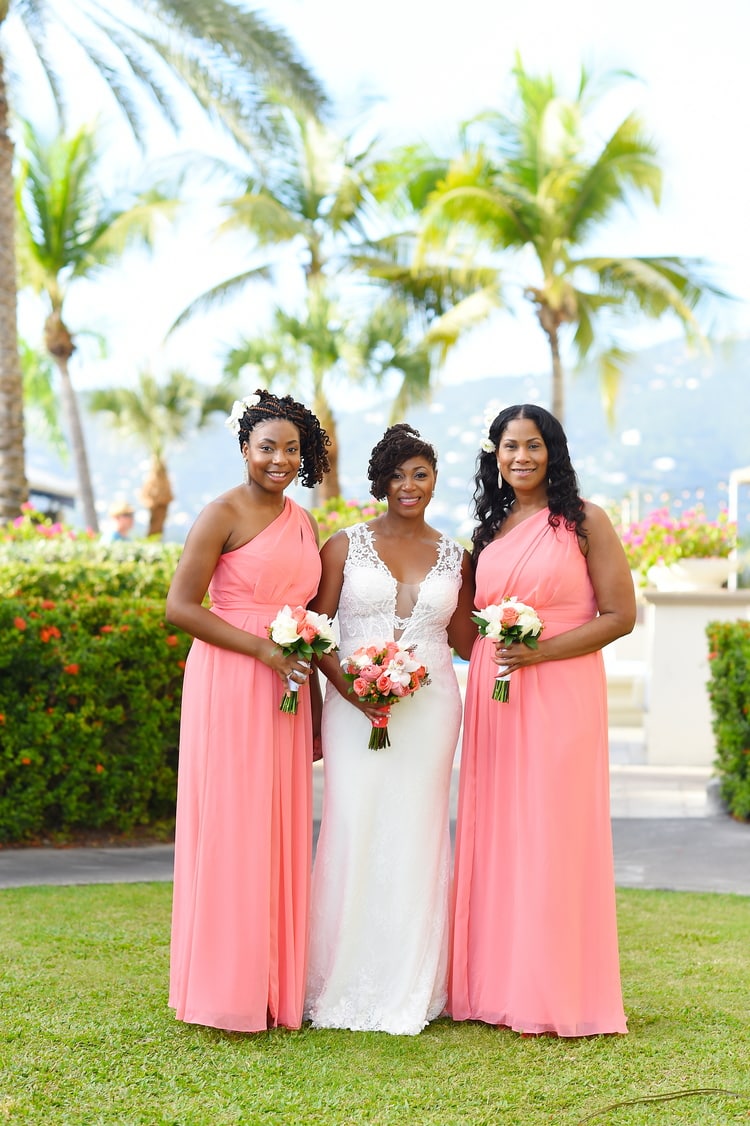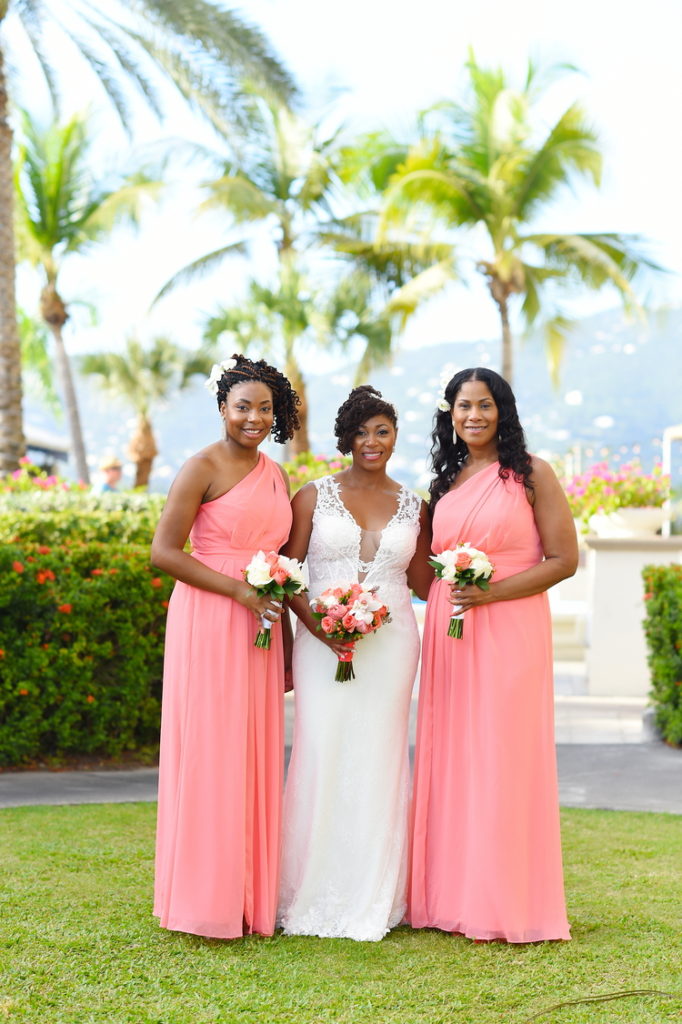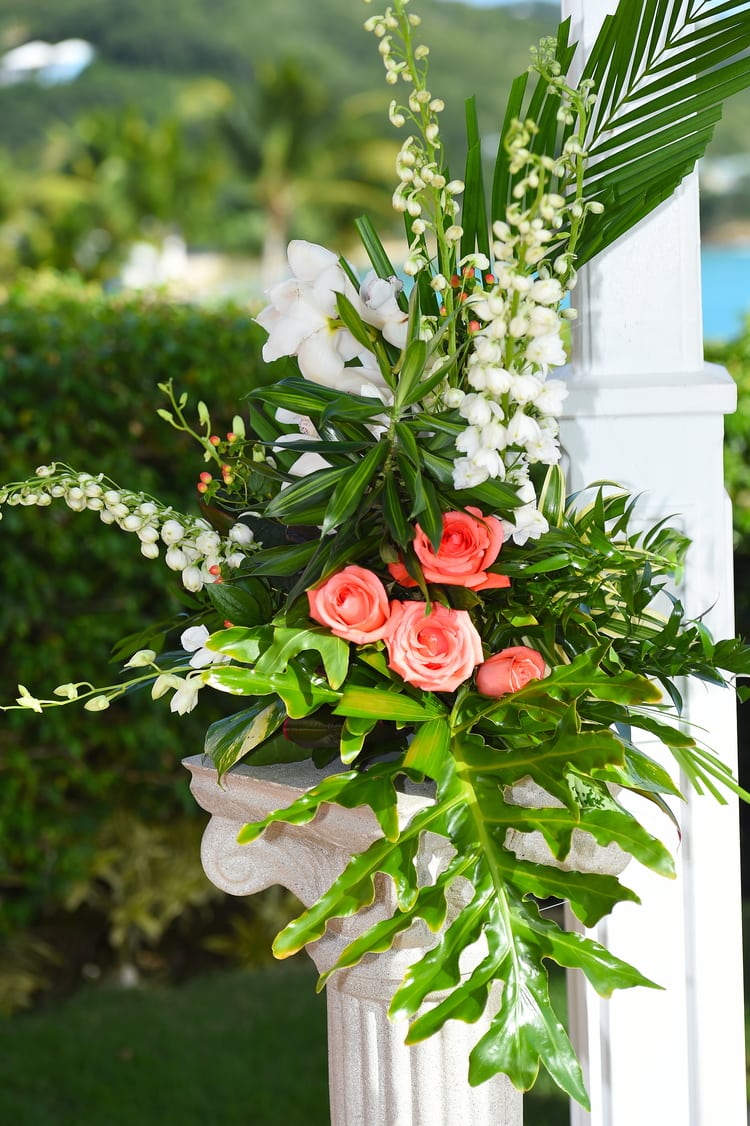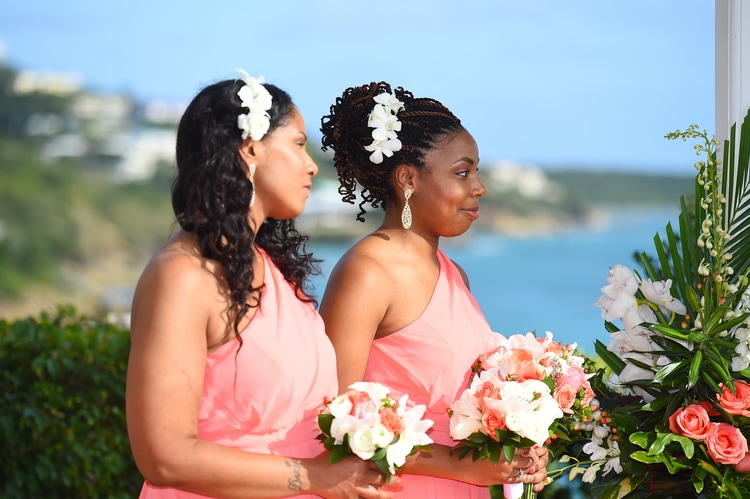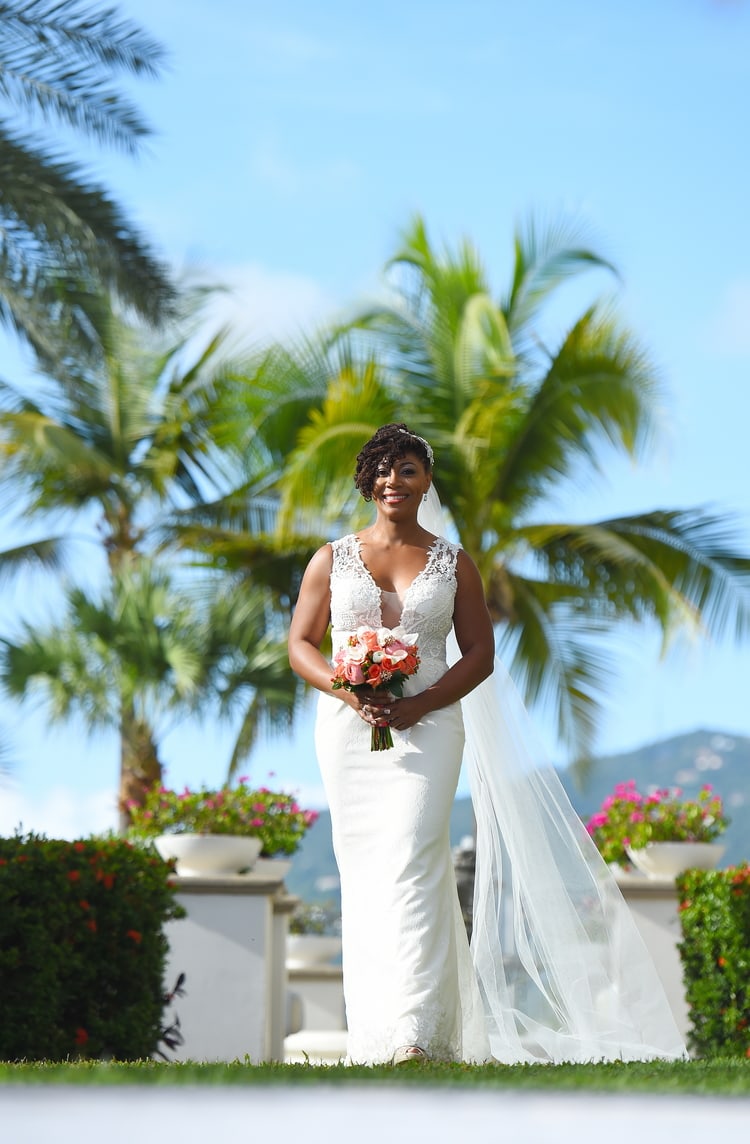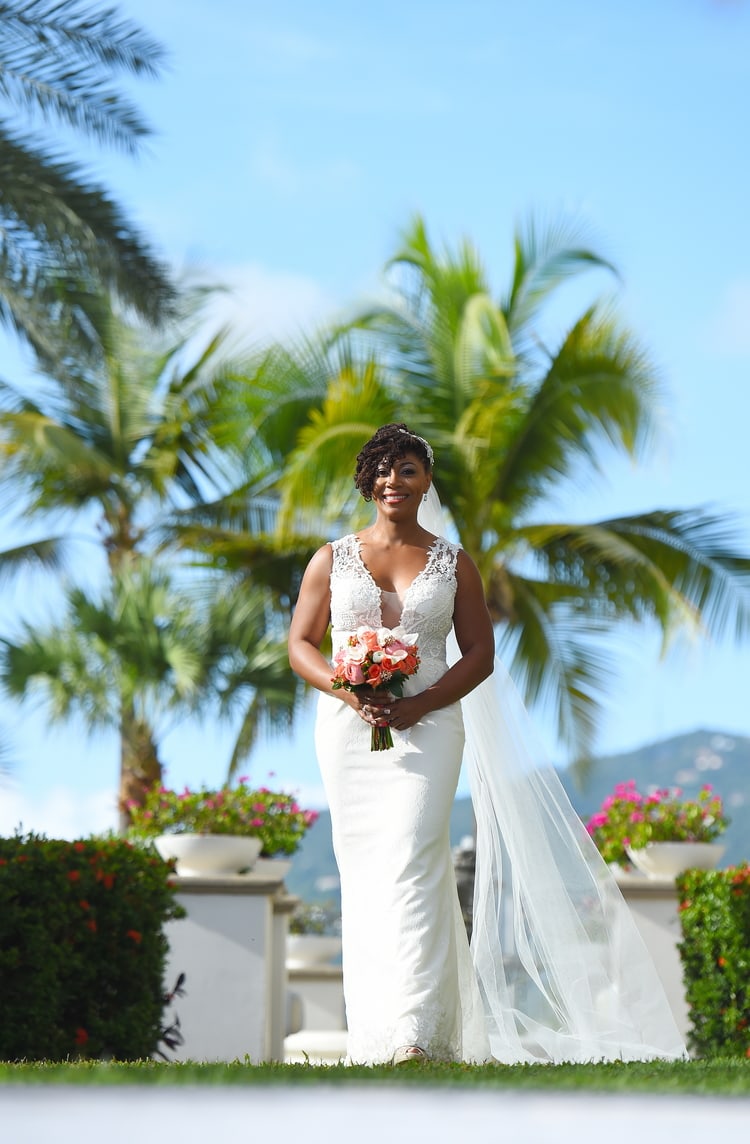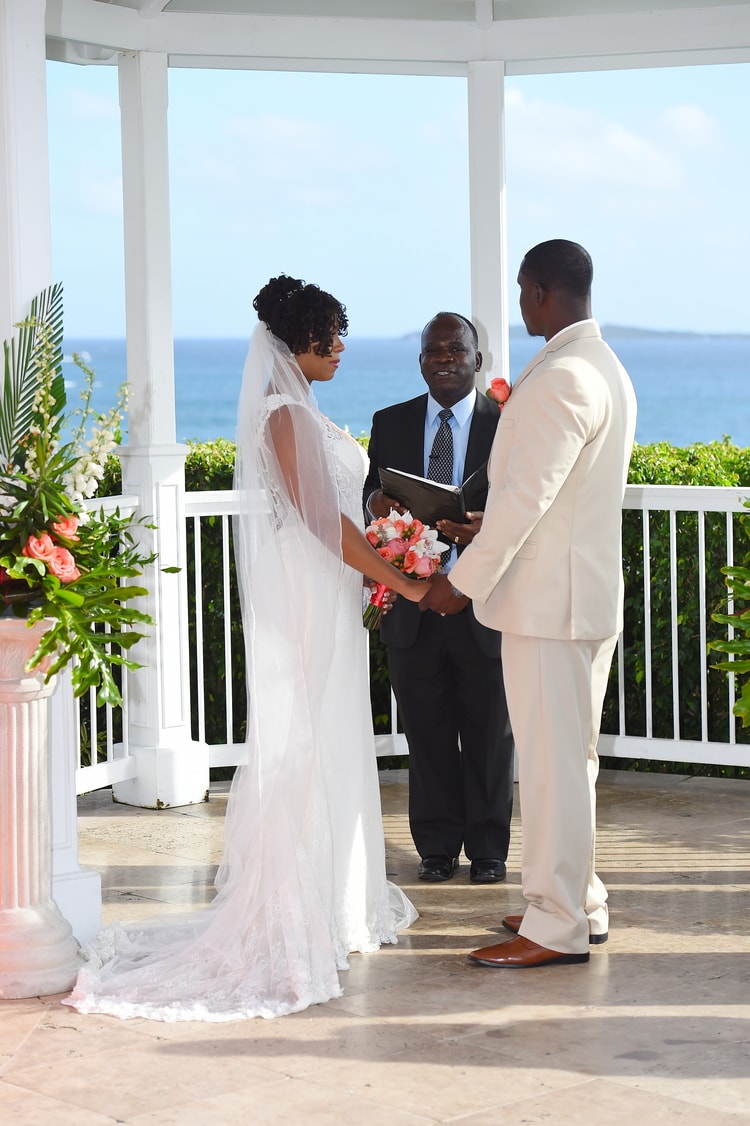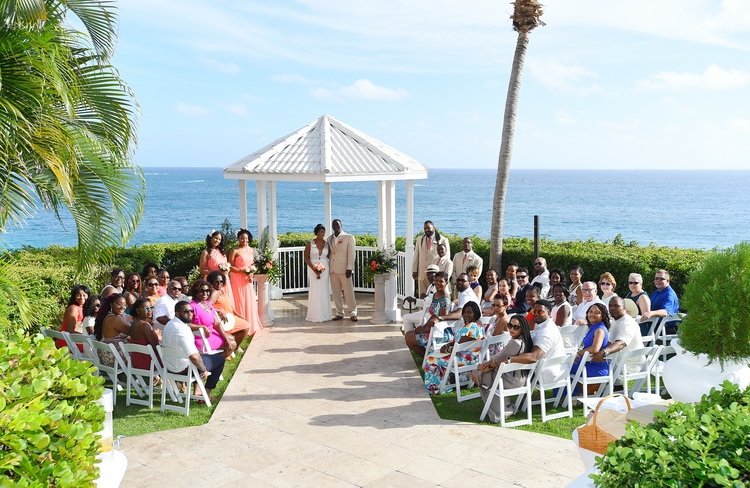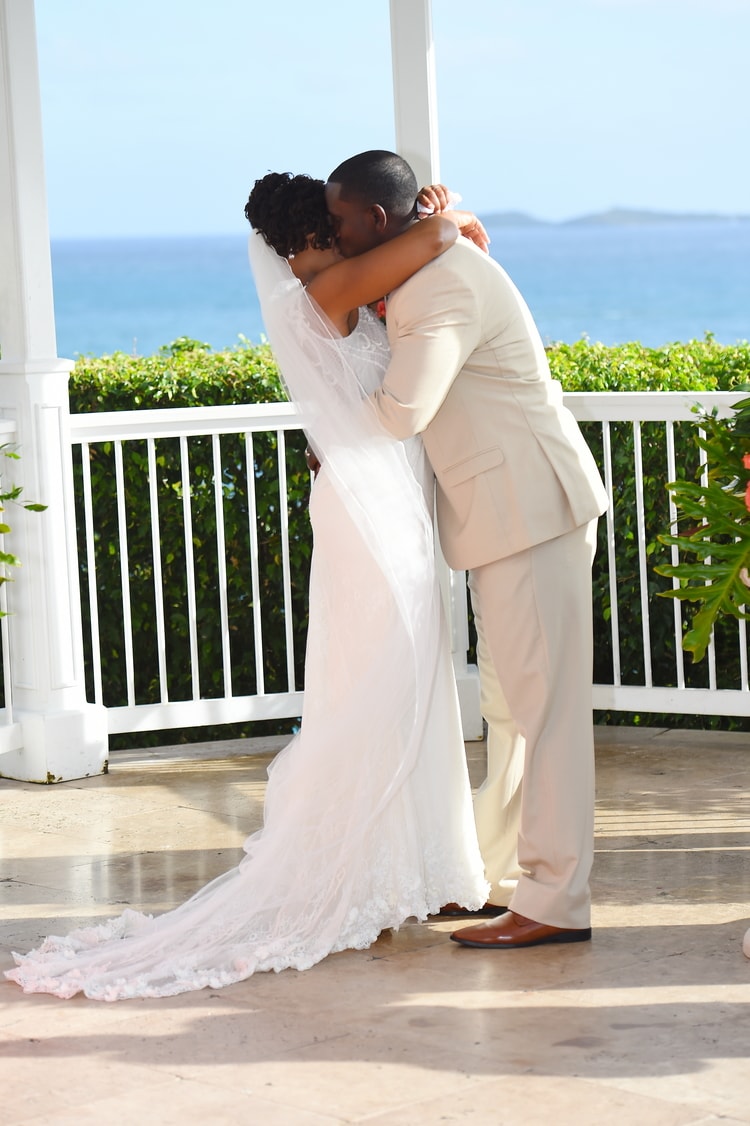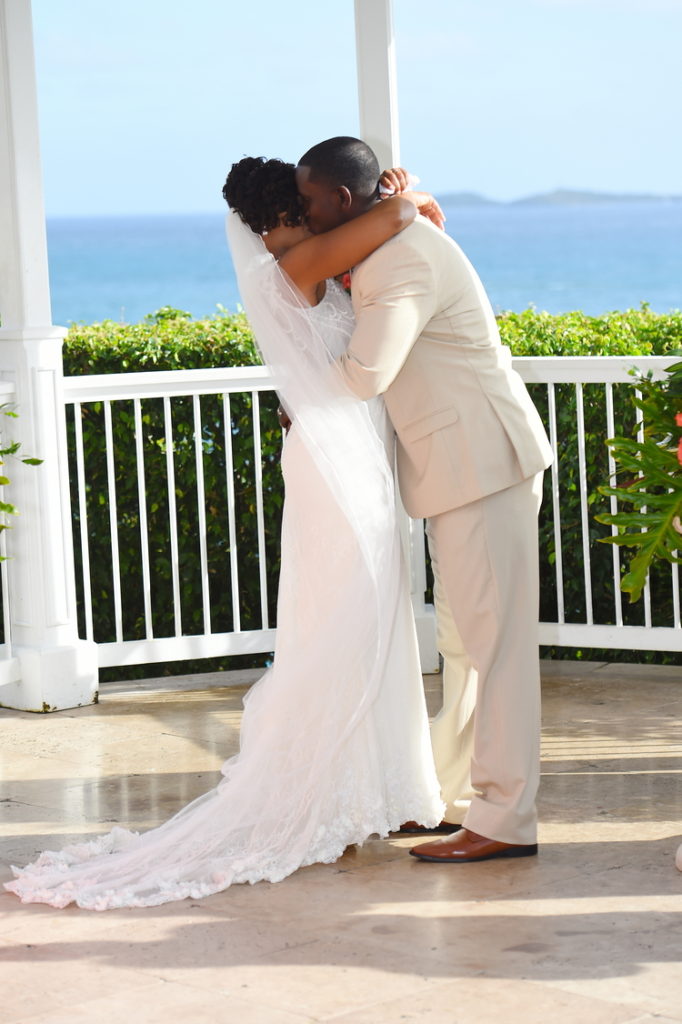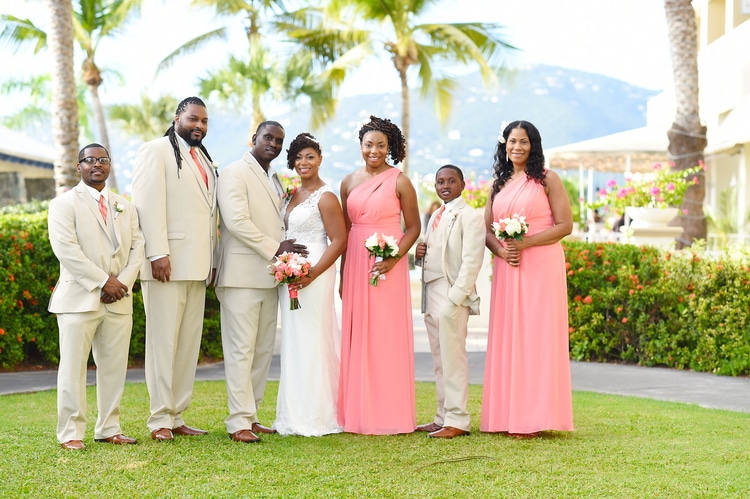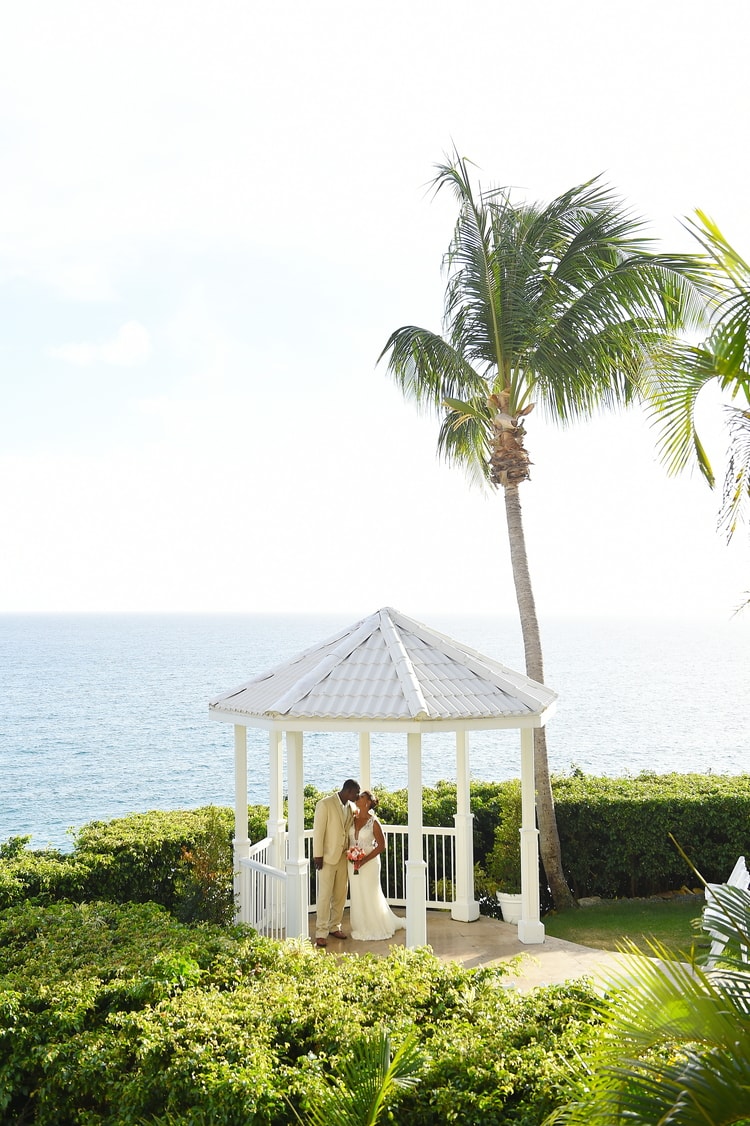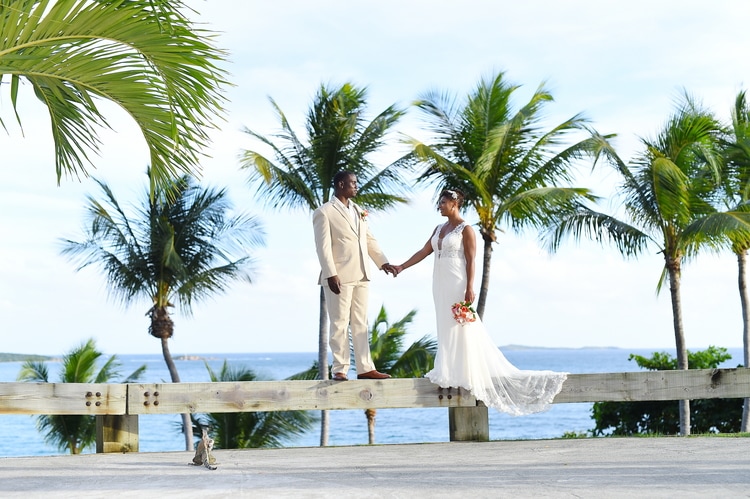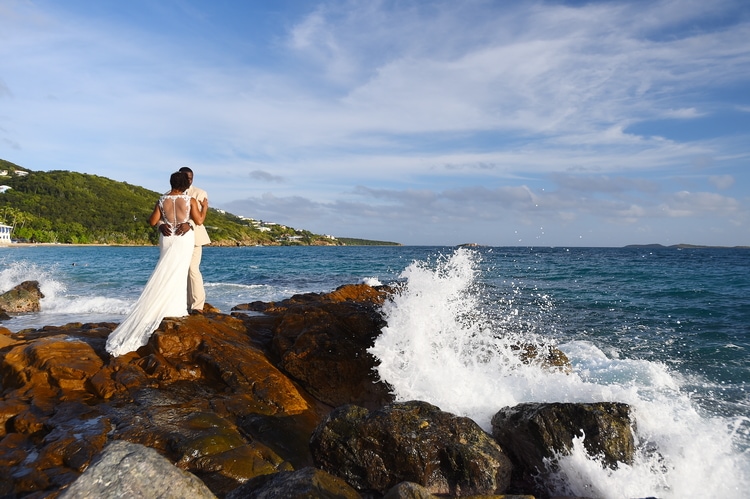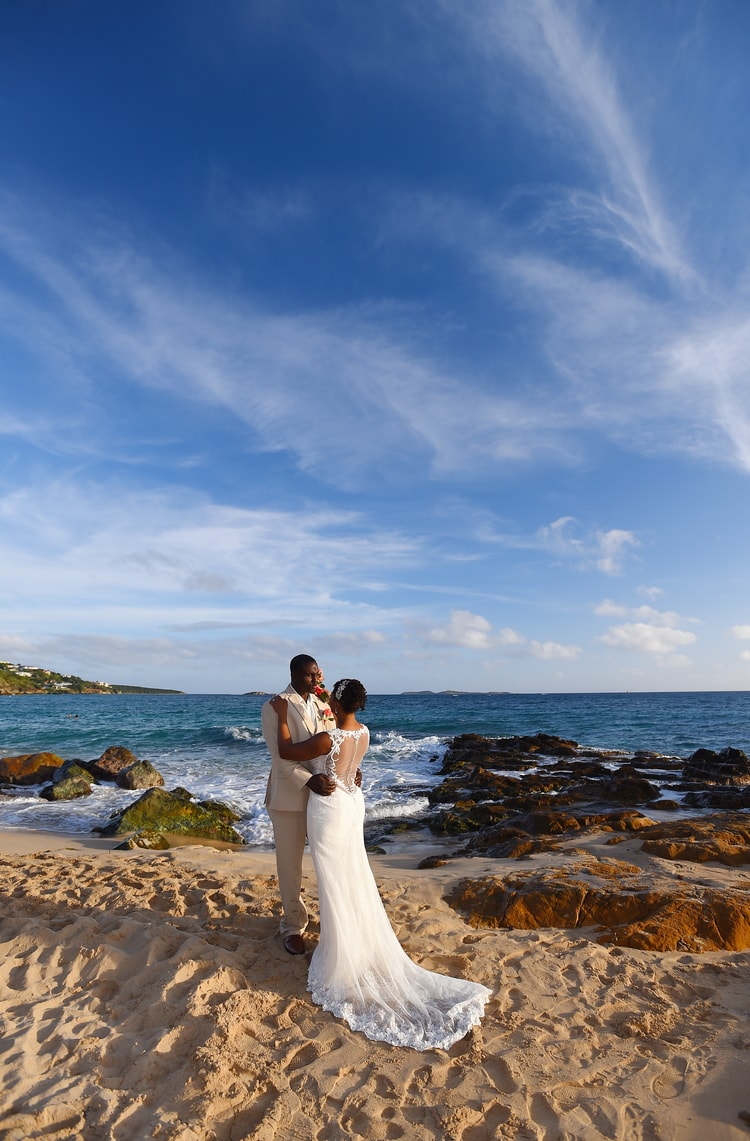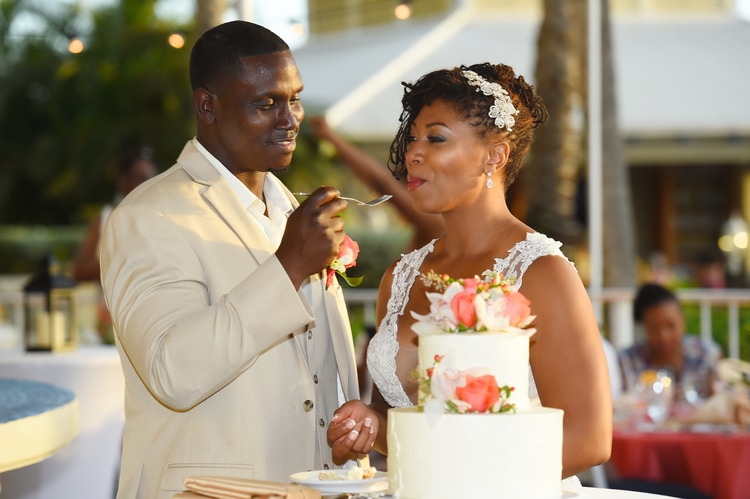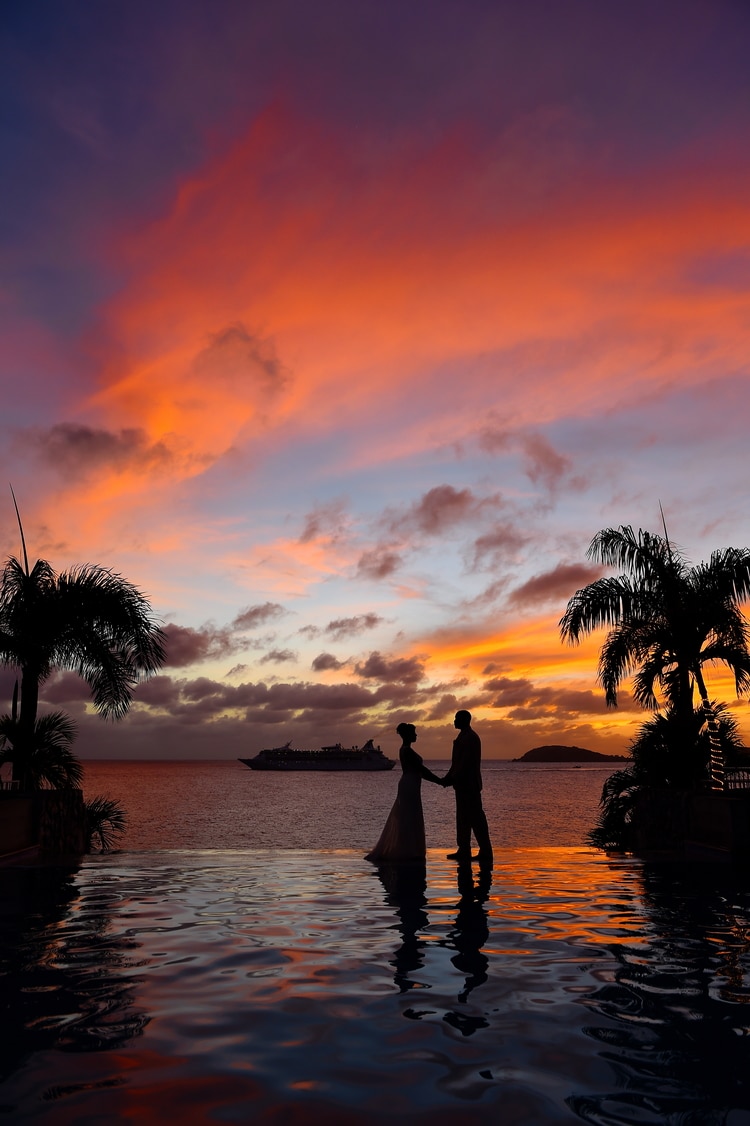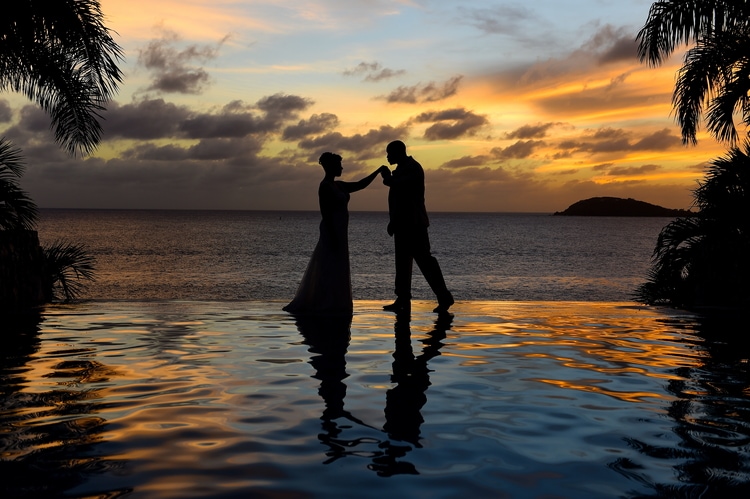 Real Q&A with the Bride
Why did you choose to have a St Thomas destination wedding?
My husband loves the beach and we wanted to pick place in US that neither one had visited. After detailed web search, St. Thomas was the winner!
How many people attended your destination wedding?
41
What was the theme of your St Thomas destination wedding?
Island theme because it went perfect with the beach views.
What were your sources of inspiration?
My wedding planner! She has an awesome eye and I really relied on her suggestions.
Was there anything unique about your destination wedding?
No but the live Iguanas crashing our wedding was a big hit.
What was your favorite wedding detail and why?
The beach bonfire we hosted the night before the wedding and my wedding favors. They were so unique. My wedding planners (Bliss by Sam) stayed up all night just to hand deliver framed pictures with each of my guest.
Was there any tradition that you skipped?
Yes, we decided not to throw the bouquet and garter to the singles. Instead we called all married couples to the dance floor and had them dance to Unchained Melody. The DJ called years of marriage until we got down to our last couple at 35 years!! They were presented with the bouquet and garter.
What was the most memorable moment of your St Thomas destination wedding?
The soul train line at the reception….too funny for words.
What was your favorite part of having a destination wedding?
Having all of our family and friends together in such a beautiful place. We created great memories.
What was the biggest challenge of planning your destination wedding?
The wedding planning staff at the hotel definitely operated on island time. When you are planning afar, lots of details can get lost in translation.
Do you have any advice for other couples planning a destination wedding?
Hire a wedding planner to be there on your behalf, even if it's day of coordination. You want to be able to relax and enjoy your guest. Let someone else handle the final details for you. I also suggest paying for a videographer to capture the moment. Our video is amazing…looks like mini music video.
Vendors
Venue: Frenchman's Reef and Morning Star Marriott Beach Resort
Photography: Blueglass Photography
Floral: East End Flower Shop
DJ: DJ Cypha
Planner: Bliss by Sam Wedding and Occasion Planners
Dress: Winnie Couture
Shoes:Dillards