Sponsored by Ocean Weddings
Want a unique venue for your Riviera Maya wedding? Ocean Weddings will wow you with a one-of-a-kind location that puts the sterile environment of big resorts to shame! This unique property has so many goodies to offer, I don't even know where to start.
As the name implies, Ocean Weddings is a private property located above sea level, with spectacular views of Isla Mujeres and the Cancun Hotel Zone. Aside from the great views, they have multiple venues to accommodate a celebration of any size, certified Riviera Maya wedding planners who will give you personalized attention every step of the way; and best of all – the flexibility to plan your wedding your way (can you say no outside vendor fees?!)

You can have a civil or religious ceremony at their beautiful Gazebo, overlooking the ocean.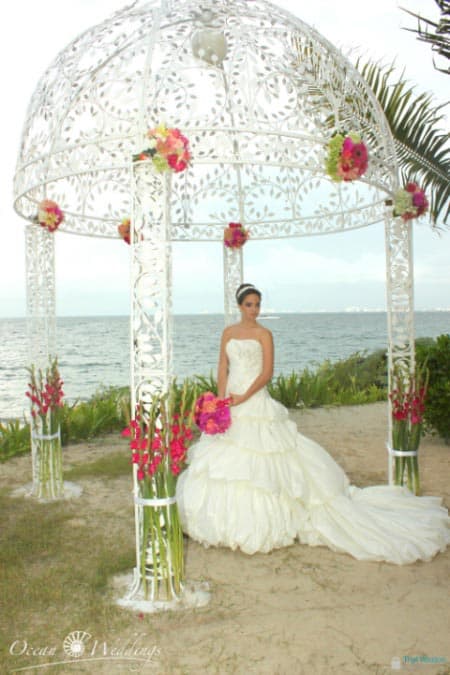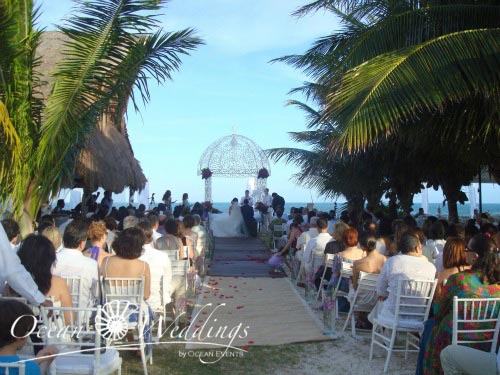 Have you been hoping for a Catholic ceremony without sacrificing the scenic views that probably drew you to a Riviera Maya wedding in the first place? You're in luck because there's a valid Catholic Chapel, Maria Star of the Sea, just a few feet away from Ocean Weddings.
After you exchange vows, you have the choice of hosting a reception in one of two unique venues. Their traditional thatched Palapa can accommodate a small, intimate party with up to 80 guests.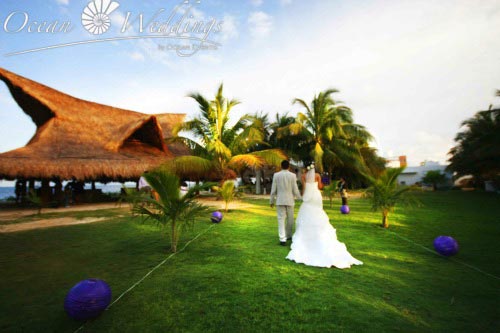 Have a big guest list? Dance the night away with up to 200 of your closest friends on the glass dance floor of the modern pavilion.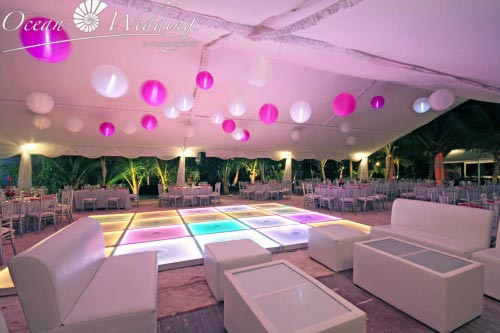 Since no party is complete without entertainment and music, Ocean Weddings will help you find a DJ, a live band, romantic trio, or even a live Mexican Mariachi band!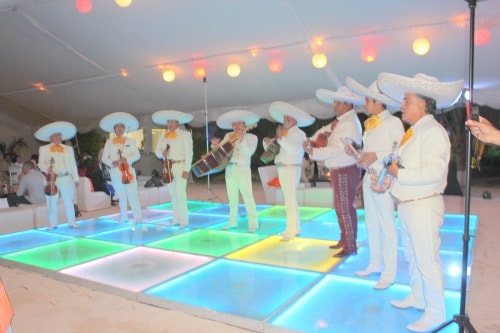 After you exchange vows, you can sneak away for a romantic photoshoot with your honey at the Mayan temple, El Meco which is right behind the venue.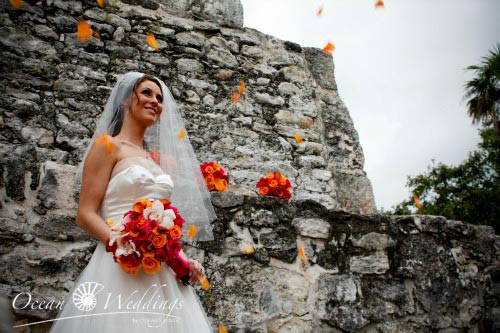 Planning Your Riviera Maya Wedding
Aside from the unique venue options, what really sets Ocean Weddings apart from the big all-inclusive resort weddings is their personalized attention and flexibility throughout the entire planning process. Here's just a snapshot of what sets them apart.
Certified Planner
Ocean Weddings' certified specialist has 15 years' experience planning over 500 Riviera Maya wedding parties of all sizes and budgets. They will handle every single detail from the flowers to the legal paperwork so that you don't have to worry about a thing.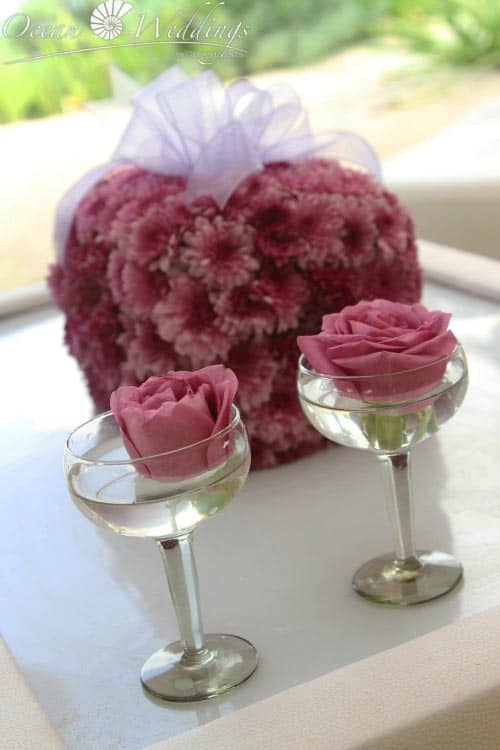 No Outside Vendor Fees
If you're a little more hands-on, that's OK too because you have the option of bringing your own vendors without having to pay the 'outside vendor fees' that many Riviera Maya wedding resorts are notorious for.
No Conveyor Belt Weddings
While many all-inclusive resorts churn out one wedding after the other, Ocean Weddings is committed to giving you personalized attention, so they only plan one wedding per day.
Flexible Catering Options
For the foodies out there, you'll be happy to know that you have a wide range of choices when it comes to your dinner menu. Choose from Mexican, International, Seafood; buffet or sit-down. With over 20 years of catering experience, their chefs can even custom design a menu for you.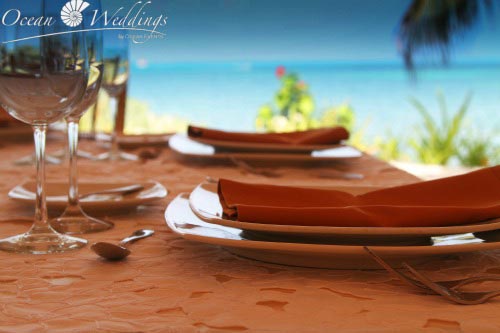 BYOB
This one is near and dear to my heart because I know first-hand that the bar tab can eat up the biggest chunk of your budget. Buy your own drinks at the local liquor store and you can save a ton of dough. I'm talking thousands of dollars. But the thing is that there are very few Riviera Maya wedding venues that will allow you to do so. Ocean Events, lets you stretch every last penny of your budget, by allowing you to bring your own alcohol. Pretty sweet, right?
Visit OceanWeddings.com.mx for more details on their Riviera Maya wedding packages.
Disclosure: This post was sponsored by Ocean Weddings. The opinions expressed are the author's own and do not necessarily reflect the views of any company, agency, or organization. See Disclaimer