Veronica and Tim have been visiting family on the island of Oahu nearly every year since they first started dating. So when the time came to choose a location for their destination wedding, Hawaii was the most natural choice. The couple rounded up 75 guests for a stunning wedding that looks like my favorite pinterest board just came to life!
They had their ceremony in the yard of a private beach house and their décor consisted of lovely beach themed details with lots of sand and shells. But the crowning glory of this wedding has to be the cake. It is stunning – and just wait until you see the very unique cake stand and the story behind how it came to be. Hands down one of the best beach themed cakes I've ever seen!
An enormous thanks to the amazing Jenna of Creatrix Photography for capturing all these stunning details and sharing them with us. And another big thanks goes out to the lovely bride, Veronica for sharing her inspiration, challenges, advice, and even reviews of her favorite wedding vendors!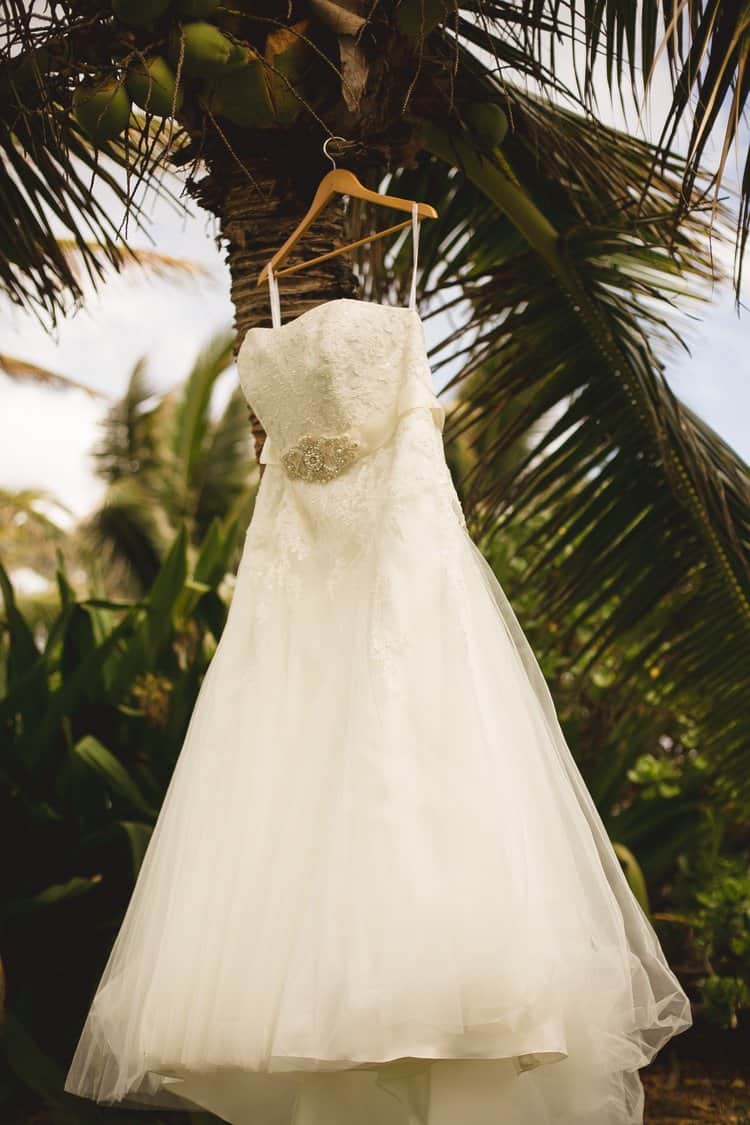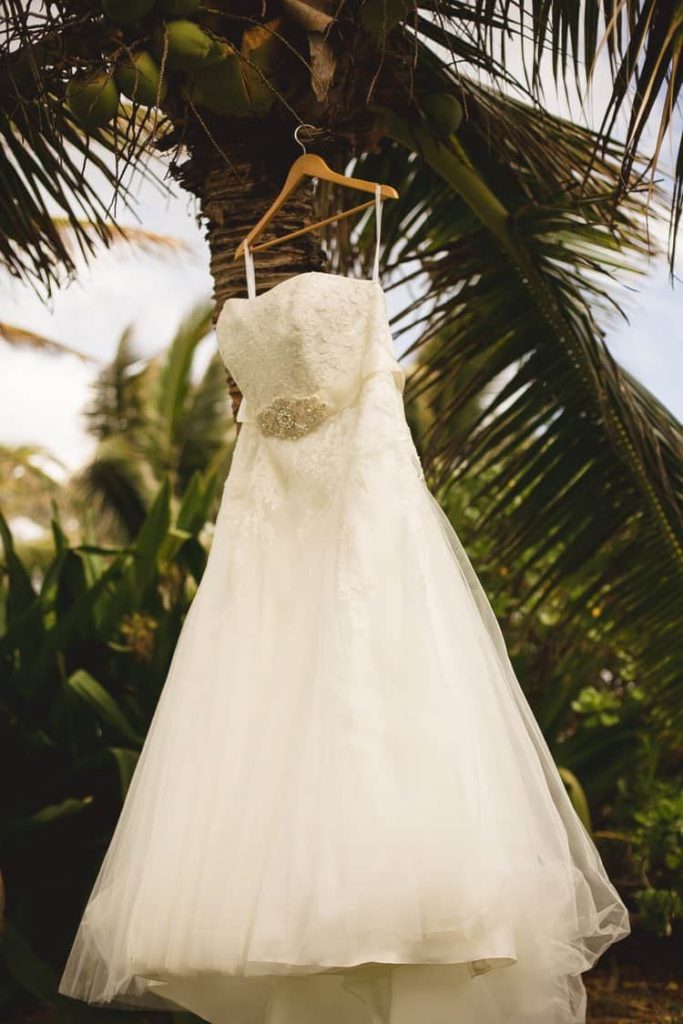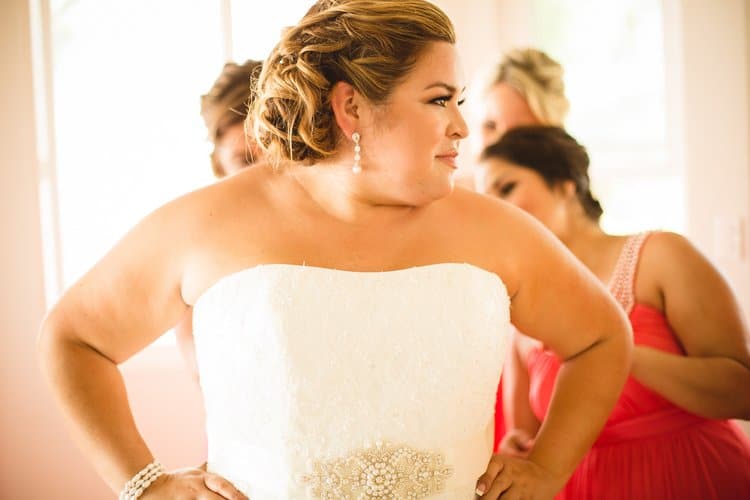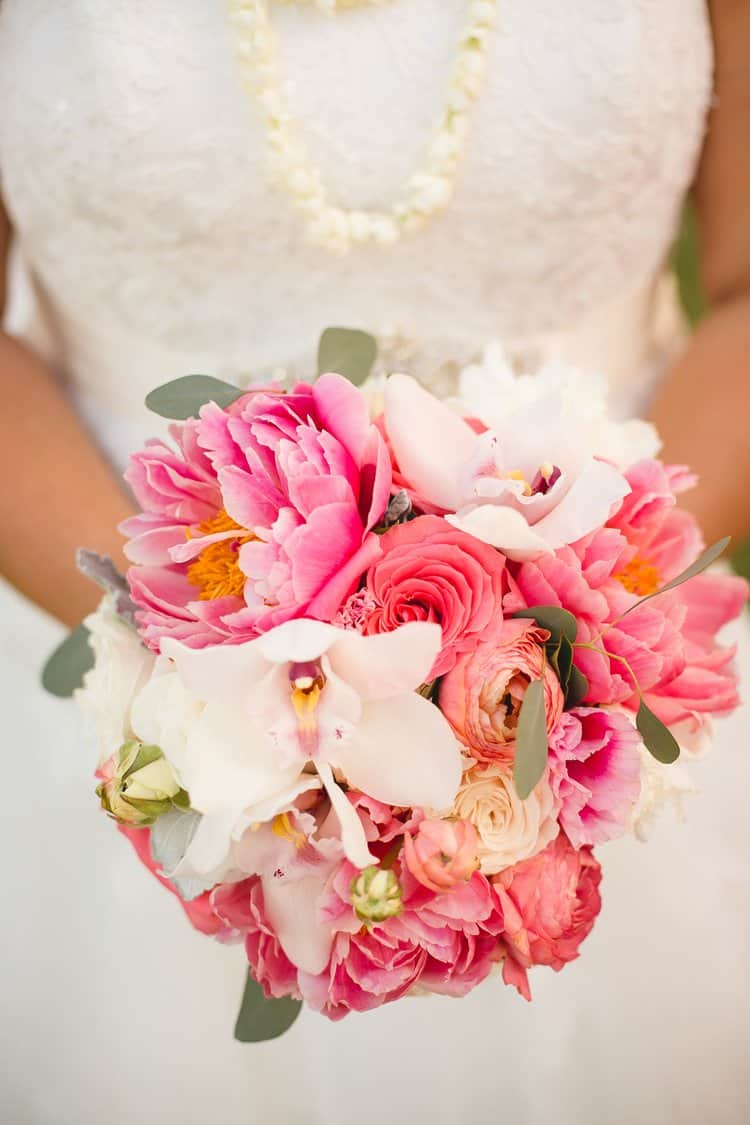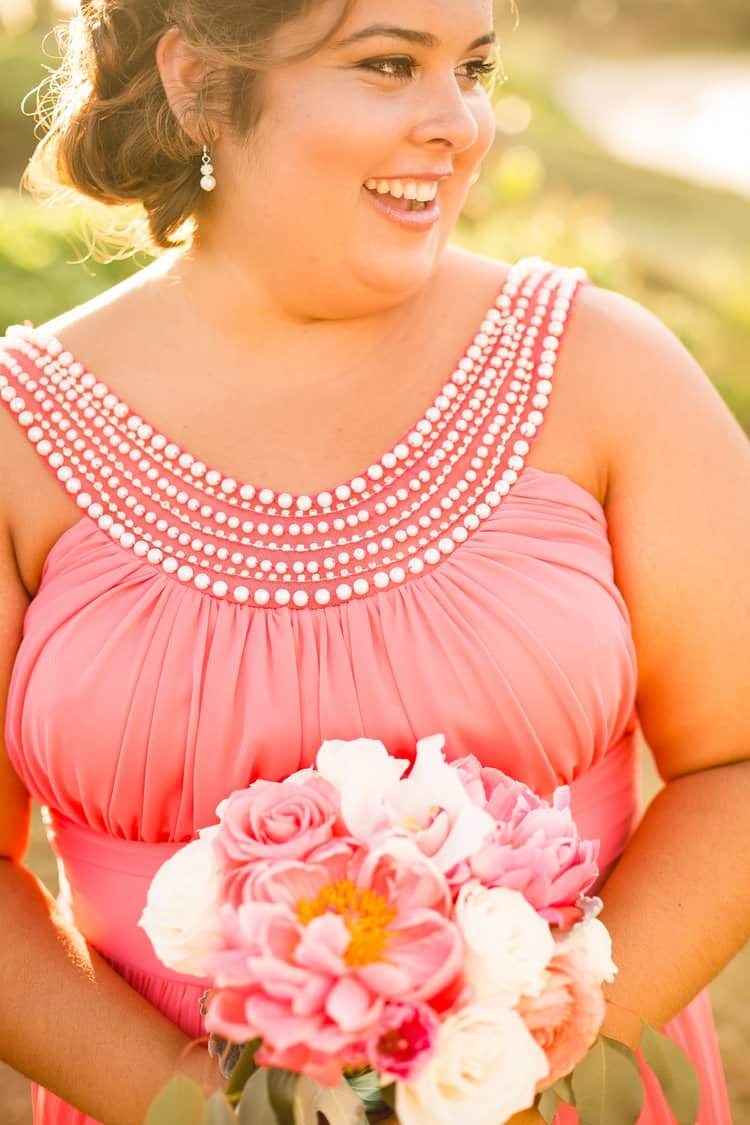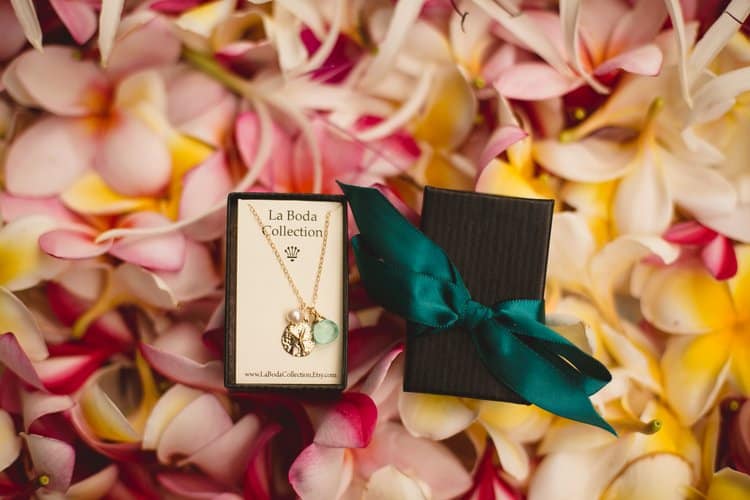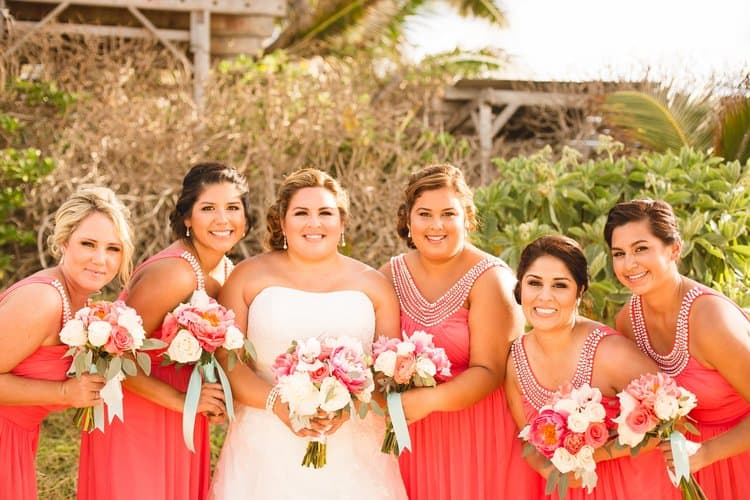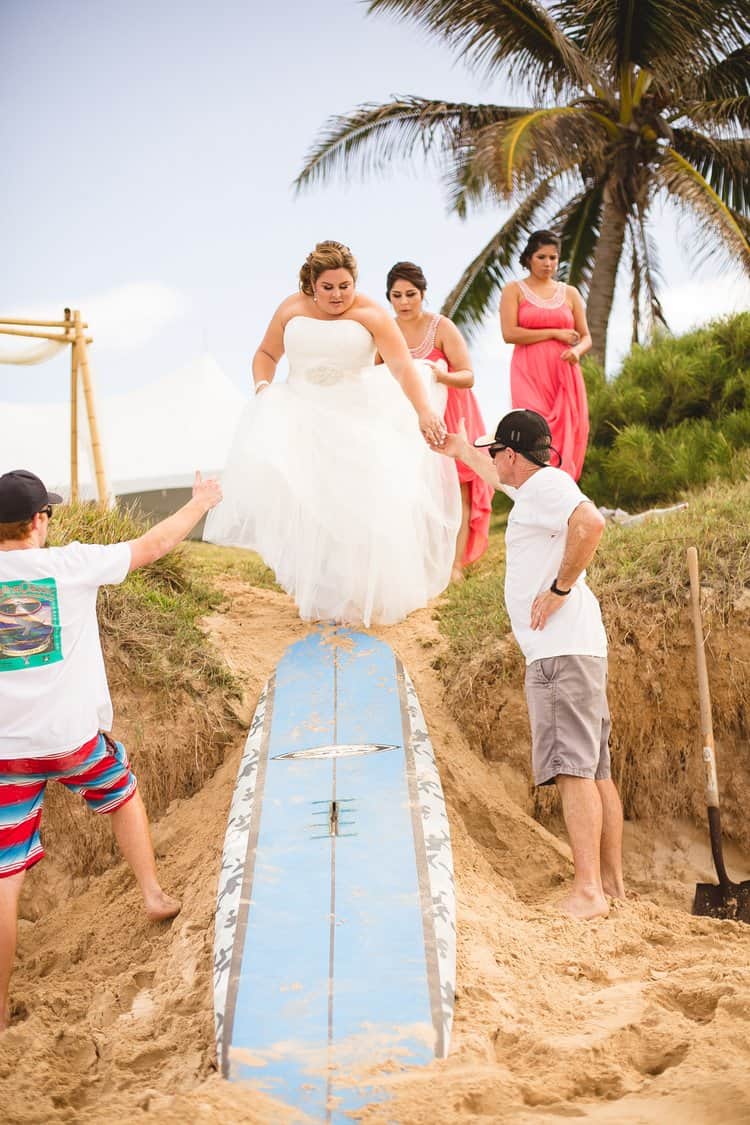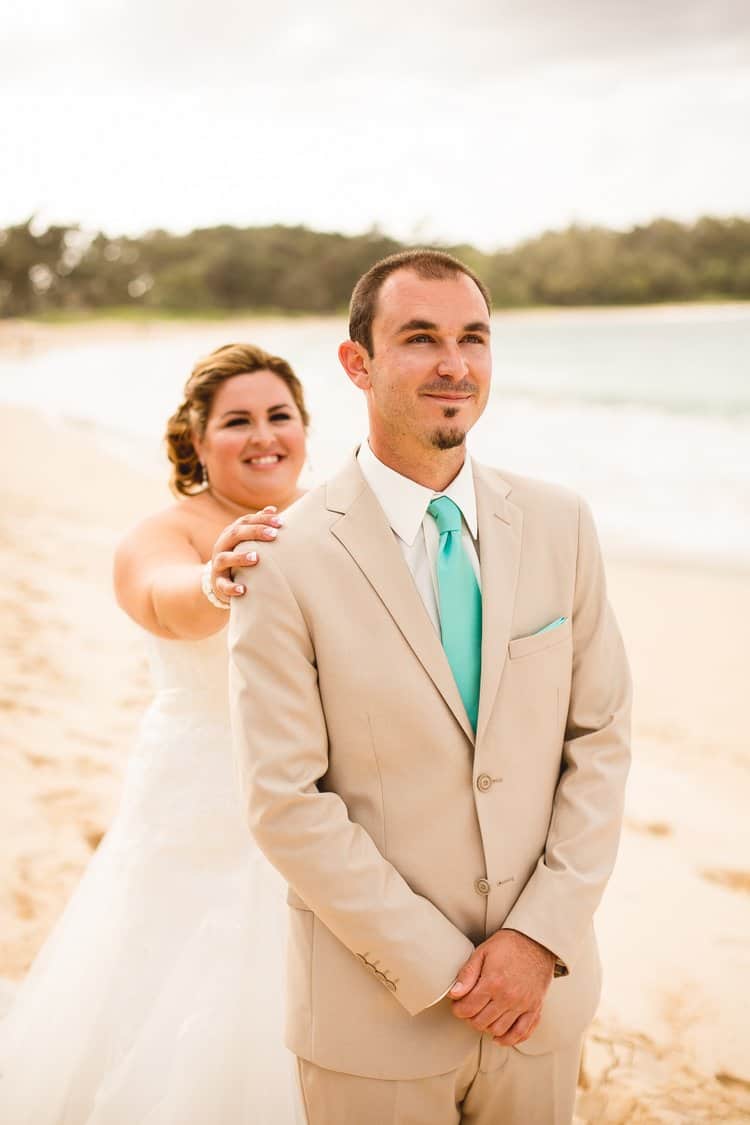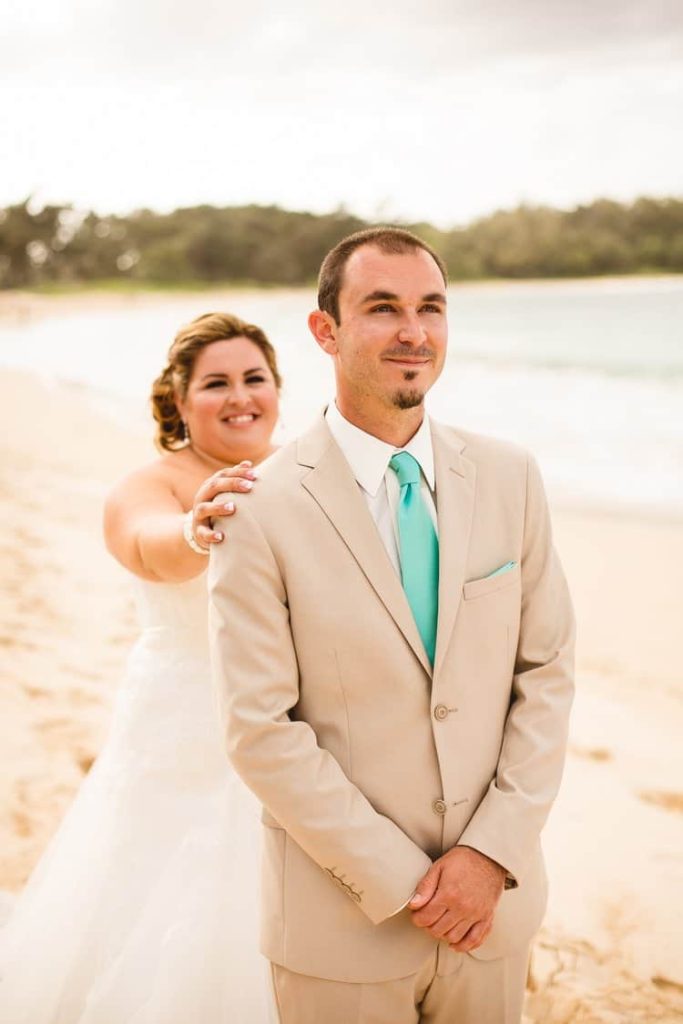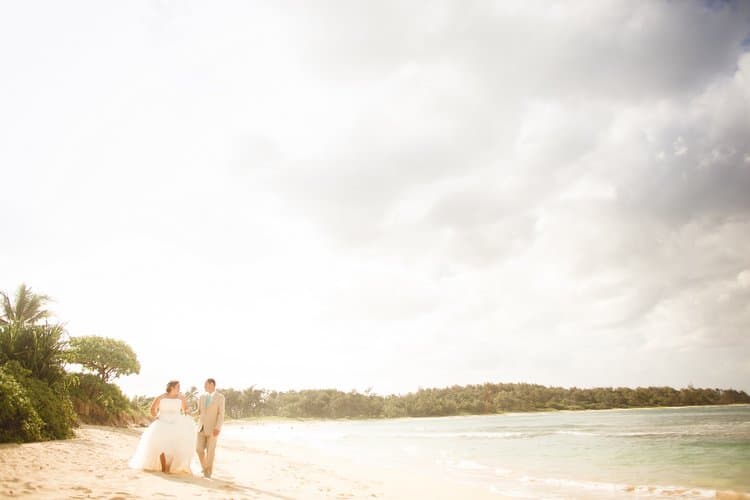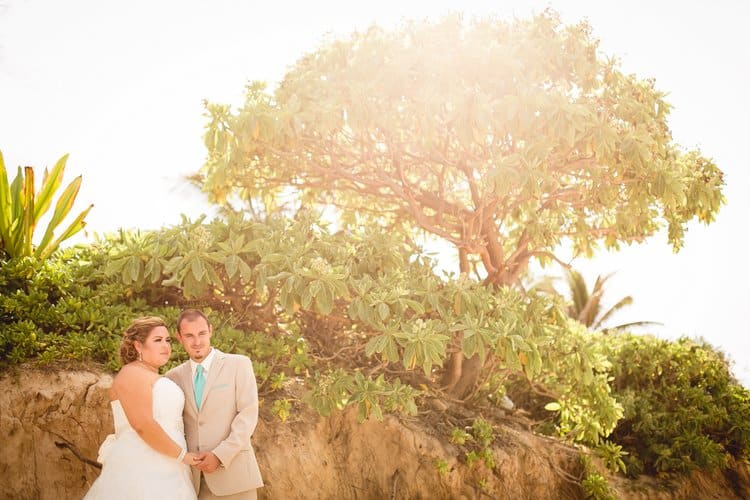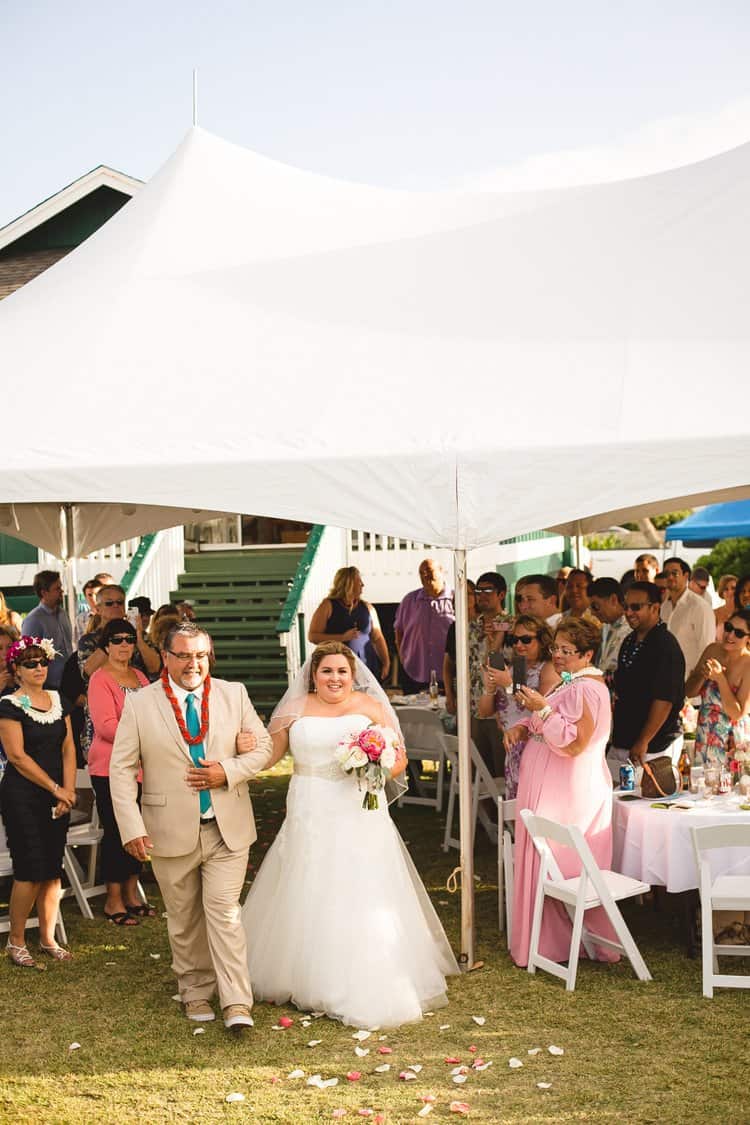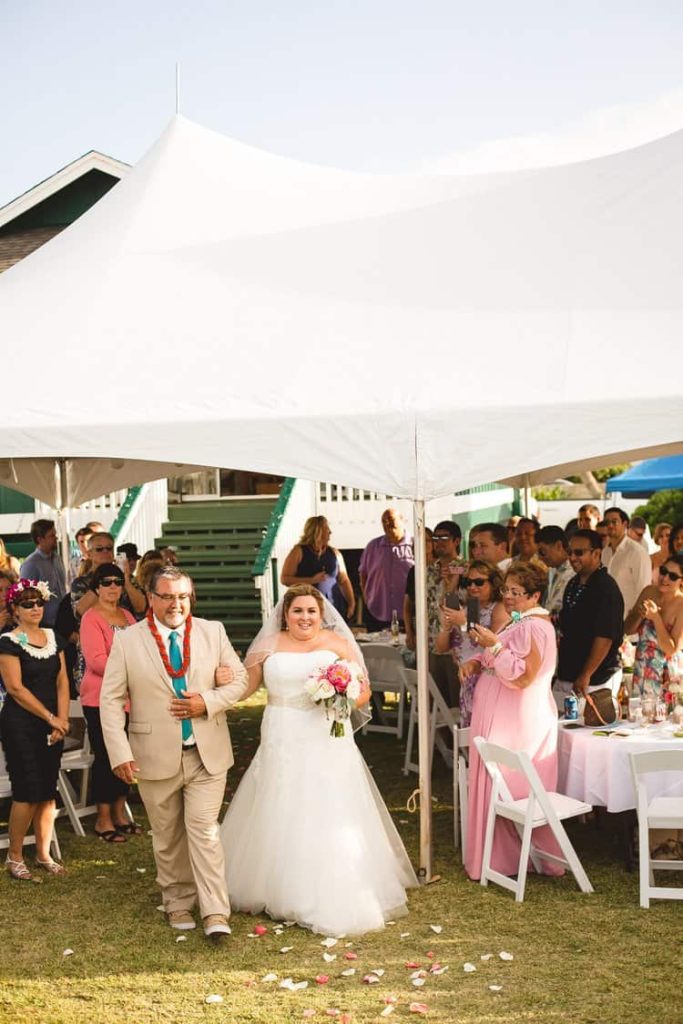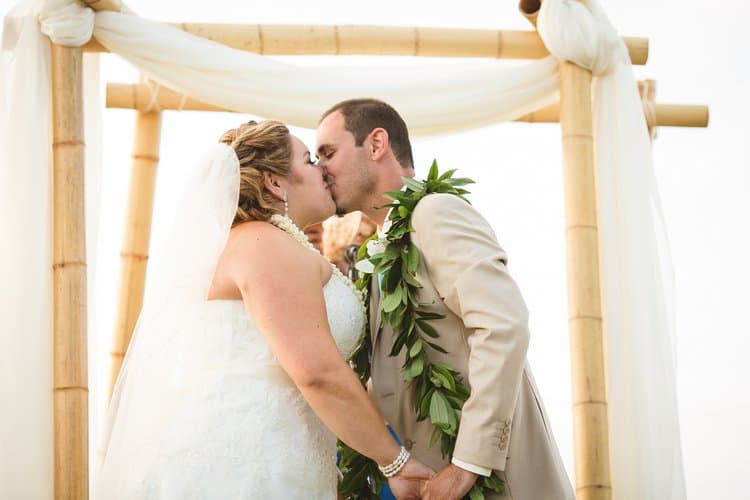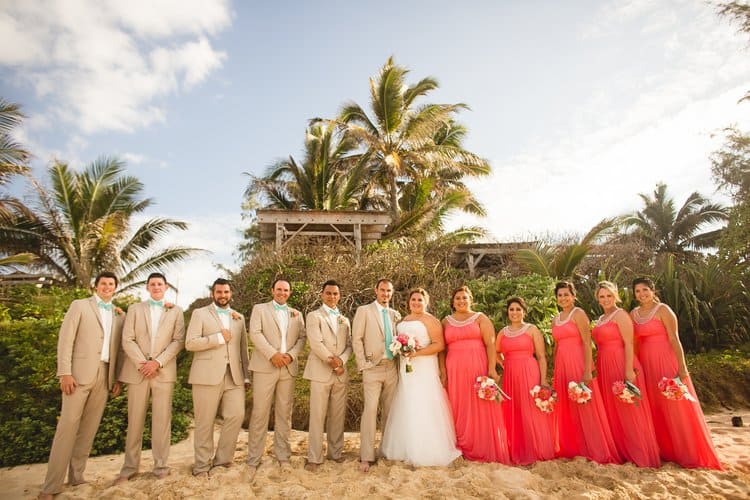 Can you tell us about your sources of inspiration when choosing your colors, flowers, cake, etc..?
I was Pinterest obsessed for the first couple of months trying to get a visual of how I wanted to do our big day. It was so great and easy to put together ideas when all the pictures and resources are all there. I had always loved the way coral and teal went together so that was another easy decision for me to go with. But Pinterest all the way, it was a great tool for me!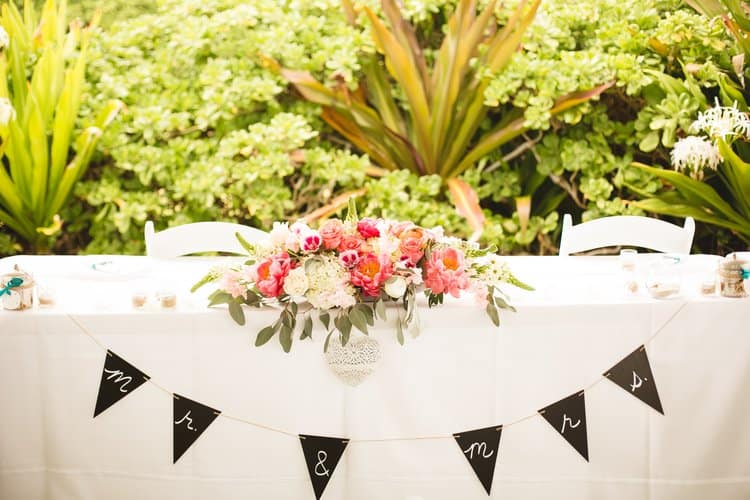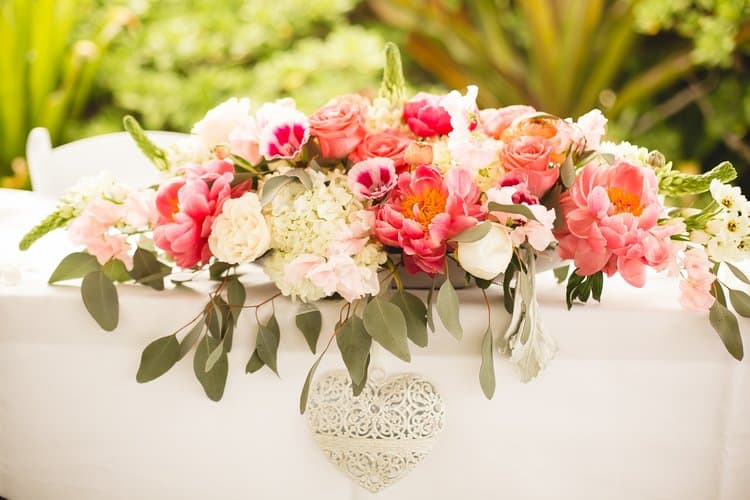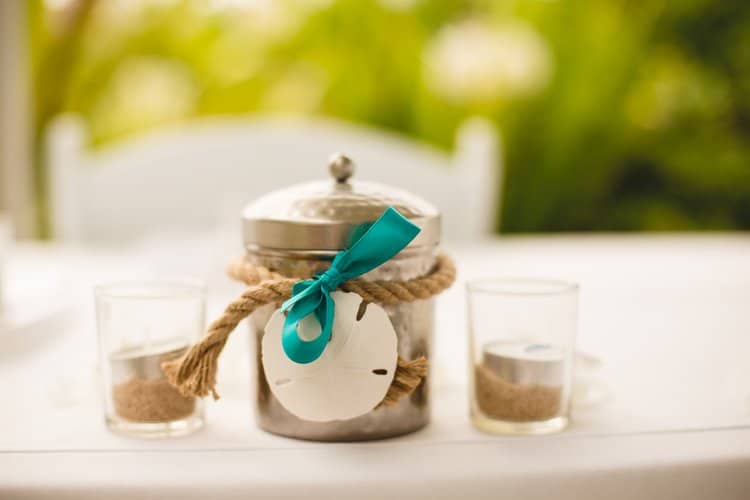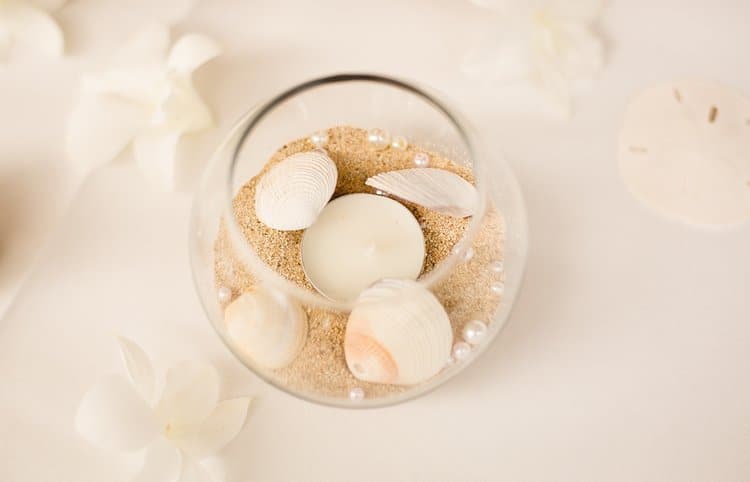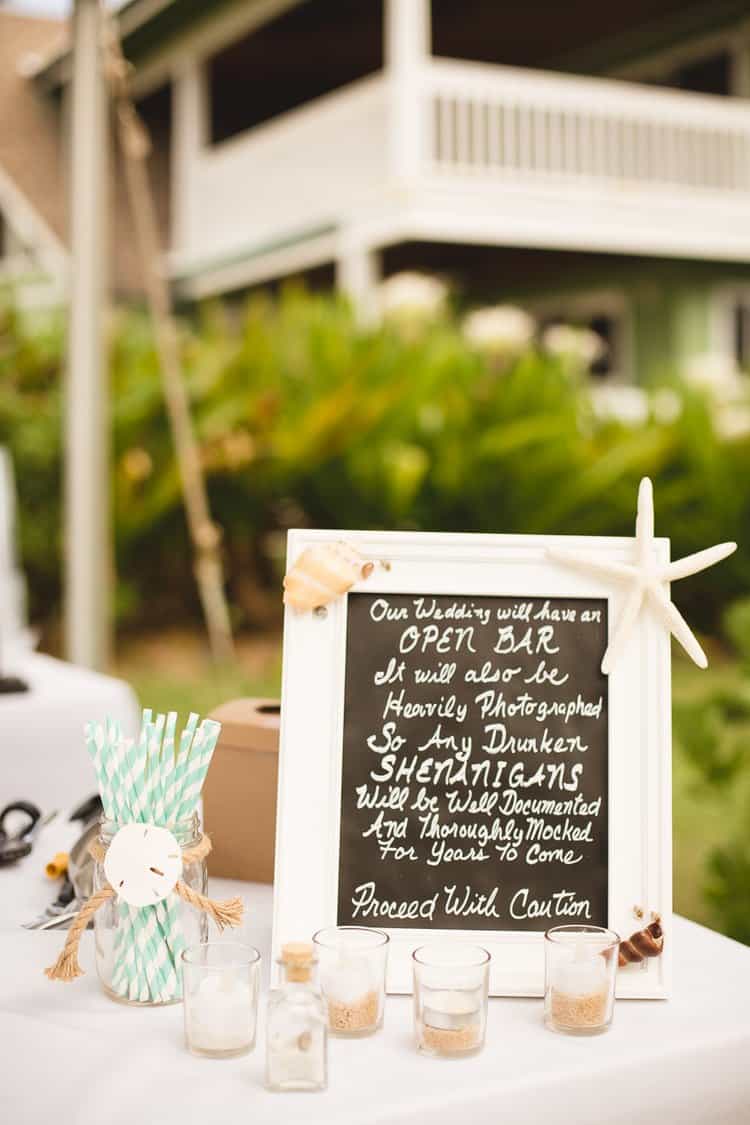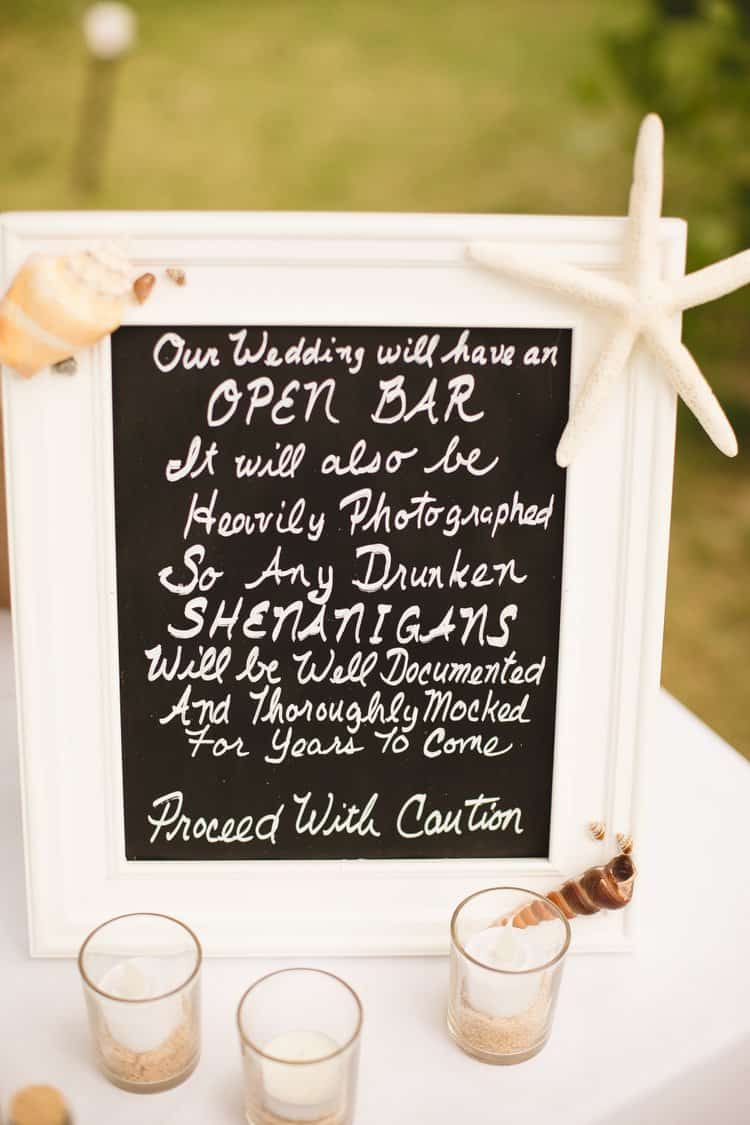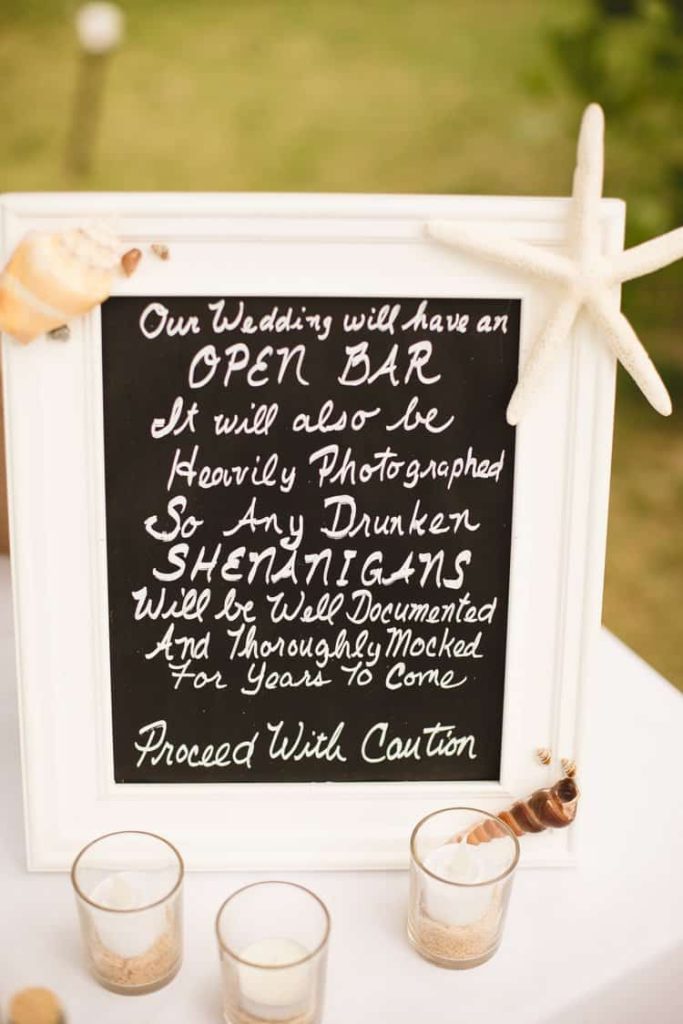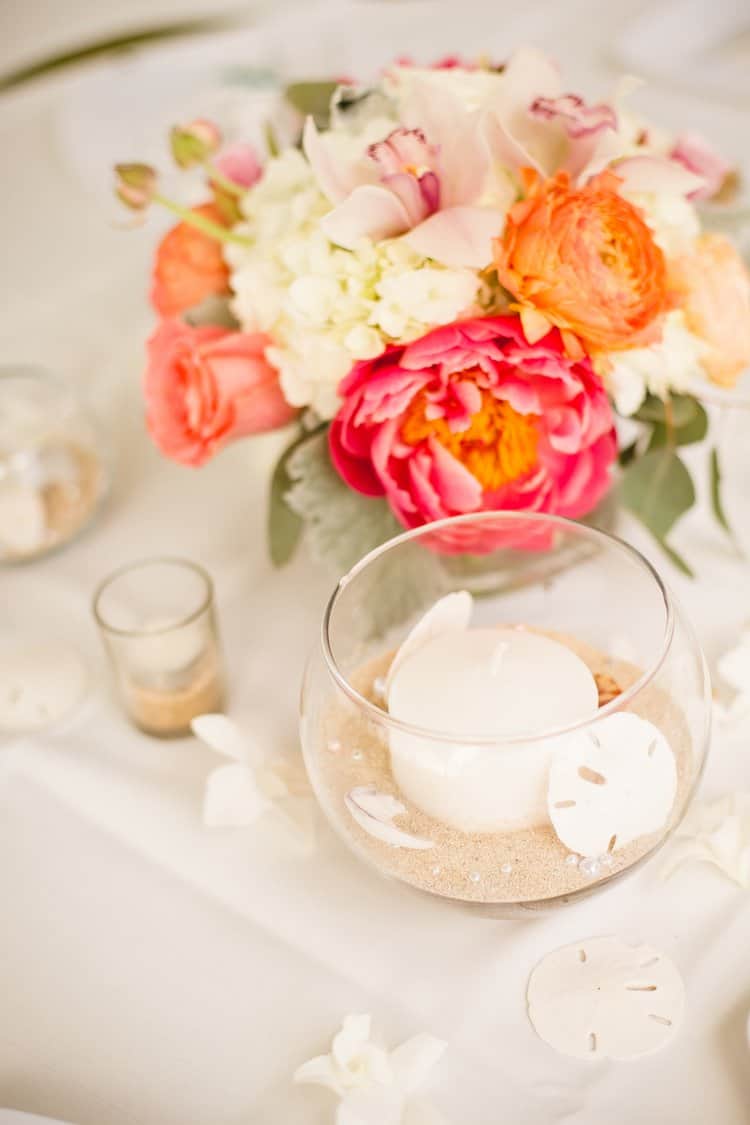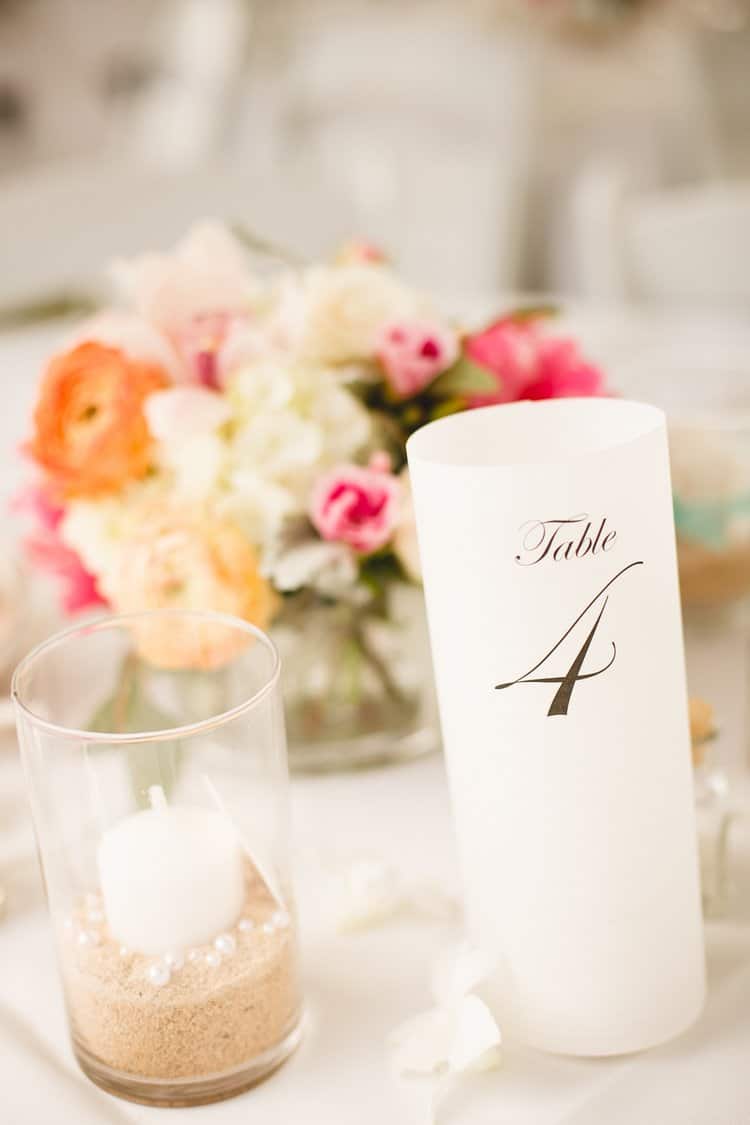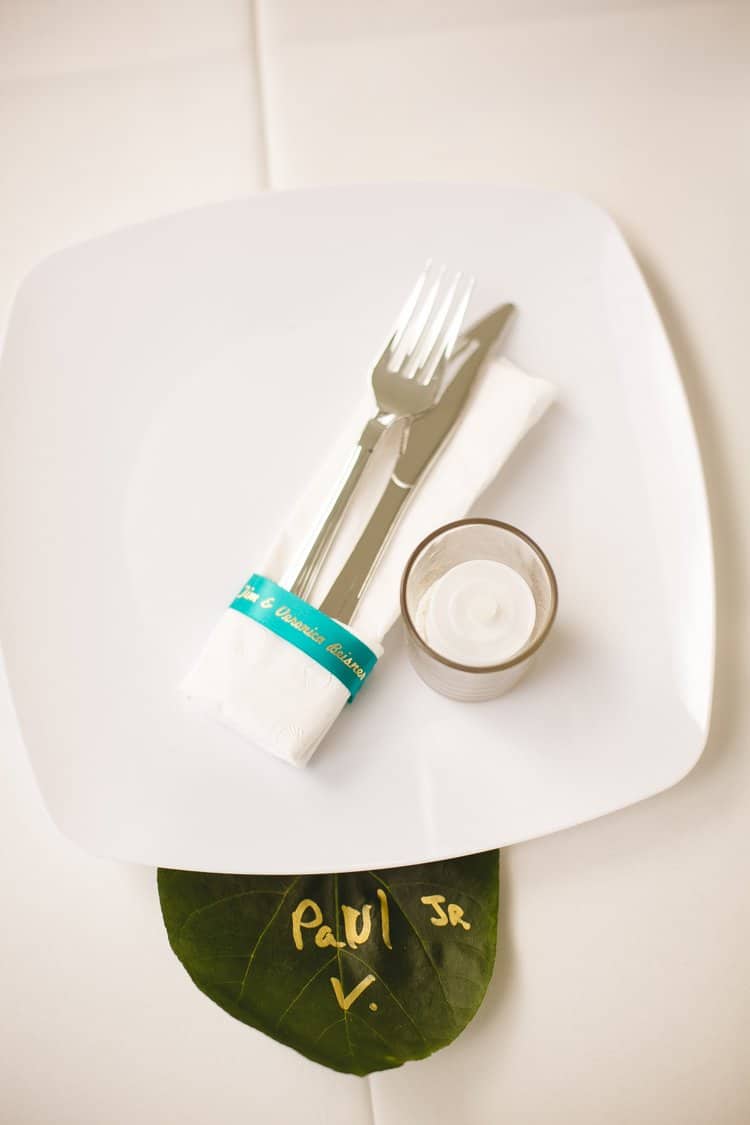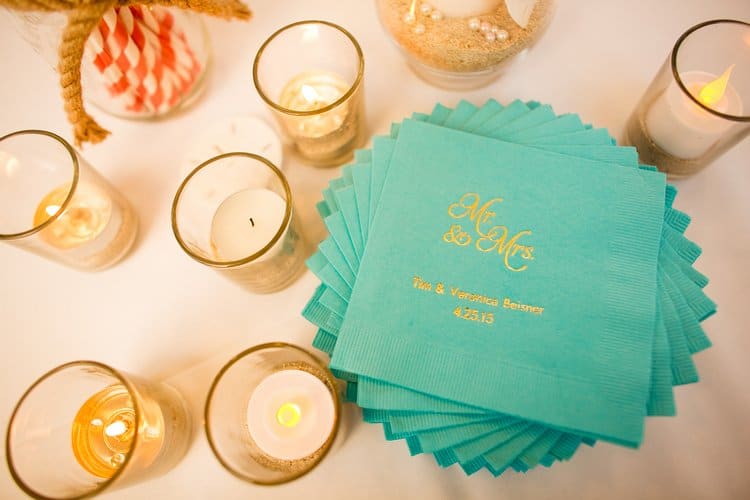 Can you tell us about anything unique or special that you incorporated into your wedding décor?
I had a gotten a cute nautical/beach wood box that my cousin had gotten for me as an engagement present and I knew I wanted to use it somehow for the wedding. I loved it!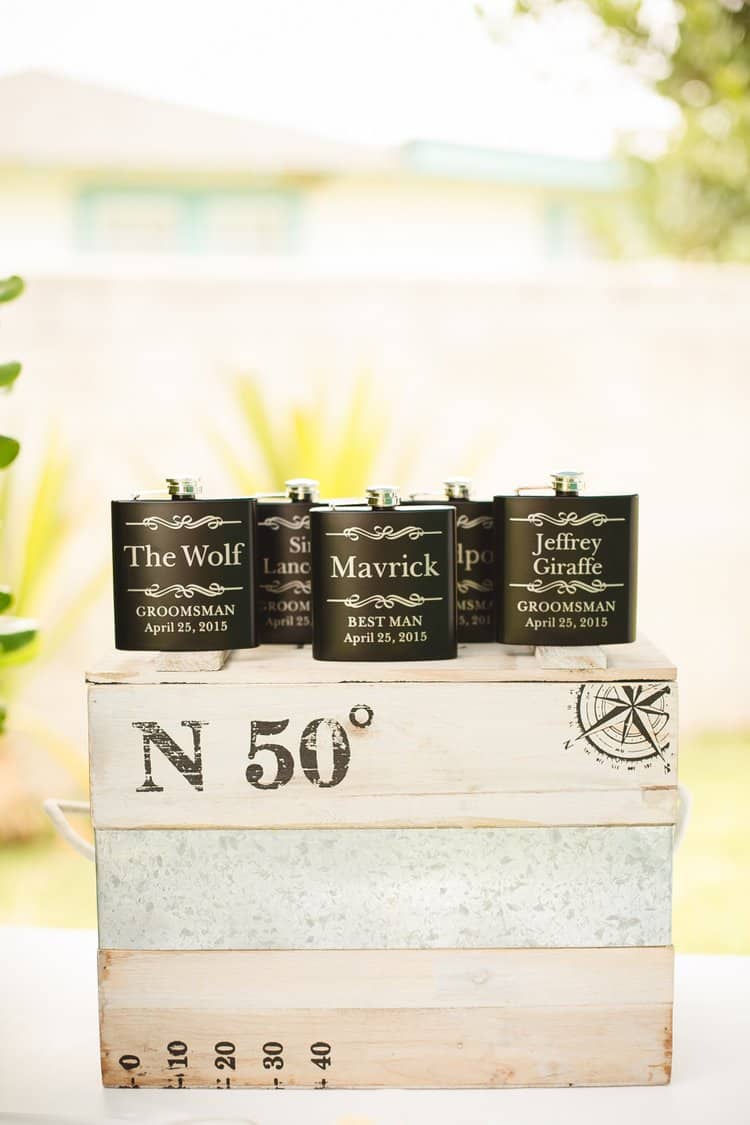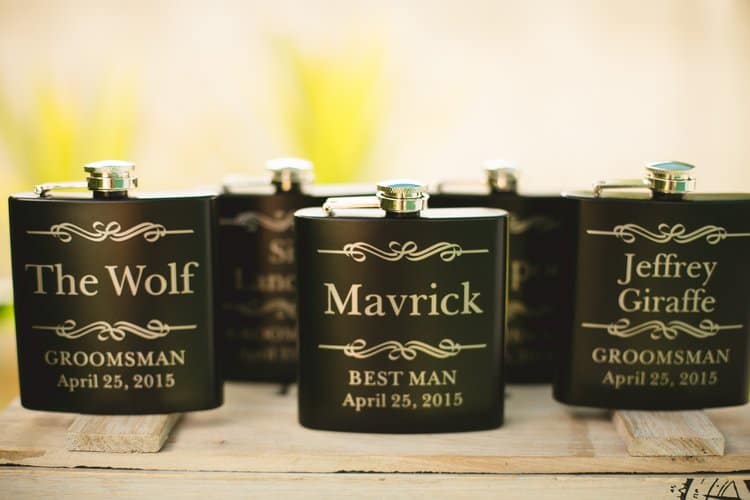 What was your favorite wedding detail?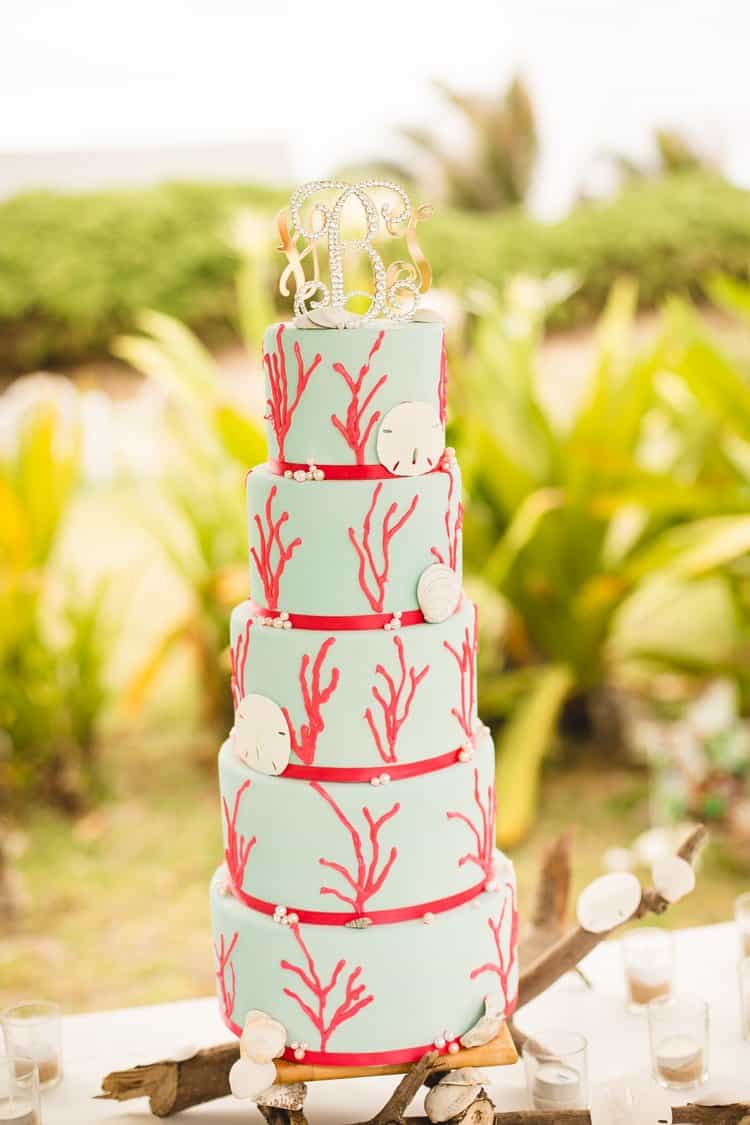 My favorite wedding detail was hands down, the cake! I had seen a teal cake with coral detail on Pinterest, of course, and I fell in love with it. I have an amazing friend who is a pastry chef and she did our cake for us. I wanted it to be fun and carry the beach theme, and she did an amazing job. It was perfect! When it came time to put the cake out, I couldn't find our cake stand. Well, it turns out we forgot it at home! We wound up scrambling and making our own from drift wood and shells we found on the beach about an hour before the ceremony. It was even better than my cake stand we left at home!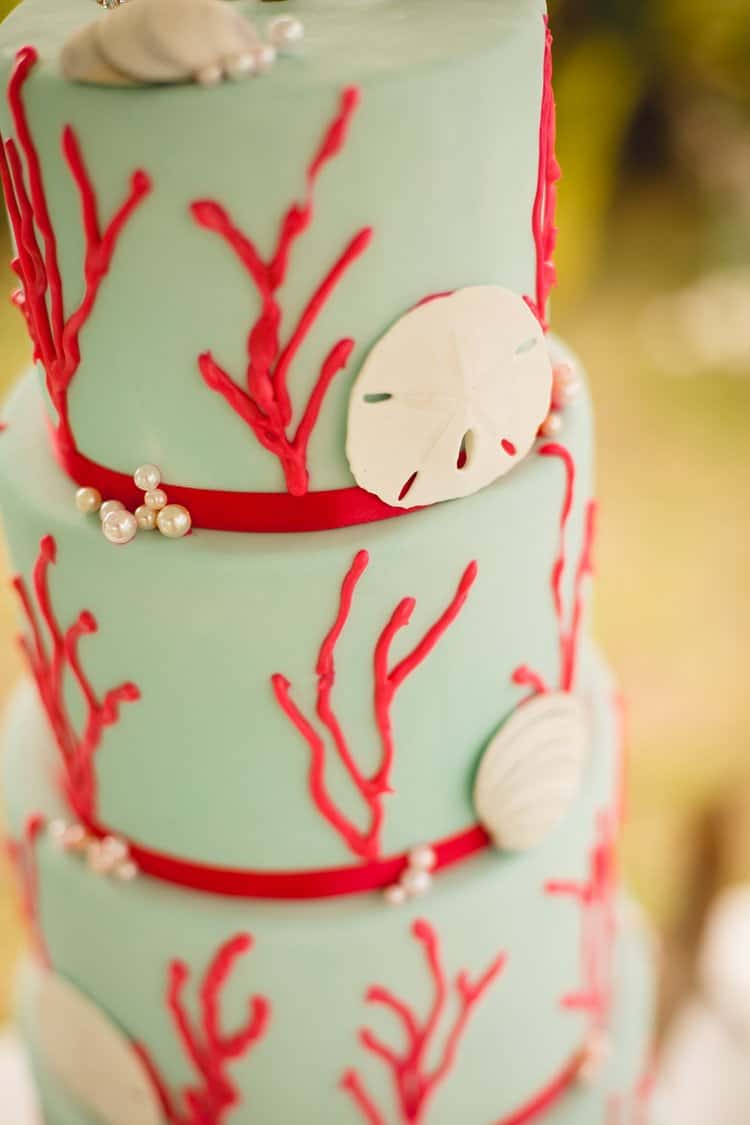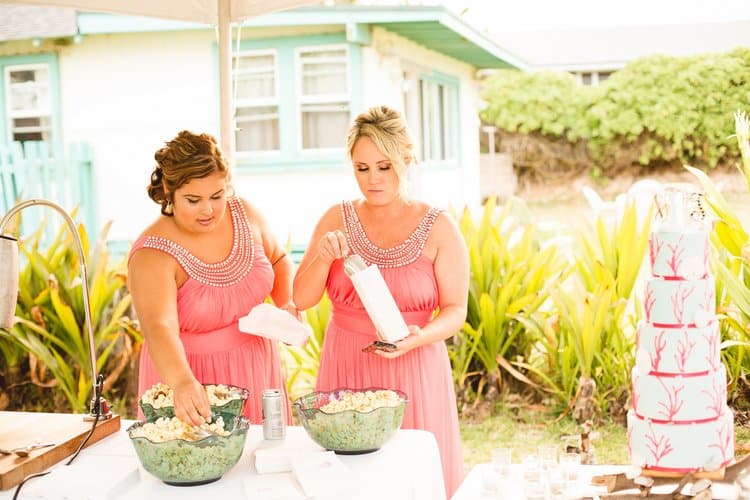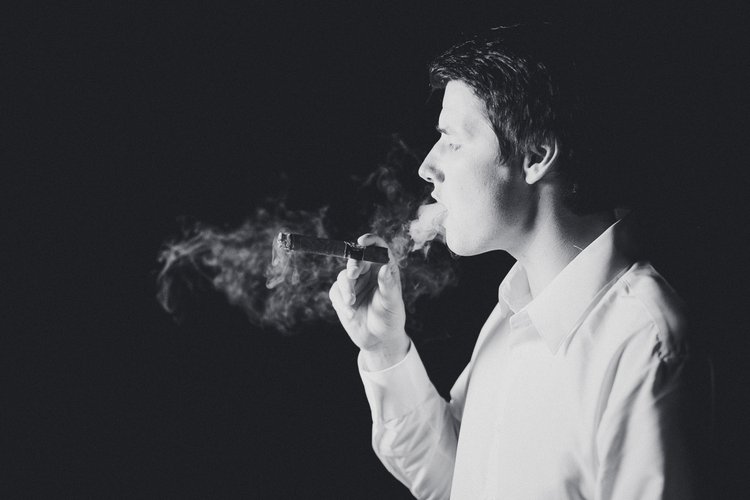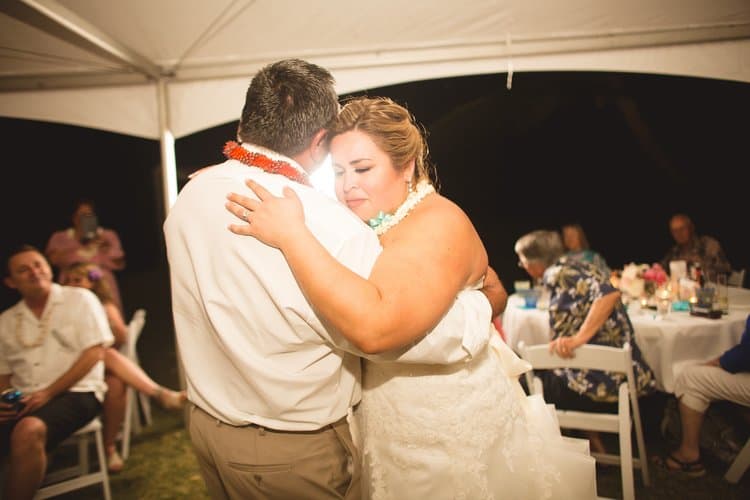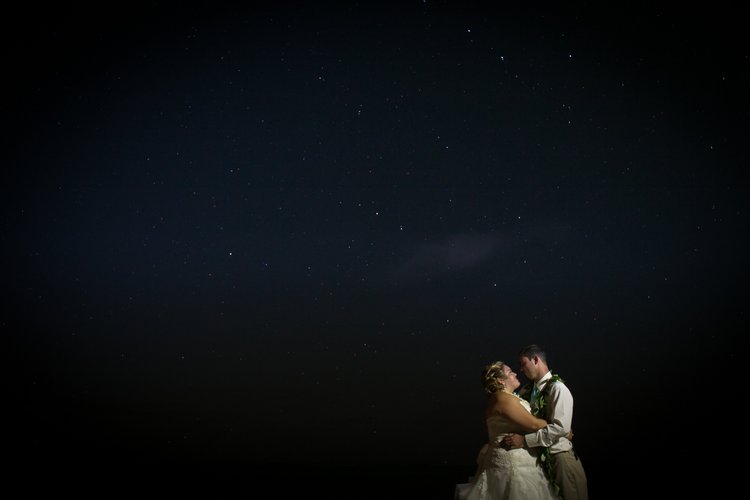 Real Destination Wedding Advice from the Bride
Was there any tradition that you skipped for your destination wedding in Hawaii?
We skipped the bouquet and garter toss. We felt that since it was supposed to be a smaller group of people it wouldn't be as fun as it would at a "normal" wedding at home. We didn't have an actual dance floor either. We had set up the space to where all the tables and chairs were already set, so our guests were seated at their tables during the ceremony also. We tried to make it so you could see all the action from every table, so we used the space around and in between the tables as a dance space. We also didn't do a traditional grand entrance into the reception. We had the DJs introduce everyone at the head table once we all got settled and sat down. And we did a first look, which in my opinion was so great! We got the "formal" pictures out of the way so we could enjoy our guests and family more and actually be a part of cocktail hour. It was great! I felt like everything flowed much easier because we didn't have to maneuver around guests and it was a beautiful few moments with my hubby before all the festivities.
What was the most unpredictable thing to happen on your wedding day?
Our wedding day was the only day of the week that it didn't rain, but it was also the hottest day of the week. We were all so hot and sweaty during hair and makeup and the house only had one fan! And it was so small! The house didn't have air conditioning- when you live that close to the water you just open everything up and let the ocean breeze cool the house down. Well, there was not enough breeze to cool us down haha! But we made it work and everything and everyone turned out great.
What was your favorite part of having a destination wedding?
The fact that it was like a vacation for all our loved ones. My family hasn't gone on a family vacation in over 12 years so it was so nice to be able to have my parents and siblings relaxing and enjoying themselves before the big day. It definitely brought us all closer. Our friends and family that were able to go had such a great trip and I feel really good that we encouraged that in a way.
What was the biggest challenge in planning your destination wedding in Hawaii?
My biggest challenge was finding our vendors. I yelped and searched and used sites like the theknot.com and read so many reviews I was going cross eyed! There were so many great companies with so many great reviews it was hard to narrow it down. The house we got married at was towards North Shore and most of the vendors were in or near Honolulu so it came down to who would be willing to make the long drive out to the beach house. We got really lucky with all of our vendors. They all were amazing and so incredibly helpful. I was very impressed.
What's your advice to brides planning a destination wedding?
Do your research, have a plan, and be organized! That's the best advice I can give. Also if something doesn't pan out, it's not the end of the world. There will always be a hiccup, it's all about how you handle it. You're on vacation, enjoy every minute, even all the craziness and remember that it's all about you and your groom and the beginning of your lives together. Have fun and good luck!
Vendors:
Photographer: Creatrix Photography
"What can I say about Jenna that doesn't come screaming through her photos. She was such a pleasure to work with and went above and beyond to capture the perfect shot. She is so talented and her passion is reflected in her images. We LOVED her and our pictures are just too beautiful. I highly recommend her, you won't be disappointed and your pictures will be absolutely perfect. We are so grateful for her and her work."
Bridal Gown: David's Bridal
Bridal Makeup: DES Makeup Studio
Bridal Sandals: DSW
Groom's Shoes: Vans
Bridesmaids Attire: Trendy Too in Downtown LA
Officiant: Ae 'Ike Hawaiian Wedding Ceremony
"I couldn't have been more pleased and amazed with Jon. He sang beautifully and filled our ceremony with so much love and tradition. I don't think it could have been any better."
Equipment Rentals: Absolute Rentals
"They were so helpful! They also made a special trip out to our side of the island for set up and break down. Great group of guys and always smiling."
Cake Designer: Cakes by Erin
"Our cake was done by Erin at No Belle bakery, based out of Southern California. She is so incredibly talented and have been so impressed by all her cakes. Our cake was so fun and turned out so awesome! It tasted even more amazing and everyone went back got seconds."
Invitation Designer: J&C Custom Invitations
Floral Designer: Posy Parties
"For the flowers I used Manu and Posy Parties. I was so incredibly happy with Manu. I really didn't have any idea what I wanted and she walked me through everything and I was COMPLETELY blown away on the day of the wedding, every thing was beautiful."
Caterer: The Catering Connection
"They were beyond helpful and accommodating. There was even a last minute minor "crisis" that they helped me with and it was solved instantly. Not to mention the food was delicious and everyone absolutely loved it. They were very reasonable price wise as well."
DJ: The Perfect Wedding DJ
"They were also amazing! They got the party started and were so fun! They even got out on the dance floor with us. They were a blast and kept things moving along. They even sang out procession song as we walked down the isle which was so beautiful."