Kauai, Hawaii is known for its idyllic beaches and natural beauty. It is a place of history and magic, adventure, and bliss. This little island is truly a paradise for lovers – and a great place to have a destination wedding. Keri Cooper has been a Kauai wedding photographer for 18 years, and she is here today to share her top tips for planning a destination wedding in Kauai, along with some stunning photos she recently shot of an elopement in Tunnels Beach. Enjoy!
Before You Arrive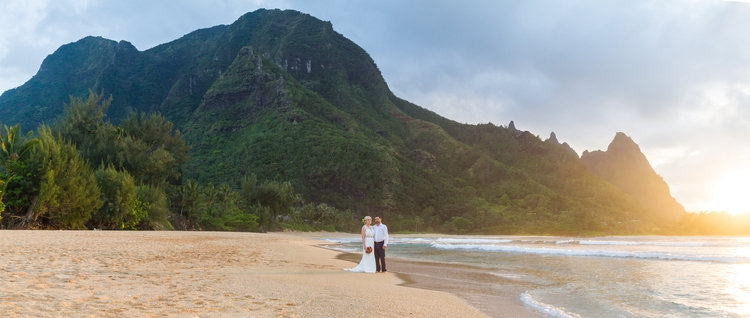 Chose your setting
Kauai beaches are diverse and change throughout the year. We have soft white sand beaches, calm shorelines, rugged cliffs, and crashing waves. Before you pick any beaches, check the weather and coastal conditions for that area.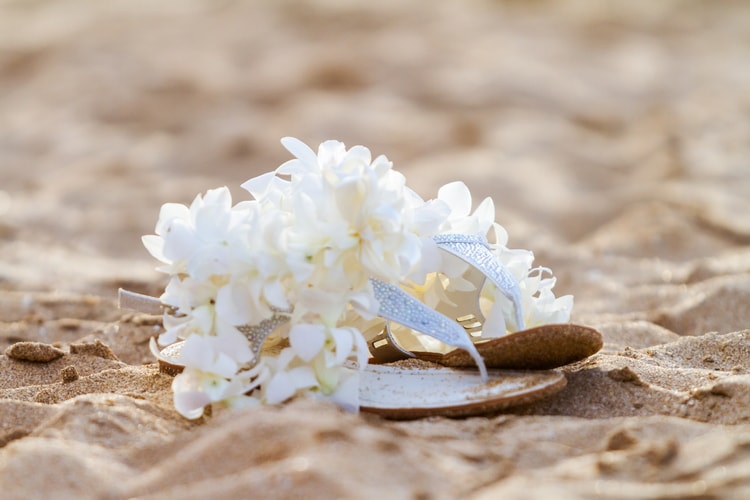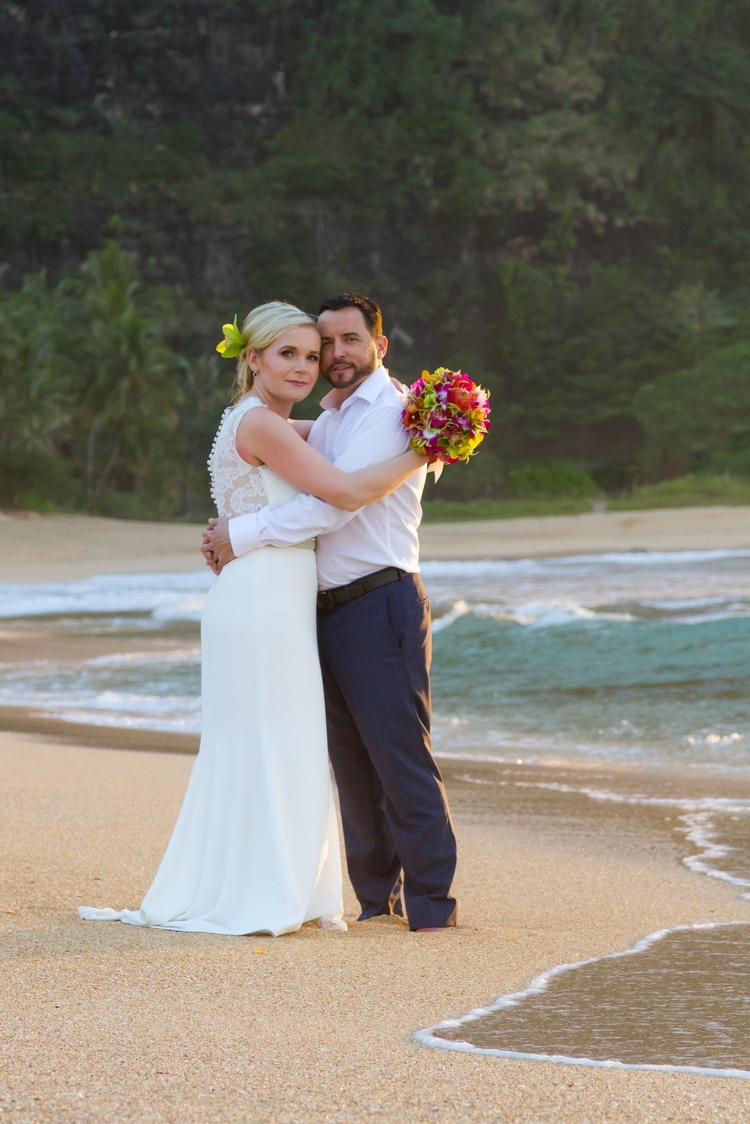 If the beach isn't your ideal ceremony location we have a variety of gorgeous venues with plenty to offer. Any style can be accommodated from pristine private gardens, rustic horse ranches, private waterfalls, to 5-star luxury resorts. The possibilities are diverse but not one will disappoint.
Adventure weddings are becoming more popular for those couples that really want to get off the beaten path. You can hike into a waterfall or take a boat ride down the NaPali coast to exchange your vows. The hiking on Kauai offers great opportunities for majestic views and unique vantage points. Take your time with these types of weddings. The idea is to have your day unfold organically without the extra stress of details and other people.
Hiring the pros for your destination wedding in Kauai
First things first, you have to make it legal. You will need an officiant that is registered with the State of Hawaii to sign your marriage license and perform the ceremony. Religious and non-denominational officiants are available. They will typically obtain your required beach permit for your ceremony as well.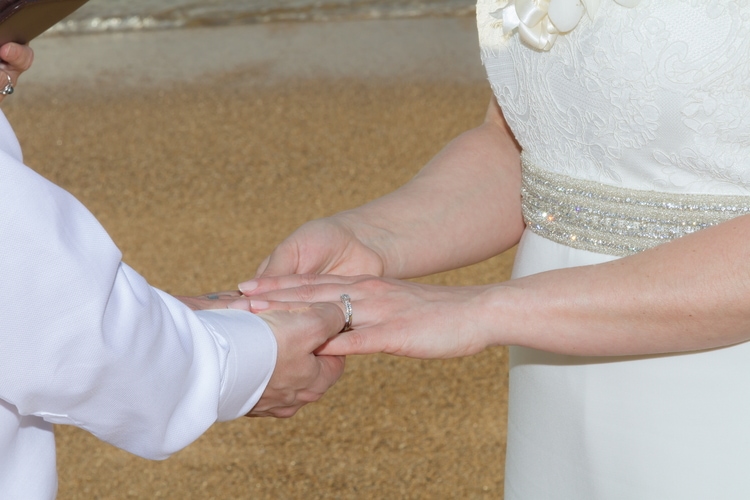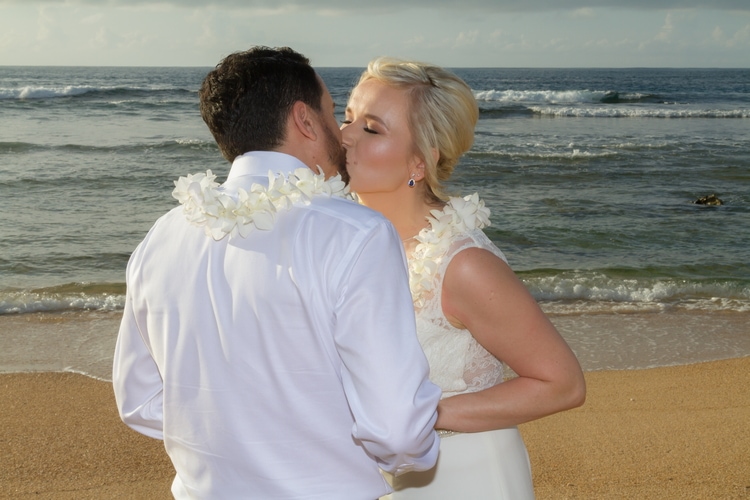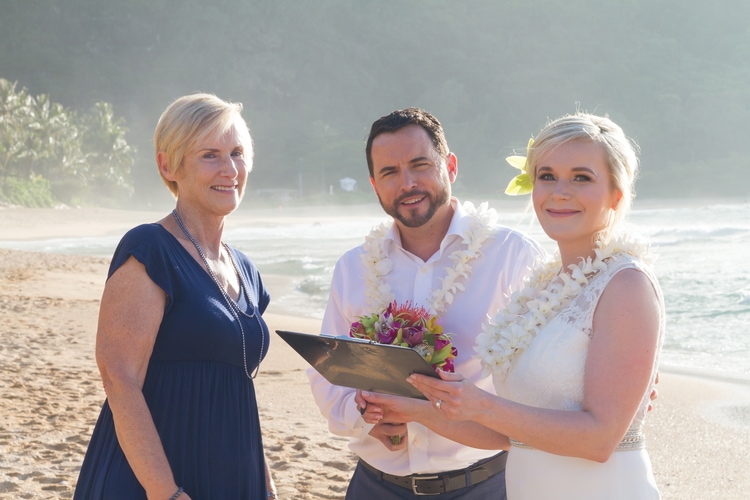 Find a photographer that offers the style of photos you like. Maybe you really like images that show emotion or your preferred look is more posed. Are environmental photos important to you? Have a few conversations with your photographer to get a feel for their personality. Ask questions and express your photography hopes. You will spend a good amount of time with this person on your wedding day so try to find someone you click with.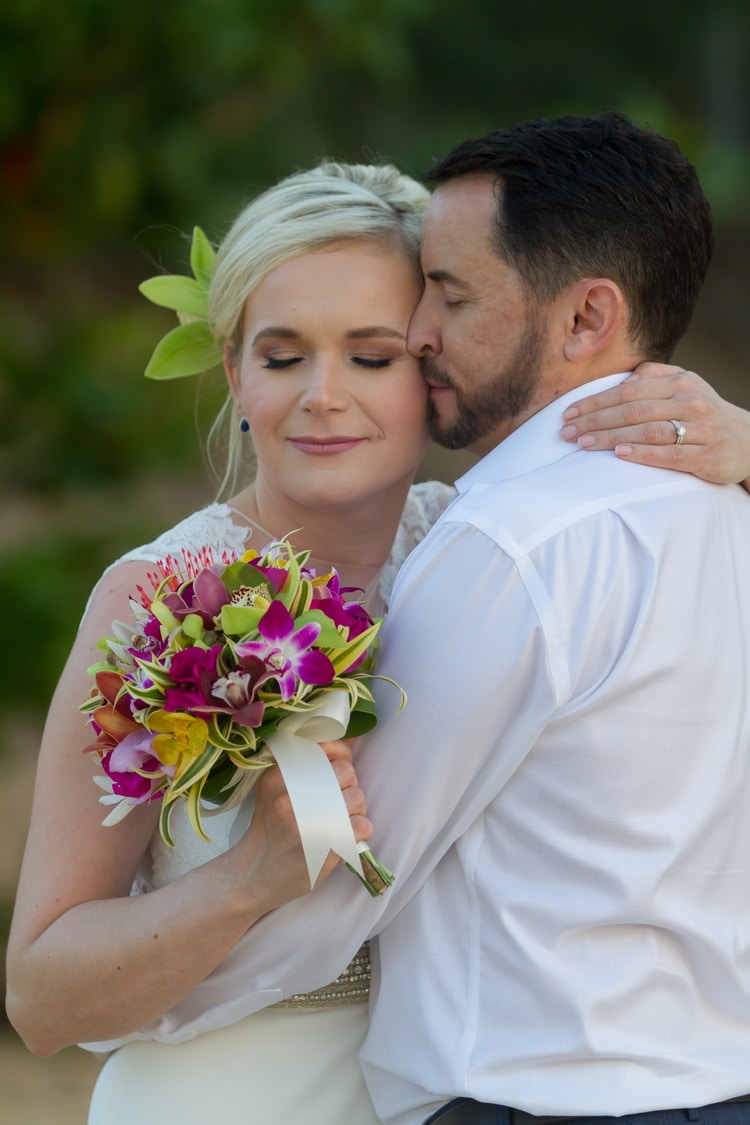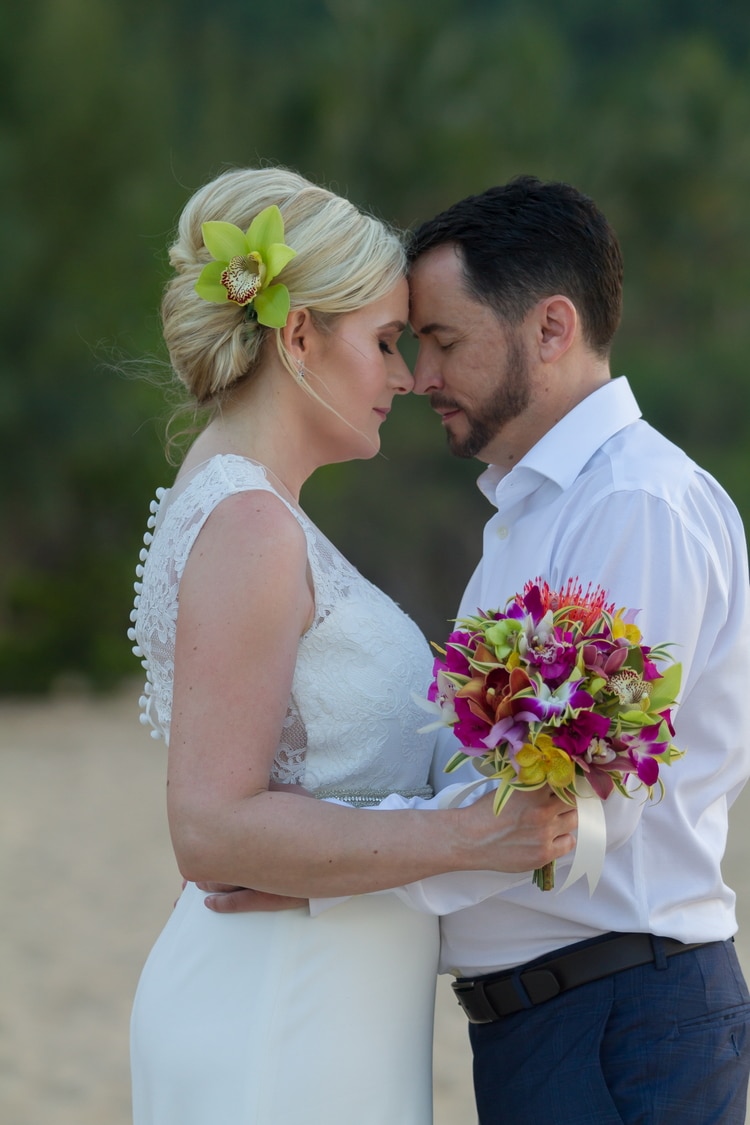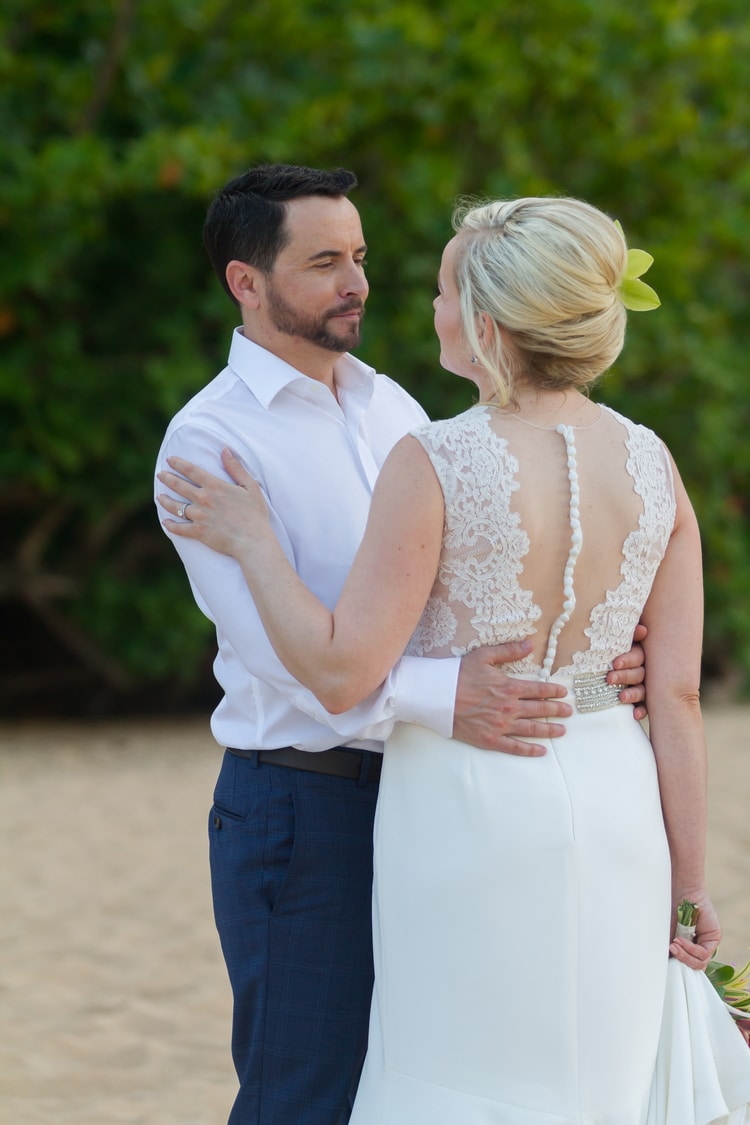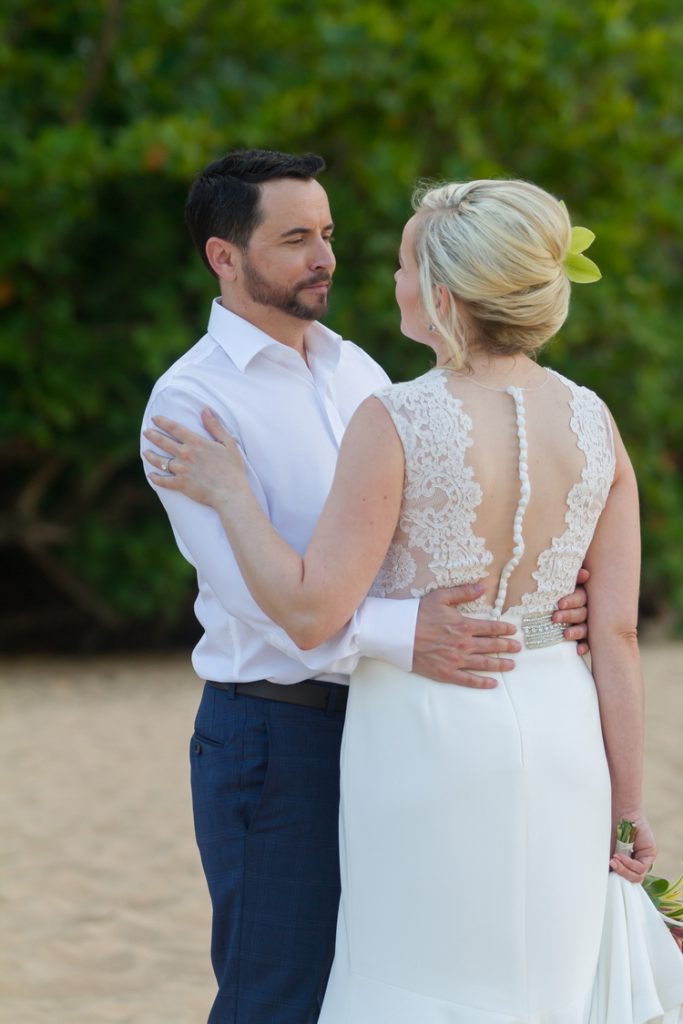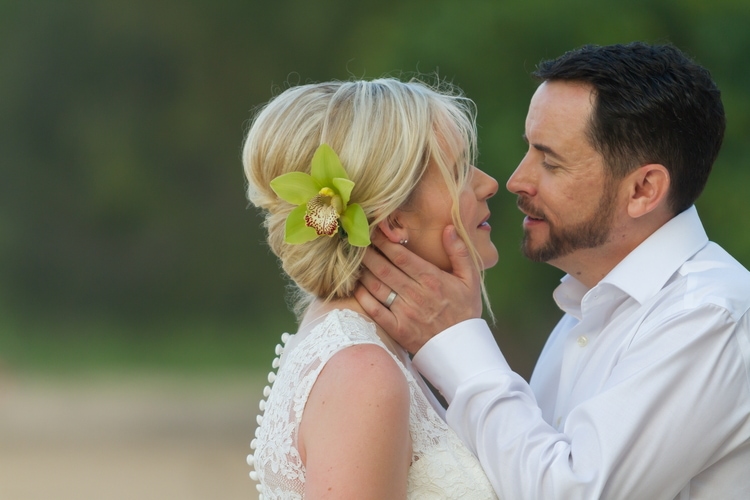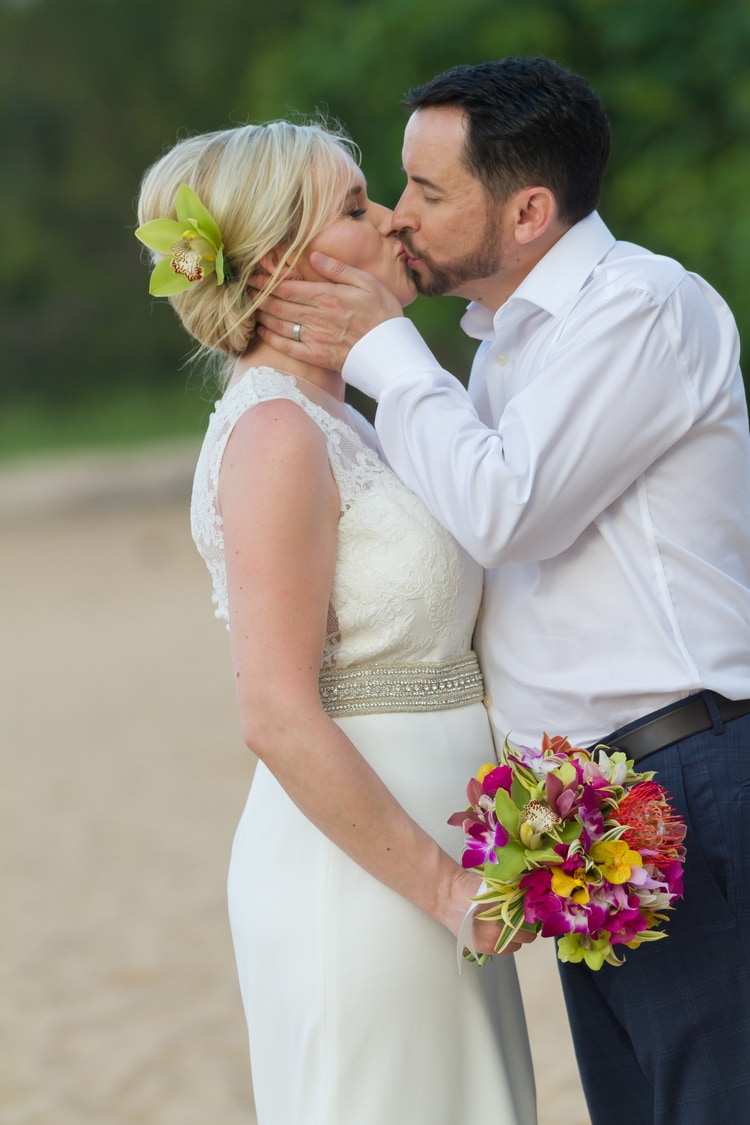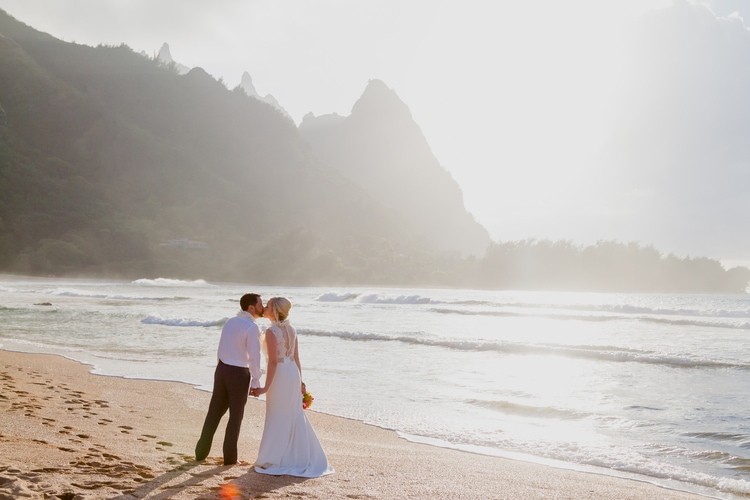 Coordinators are very helpful when planning your wedding from afar. Find one that you like and trust their expertise to help you create your perfect day. They will connect you with their favorite vendors and will be integral in picking your ceremony location. I would highly suggest using a coordinator if you are having more than 5 people at your wedding. They will handle all of the details for you and keep everyone comfortable so you can relax and enjoy your day.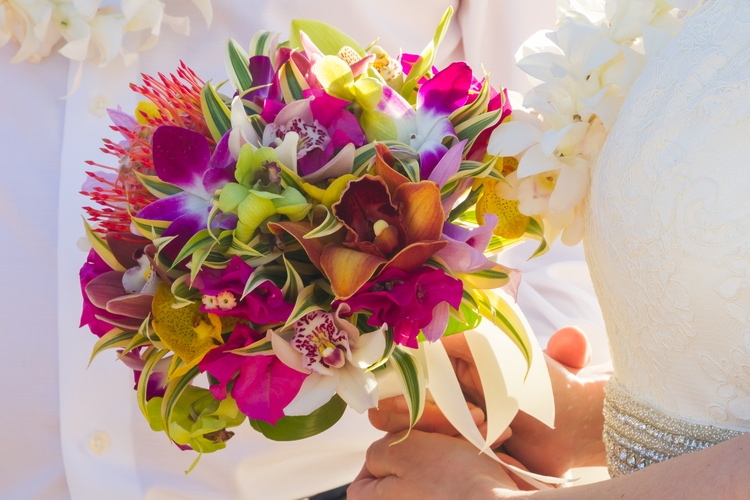 On Island
What to wear to your destination wedding in Kauai
When in Hawaii, wear flowers! In Hawaii, it is customary for the couple to exchange leis. The leis signify your unity and devotion. A bridal bouquet and a haku lei (aka flower crown) are really nice touches and add a level of formality to your occasion. We have many talented florists that can give you the perfect touch of floral elegance.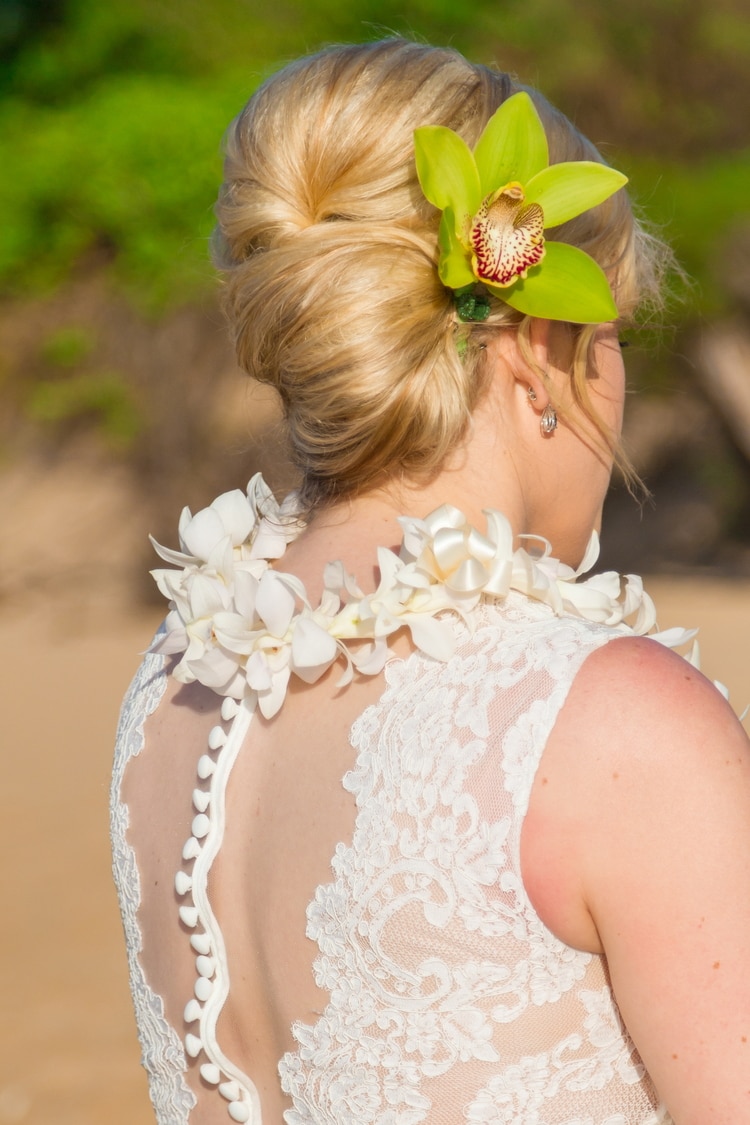 Aloha shirts welcome! Casual attire is totally acceptable as formal attire. We call it 'Island Formal.' Men often wear a light-colored button-up shirt with neutral pants. For the ladies, anything goes, but consider your environment. Lots of layers and pouf and long sleeves are probably not your best option for beach ceremonies. Find fabrics that are breathable so you are comfortable in our weather. Feel free to forgo the stilettos because most weddings here are barefoot. You will look funny trying to walk in the sand in heels, trust me.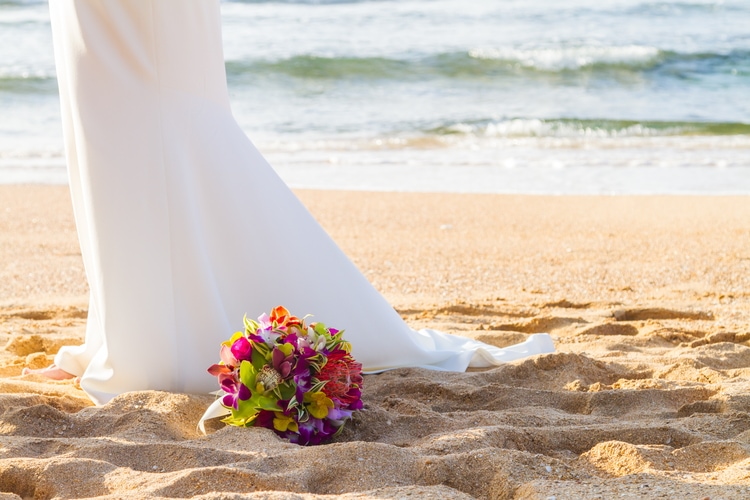 Weather in Kauai
Kauai is home to lush jungles, cascading waterfalls, and known for its rainbows. This means that we do get a fair amount of rain. Typically, we get more rain in the winter months and the South and West sides of the island tend to stay drier. We are used to passing showers and don't let it ruin weddings. This is another reason to work with local professionals- they know the island and can give suggestions when things aren't going exactly as planned.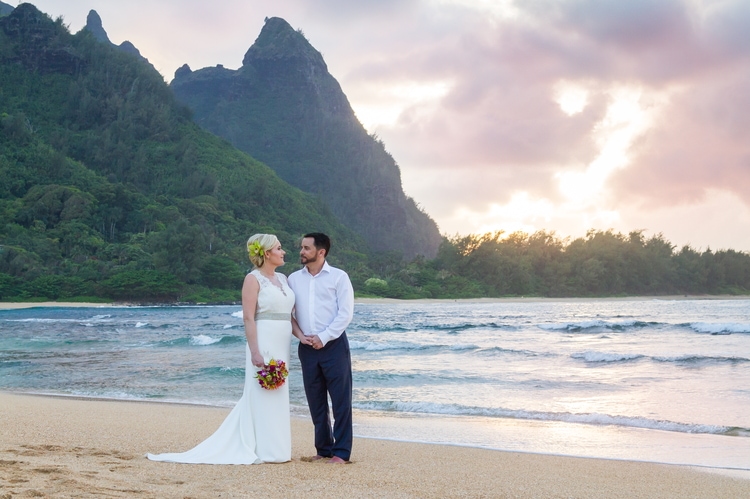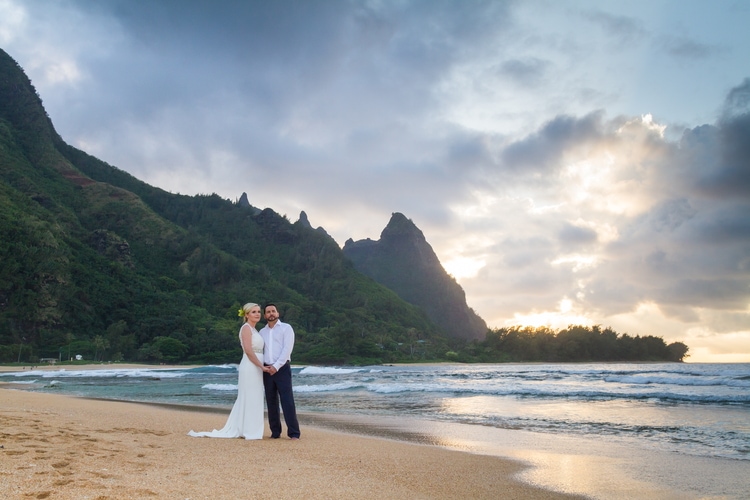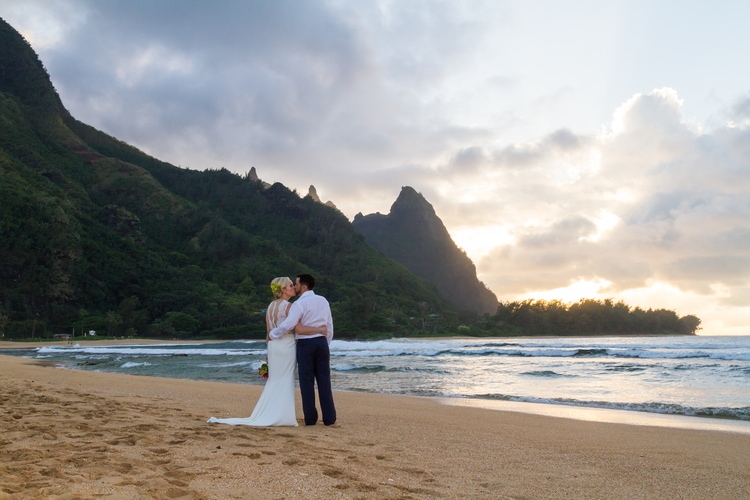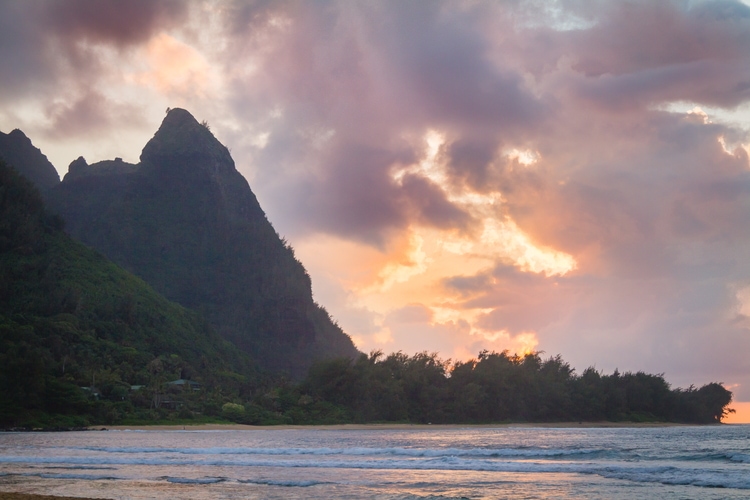 Make it your own
Your destination wedding is a chance for you to get away and focus on just the two of you. Take this time to spoil yourselves, slow down, take in the balmy air, play in the ocean, and fall in love all over again.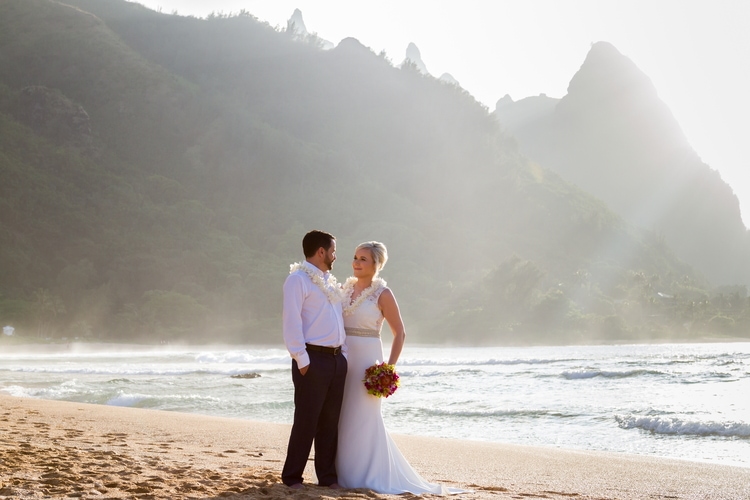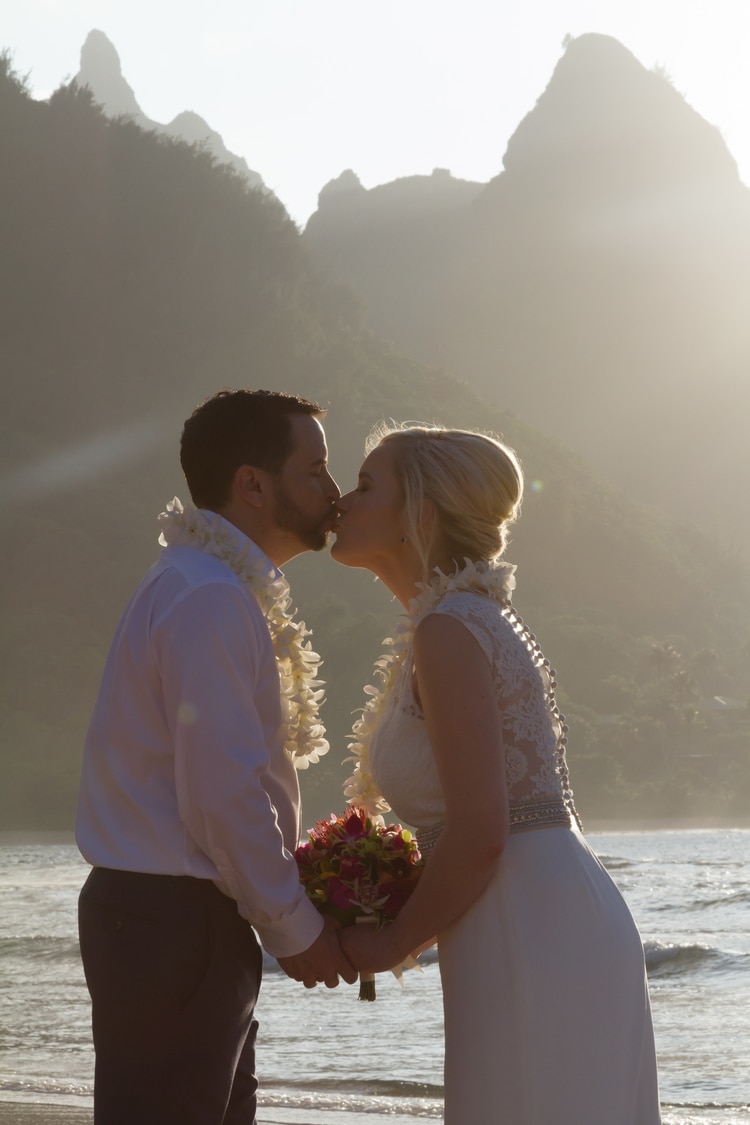 About the Author:
Keri Cooper has been a wedding photographer on Kauai for the last 18 years. She lives on the island with her hubby and 3 young sons.
Vendors
Photographer: Photography by Keri Cooper
Officiant: Kauai Wedding Officiant
Beauty: Lulu Lush
Floral Designer: Mr. Flowers
Location: Tunnels Beach