Sponsored by Mailbox Melodies.
Have you been looking for really fun and cute ideas to ask friends to be bridesmaids at your destination wedding? I get it. I still remember that giddy but nervous feeling when I proposed to my bridesmaids. It felt like the stakes were higher because I wasn't just asking them to put on a hideous gorgeous dress and drive to the local church and venue for a few hours. No– I was asking them to make a huge commitment. Buy the dress. Take time off from work. Buy a plane ticket. Pay for a hotel. Plan a bachelorette/bridal party. AND put on those lovely dresses, so they can take part in the most memorable week of my life. No pressure.
If you feel anything like I did, you want to propose to your bridesmaids in style. You want to do something extra special, unique and creative. Something that will give them a taste of what's to come and get them excited. Don't go sending out a group text asking your BFF's to be in your destination wedding party – that's just tacky.
What's not tacky… is a single thang about this beach/destination wedding bridesmaid proposal box by Mailbox Melodies.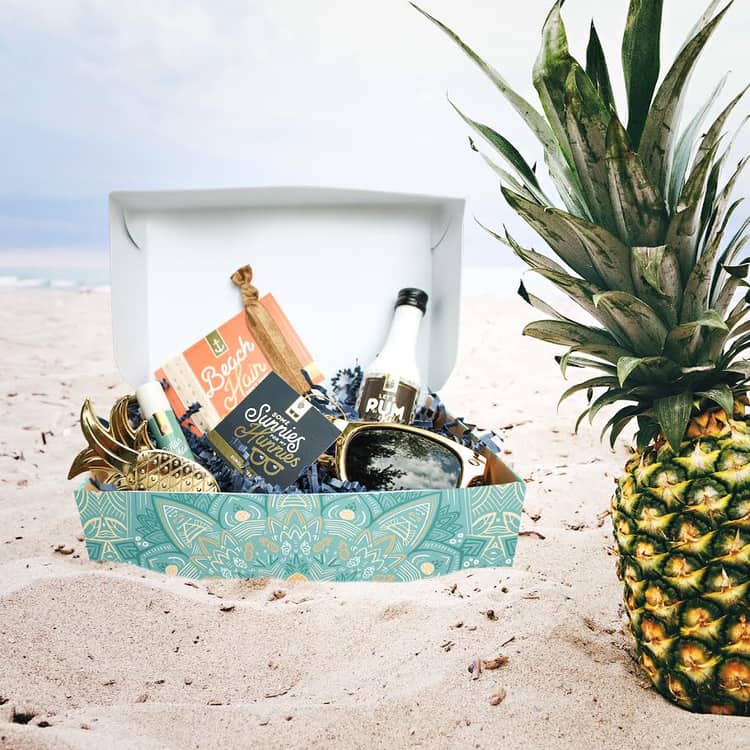 Destination Wedding Will You be My Bridesmaid Box
The inspiration behind the box
This adorable tropical bridesmaid proposal box was created by Kaylee Conrad at Mailbox Melodies – she's a one-woman show producing some of the most unique and well thought out gift box/care package options for any occasion. Her entire mission and purpose are SO fitting for wedding season – hence the perfectly curated gift boxes. She set out to bring back gift giving that is thoughtful, personal, unique and fun!
I mean let's face it…when it comes to weddings, the whole gift-giving process can be pretty bland. If you do a quick google search you'll find gifts to ask friends to be bridesmaids, but they're not specifically made for destination weddings. That's why I was so excited to discover these bridesmaids proposal gifts that are specifically themed for destination and beach weddings.
Kaylee came up with the idea last year after a friend approached her to see if she could create a bridesmaid proposal box to ask her friends to join her in Punta Cana on her big day. The result was this unique "If You like Piña Coladas" Destination Wedding bridesmaid proposal box.
My review of the Destination Wedding Bridesmaid Proposal Box by Mailbox Melodies
I requested a sample just so I could tell you all about my personal experience with it….here's the scoop:
First of all, the sample arrived really fast and I got regular tracking updates letting me know when it would arrive. So far, so good. When I opened the box, I felt like I buying a plane ticket and being a bridesmaid at someone's tropical destination wedding. This box was that cool. My first impression far exceeded my expectations. It is tropical and fruity but in a classy way —the perfect combination for a wedding in paradise. The outside of the box has a cute tropical design and was personalized with my name in gold foil– so I was feeling pretty special even before I peeked to see what was inside.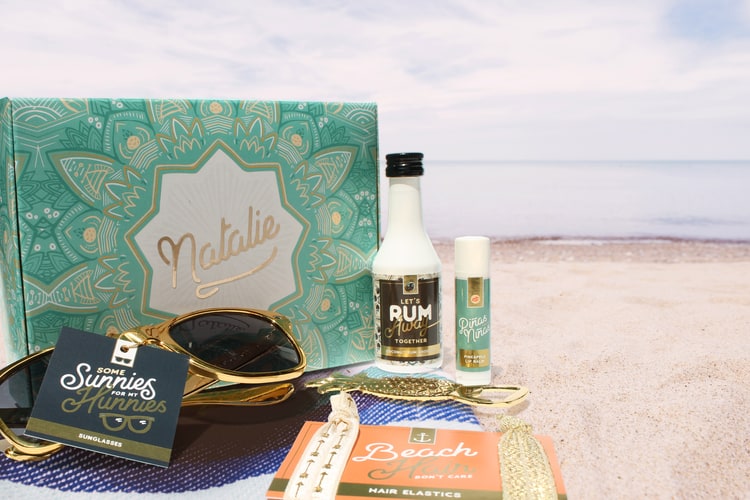 The first thing I noticed when I opened the box, was a card with a pretty gold foil design and text that said "Will you be my bridesmaid"on the outside. The inside was blank, so you can truly make it your own with a personalized hand-written message. Take this opportunity to share a quick fond memory, inside joke or meaningful quote that symbolizes your relationship with said bridesmaid. Of course, the envelope matches – solid gold! (Okay, I'm exaggerating. But it is a shimmery gold color.)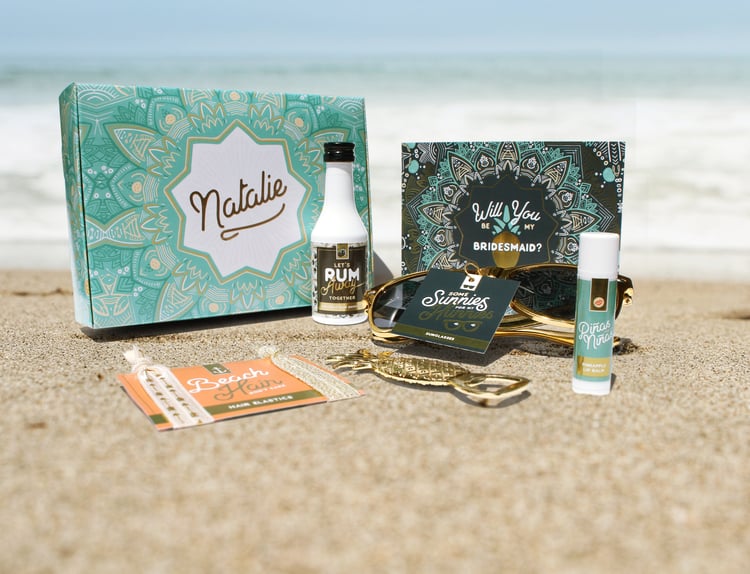 And that's just the beginning! Since you're asking your ladies to join you in heaven (or wherever it is your beach wedding is set… same difference), they're gonna need some quality sunglasses! Get your bride tribe in sync with some gold "sunnies for your hunnies" – her words, not mine – Kaylee slays with the cuteness. Oh, and they offer UV 400 protection – they're not just a prop, these things are quality!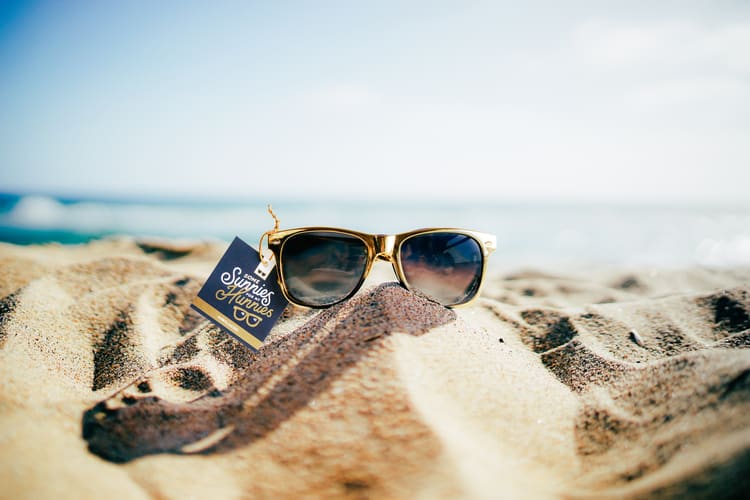 The box also comes with a couple of really cute hair elastics because you know… "beach hair don't care" (again, Kaylee's words).
Since you'll obviously be enjoying some adult beverages in the sun, it's only right that this box includes a gold color metal bottle opener… shaped like a pineapple! Speaking of pineapples, there's a lovely silky lip-balm that says "Piñas for my niñas" (translation: "pineapples for my girls") and uhhh, yeah… it really smells like pineapples. If you're not in the mood for a piña colada by now, you're a monster. If you are, you're in luck! This box comes complete with a gold foil label that reads "Let's Rum Away Together", and will fit on a mini coconut rum bottle – or any nip of your choosing!
Piña Colada Ingredients: Pineapple, Coconut, Rum, Laughs, Love.
Kaylee's Bridesmaid Proposal Box Ingredients: Pineapples, Paper, Gold Foil, Laughs, Love.
Coincidence? I think not.
I absolutely loved this little tropical bridesmaid proposal box so go check them out for yourself. Your bridesmaids will thank you.
Disclosure: This post was sponsored by Mailbox Melodies. The opinions expressed are the author's own and do not necessarily reflect the views of any company, agency, or organization. See Disclaimer