Update: Some of these destinations may currently have travel restrictions in place due to Covid-19. Contact your travel agent before booking or making any plans. This post was last updated in October, 2019.
Do you want your destination wedding at a brand-spanking-new resort that your friends and family have never been to? Every year new resorts open up, providing many options for you and your guests to enjoy. But not all new resorts are created equal. You might be tempted by the pre-opening rates and sometimes over-promises from the resort planners.
It's important to tread carefully when booking a brand new resort for one of the biggest events of your life. That's why we've tapped the expertise of Jack Benoff, President of Vacationeeze who has over 35 years of experience. He is constantly visiting resorts and talking to the wedding teams. Jack's team has seen it all – from resorts that open late or with partial facilities, to new properties that face staff training issues. He always offers invaluable insight. And we're excited that he's here to share his picks for the best destination wedding resorts opening this year.
New Destination Wedding Resorts in Cancun
Written by Jack Benoff
Now Natura Riviera Cancun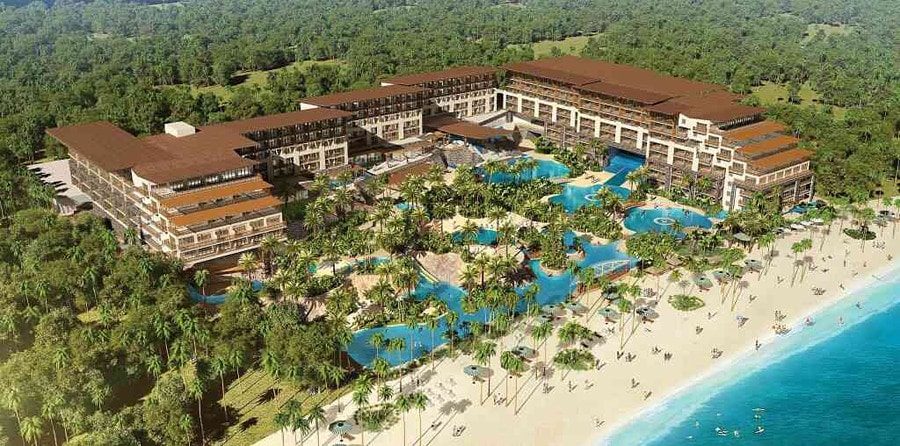 Scheduled to open on December 1, 2019, this family-friendly resort is part of the reputable AM Resorts brand which offers unlimited luxury for your guests with no bracelets or wrist bands. The resort will be located less than 20 minutes away from the Cancun airport. Situated on a stretch of white-sand beach, the Now Natura will have 556 rooms, 15 restaurants/bars, and 4 swimming pools. The property will also feature a Preferred Club section for your VIP guests with many upgraded amenities. There will be many wedding and reception venues for you to choose from. The Vacationeeze team is very familiar with the wedding manager and team at the resort who can help you customize your wedding.
Dreams Vista Cancun Resort and Spa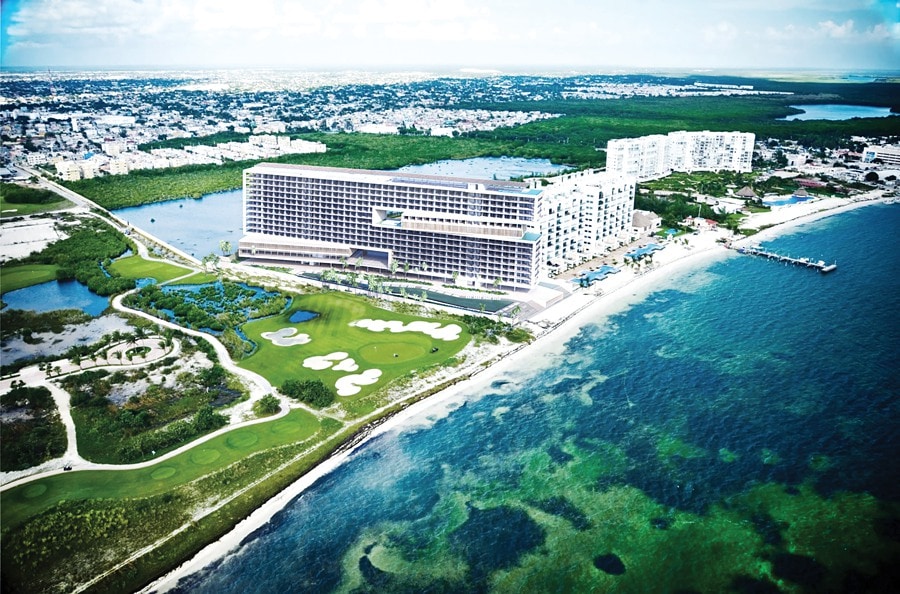 This family-friendly resort is also part of the AM Resorts brand and is scheduled to open on November 1, 2019. The resort is less than 30 minutes north of the Cancun airport, right next to an 18 hole golf course. With just 232 rooms, Dreams Vista has an intimate vibe that is ideal for a small wedding. There will be over 10 restaurants and bars on-site, including a rooftop pool and bar with amazing views of the white-sand beaches and turquoise waters. You can choose from a beach, pool, or garden venue for your destination wedding. The wedding team is very flexible and can customize your event to match your dreams.
Royalton Suites Cancun
If you want to be right in the center of the Cancun action, the Royalton is your place. This property opened in the winter of 2019 and is located on the main hotel zone beach, approximately 30 minutes from the Cancun airport. It is family-friendly but has areas that are reserved for adults only, including a Rooftop Cabana Lounge. The resort has over 10 restaurants and bars including Agave which specializes in Mexican Cuisine. Most rooms have either an ocean or lagoon view and are a nice size. Royalton Suites offers many great wedding packages, but you can also customize to create the wedding of your dreams.
New Destination Wedding Resorts in Punta Cana
Hyatt Ziva and Zilara Cap Cana
These two resorts are located in the upscale Cap Cana development, less than 15 minutes from the airport. The Hyatt Ziva is family-friendly and The Zilara is adults-only. The resort is set to open in the fall of 2019 and has been much anticipated by the Vacationeeze team based upon their relationship with their other resorts. There will be over 600 rooms between the two properties, many with ocean views of the white powdery sand and turquoise waters. The resorts will have over 15 restaurants and bars including a new Rum Bar. They will have multiple pools and even a water park! There resort will have many great venues for weddings including on the beach, beach-front, around the pool and in the gardens. Jack from Vacationeeze told us: "Based on our past experience with the wedding team, we expect them to be one of the best on the island."
New Destination Wedding Resorts in Cabo
Hard Rock Los Cabo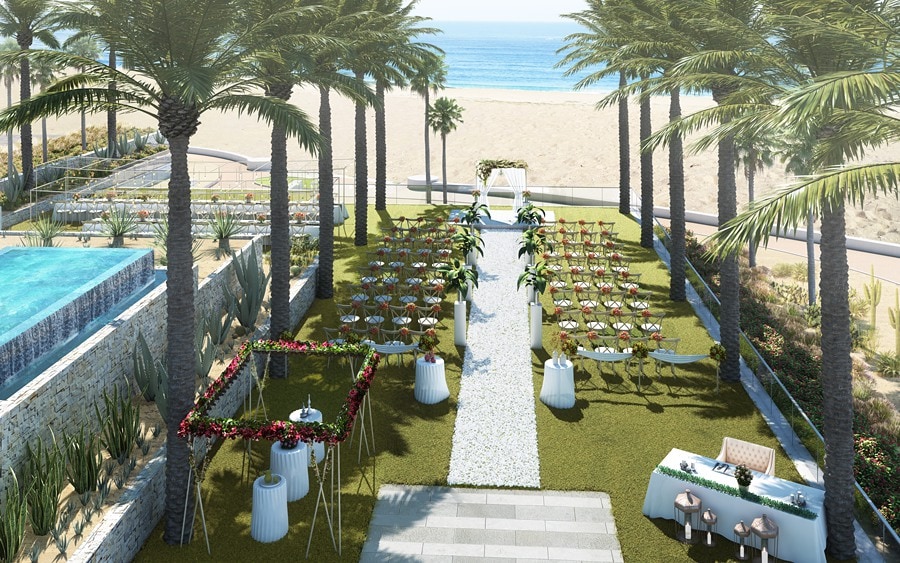 Bringing the Hard Rock vibe to Cabo in summer 2019, this family-friendly resort is located just 30 minutes from the airport. All rooms include large hydro tubs for you to soak in after a day of activities. Hard Rock offers over 12 restaurants and bars including Ipanema, which serves Brazilian traditional meats on skewers. The resort now offers Limitless Resort credits for Vacationeeze guests to use for spa treatments, tours, excursion, room upgrades and at the gift shop. They also offer a promotion that will provide you free cocktail parties and receptions. The resort offers constant activities day and night for your guest. But if they want to just sit back and chill they can do so at the Cafetto which has specialty coffees and snacks all day.
New Destination Wedding Resorts that Recently Opened
Although there are some brand new destination resorts opening this year, it's worth mentioning some amazing properties that have only opened in the past couple of years and are still relatively new.
Le Blanc Resort and Spa (Cabo)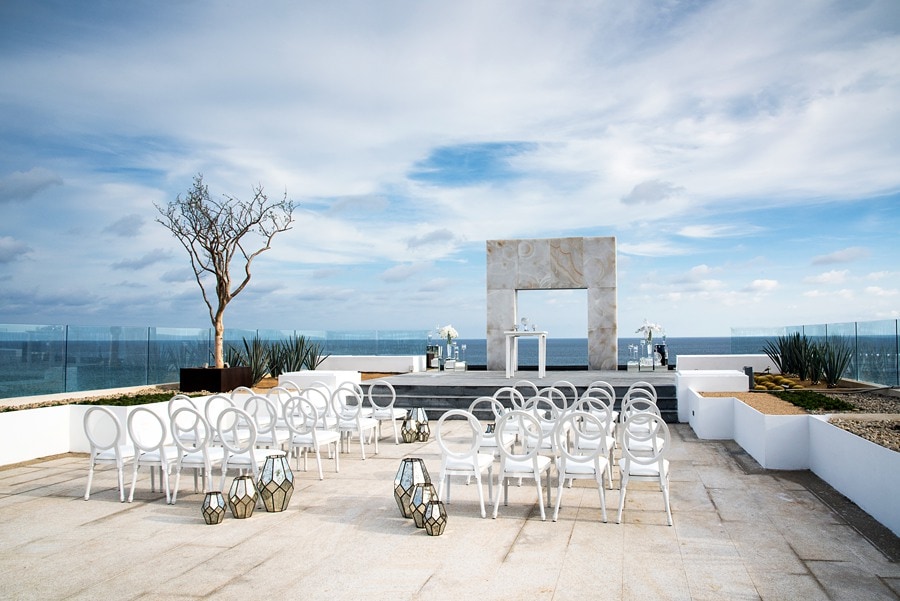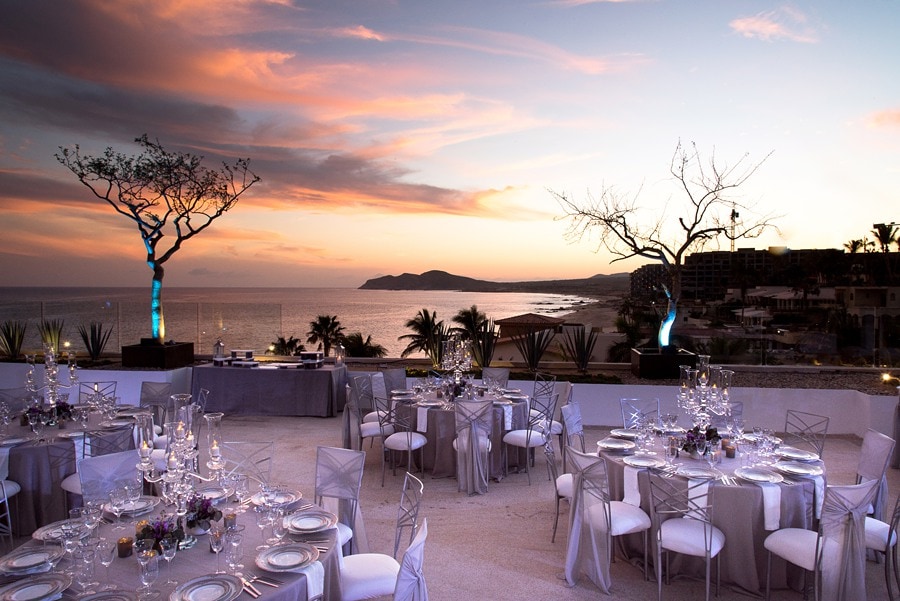 If you are looking for pure luxury, you'll find it at Le Blanc Resort and Spa in Cabo. This adults-only resort is ready to pamper you and your guests. As soon as you arrive, you know you have arrived! The resort has been open for slightly over a year and is one of the Vacationeeze team's favorite adults-only resorts. They have 4 pools, a magnificent beachfront and the majority of the rooms have an ocean view.
The service is over the top. There are butlers to take care of you and help you select from a pillow menu, soap menu, and aromatherapy menu. All rooms include Bvlgari and Chi products and even hair straighteners. The rooms also include a bottle of wine and tequila as welcome gifts. Each guest room also includes $500 to $1500 in resort credits which can be used at the spa, for tours/excursions, or the gift shop. There are 12 restaurants and bars, and even a Churro cart by the pool in the afternoon. Le Blanc has many amazing wedding venues including a terrace that overlooks the ocean. One other notable feature is that the resort offers free ceremonies, free cocktail parties, and even free receptions depending upon the number of rooms your guests' book.
Jewel Grand Montego Bay (Jamaica)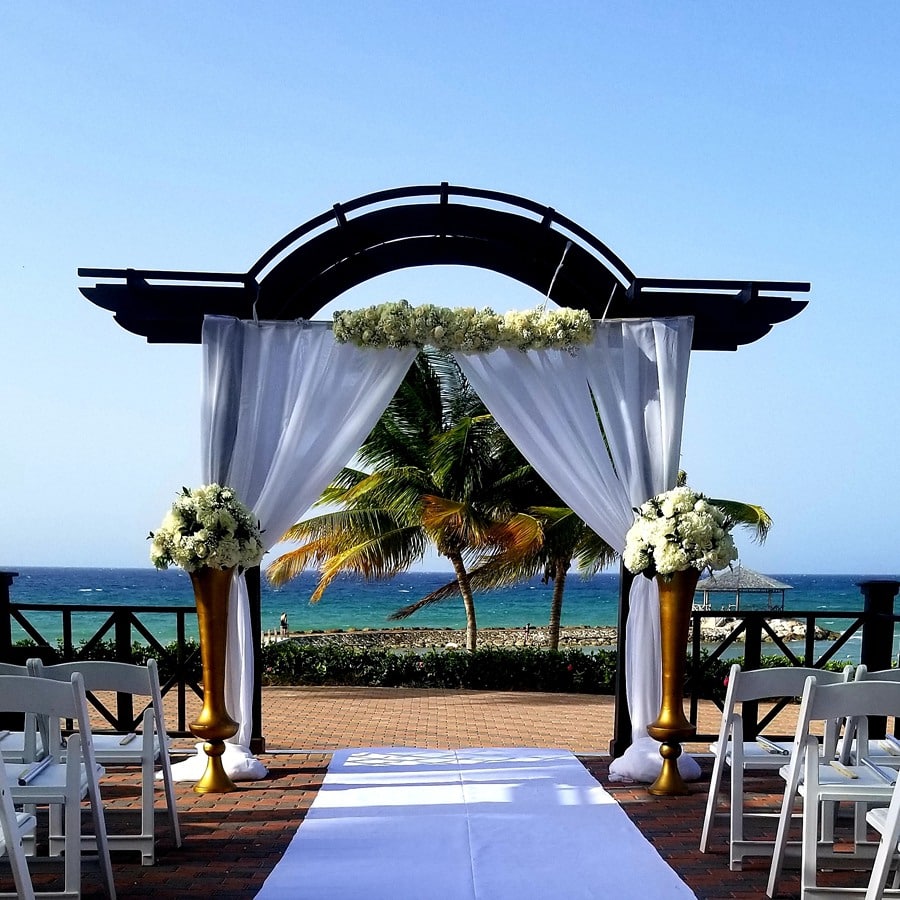 Located less than 10 minutes from the airport, the Jewel Grand is a family-friendly luxury boutique resort. The resort was originally designed as a condo complex and for that reason, all the rooms are very large. You and your guests will also have the option to reserve 1, 2 and 3 bedroom suites. All rooms are oceanfront and are in high rise buildings with amazing views. The resort has 12 restaurants and bars for you to choose from including The Sugar Cane Coffee and Ice Cream shop, (a Vacationeeze favorite). There are many unique wedding venues and the wedding team can customize anything you can dream of.
Grand Palladium Costa Mujeres (Mexico)
The Grand Palladium is located 30 minutes north of the Cancun airport and opened November 2018. The resort is very modern and stark and has a sophisticated vibe. It is a large complex with 529 rooms, 4 swimming pools, and a nice beach area. There are 7 restaurants, a sports bar, and a shopping area. The Grand Palladium has some very nice wedding venues including a beach location, a catholic wedding chapel, and a patio overlooking a lake. The wedding department has many nice packages to offer for your reception and other events. Within the complex is the adults-only TRS Resort which has its own restaurants, bars, and pools, but is connected to the Grand Palladium.
Contact Vacationeeze for More Information
Do you want more details about how to book your destination wedding at any of these resorts? To get more details on these or other resorts that could be perfect for you, contact Jack from Vacationeeze.
Disclosure: This post was sponsored by Vacationeeze. The opinions expressed in this post are the author's own and do not necessarily reflect the views of Destination Wedding Details. See Disclaimer