Kristine & Jayson's destination wedding in Carmel Valley is proof that sometimes you don't have to go very far to find the wedding destination of your dreams! The couple rounded up 33 of their closest friends and family for a fun-filled destination wedding at Chateau Carmel –a whimsical, rustic, romantic villa with incredible 360-degree views of Carmel Valley, California.
After browsing these photos by Kelley Williams Photography, it came as no surprise that both Kristine & Jayson are in the hospitality industry and have worked on many weddings before theirs. Although they aimed to keep their own wedding simple, their great taste was evident in every single detail. I loved their color scheme and when I asked the bride about it she said: "Since Fall is my favorite time of the year, the deep burgundy's, navy's and slate grey felt right to achieve the style we were going for."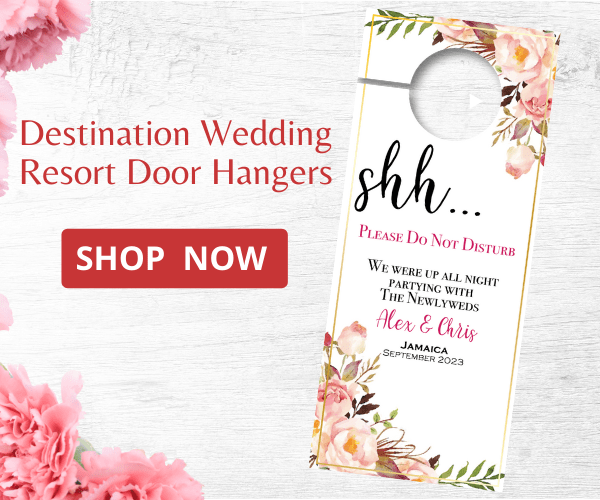 I hope you enjoy the abundance of inspiration to be found in this album. And make sure you read all about Kristine & Jayson's planning experience and their advice for others planning their own destination wedding.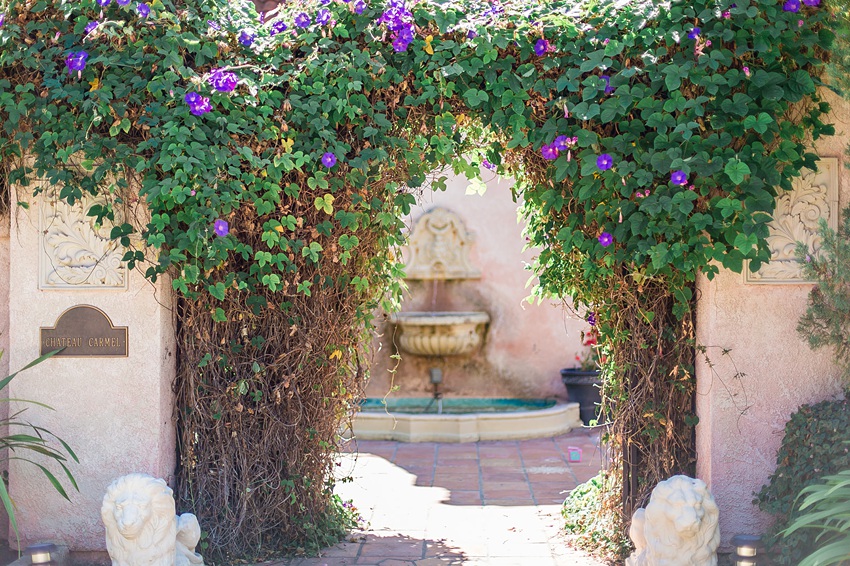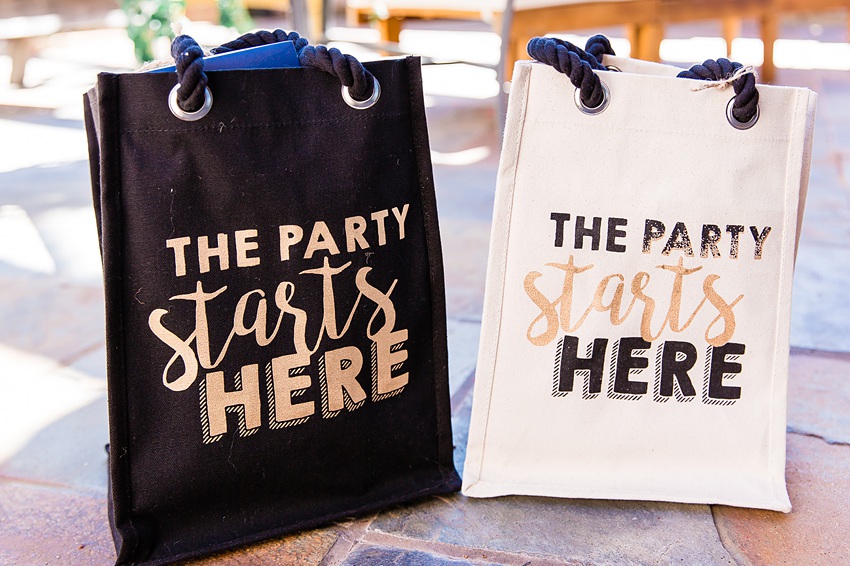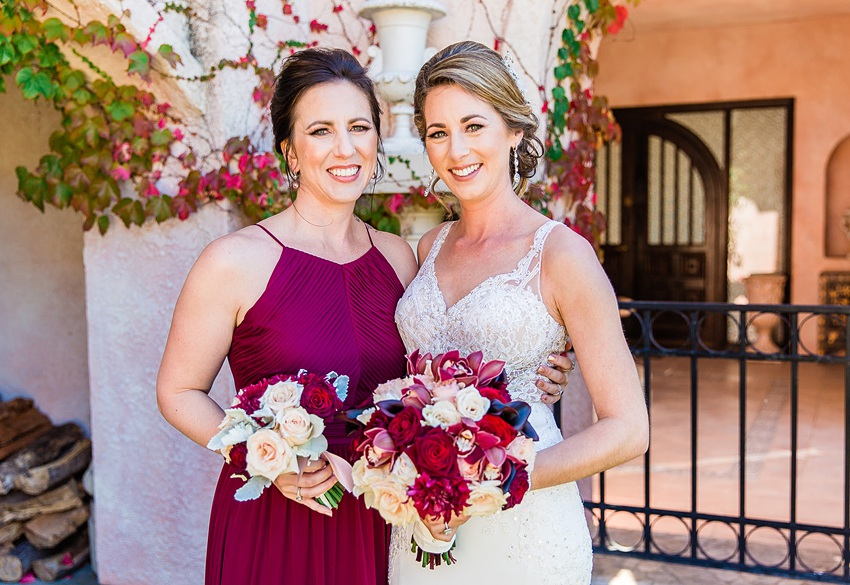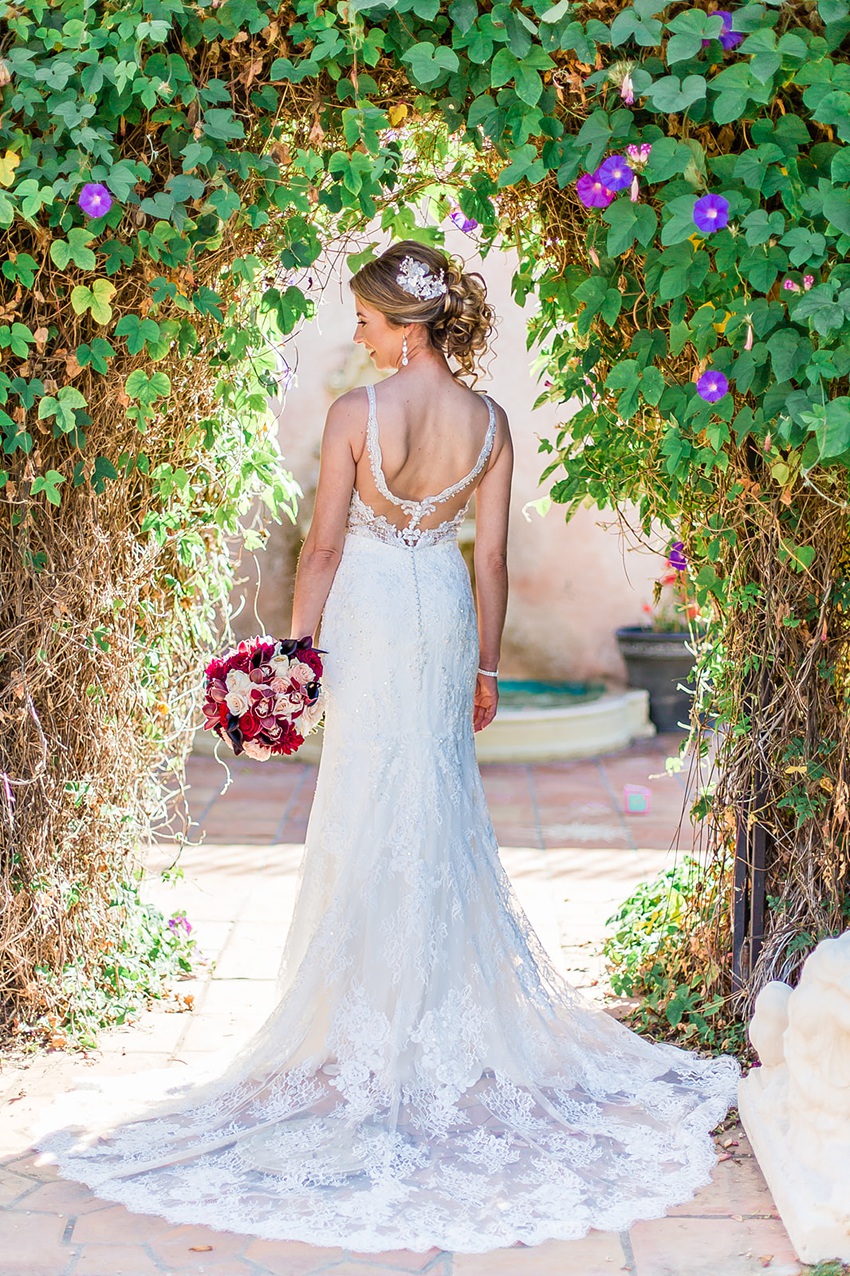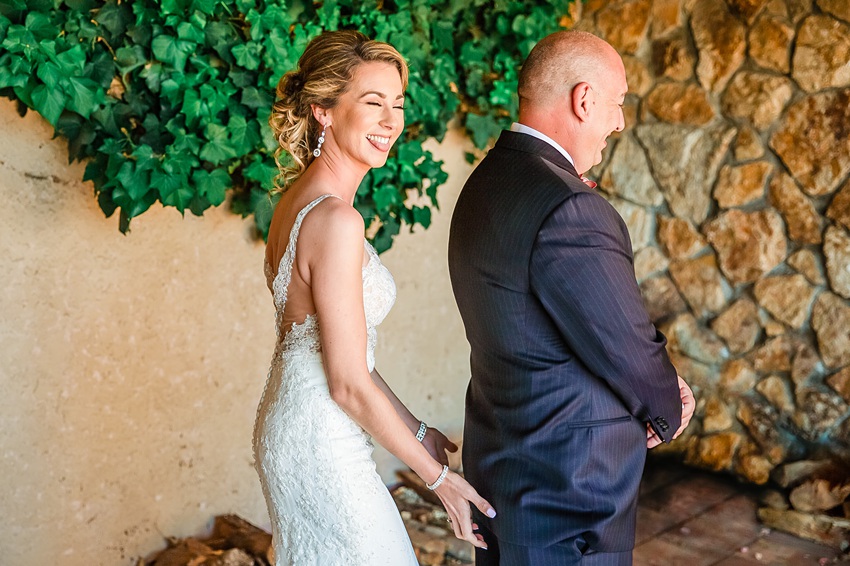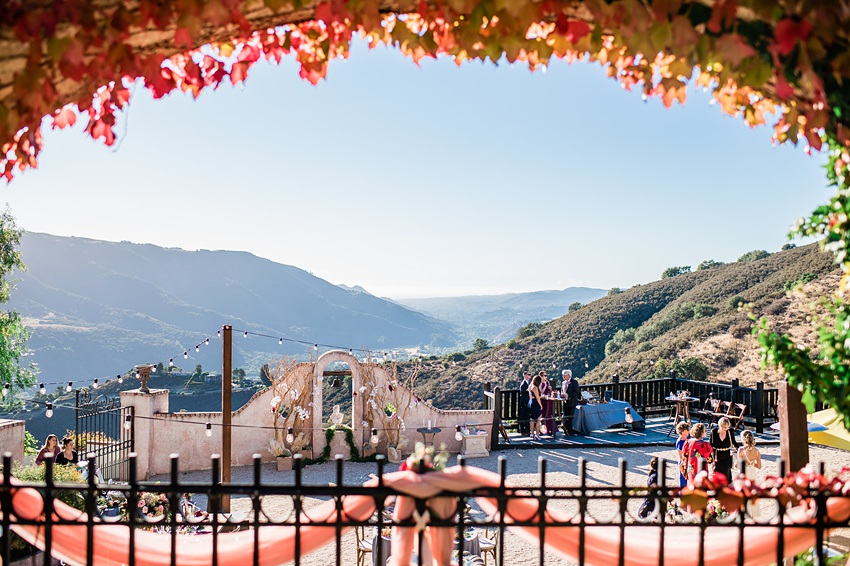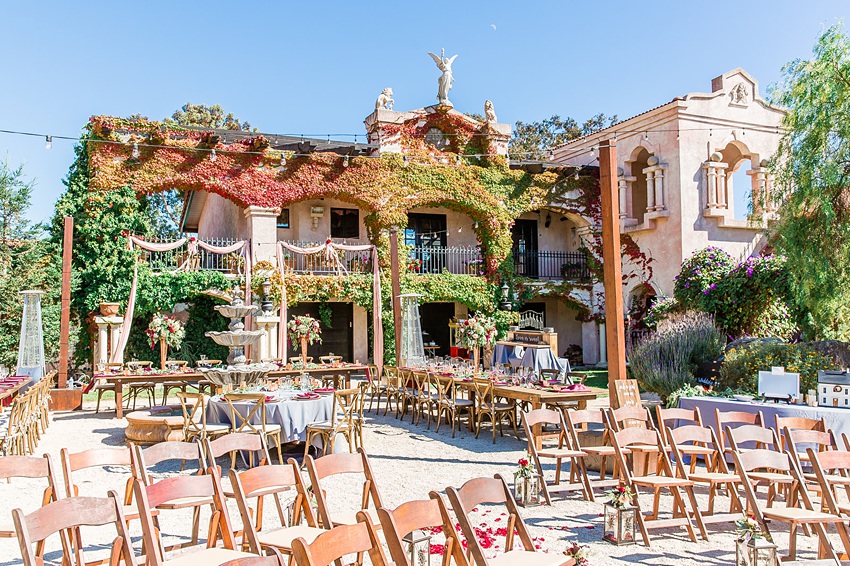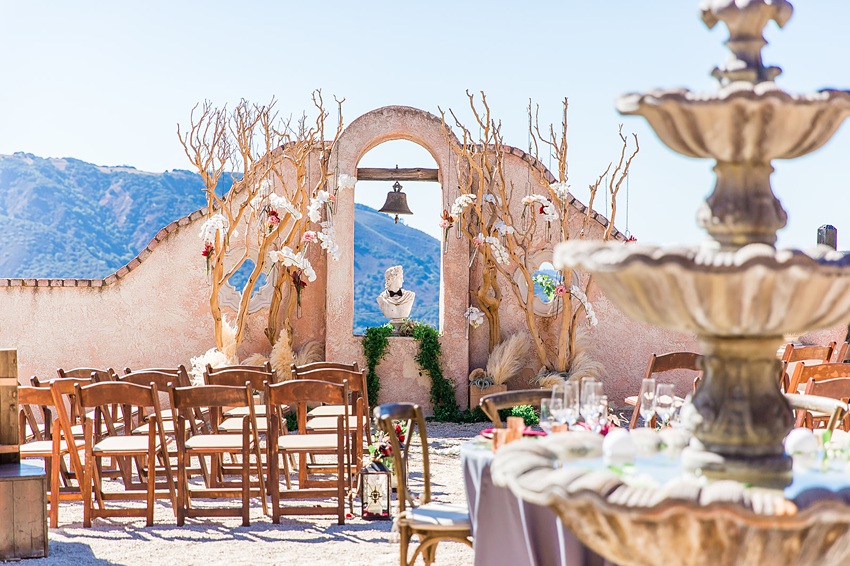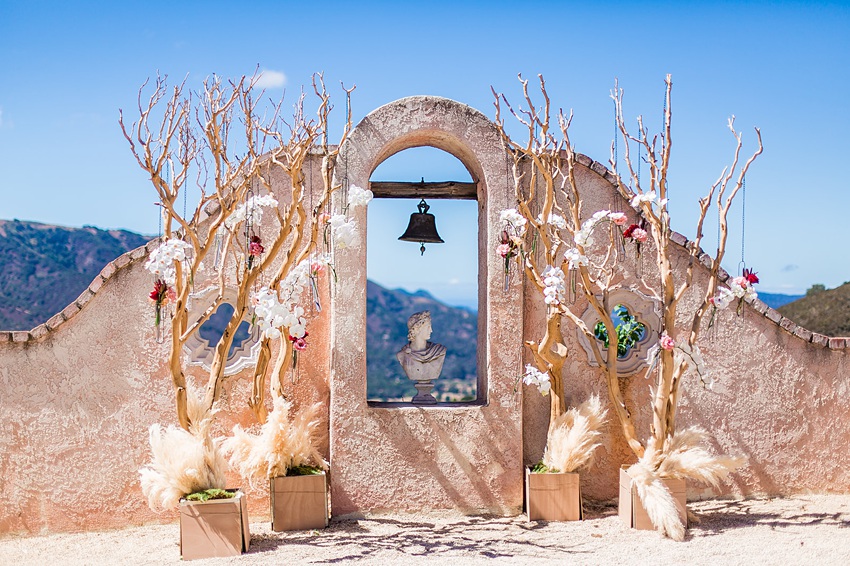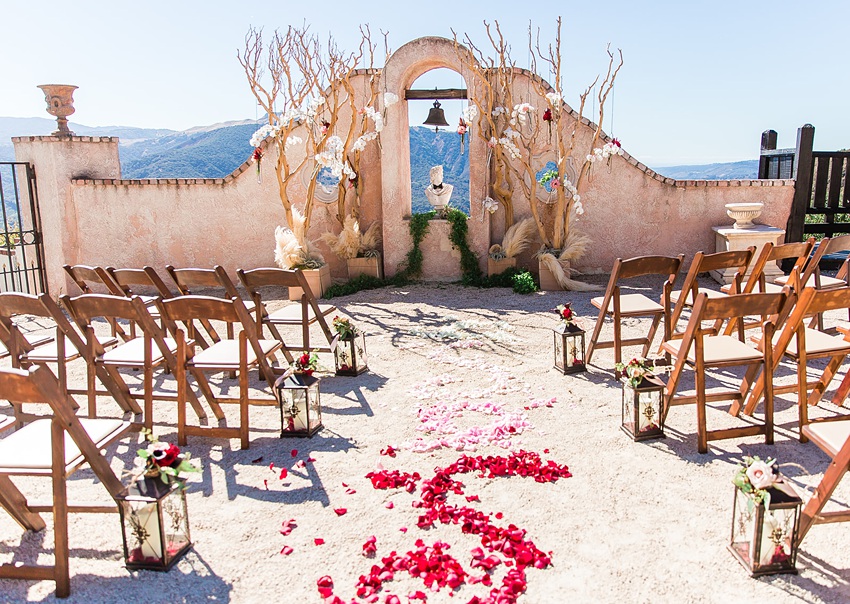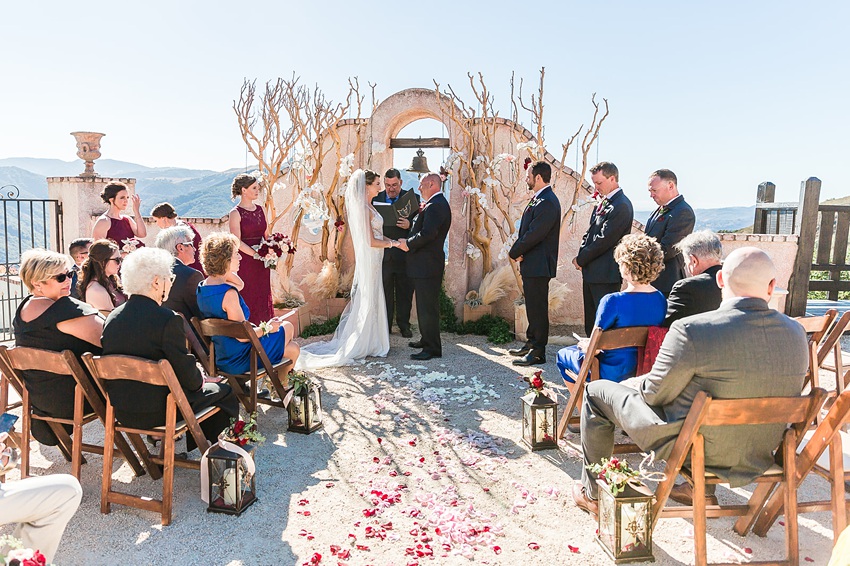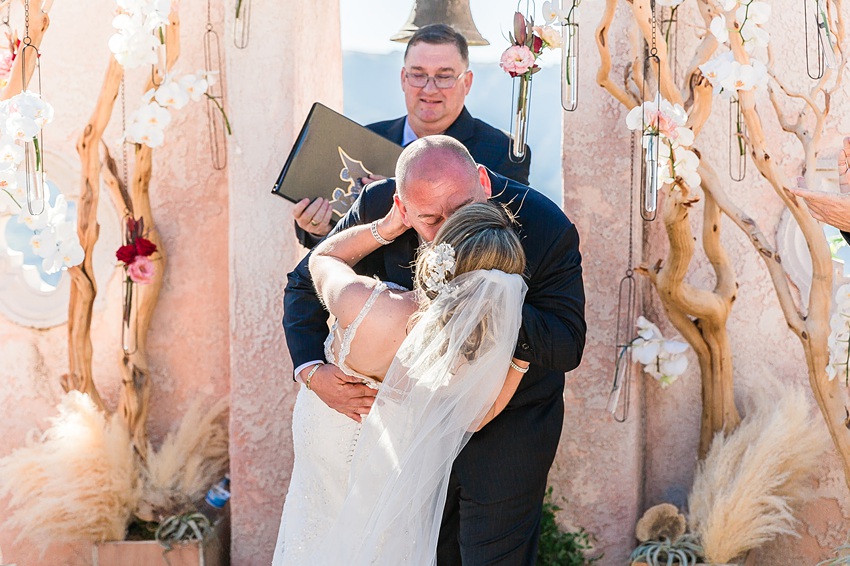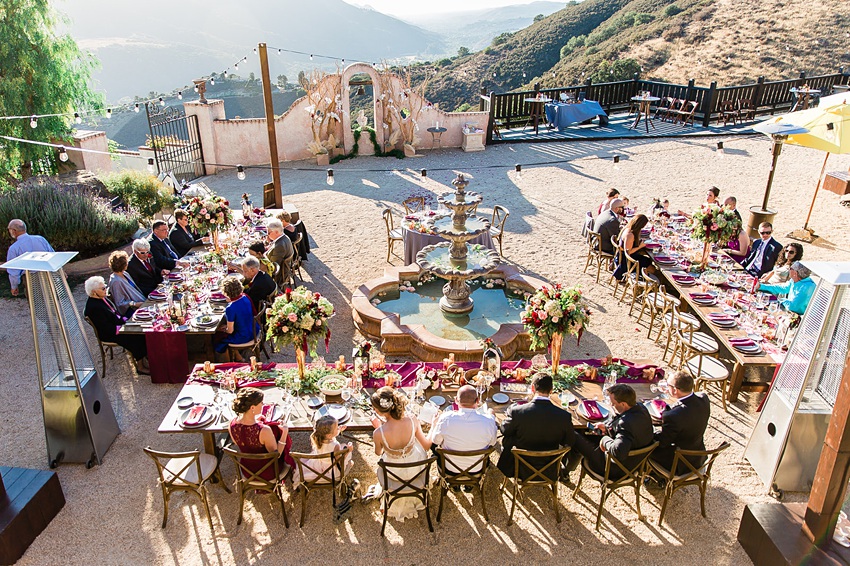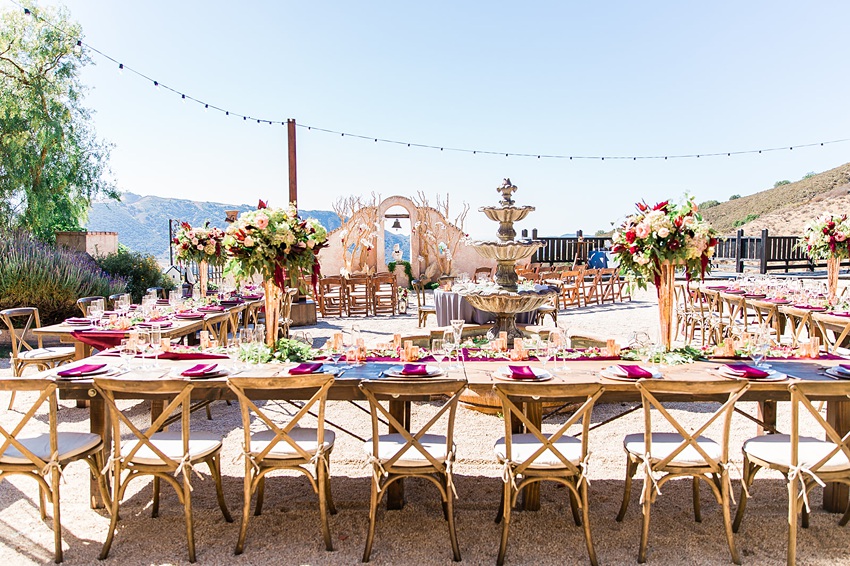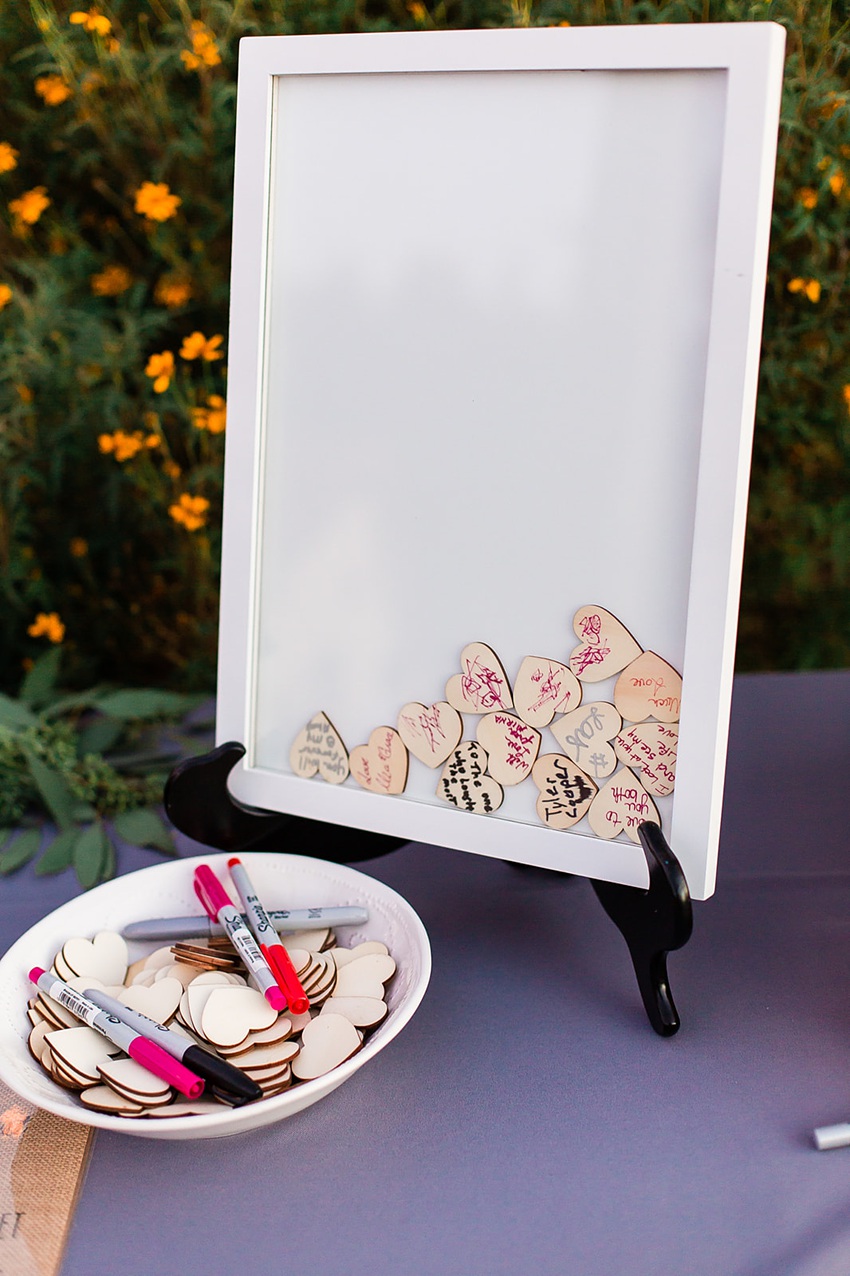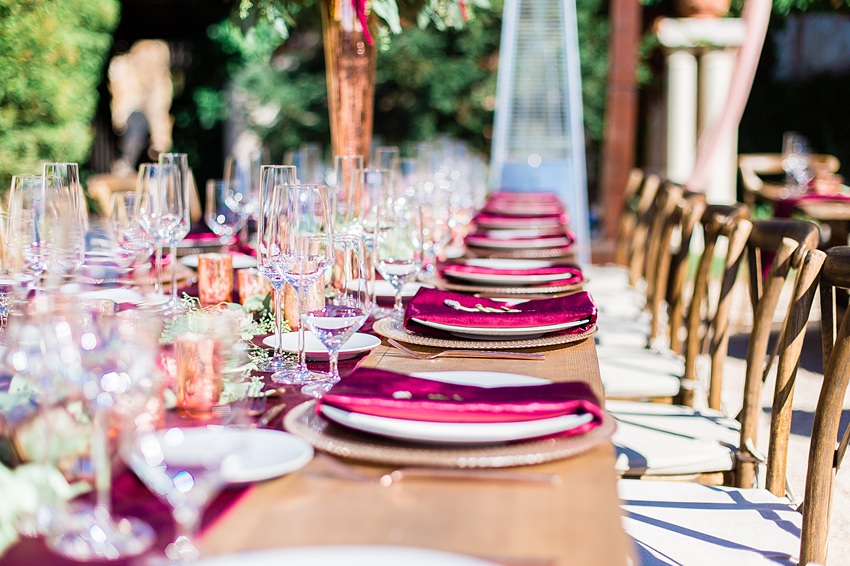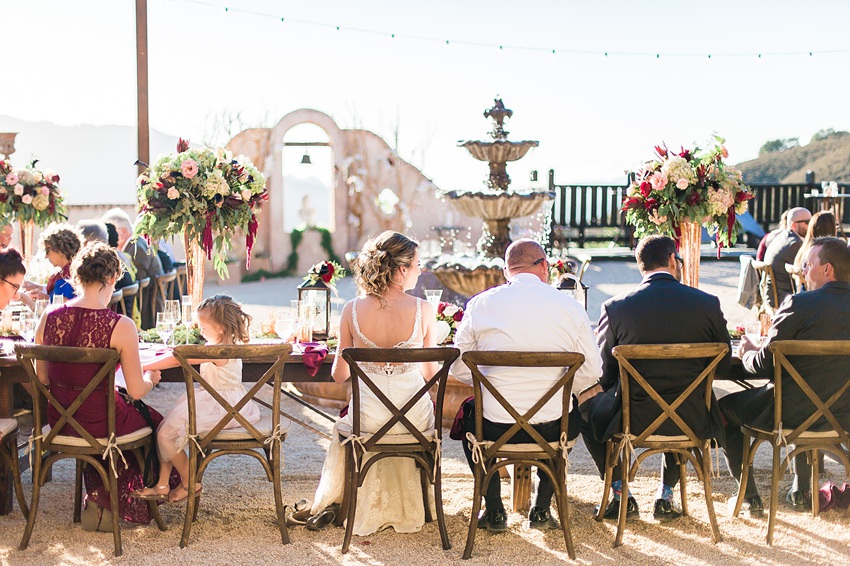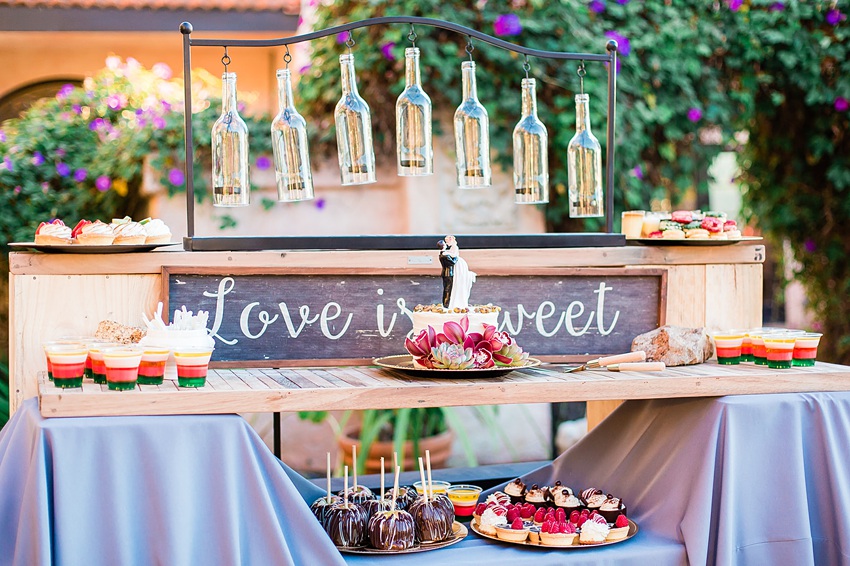 \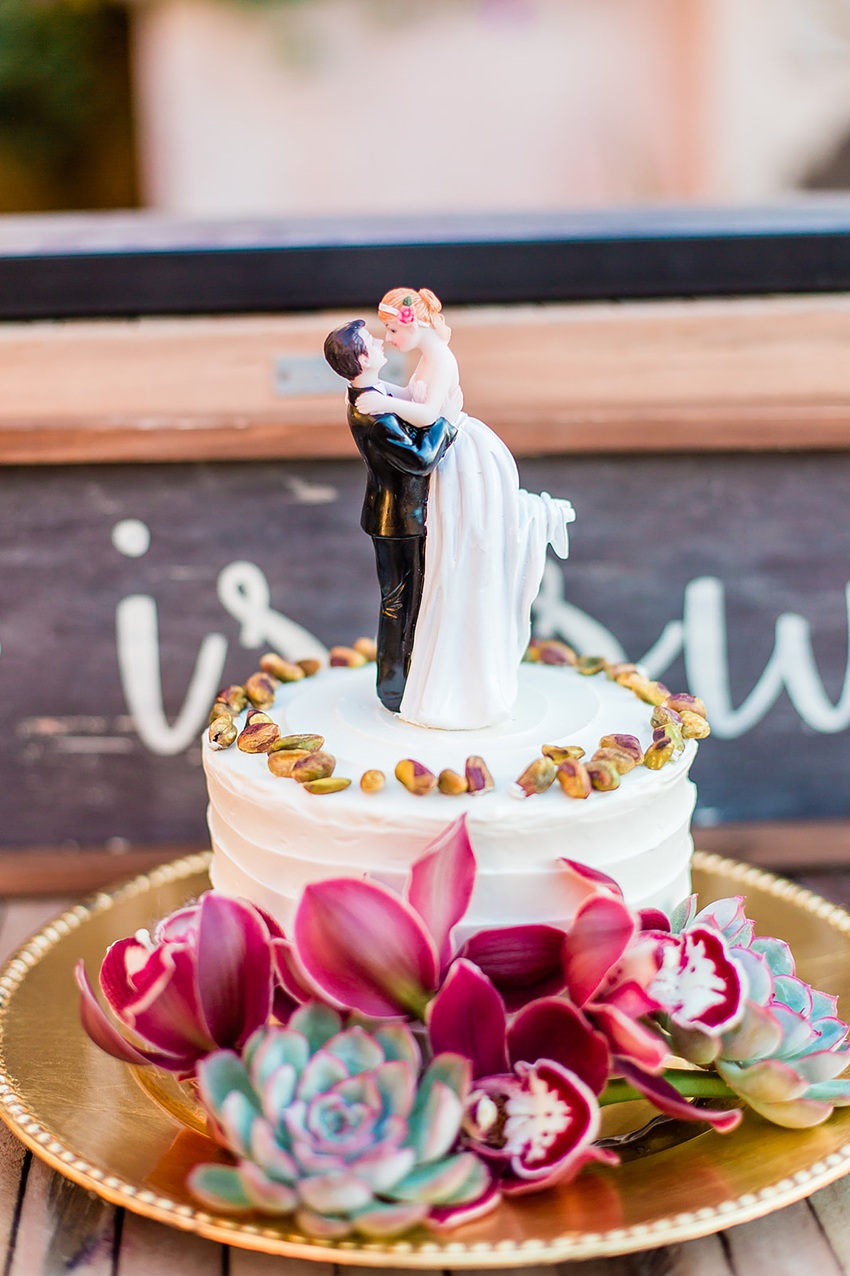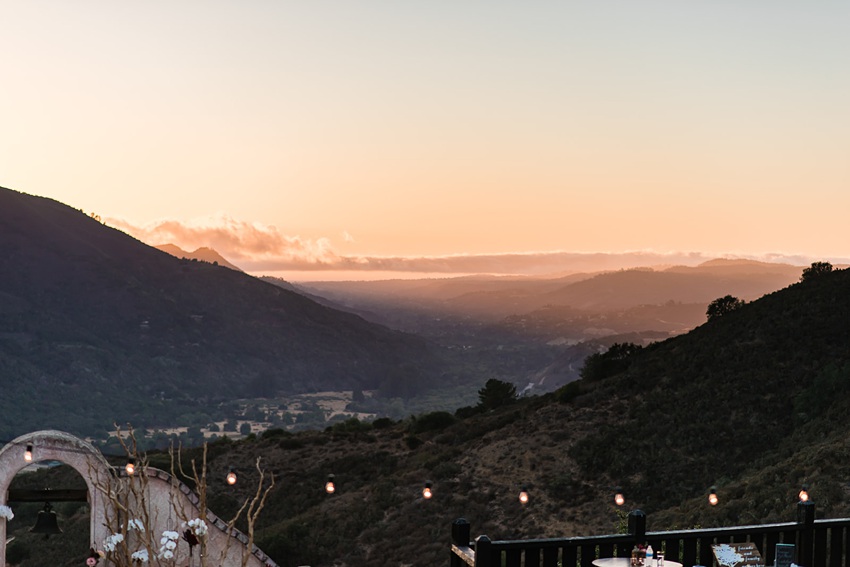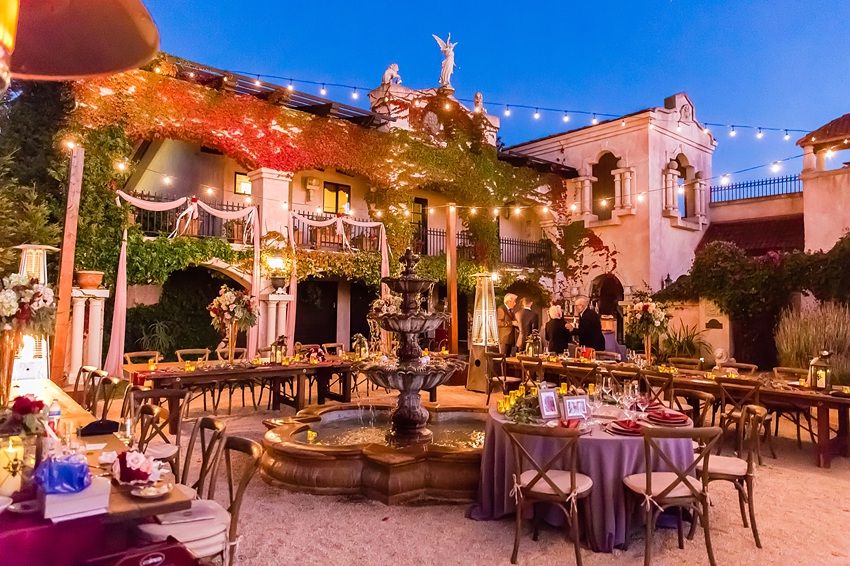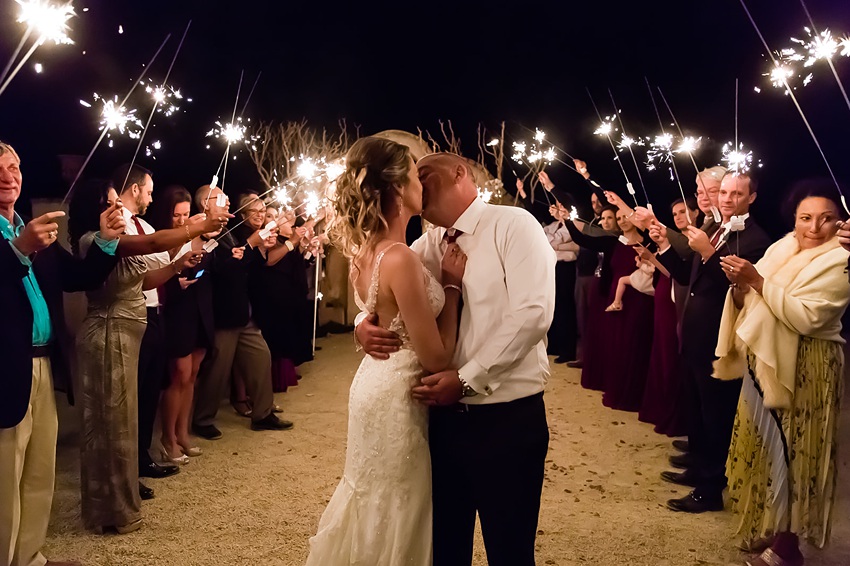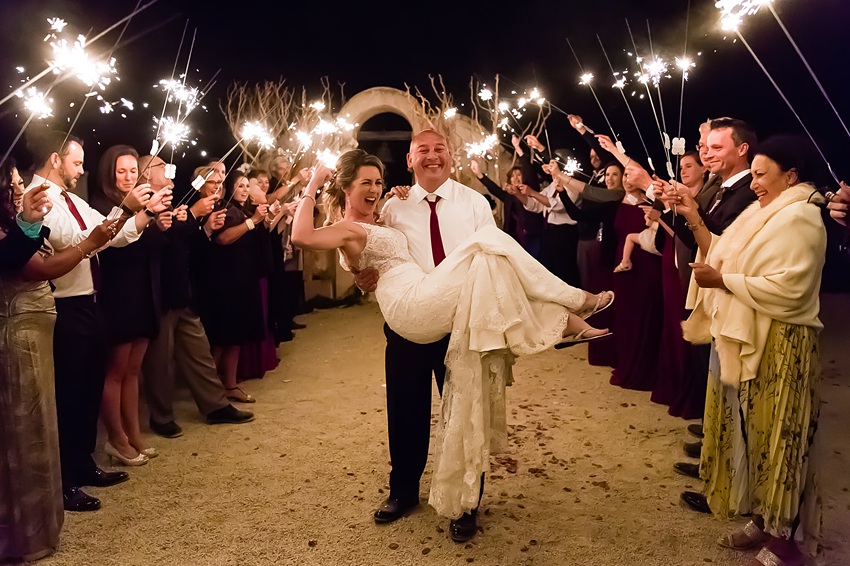 Q&A with the Bride
How did you meet?
I had gone on vacation to SW FL with my mother for a girls trip and to get away from the snowy weather conditions Chicago is known for in January! While relaxing by the pool and the outdoor hotel restaurant throughout the week, I met (amongst others) Jayson since he worked at this establishment. Fast forward a year and a half later and I end up trading my snow shovel for a sand shovel when I moved down to the Sunshine State. At the time both Jayson and I were in long term relationships but were hanging around the same crowds so saw each other quite often. Well, about five years later things happened for a reason and we both ended those relationships and I just happened to find myself at the right place and the right time for my knight in shining armor (Jayson) to whisk me away into the matrimony we are now in.
What is your proposal story?
A vacation was planned for us in Maui to celebrate his parents 30th wedding anniversary. Having just recently transferred from Maui to the Monterey peninsula one year prior, it was like returning home after a long time away. The following day, my (now) mother in law and I spent the day in a beachside cabana while Jayson and his dad went to look at a car to bring back to CA (Yes, you read correctly!) That night plans were set that for "his parents anniversary" and Jayson had arranged a special fire knife dancer (one who twirls and spits fire) on the beach at sunset just prior to us going out to dinner on the beach. So, while in awe of fire being thrown around I hadn't taken notice that Jayson was behind me instead of next to me. Once the dance was over, I felt a tap, tap, tap on my shoulder and when I turned around, he was on bended knee asking for my hand in marriage! To which I said "HELL YES!"
Tell us about your attire choices.
I had flown home to Chicago back in March to surprise my father for his birthday with the plans to also do a bit of wedding dress shopping with my mom and bridal party. My mom and I went to two different bridal shops and tried on a dozen different dress styles that "I thought" I wanted, but I never felt the urge to say, "Yes to the Dress". So I set up an appointment with my bridal team, flower girl and mother to Chicago's Mira Couture and combed through the racks of tulle, bustles and what seemed like football fields of fabric. My bridal consultant, Khrystyna really helped narrow down the dresses by asking all the necessary questions (style, fit, material, embroidery, etc) which made it tough to select which ONE dress I wanted. I knew it was THE dress when I came out of the fitting room and saw my 4-year-old niece, Mia looking at me with eyes as big as lollipops, an ear to ear smile and two white-knuckled thumbs up.

What was the most important to the two of you while planning?

Finding one venue that would accommodate pre/during/post wedding festivities as well as lodging. It was a great way for our two families to blend into one. Having my nieces and nephew meet Jayson's 91-year-old grandmother was priceless and worth every penny spent as well as memories that we'll cherish forever!
What were your favorite parts of the day?
Family and friends. Friends and family! The intimate setting really allowed us to connect and share stories with all guests throughout the whole week that our (attention to detail, natural ability to capture raw emotion and uber talented) photographer, Kelley Williams has allowed us to memorialize for eternity.
Tell us about your wedding flowers.
Three words: Florals by Reina!! I had a few off the wall requests, like a pizza boutonniere for our officiant (long story) which she made happen. She saw my vision and was able to select the best colors that would complement our venue and the 'look' we were after. Her attention to detail and true passion for what she does is certainly conveyed in her work of art!
Tell us about your wedding cake.
Having such a small intimate wedding, we didn't want the traditional three-tier cake. So we ended up at Whole Foods and the variety of offerings was fantastic. We had sweets from Caramel apples, to mini cheesecakes, to macaroons, to our Pistachio flavored cake (only flavor option = easy decision!)
Did you include any family heirlooms or special traditions?
Jayson's late grandfather was a tailor back in his day and would always be dressed to the nines from head to toe in a three piece suit complete with a pair of Gold and Jade cuff links. Needless to say, those cuff links complimented Jayson's suit quite nicely. Whereas, my "Something Blue" was my late grandmothers Saphire and diamond ring.
Do you have any advice for couples planning their destination weddings now?
The best advice I can give is to simply trust your gut and do what feels natural. Don't try to please everyone because you won't be able to. For us, it worked out to keep it small and intimate as the day is so special and to spend it with friends and family (versus with people whose names you won't remember) when looking back at your photos was wonderful.
What was the best part of having a destination wedding?
The best part of having a destination wedding was creating a destination for everyone else. Every detail and each vendor we selected was catered to showcase the highly sought after destination that Carmel/Monterey Peninsula has to offer.
What was the biggest challenge when planning your destination wedding?
The biggest challenge while planning was making sure all of the guests were comfortable and were made to feel as if they were "at home".
Vendors
Photography: Kelley Williams Photography | Venue: Chateau carmel | Floral: Floral Design by Reina | Rentals: Chic Event Rentals | Wedding Cake: WHOLE FOODS MARKET | Hair & Makeup: Blush Hair and Makeup | Wedding Dress & Headpiece: Mira Coutoure | Groom's Attire: The Black Tux | Bride's Shoes: DSW | Bridesmaid Dresses: Davids's Bridal