The unicorn is a beloved, mythical creature known for being beautiful, magical, and one-of-a-kind… and whattdya know, unicorns were the theme of this beautiful, magical, one-of-a-kind wedding! Xueyao and Min are co-workers turned lovers with playful imaginations and fun personalities; therefore, it's no surprise that their beach-front wedding in Sanya (a tropical city on the southern tip of China's Hainan Island, also known as the "Hawaii of China") was full of whimsy and extravagance.
Let's start with the entranceway – can you imagine emerging from that larger-than-life camellia filled archway to walk down the aisle? What a way to make an entrance! And that altar! I bet if we didn't have photographic evidence you'd never believe me when I tell you these two walked up dual staircases and said "I do" on a white and gold stage full of swirling flower sculptures, surrounded by pegasi and unicorns… Well thanks to the folks at Elysia International and Sanfeng Vision Photography, we have proof!
Of course, that's not all. The garden came to life with their opulent décor and too-pretty-to-eat dessert table. The cupcakes almost don't even look real they're so fabulous. And the mirror-floored stage adorned with a floral backdrop created a glamorous, Hollywood-esque vibe perfect for Min's surprise performance for his new bride. Such a sweet moment to round out a memorable evening.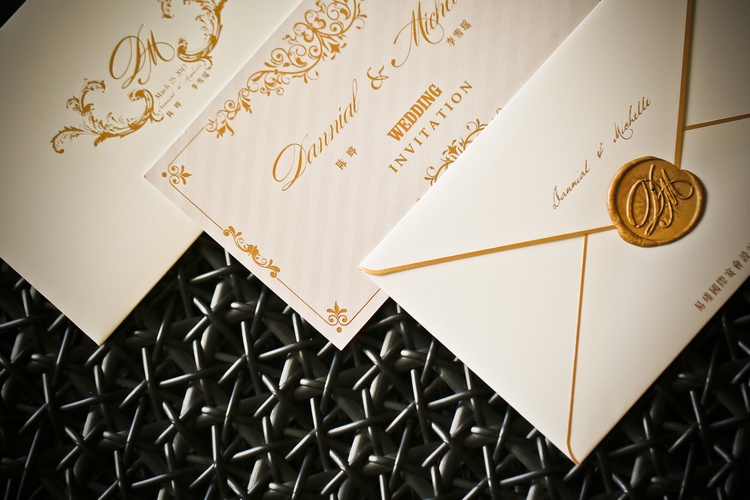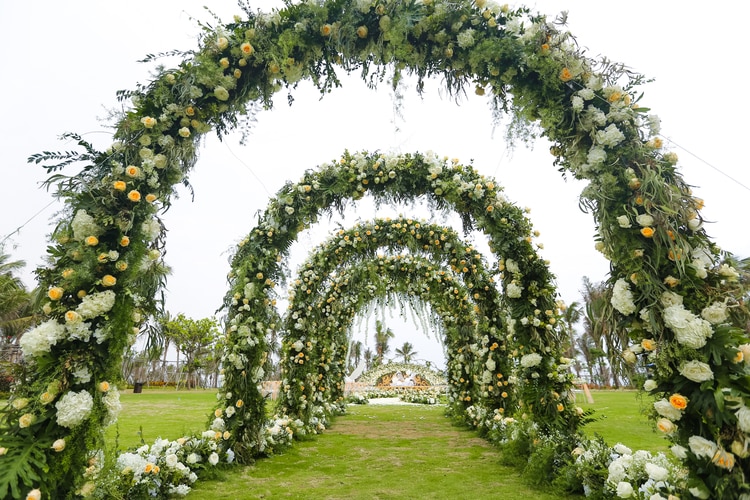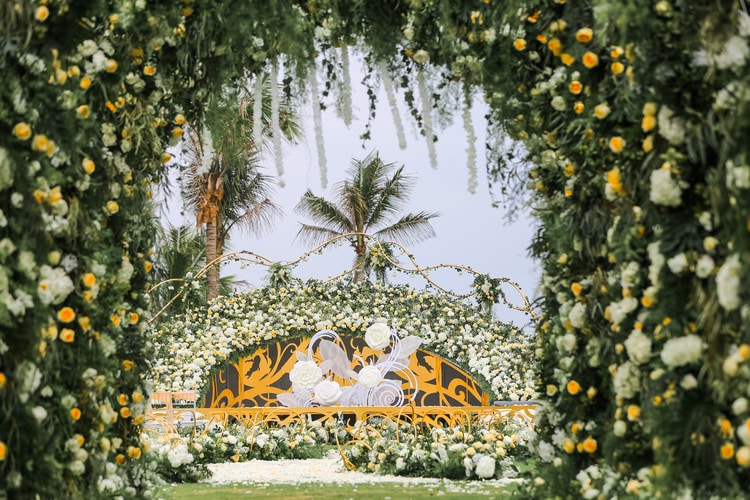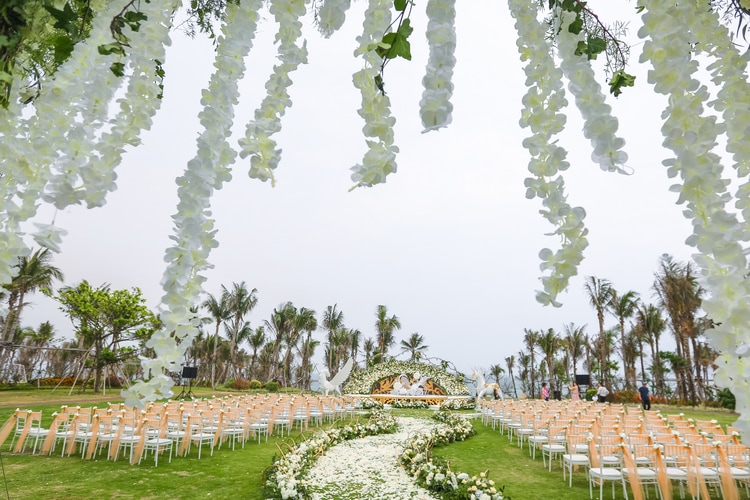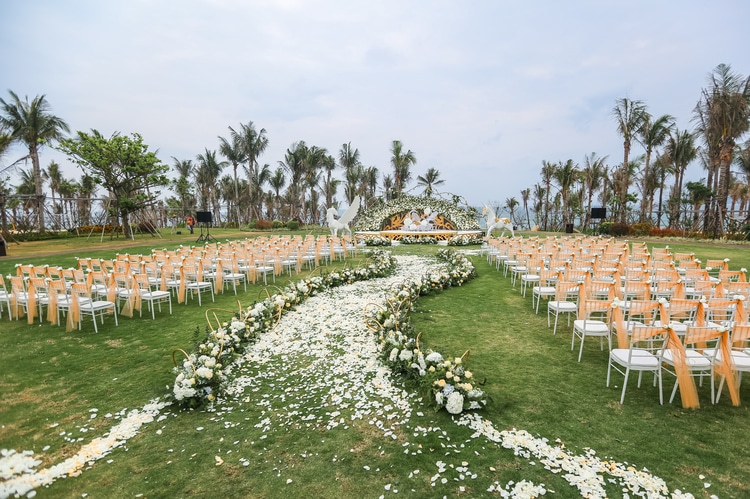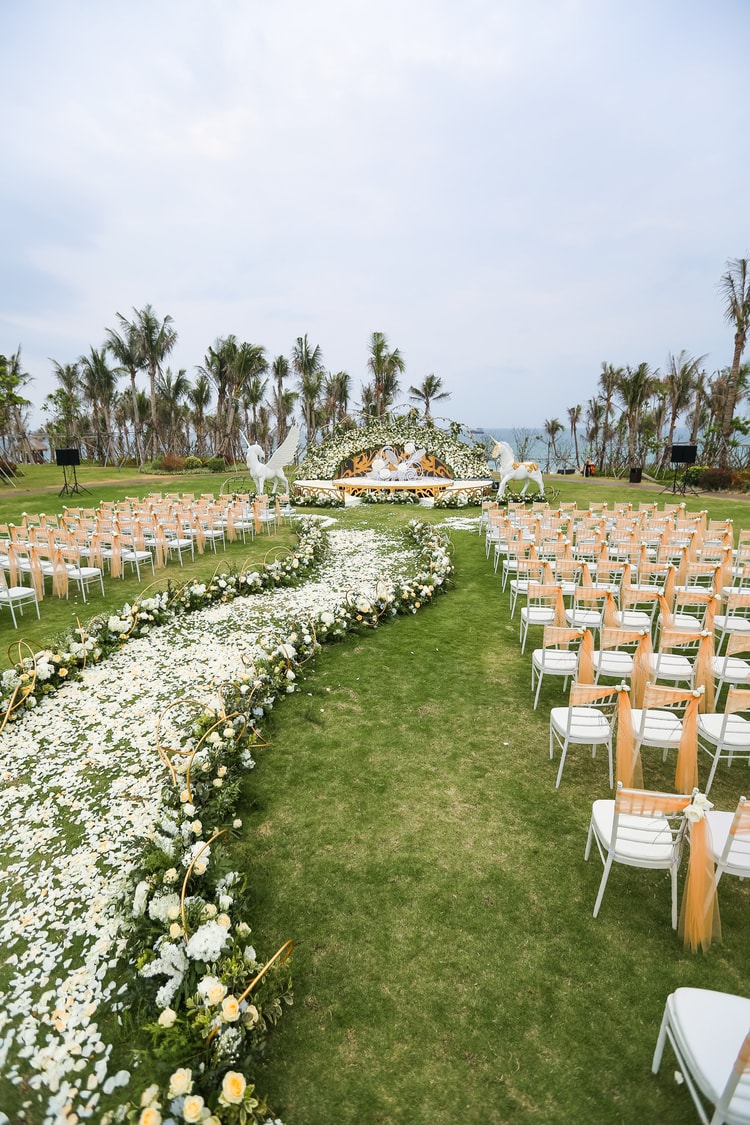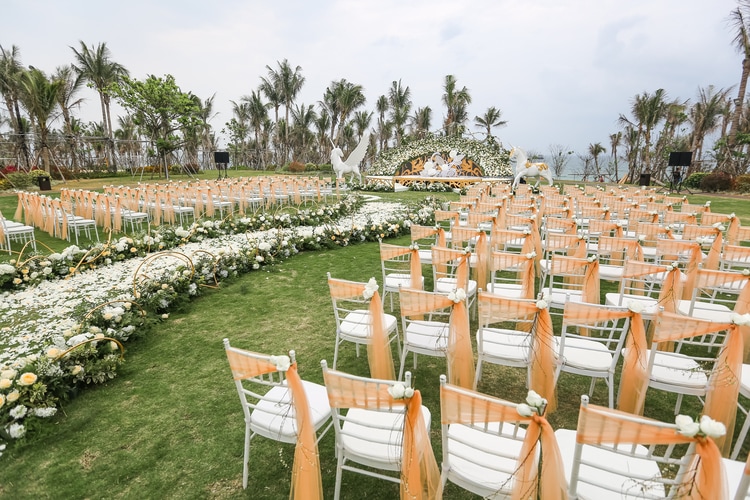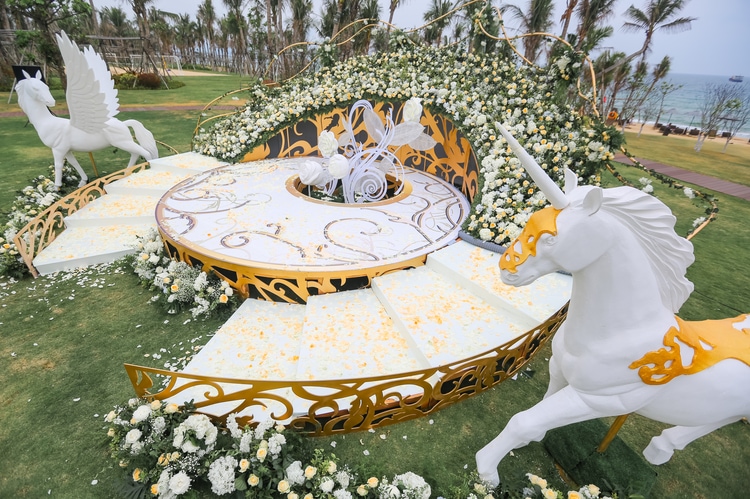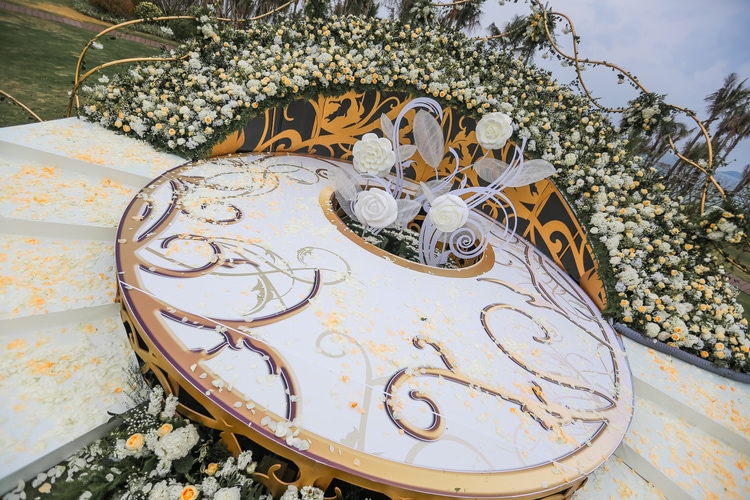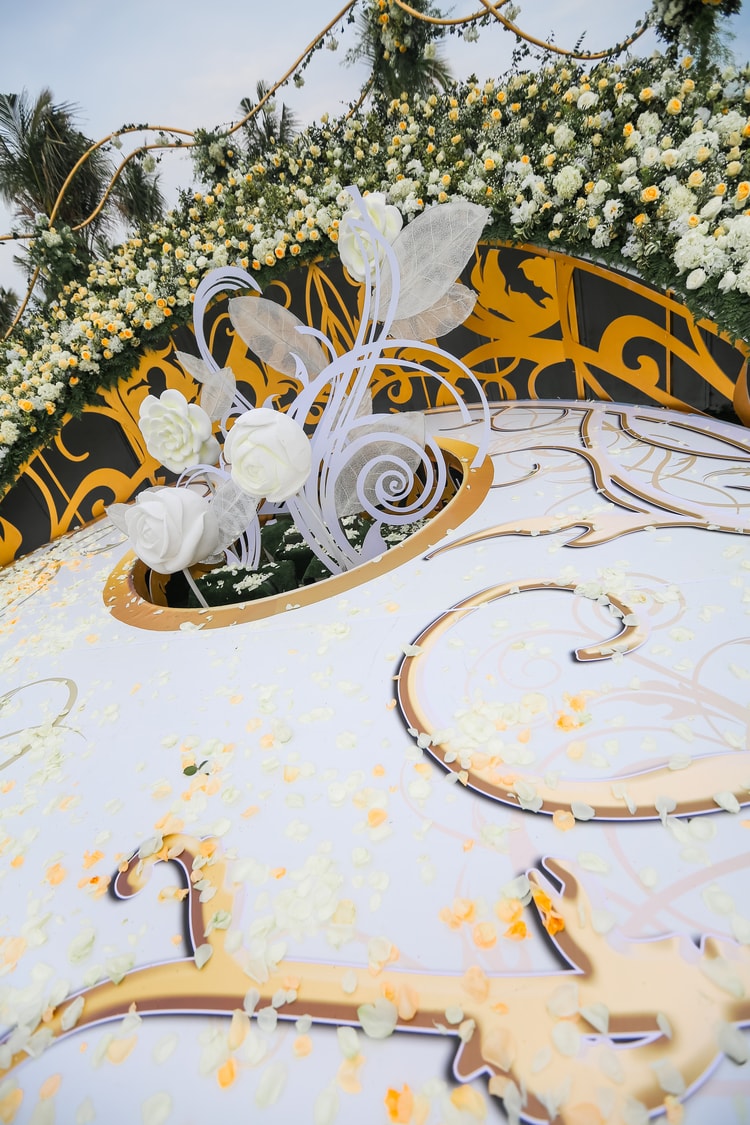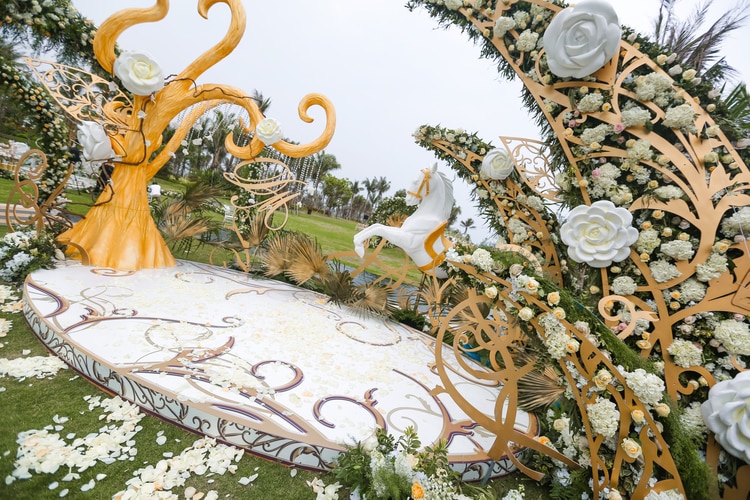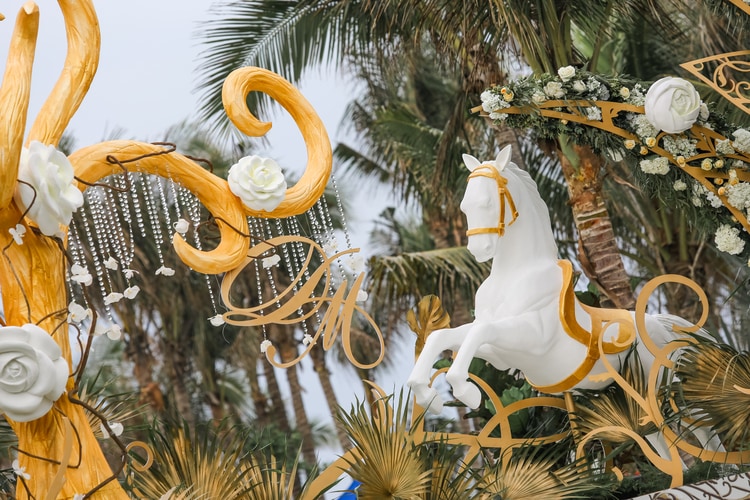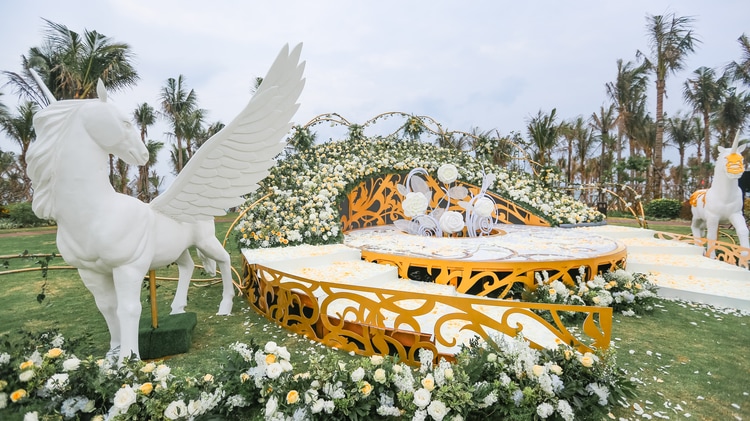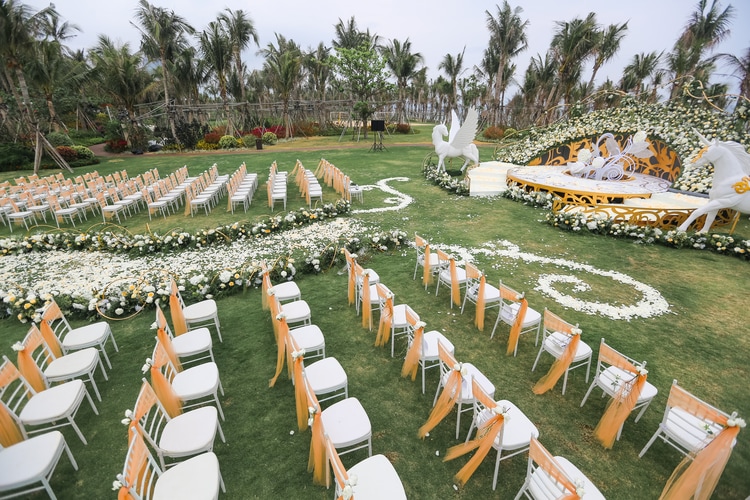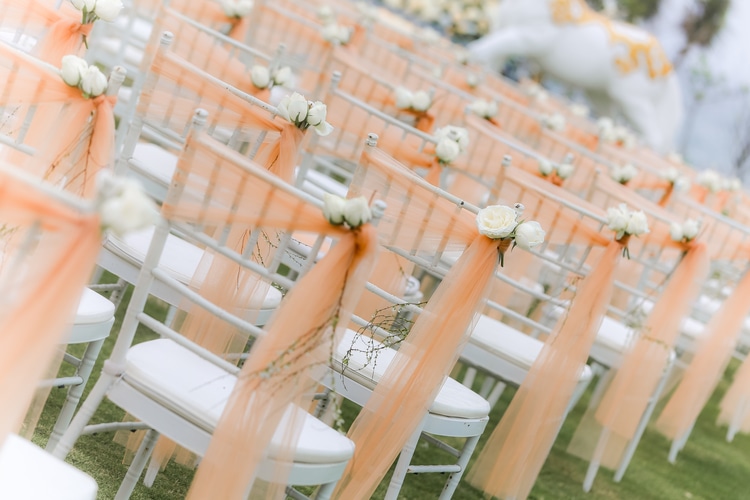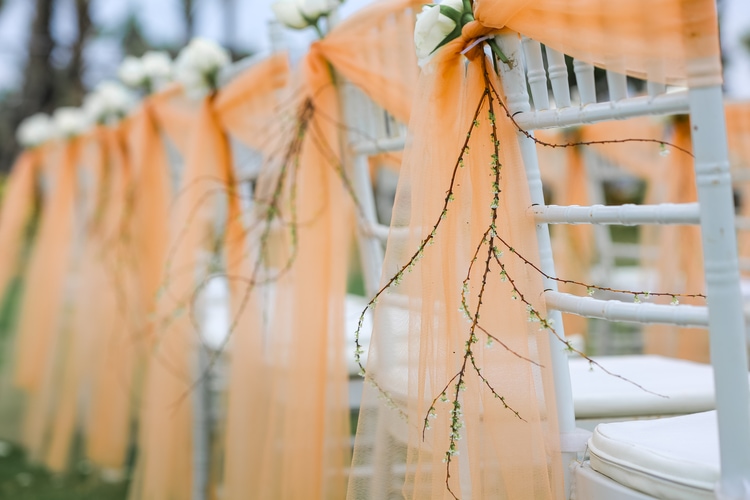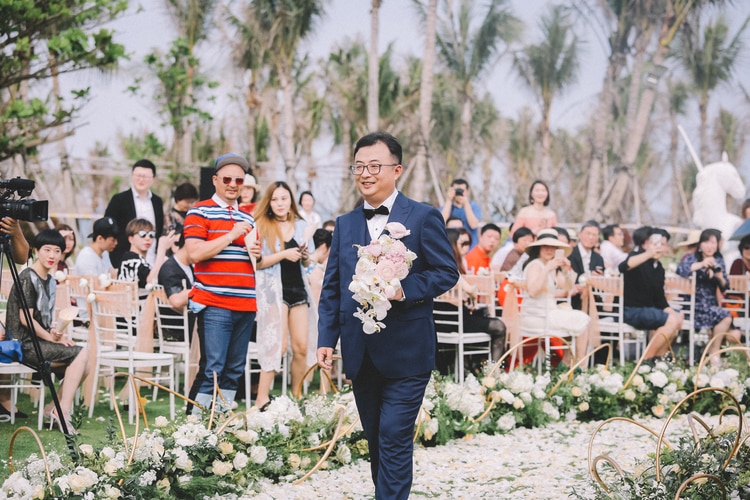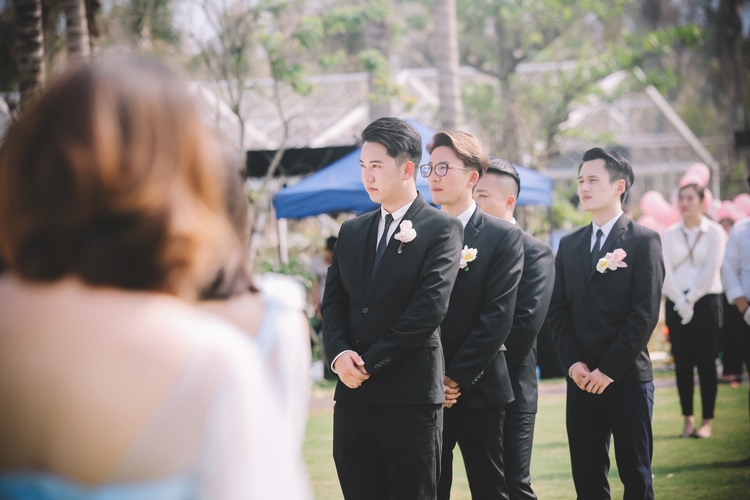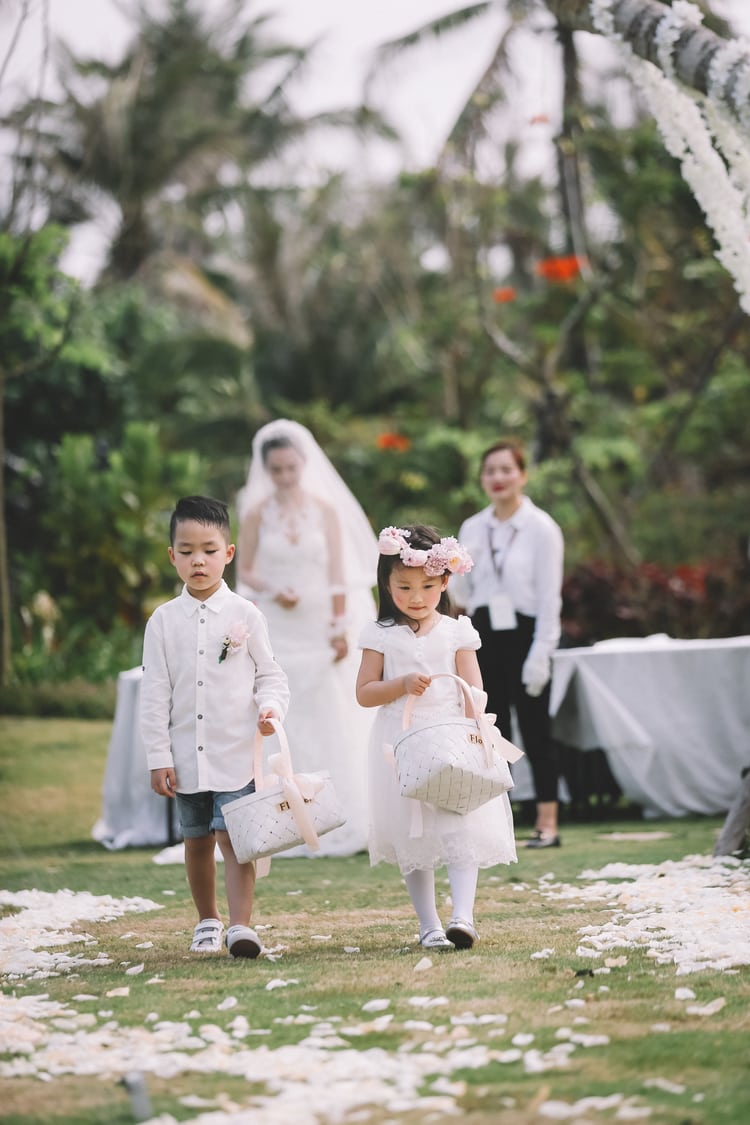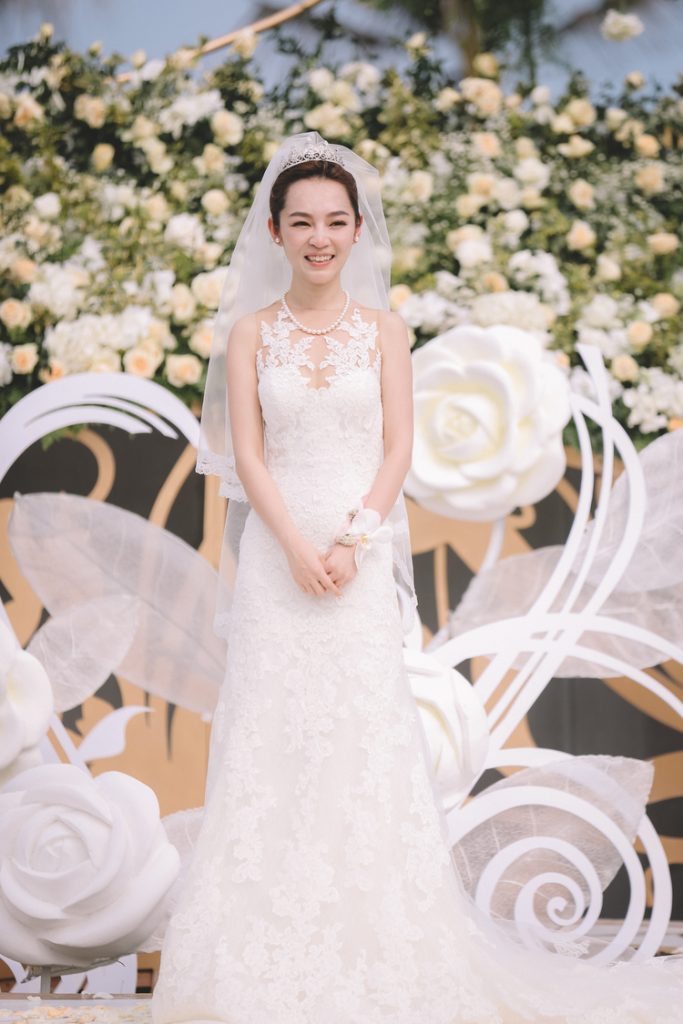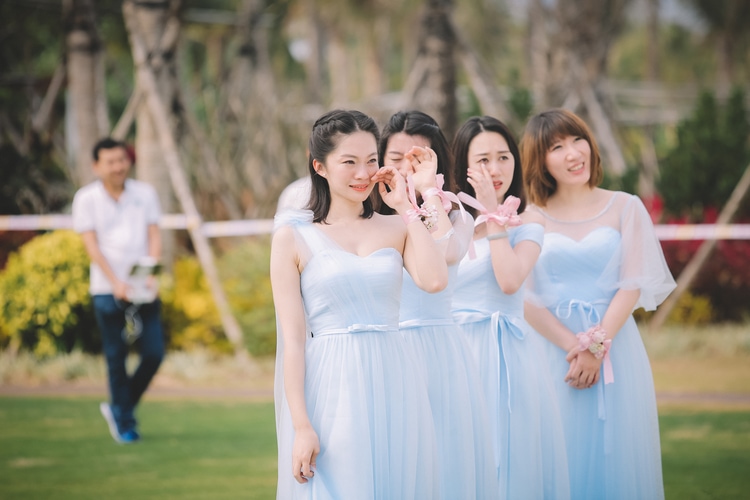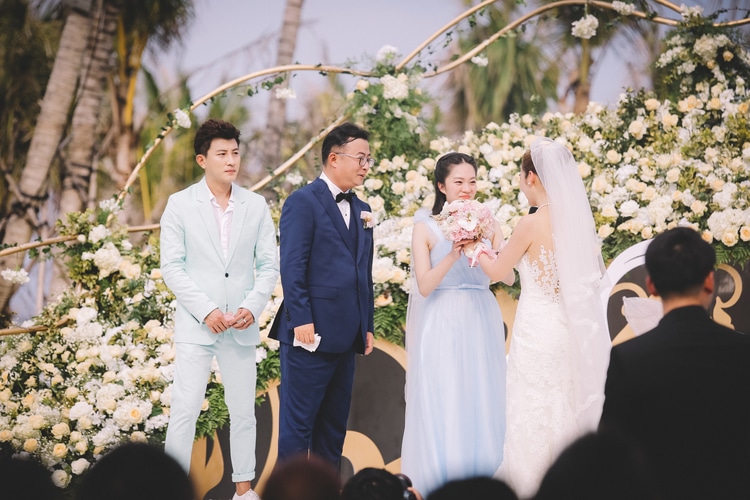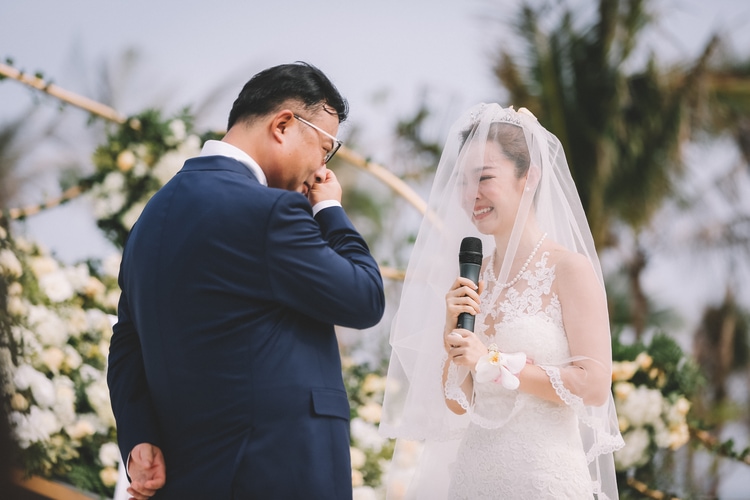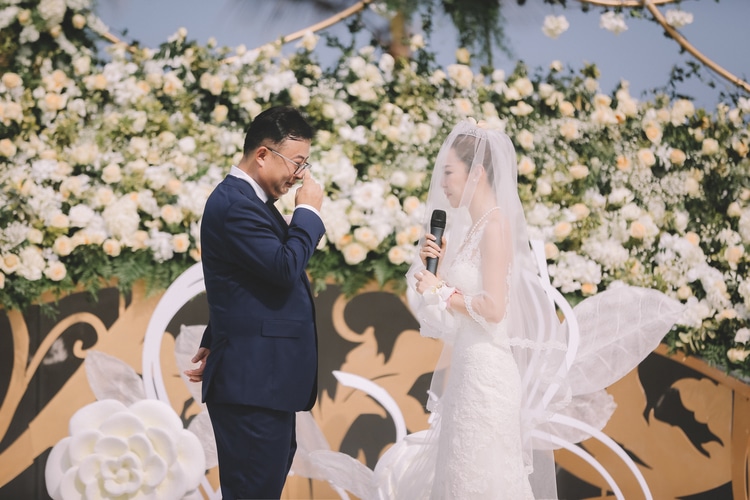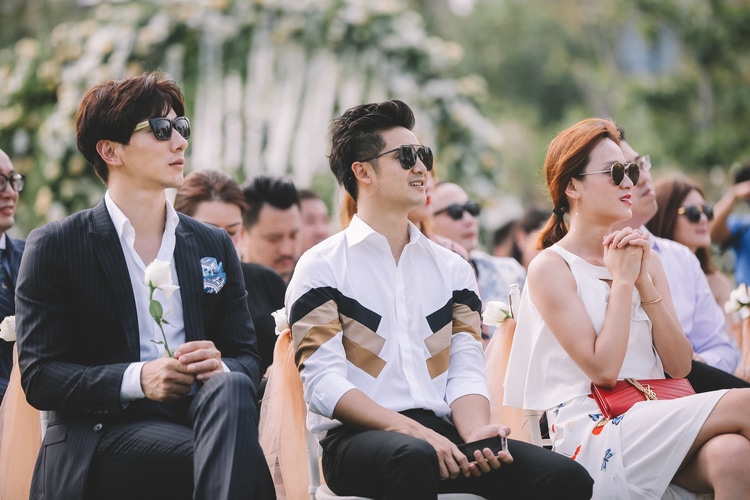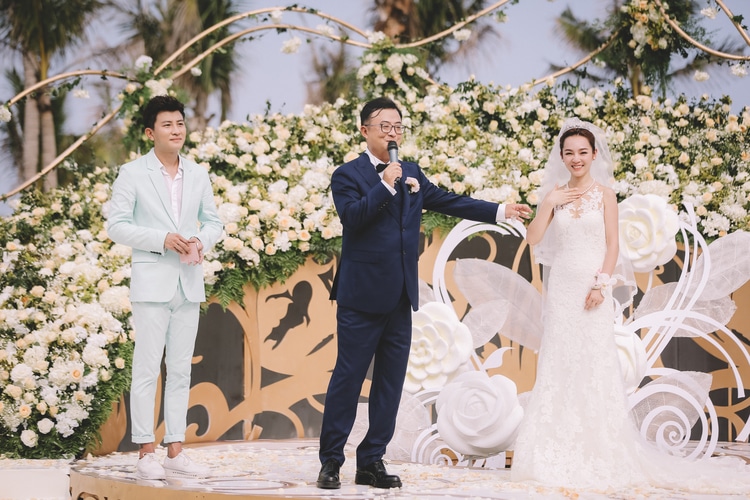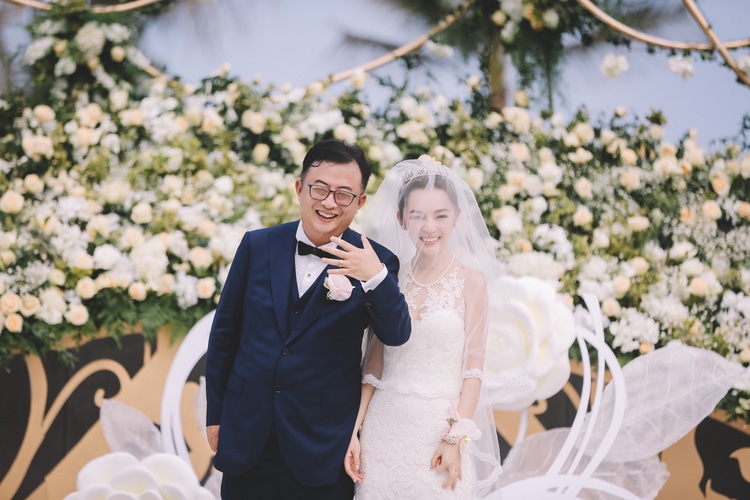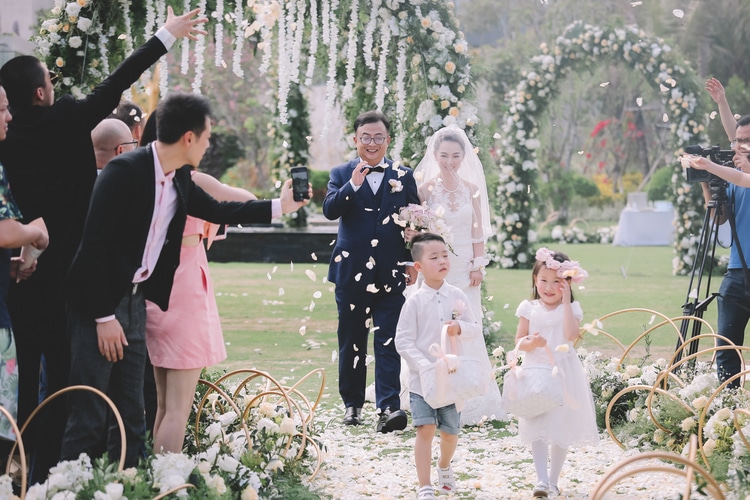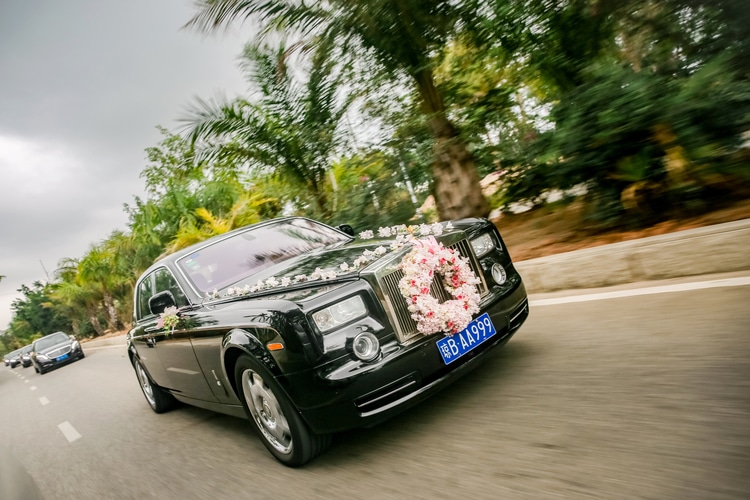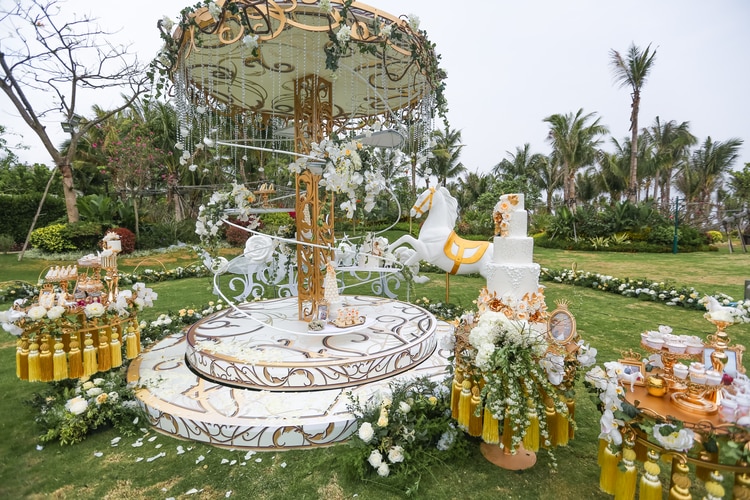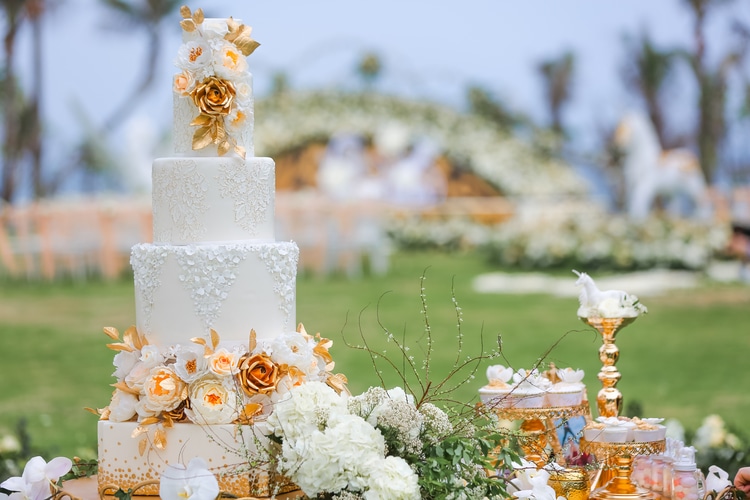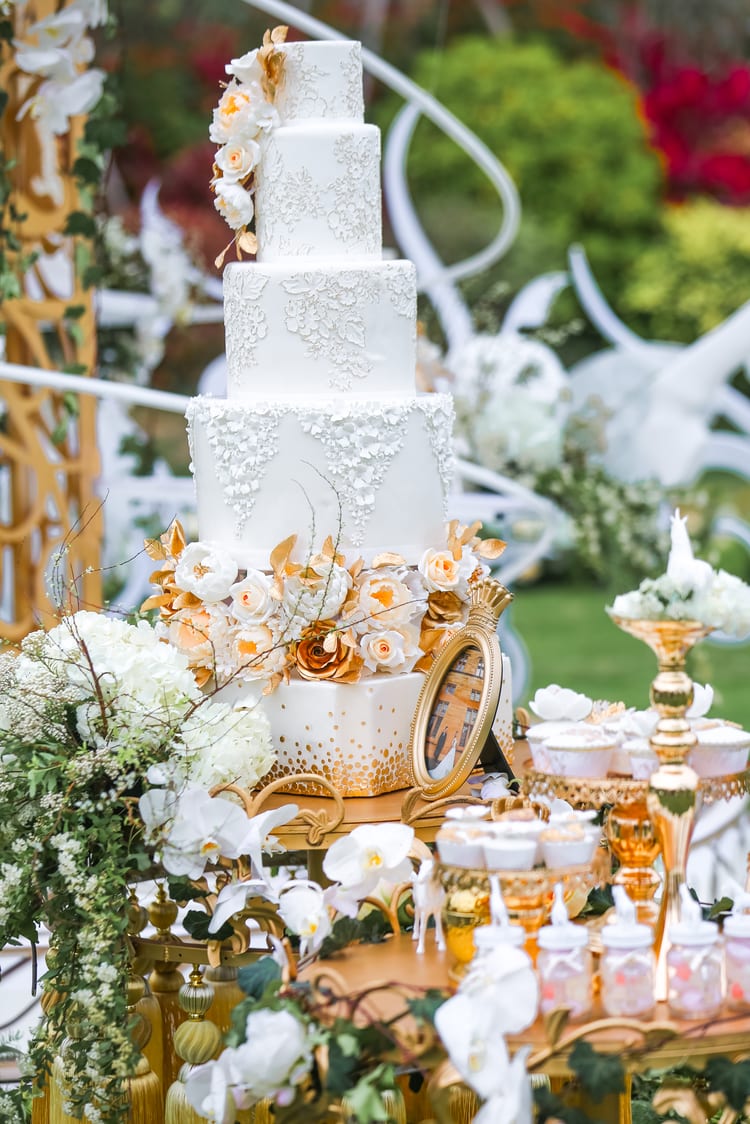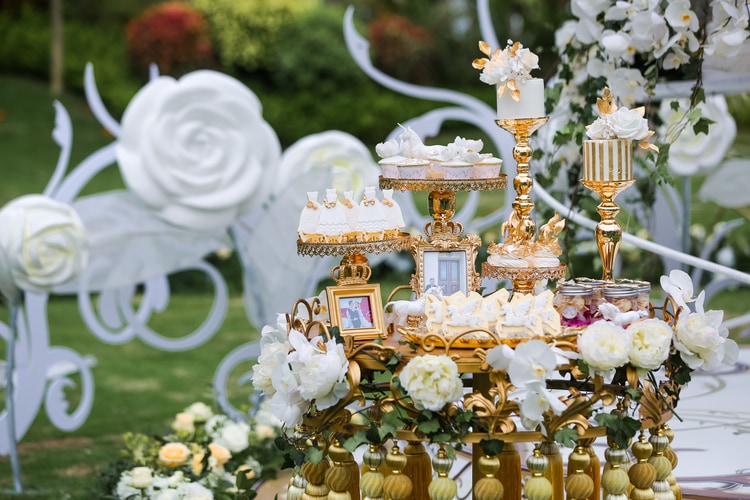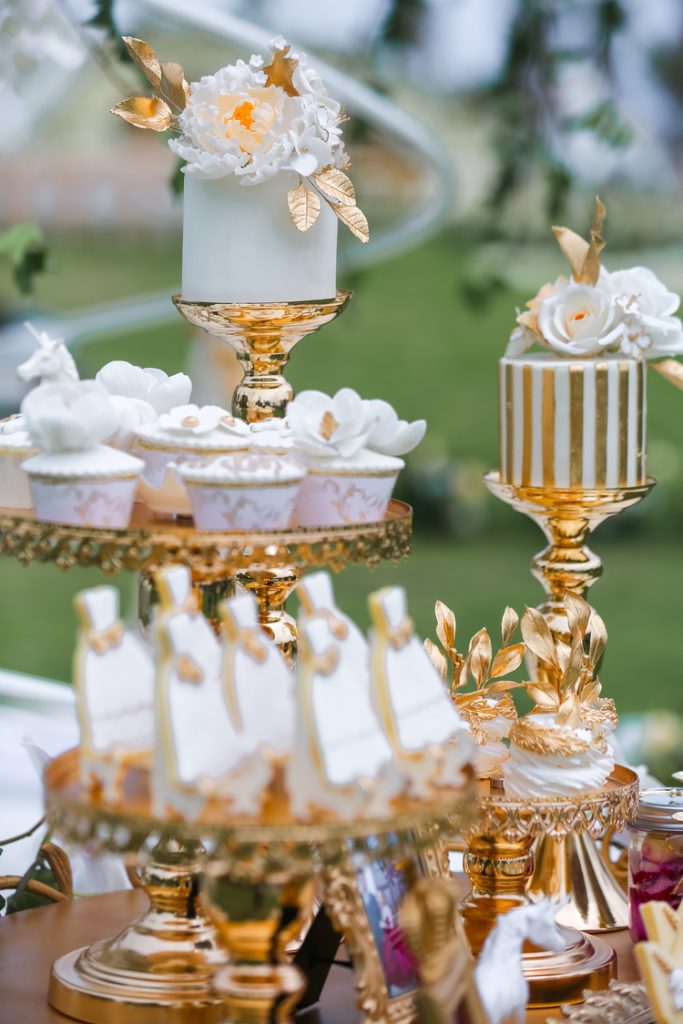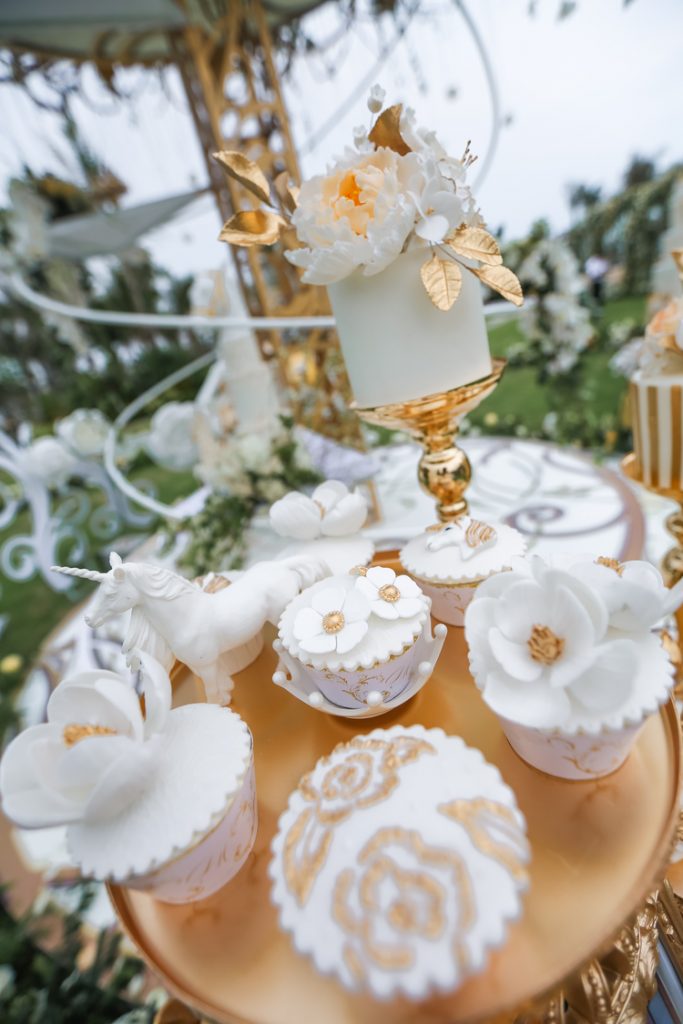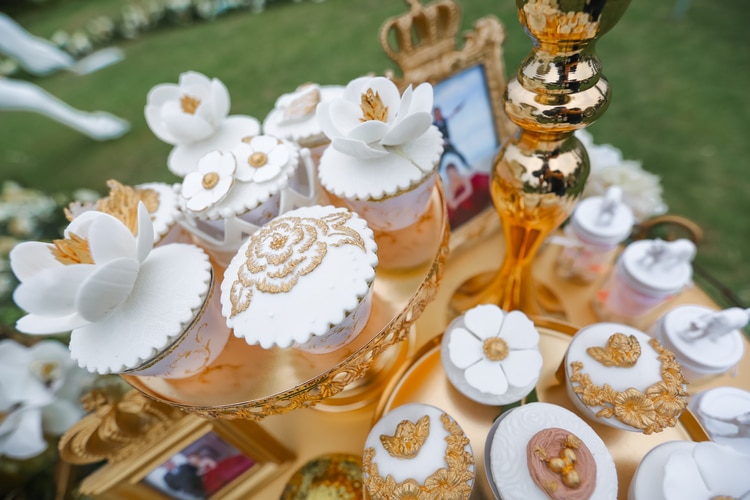 \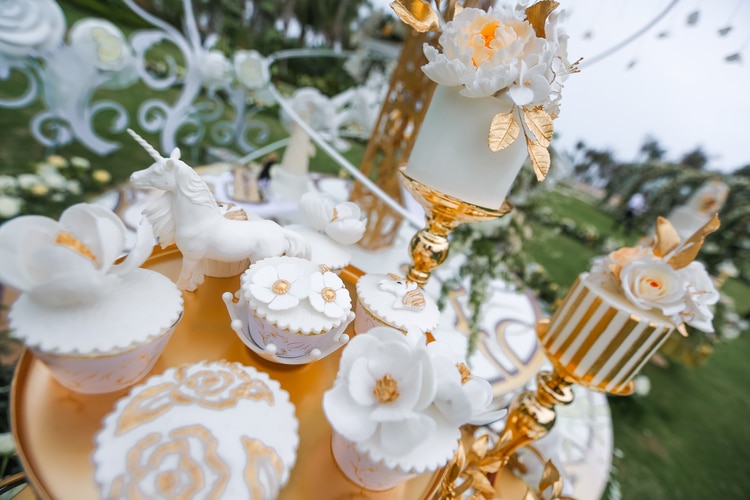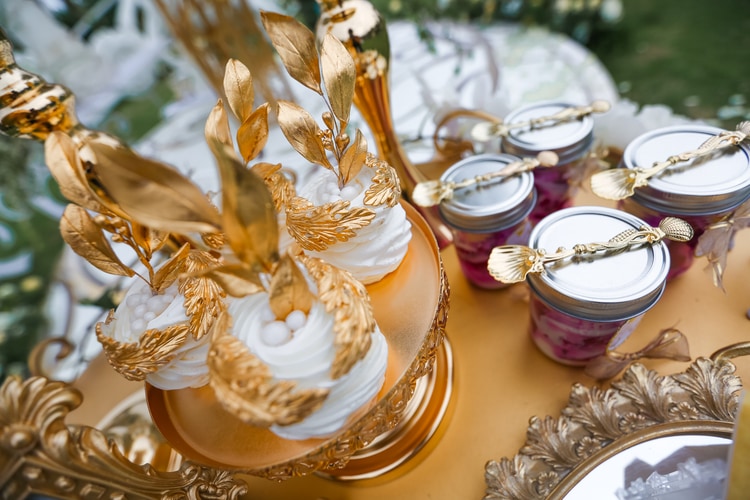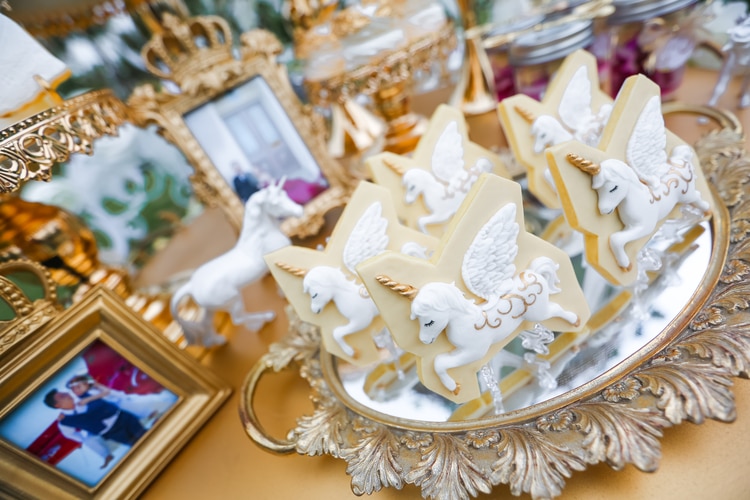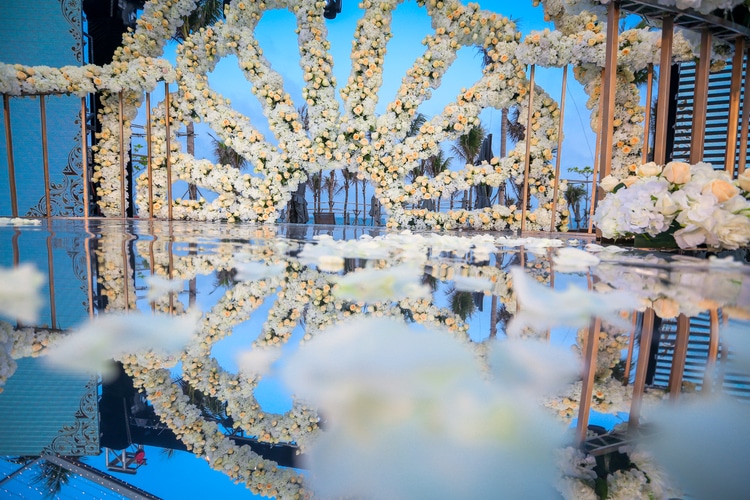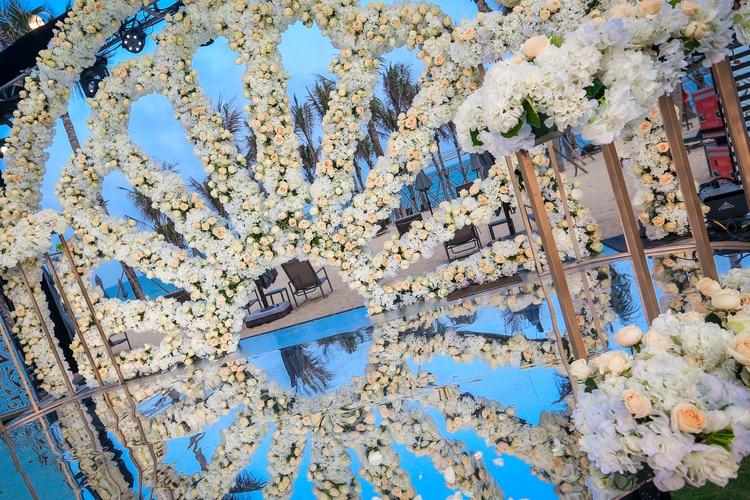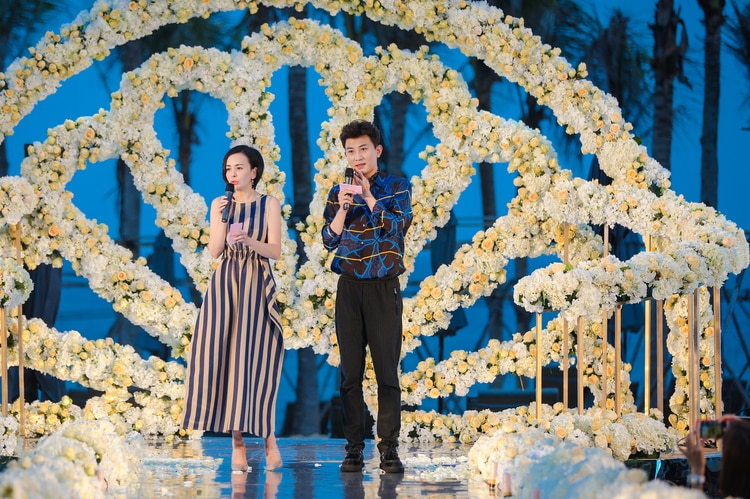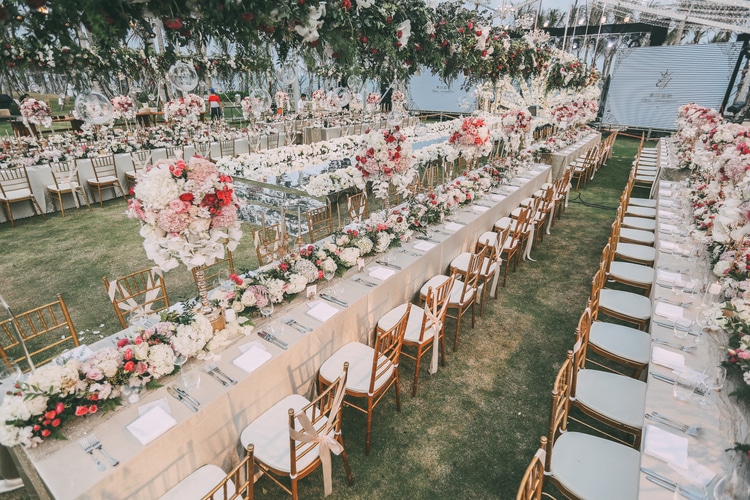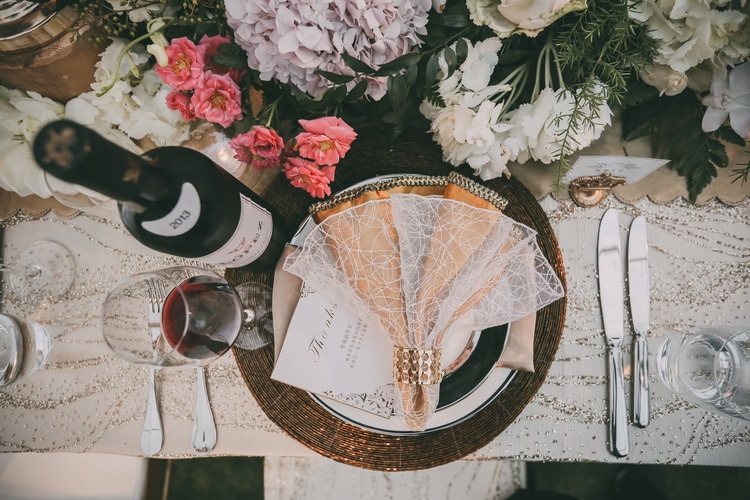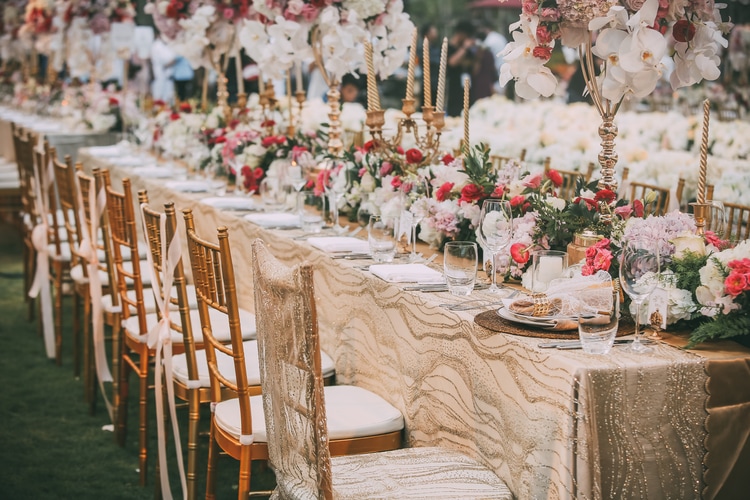 Real Destination Wedding Q&A with the Bride
How did you meet?
We were colleagues who worked for the same TV show. Min is the producer and Xueyao is the host. We spent a lot of time working together and there was a lot of chemistry between us. We talked a lot and eventually fell in love!
Tell us a little a bit about your wedding venue
We chose this location for its view and big lawn. We invited almost 300 guests to our wedding ceremony and reception.
What was the most important to the two of you while planning? Was there anything that you chose to splurge on or skip?
We couldn't spend much time planning our wedding, so we chose a full-service wedding planner who took care of everything for us. A professional wedding planner was our priority.
What were your favorite parts of your wedding day?
He sang a song for me! It really surprised me since he has ever done such thing before.
What was the best part of having a destination wedding? What was the biggest challenge of planning your destination wedding?
The best part of having a destination wedding was that everyone was immersed in the atmosphere of our wedding. Our guests took a 4-hour flight to get to the wedding so they really wanted to have a good time and not just eat and talk.
Vendors:
Photography: Sanfeng Vision
Event Planning: Elysia International
Ceremony & Reception Venue: Grand Hyatt Haitang Bay Resort and Spa
Wedding Cake: Cotton Cloud
Featured:

Unique Poolside Bachelorette Party Inspiration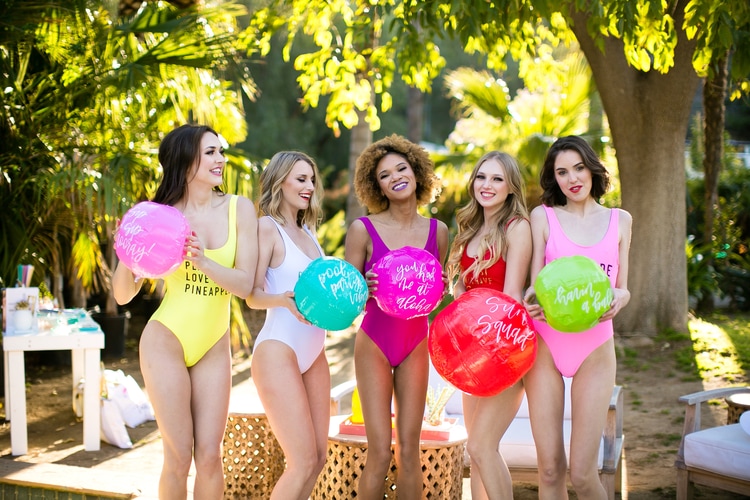 This unique tropical poolside bachelorette party is #GOALS! The décor was tropical, colorful and fun – bringing a cheery vibe that set the tone for a flawless and relaxed day. There were tons of personalized details –from sunscreen and chapstick, to soda and champagne, sun hats and fans, magazines, personalized tumblers, and even a wet bikini bag to hold their suit while they slipped into some adorable "Bride's Beaches" cover-ups. Of course, what's a good party without some fun games? Tons of fun ideas in this post. Read more
Featured:

New Orleans Destination Weddings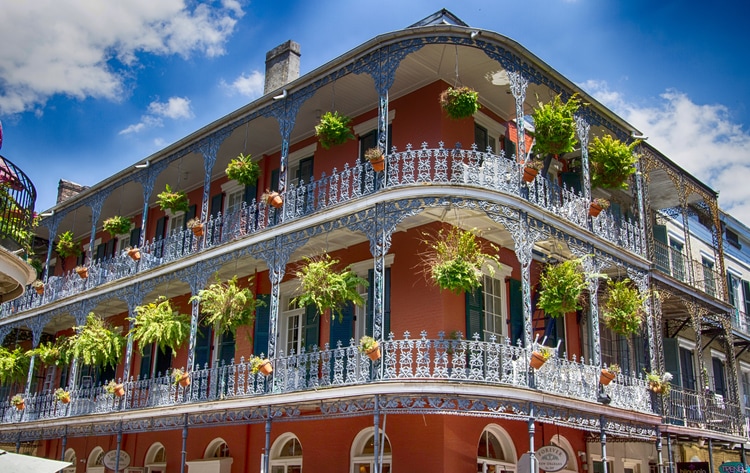 Here at Destination Wedding Details, we've seen it all: weddings at the beach, in the mountains, in the desert, and in pretty much every country. ALL beautiful, mind you… but through our years of observing what exactly makes for a GREAT wedding, we've surmised this: it must be FUN for you and your guests. So, ask yourself this: what city is more fun than New Orleans? Read our full post to discover when, where and how to get married in NOLA.
Erin is a New England native living in Cincinnati, OH. For the last six years she has served as Communications Manager for a large home service franchise, working as a freelance writer in her spare time. She has been a contributing editor for Destination Wedding Details since early 2017. Inspired by a desire to plan a uniquely personal destination wedding herself, Erin draws on experience to bring relatability and humor to her writing.