Your destination wedding program is one place where you can easily inject your personality and have some fun without breaking the bank. The perfect destination wedding programs will not only provide the details of the ceremony but will also have plenty of space to thank your guests for traveling the distance to attend your wedding. While a traditional wedding program can be boring and a detail that no one remembers, these destination wedding programs are sure to make your big day shine.
Destination Wedding Program Ideas
This bamboo scroll program is really cool and creative. I love that you can print your monogram in any color on the outside label and there is a ton of space to include all the details of your big day on the inside. If you need a monogram, check out this post for a step-by-step tutorial to getting a free and easy DIY destination wedding monogram.

Photo Credit: Paper Crew on Etsy
Destination wedding program fans are not only practical, but super cute and unique. This fan program has wording in the shape of a palm tree, which I absolutely adore. And there's plenty of space in the back for a thank you note.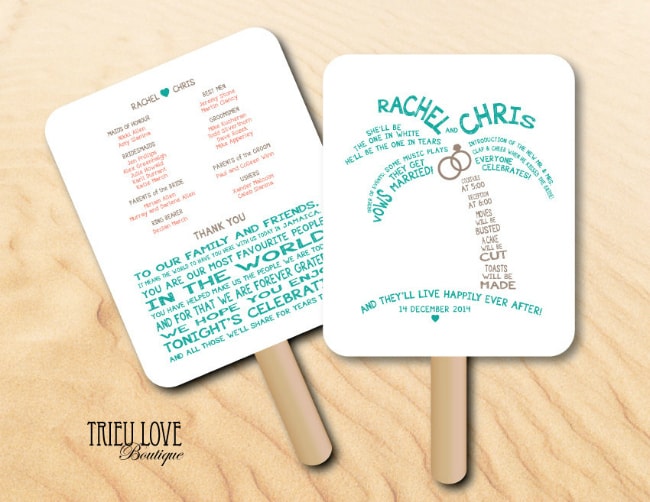 Photo Credit: Trieu Love Boutique via Etsy
These hand made straw fans are pretty awesome because they can also double as a keepsake.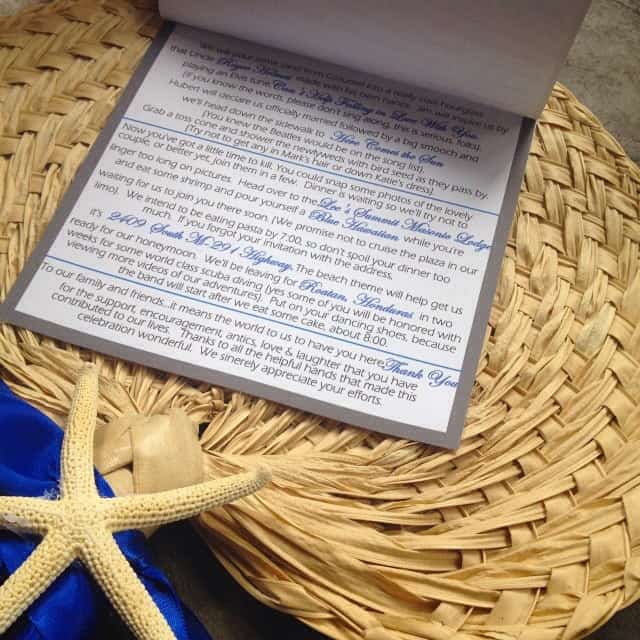 Photo Credit: Urban Elements Design via Etsy
Extra! Extra! A destination wedding is a big deal and there's no grander way to share your story than in a newspaper themed wedding program. You can include photos and tid bits on the bridal party, crossword puzzles, thank you notes, etc. With up to 8 pages to play with, the sky is really the limit on what you can include in these fun and unique programs.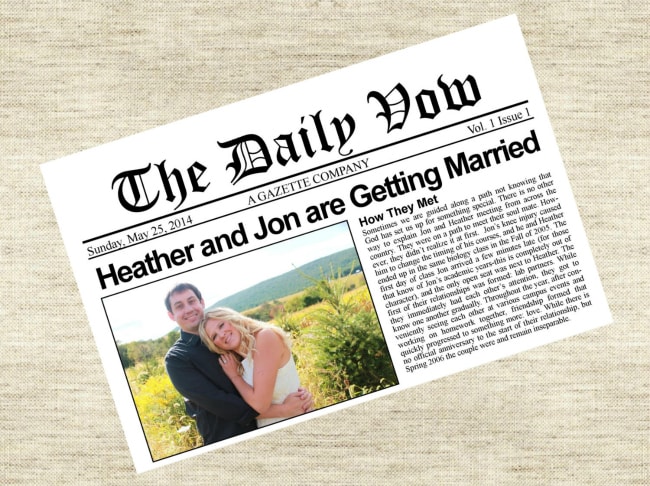 Photo Credit: CMS Design Studio via Etsy
These die-cut program fans are an absolutely stunning way to keep your guests cool during your ceremony. You'll have a variety of modern colors to choose from and plenty of room to print all your information on the front and back.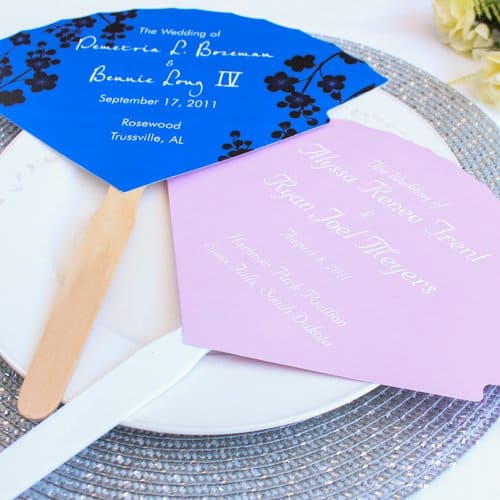 Wedding Program Fans from Beau-coup.com
I absolutely heart these DIY program fans – and so will your guests. It is one of my favorite destination wedding programs because it's an easy and affordable project that even the most DIY-challenged can pull off. For about one dollar per program, you'll get a kit with everything you need to assemble 50 destination wedding programs. The kit includes templates, pre-cut card stock, wooden sticks and instructions. All you have to do is print and assemble. The end result will be these super cute fans that will keep your guests informed and cool.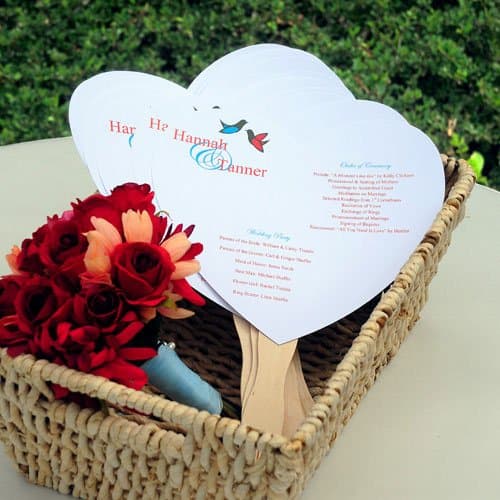 DIY Heart Shaped Wedding Program Fan Kit
from: Beau-coup.com
Infographics are all the rage nowadays but no one will expect them at a wedding. It is a really fun, creative, and unique way to present all of the details of your ceremony and even some fun facts about the couple. I'm kind of obsessed with this idea.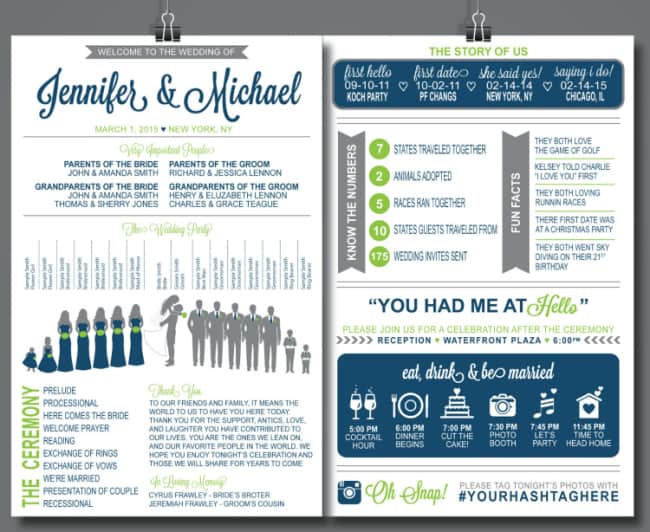 Sold by: Simple and Stunning 2 via Etsy
Not only can you get passport themed save the dates and invitations for your destination wedding, you can extend this super fun idea to your programs, for a completely cohesive look that your guests will never forget. LOVE!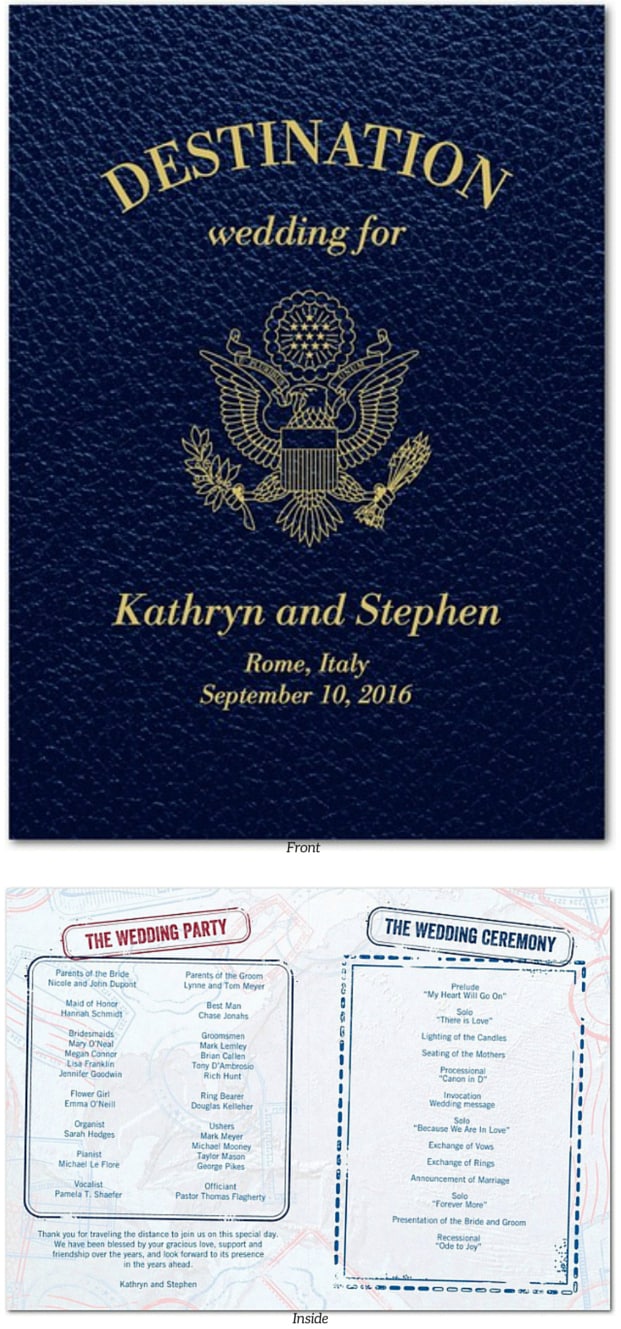 Sold by: Wedding Paper Divas
With custom pre-designed templates in a variety of colors and plenty of room for all the ceremony details, this 3-piece DIY program is one of my faves!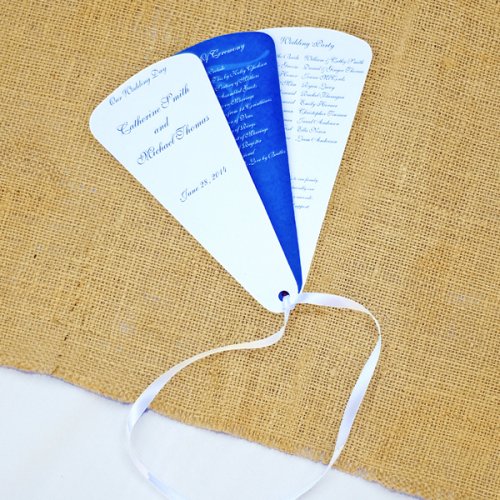 DIY 3 Piece Program Fan Kit from Beau-coup.com
Featured:

17 Welcome Bags & Favors Your Guests Will LOVE (and ones they won't)!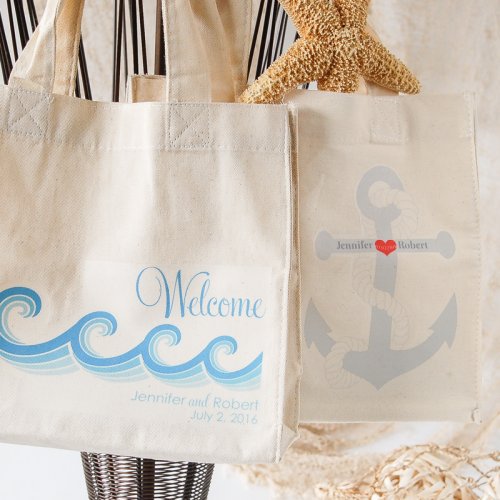 Welcome bags and favors are a great way to show your love and appreciation to your family/friends who are attending your destination wedding. To get some ideas of the best favors and welcome bags, we polled hundreds of destination brides who already got married. They shared their thoughts on the type of welcome bag items and favors their guests loved, as well as the misses.
Featured:

Destination Wedding Invitations in a Bottle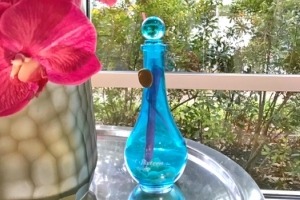 How do you tell your guests they're about to embark on the most magical trip of their lives? With the most unique beach wedding invitations, of course! We got these stunning "Invitations in a Bottle" sent to us in the mail and were blown away! This is probably the most fun way to set the tone and make an impression when you announce your destination wedding.