Jessica & Ed had a wedding in Key West that was unique, glamorous, and absolute proof that anything goes when you're having a destination wedding! No sand or tropical flower crowns here. Their theme was old Havana with a touch of Hollywood glam. Hemingway House provided the perfect canvas for all the details that would bring their vision to life. They had cool wedding signs displayed on antique typewriters, towering centerpieces made of palm fronds and hand-rolled cigars! As I browsed through these photos which were captured so beautifully by Michael Freas, I felt like I was transported to another time and place. I was blown away! The beautiful bride is here to tell us all about the inspiration behind her big day. Enjoy!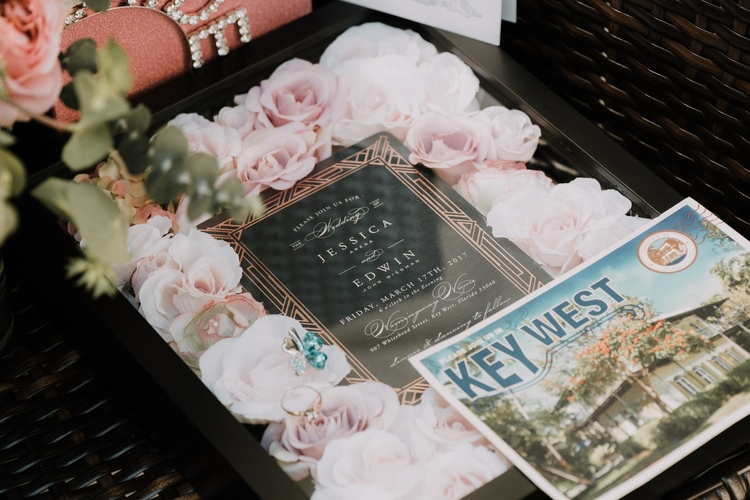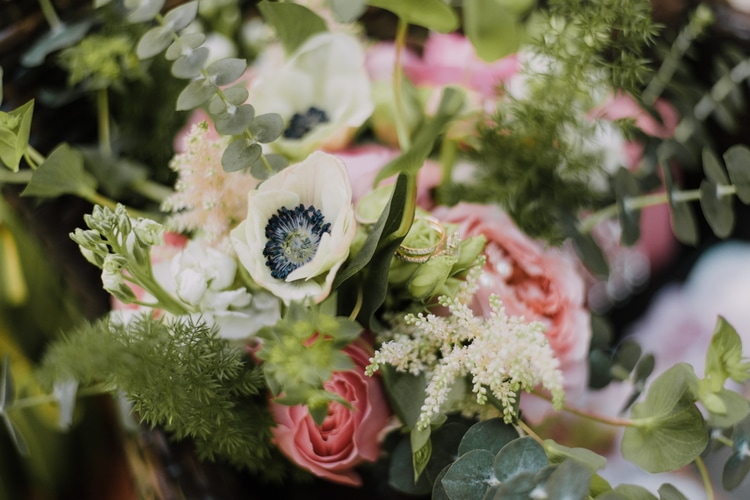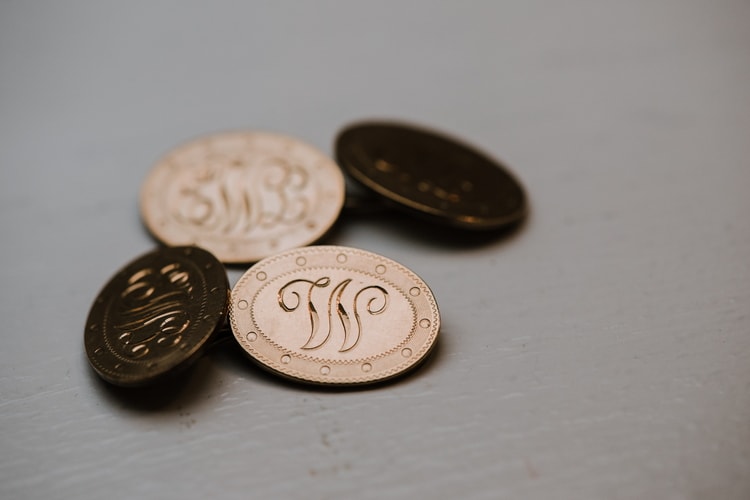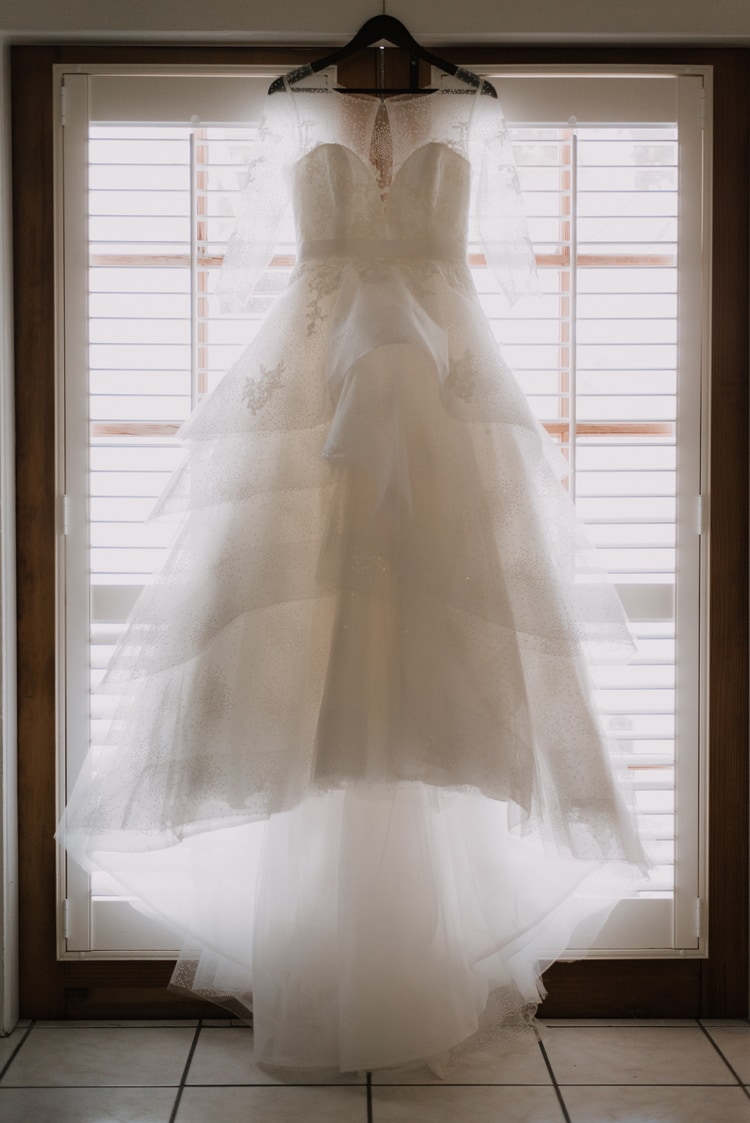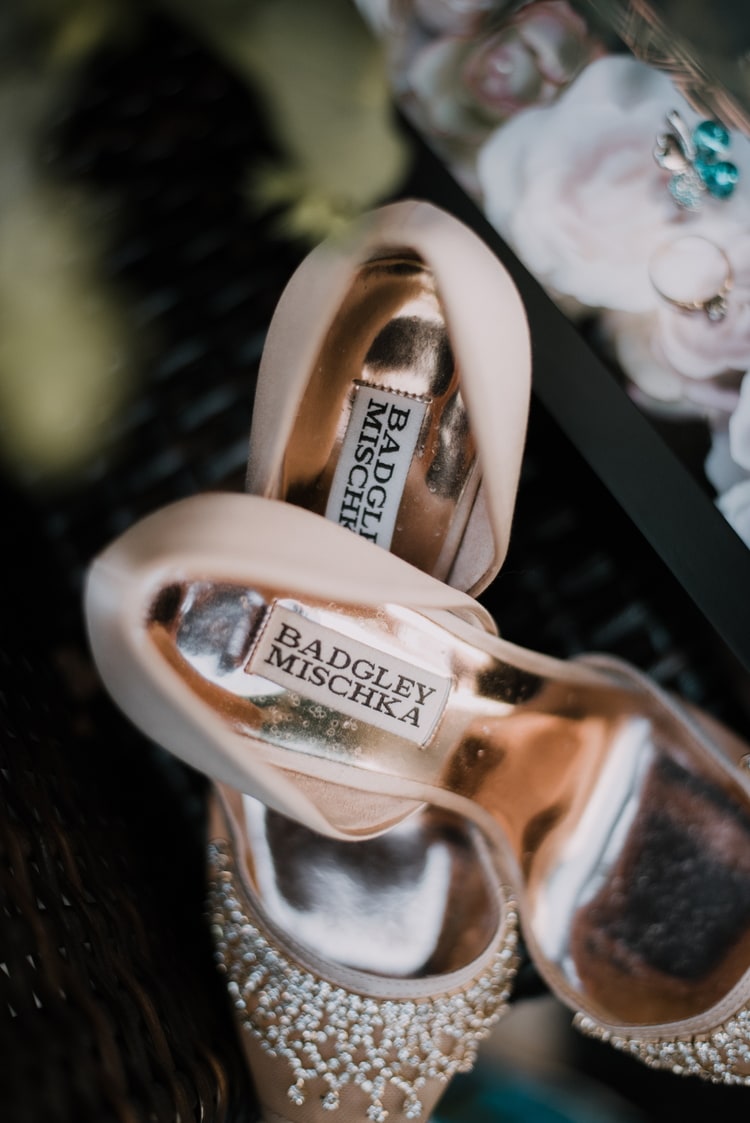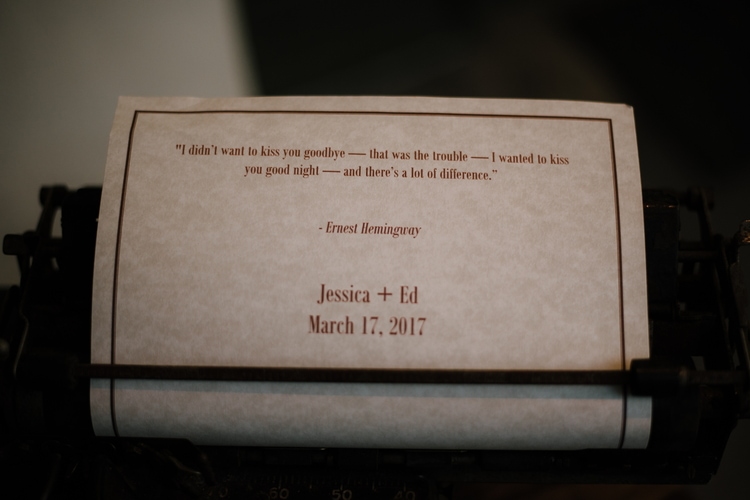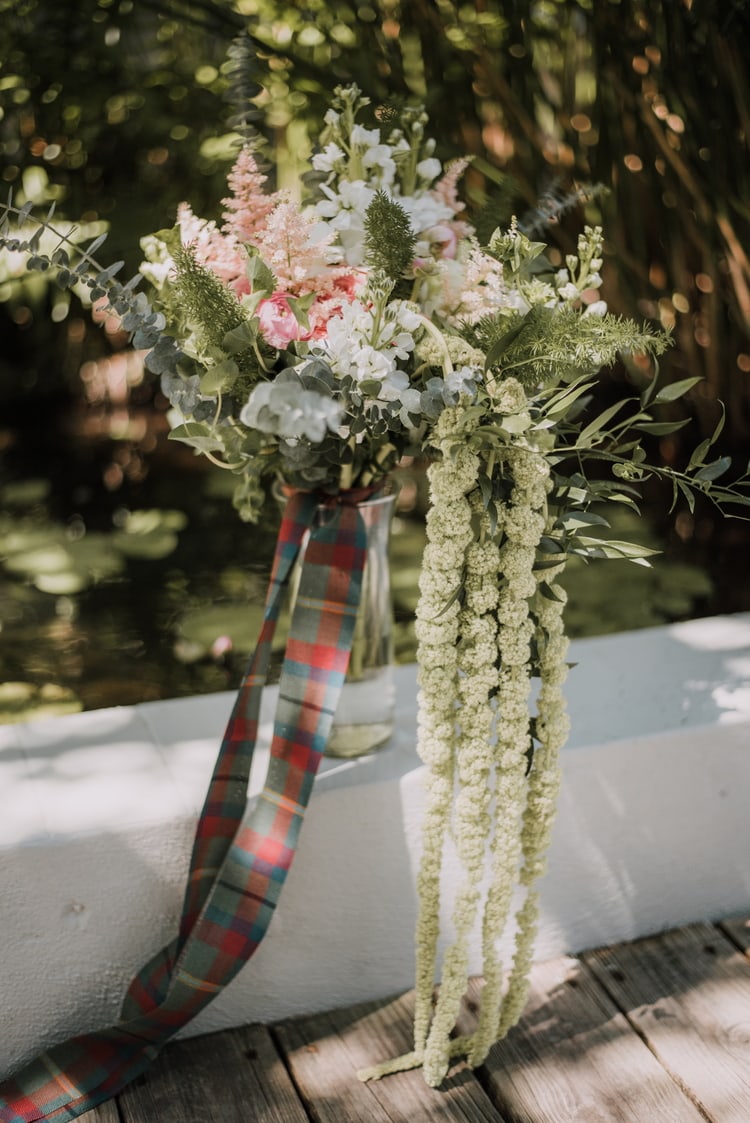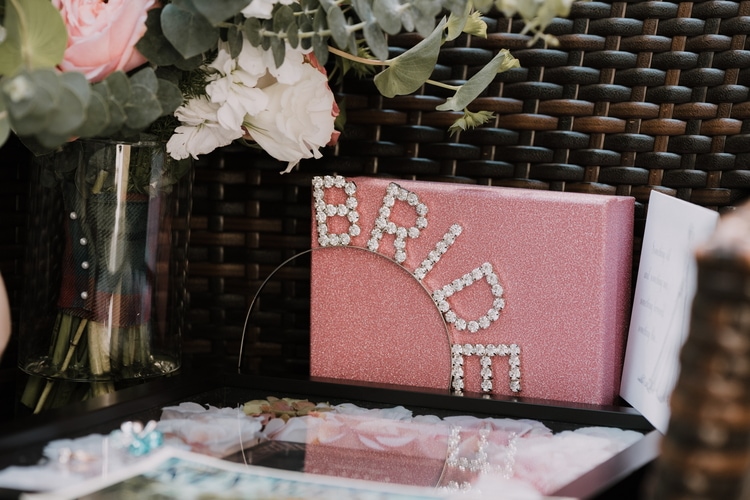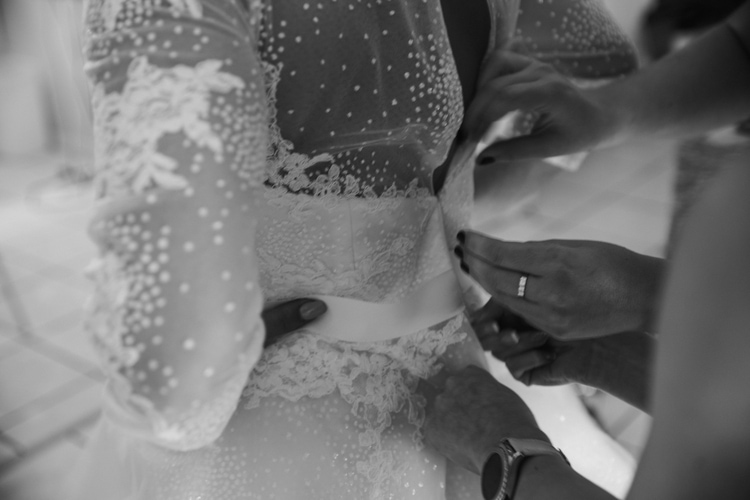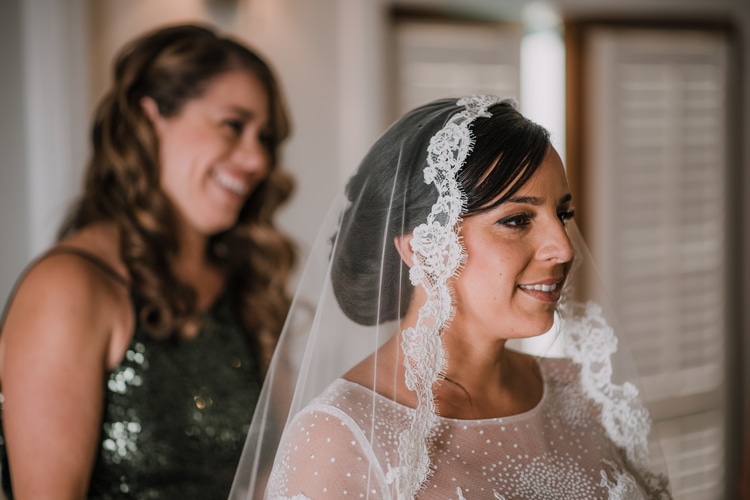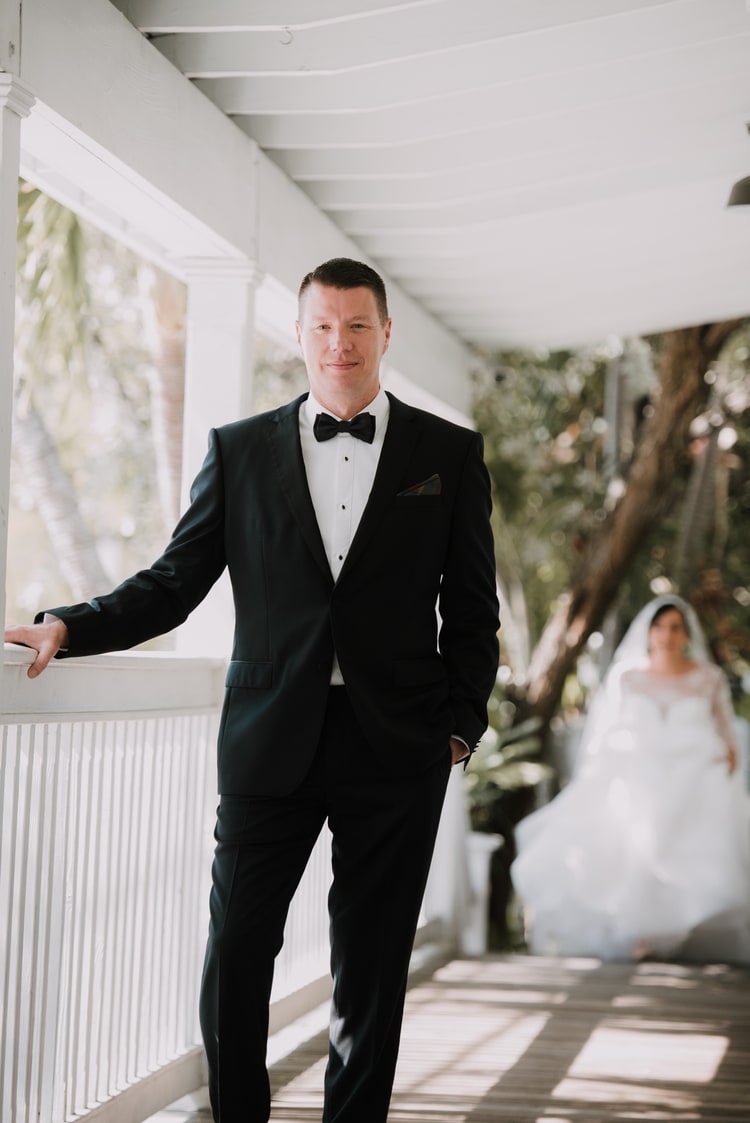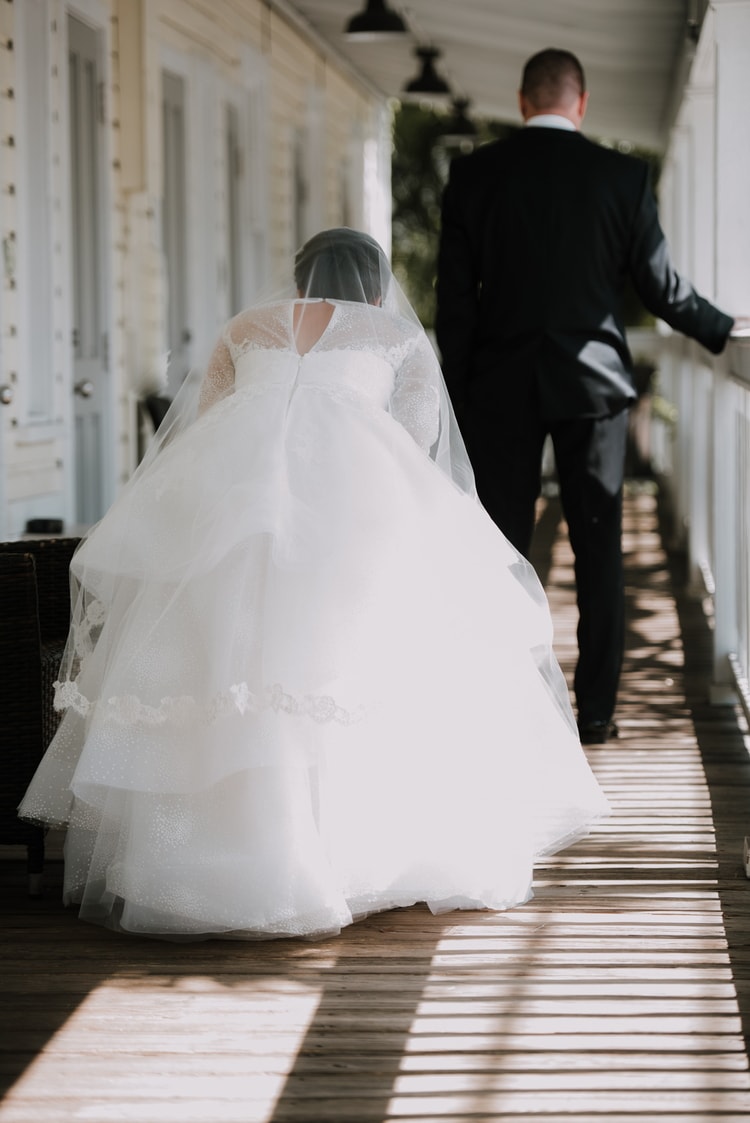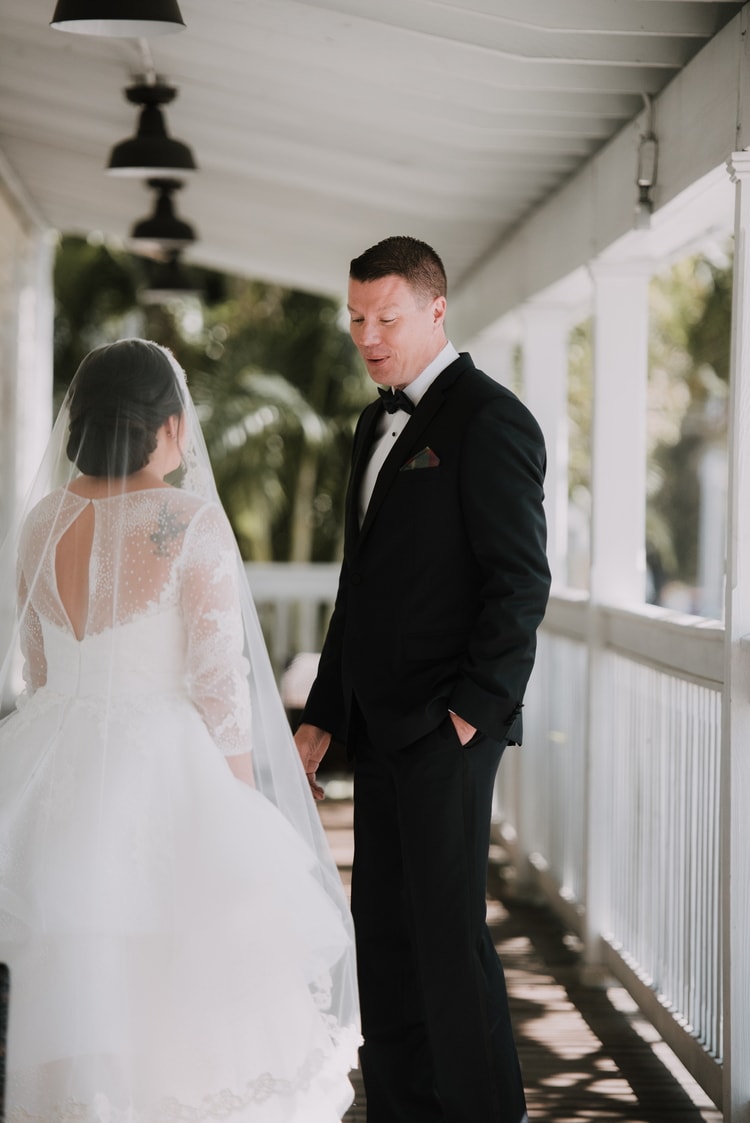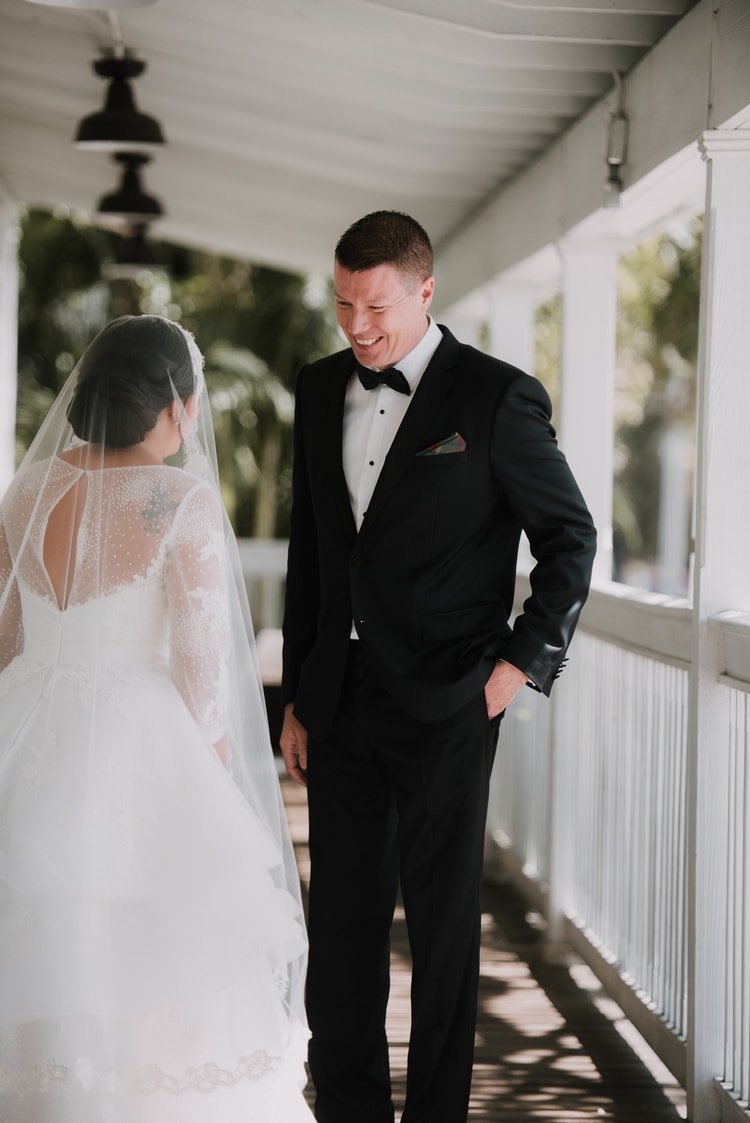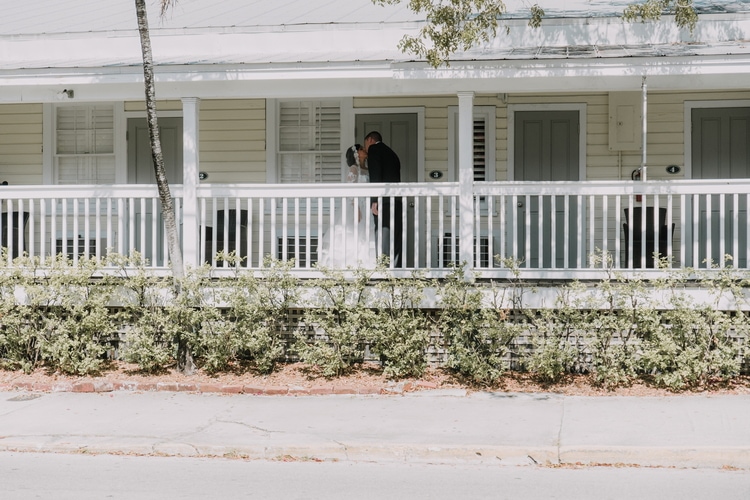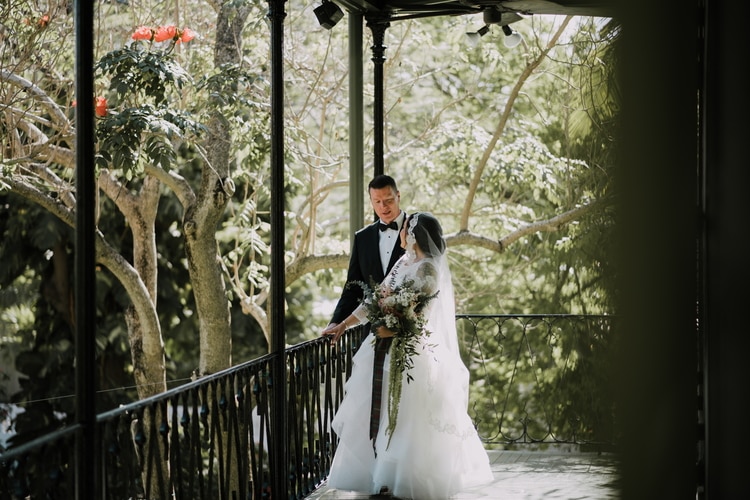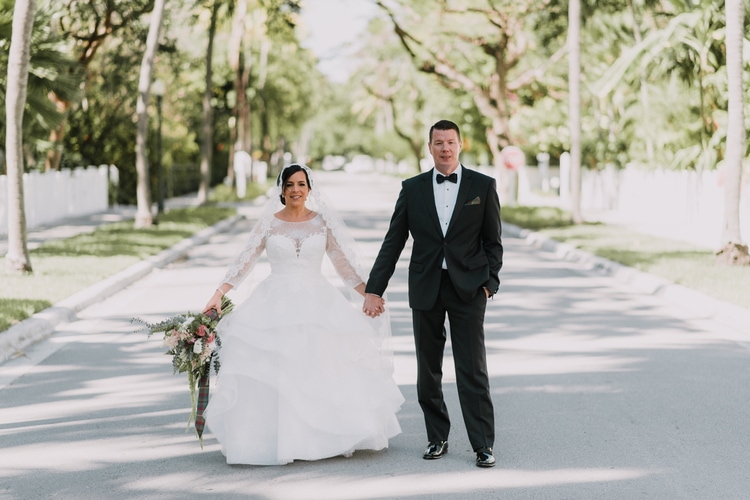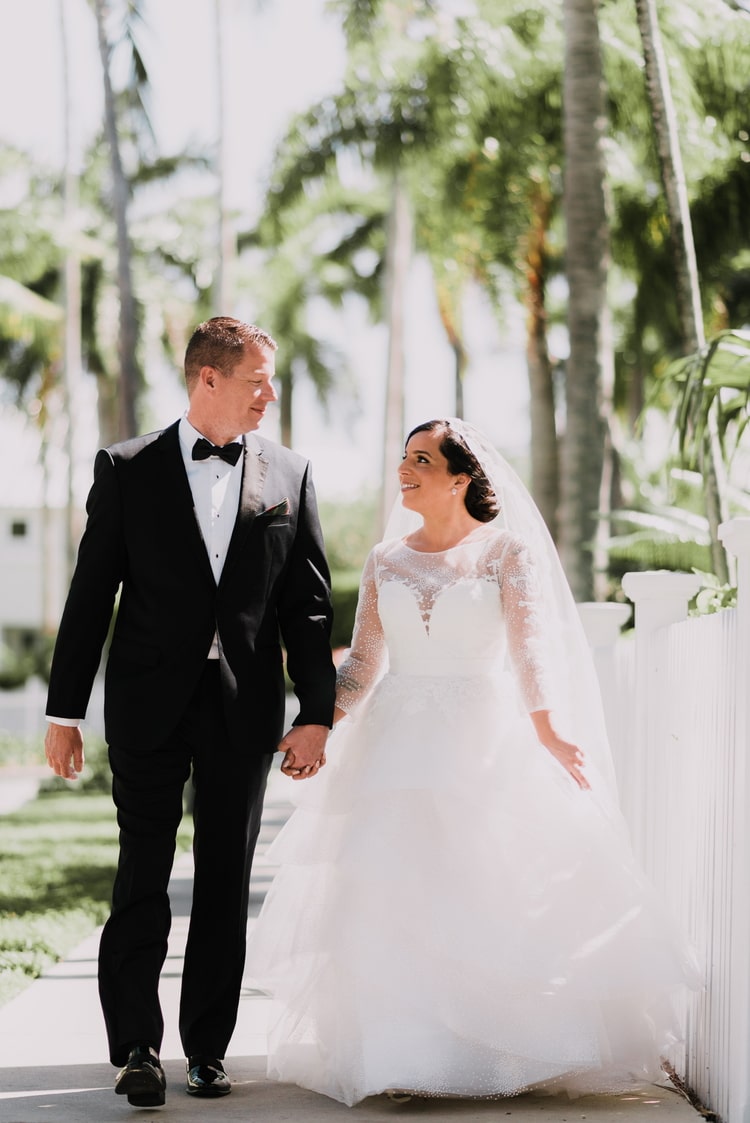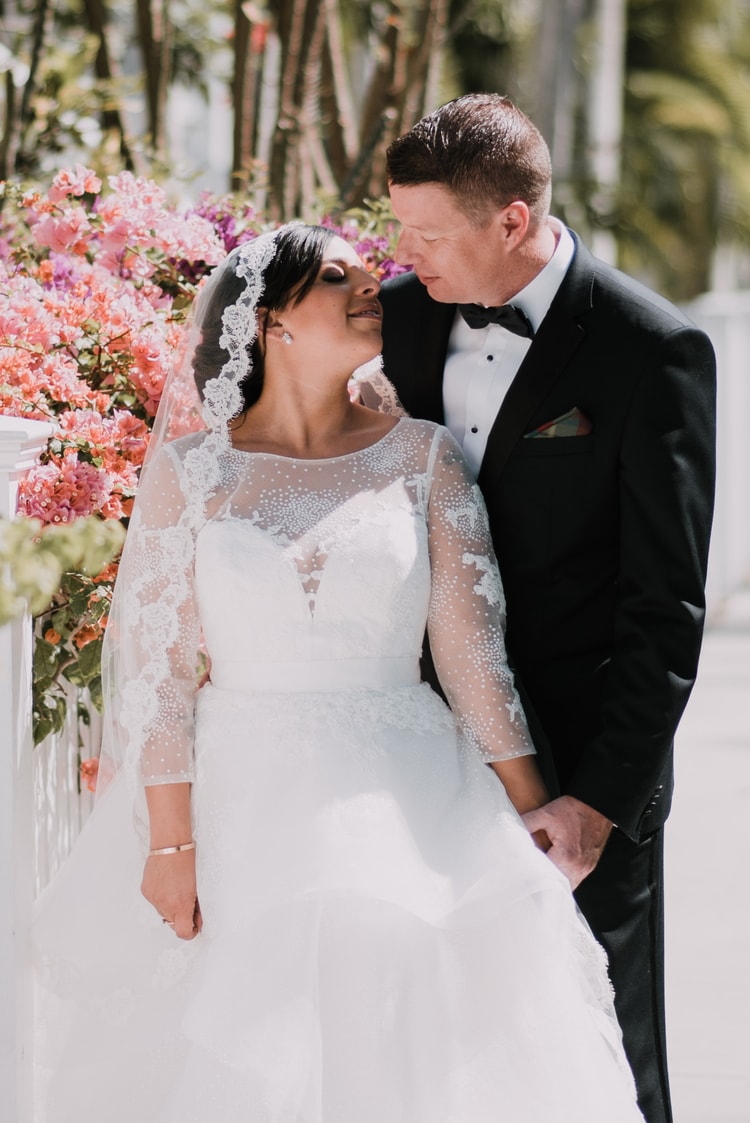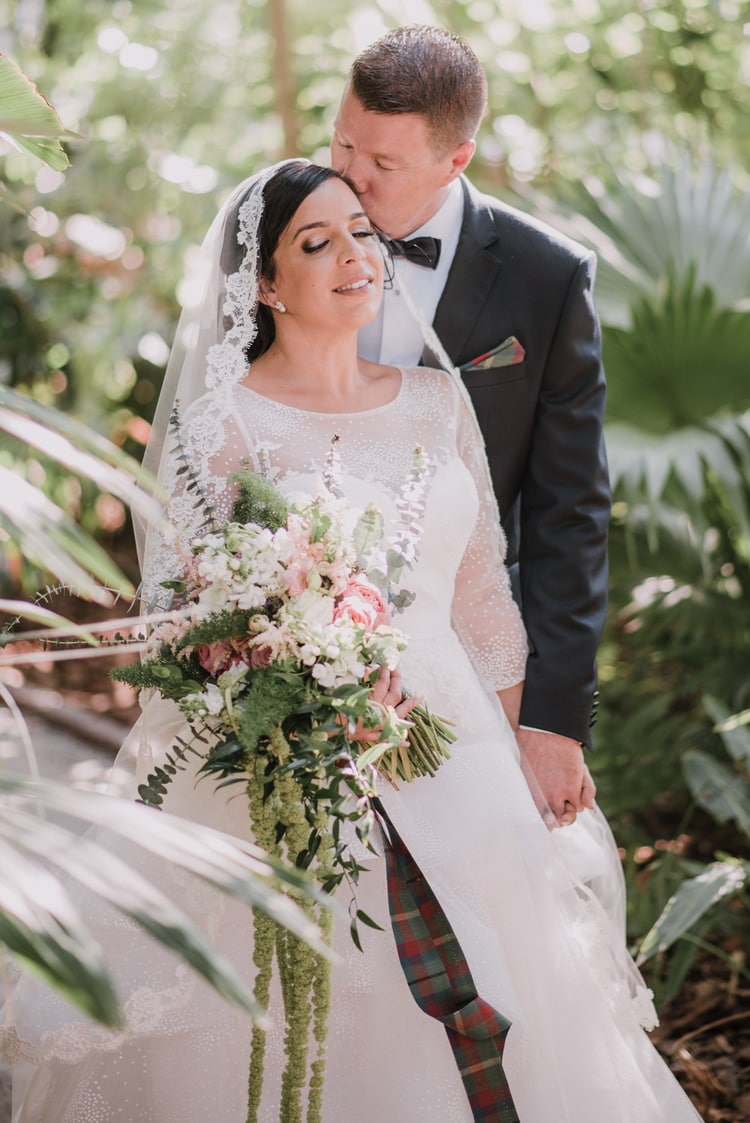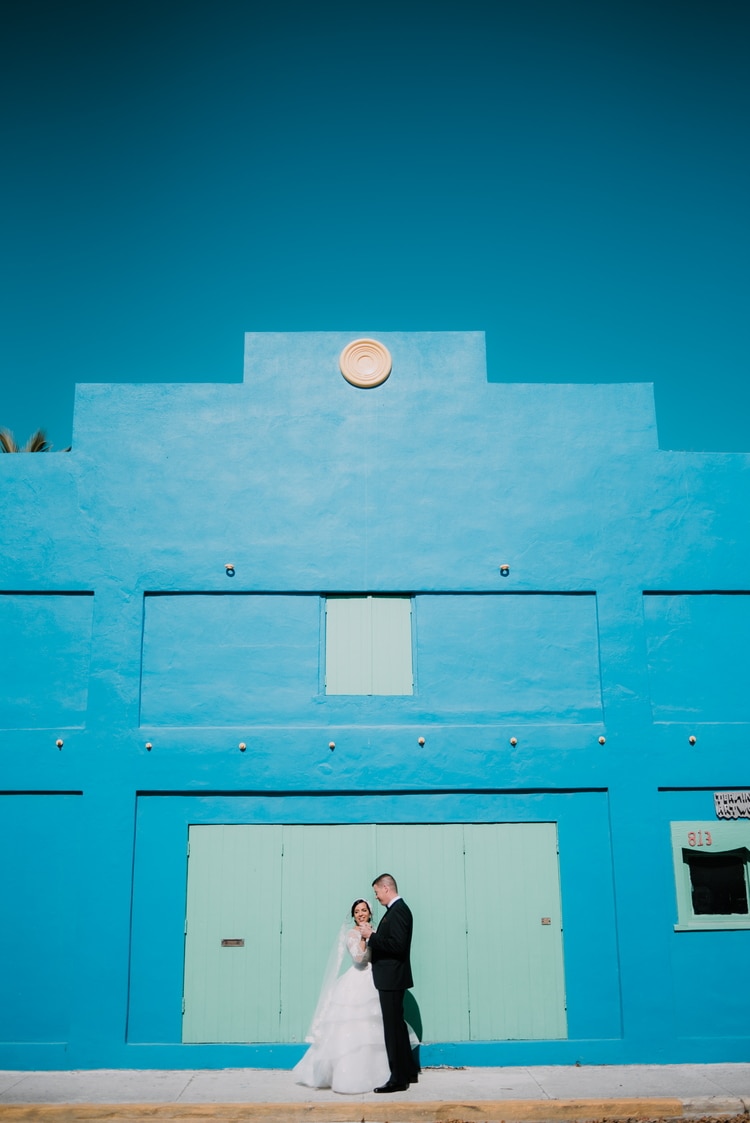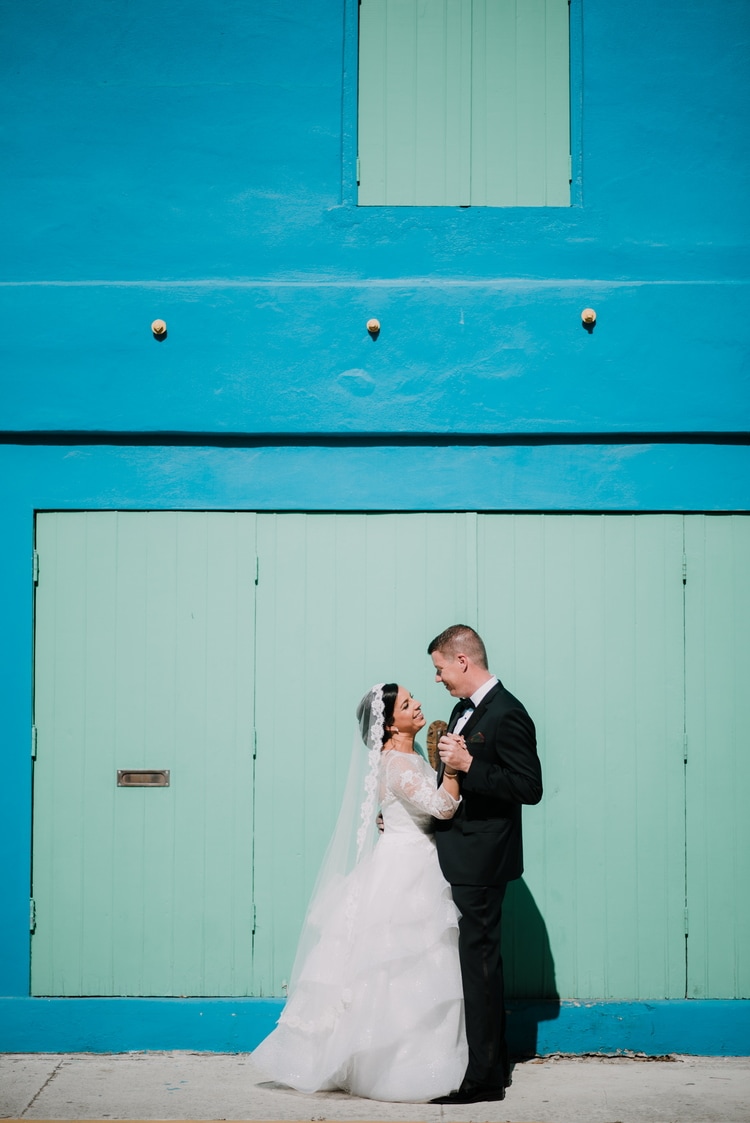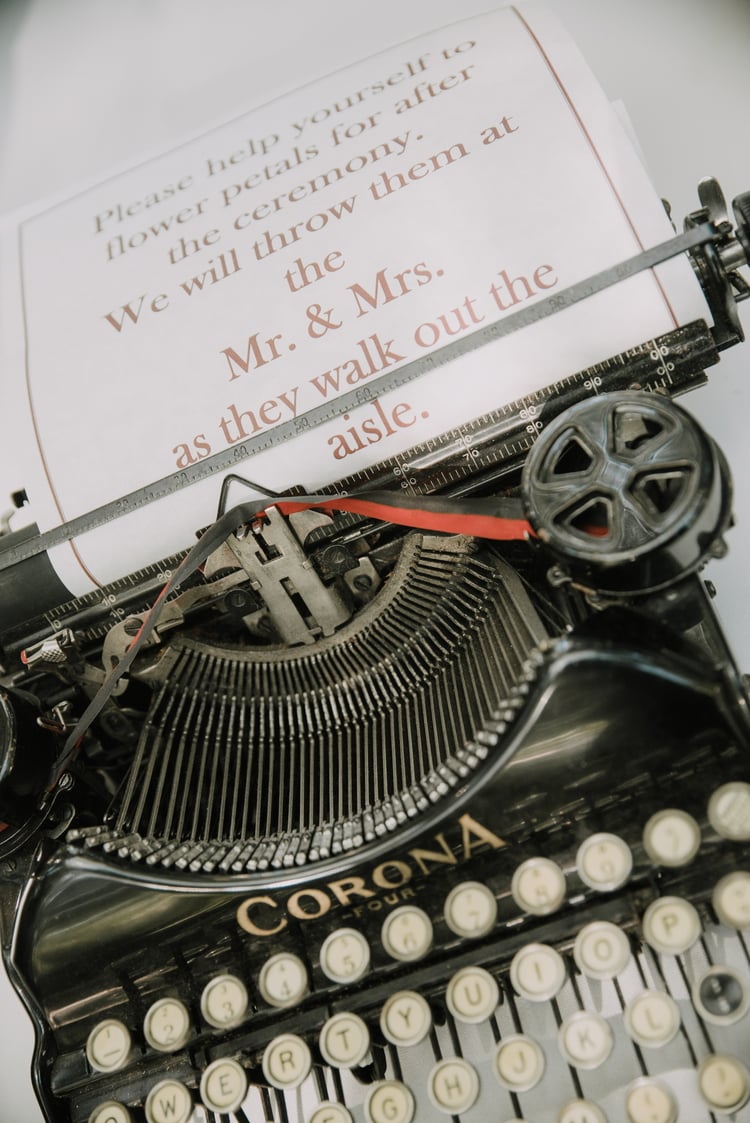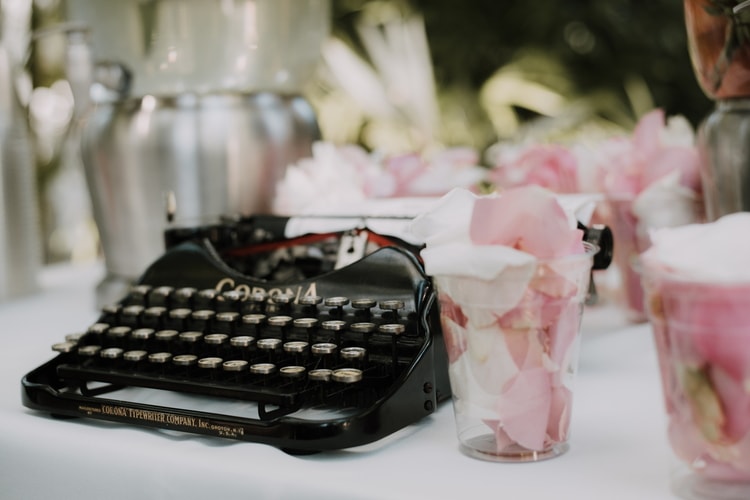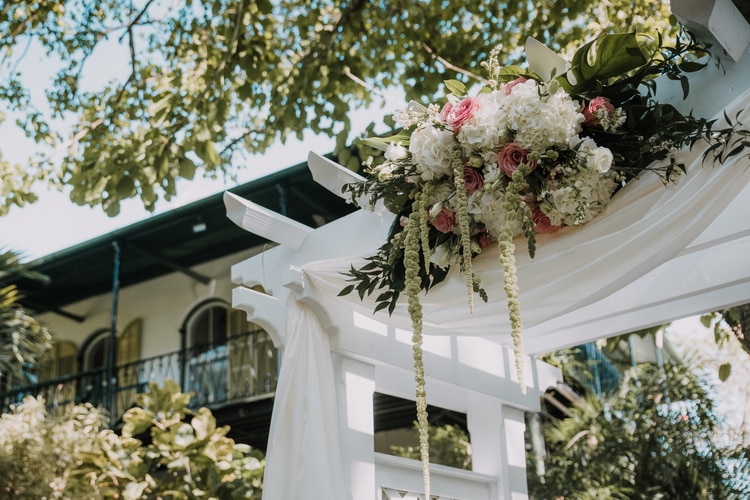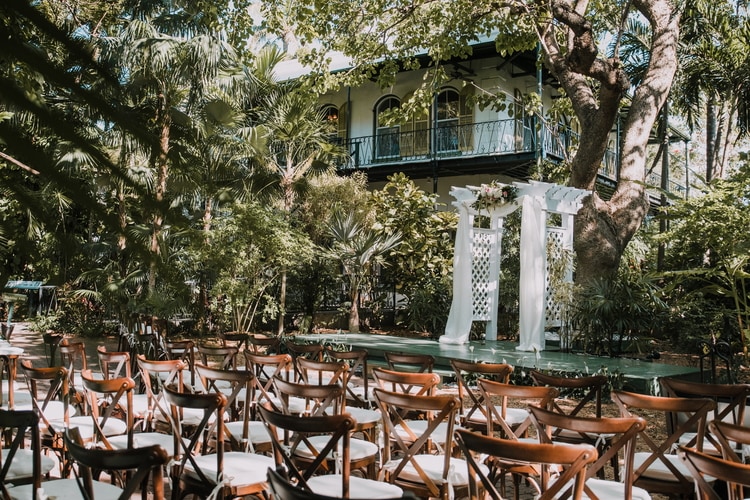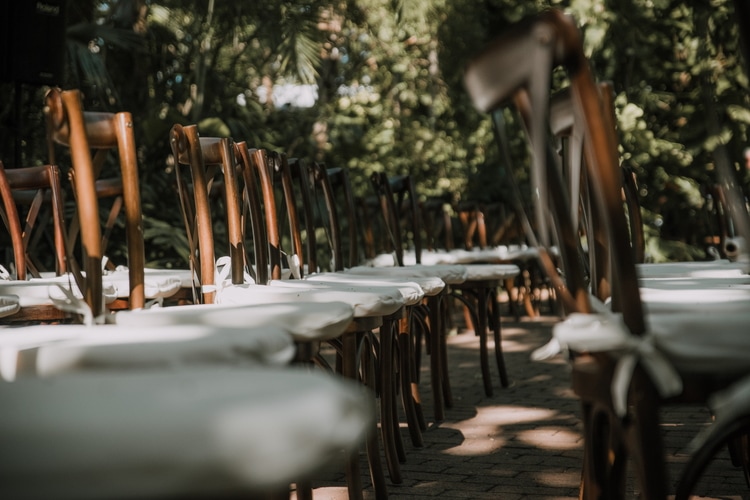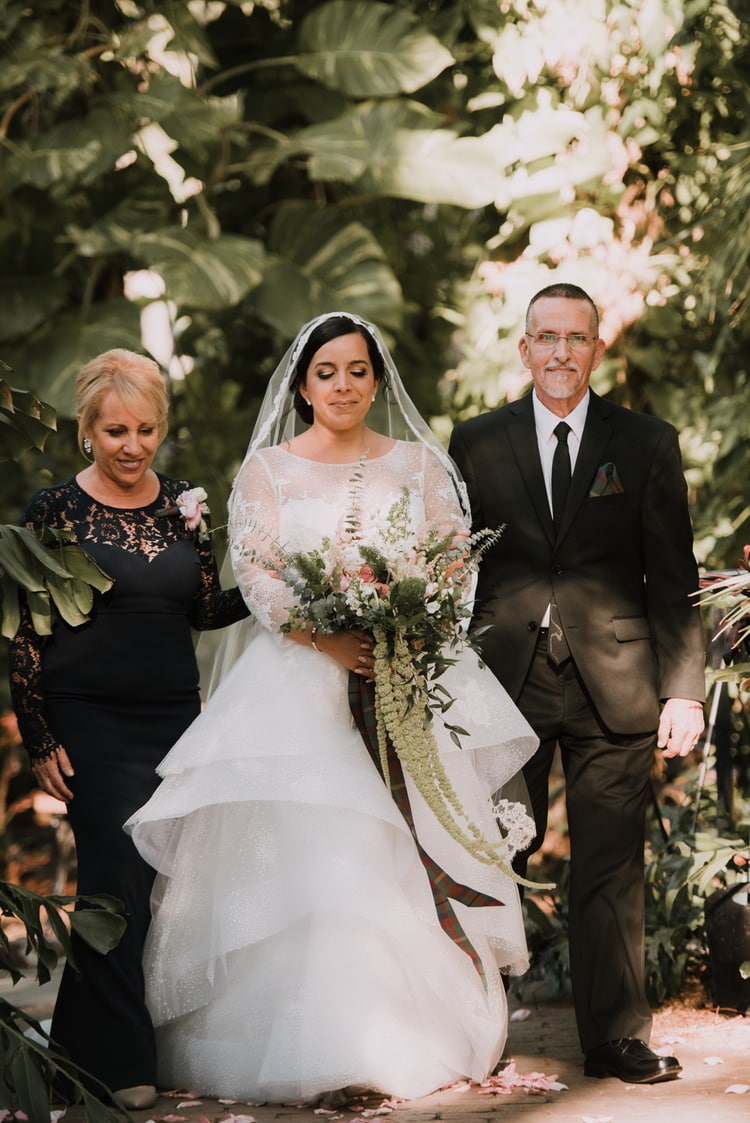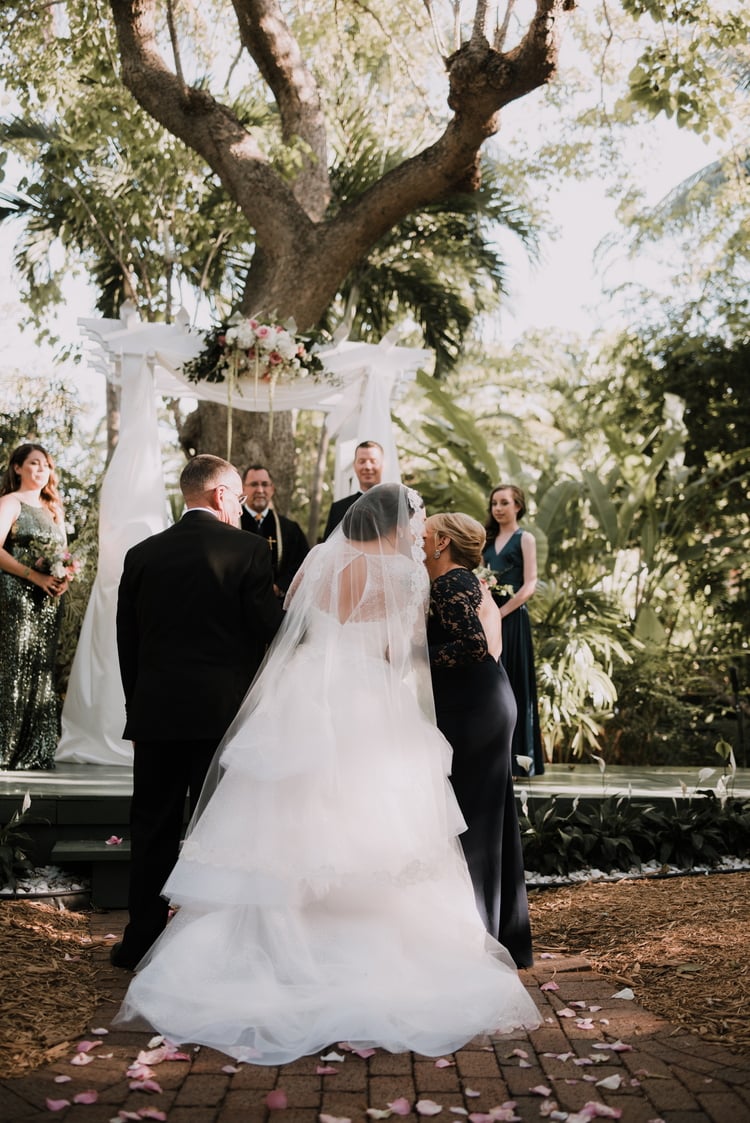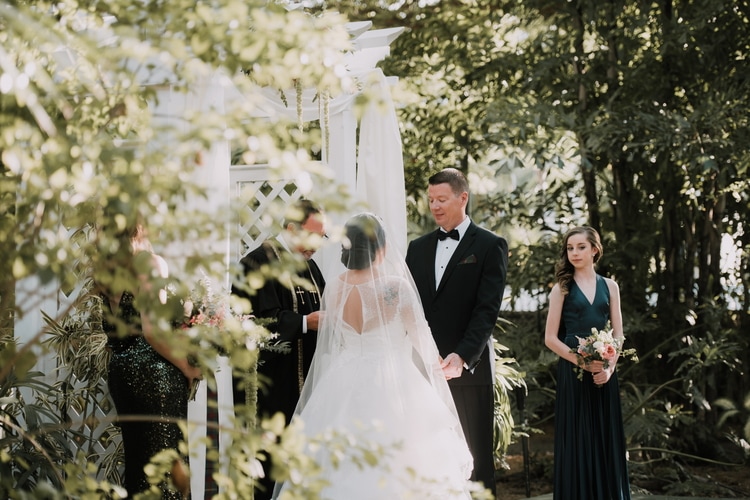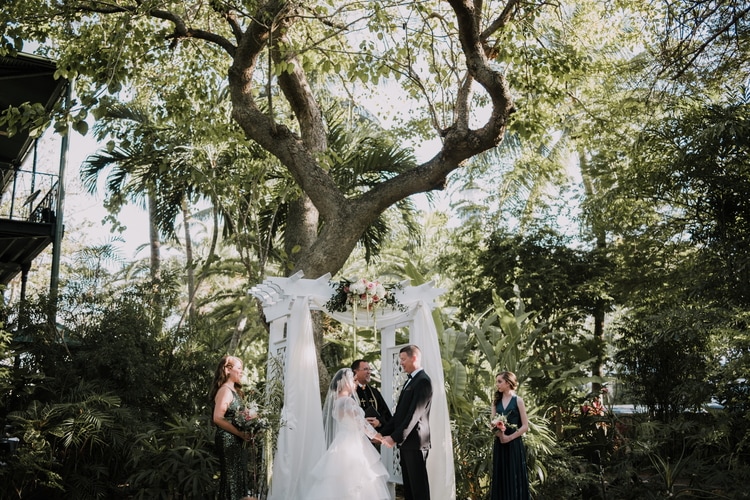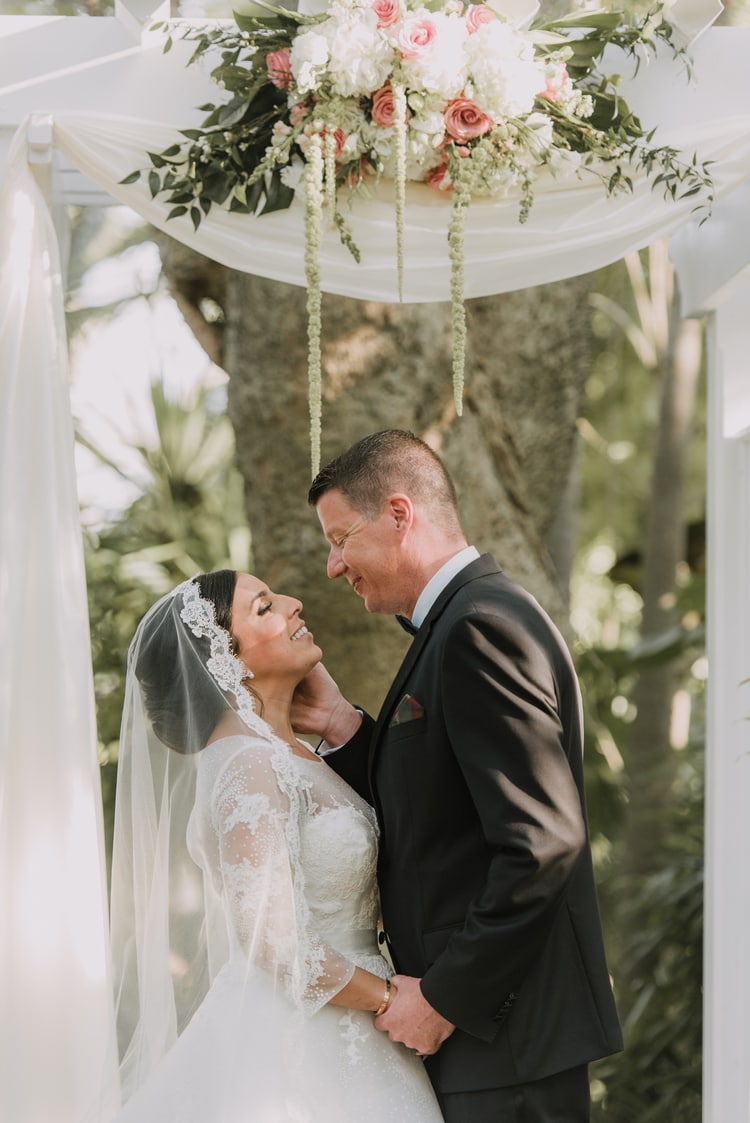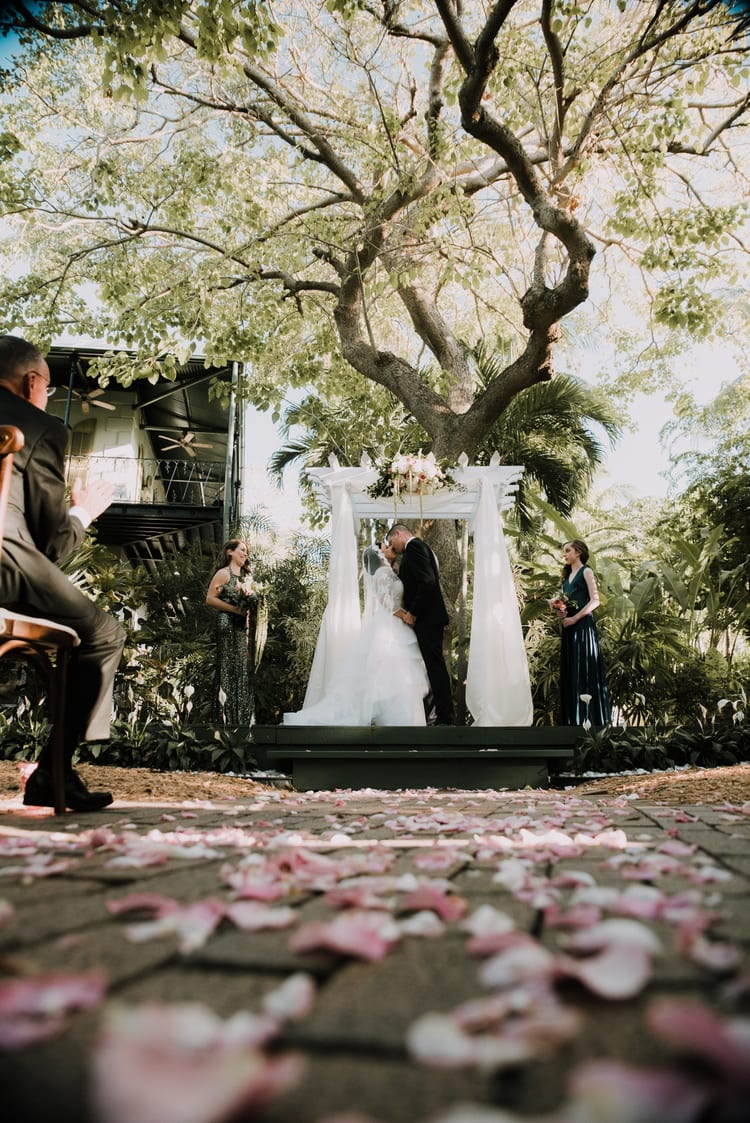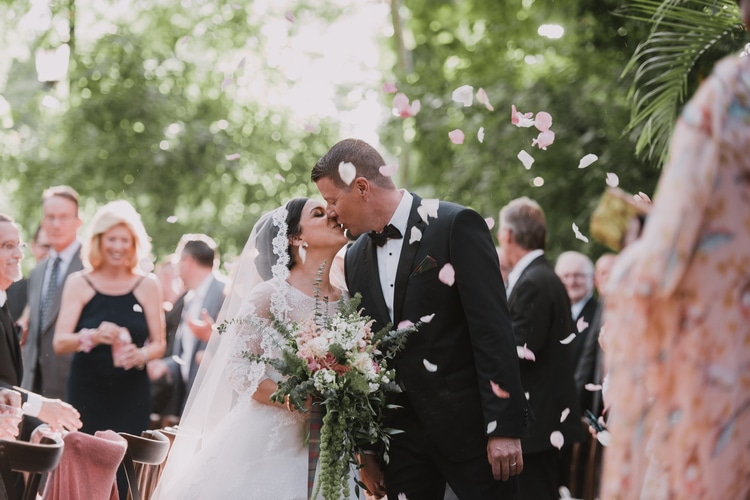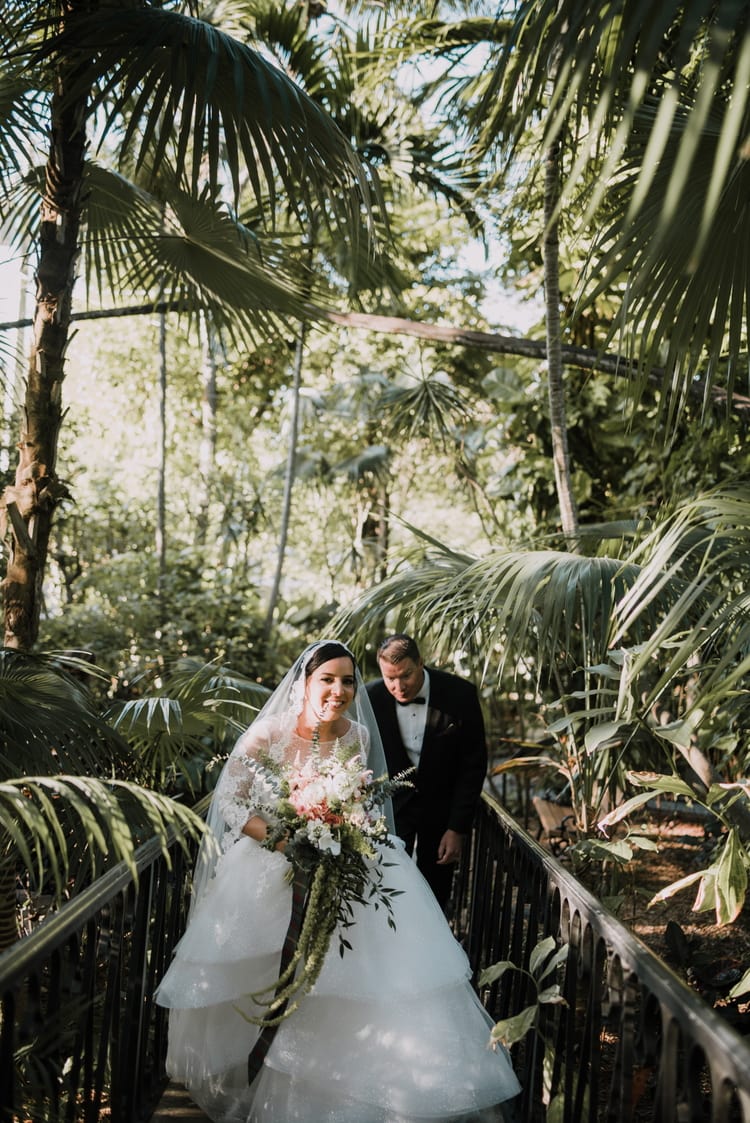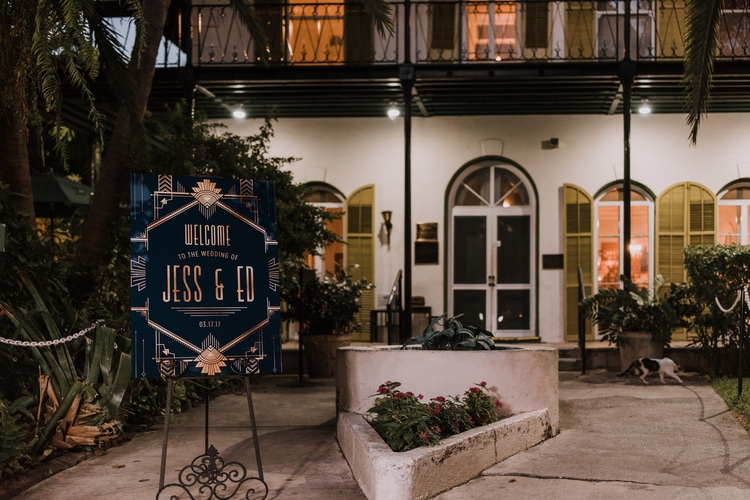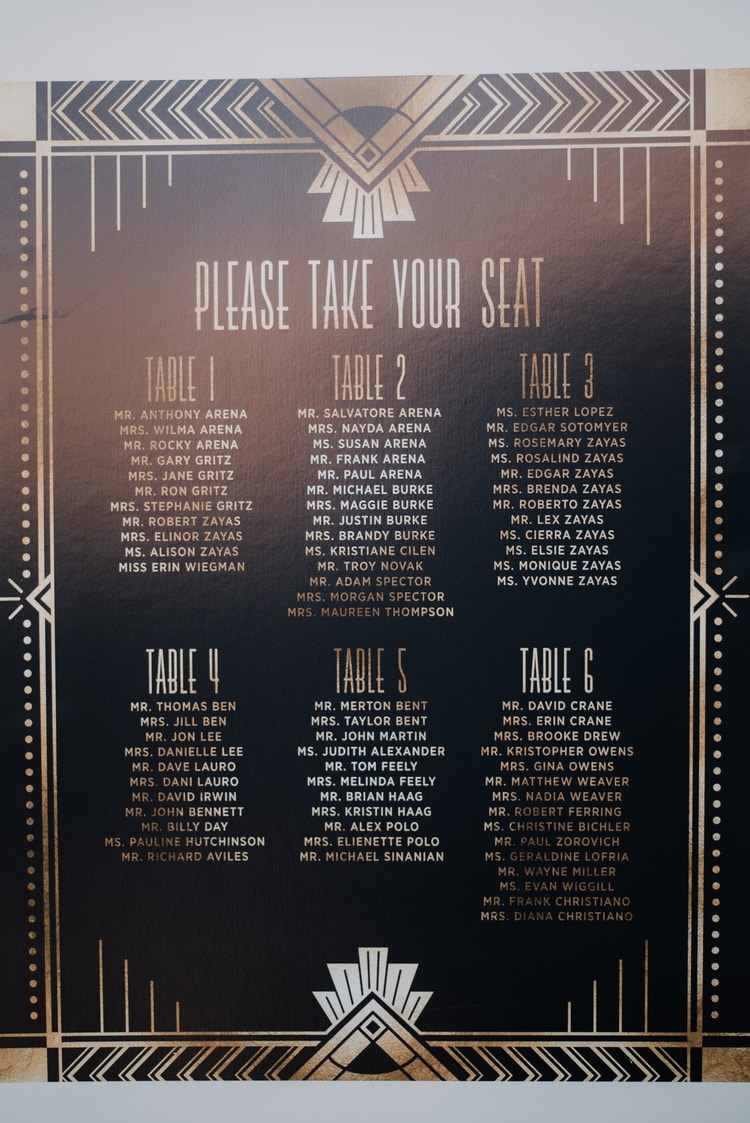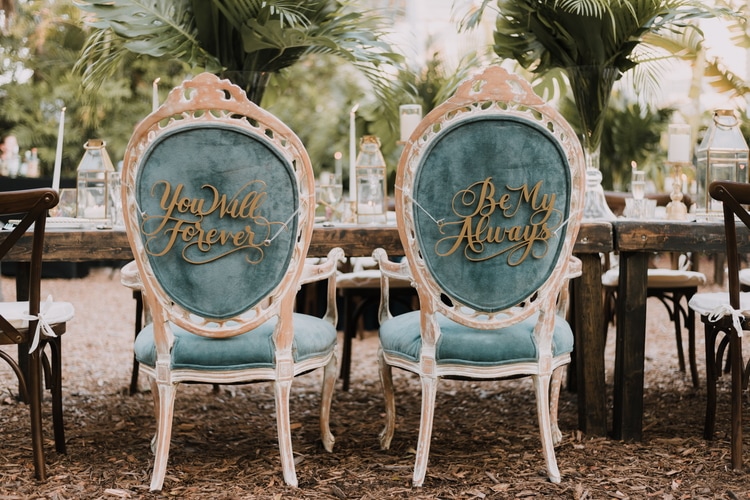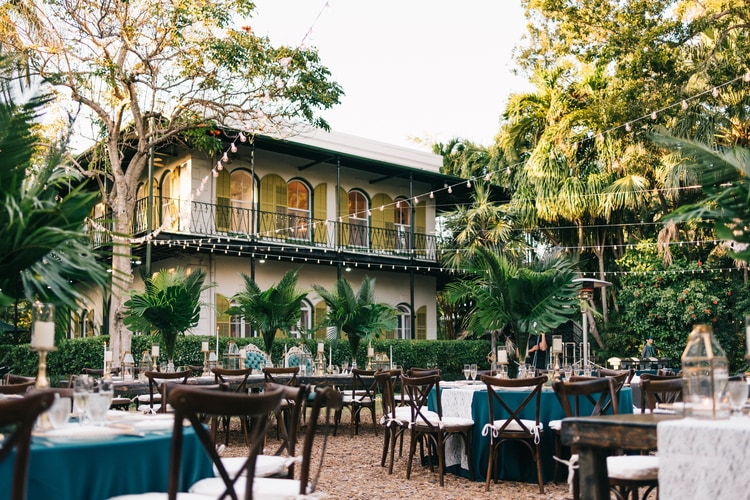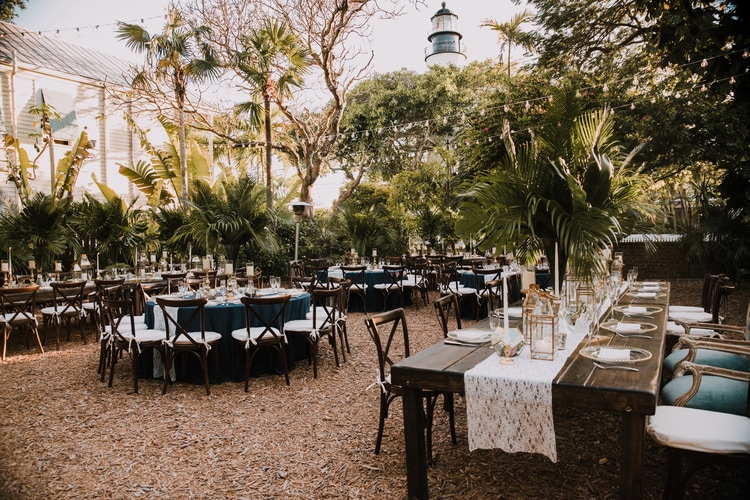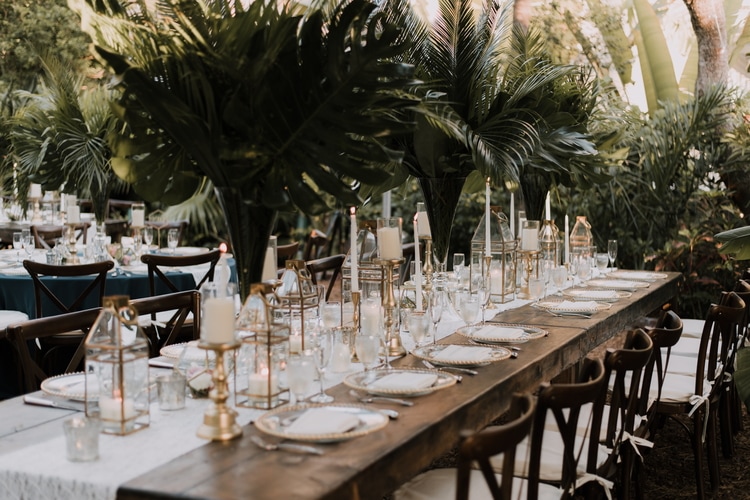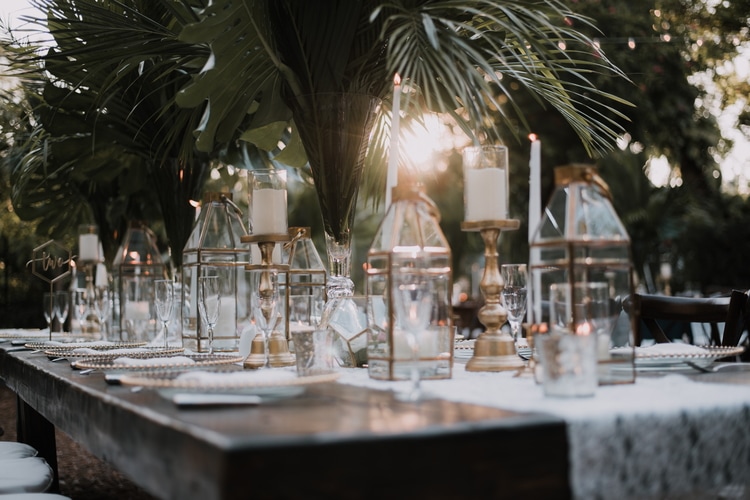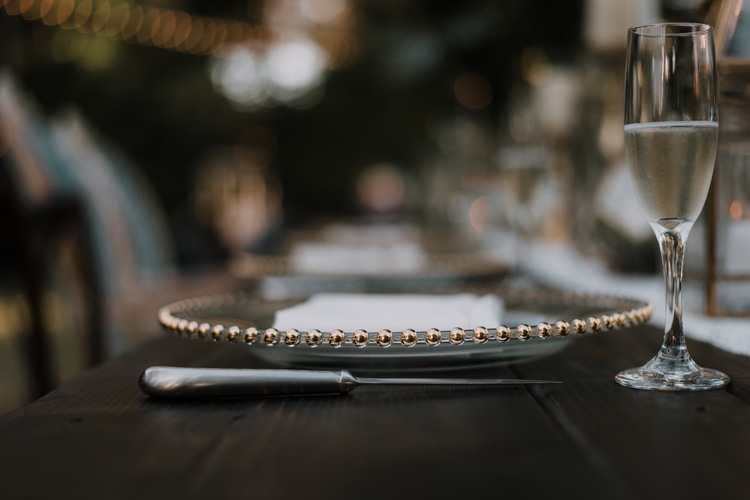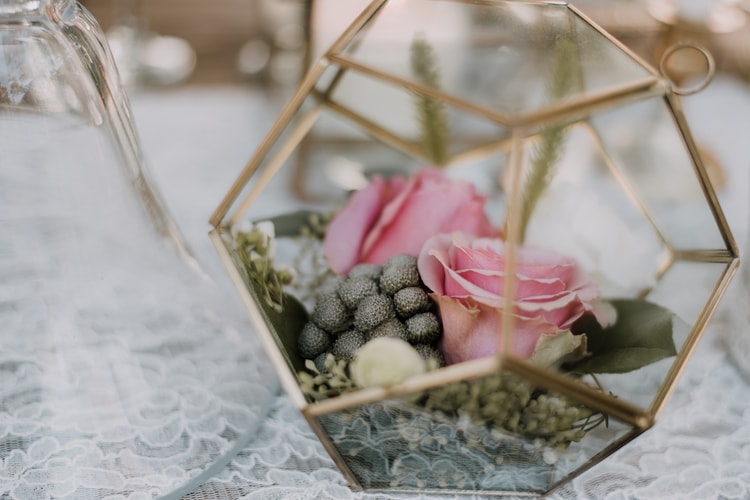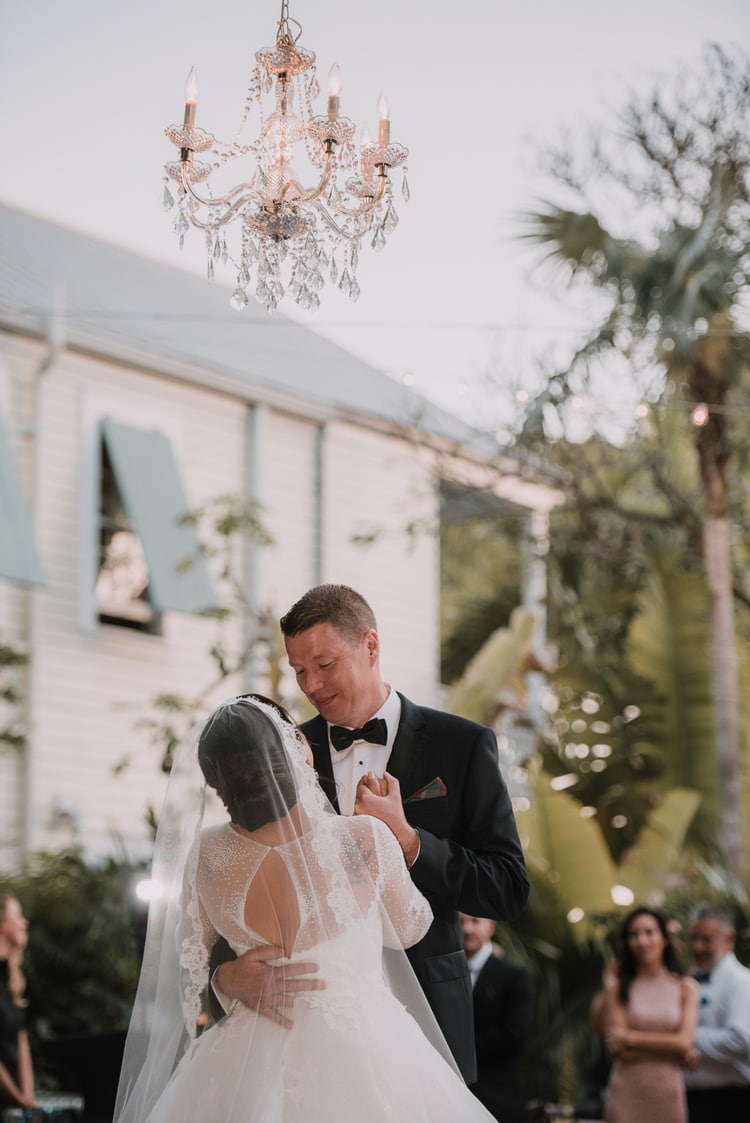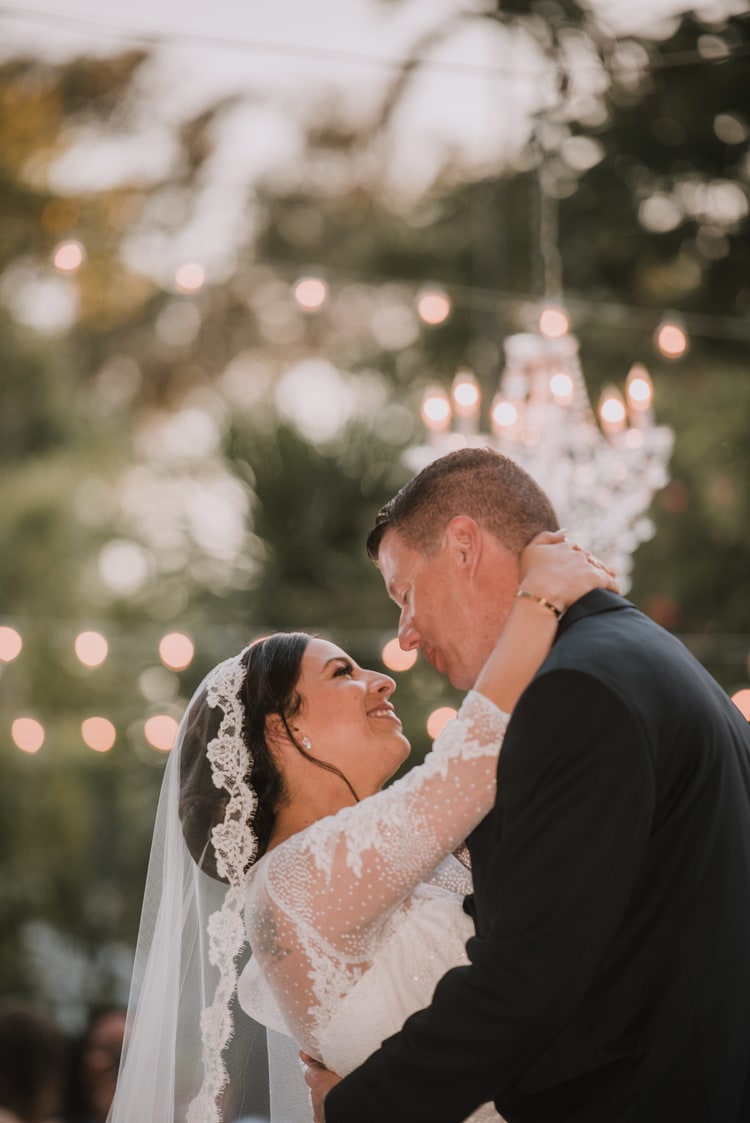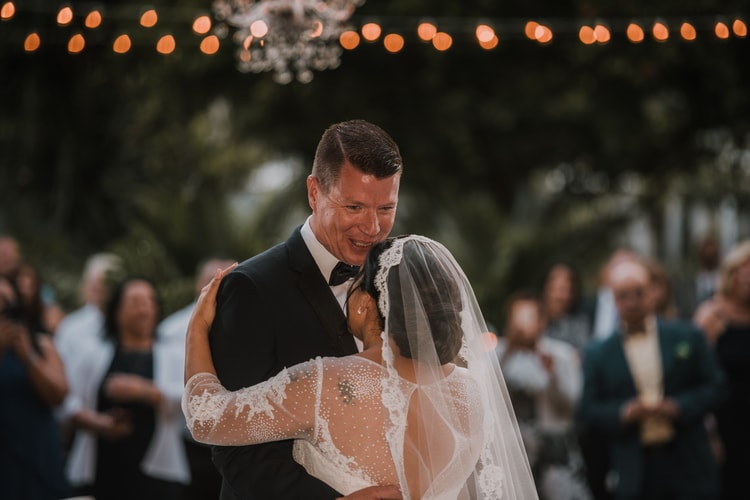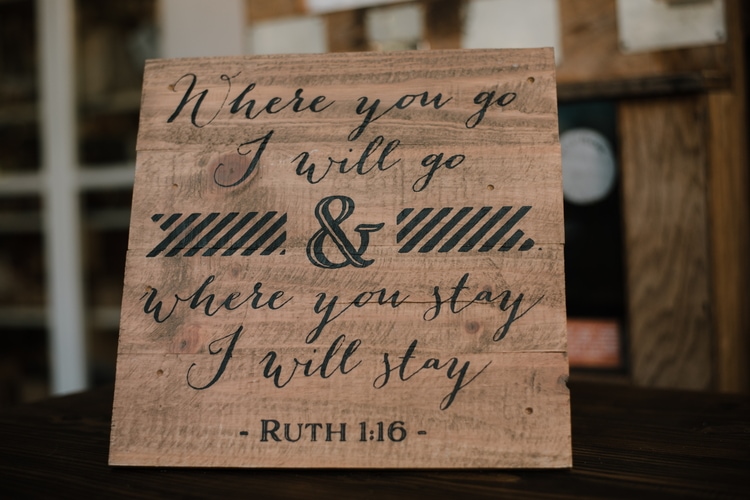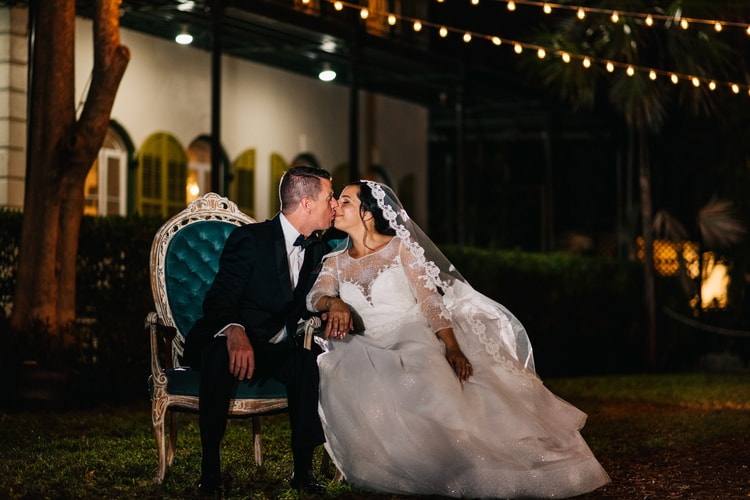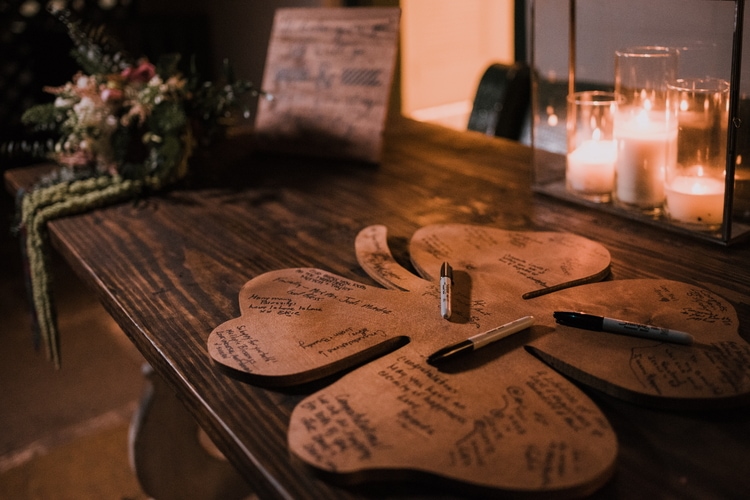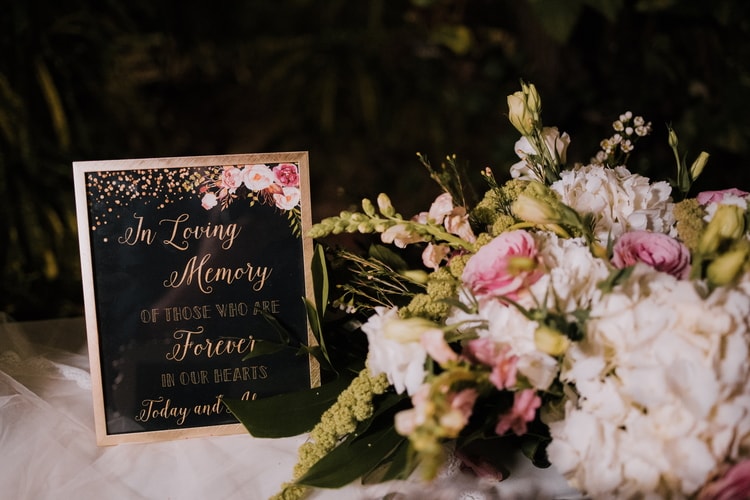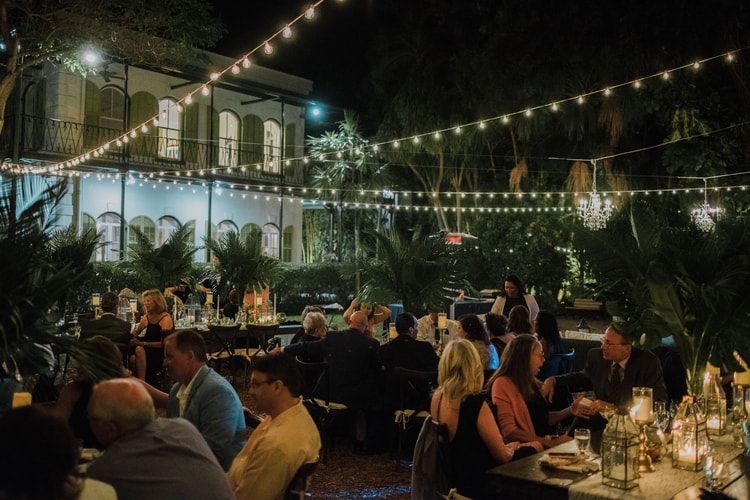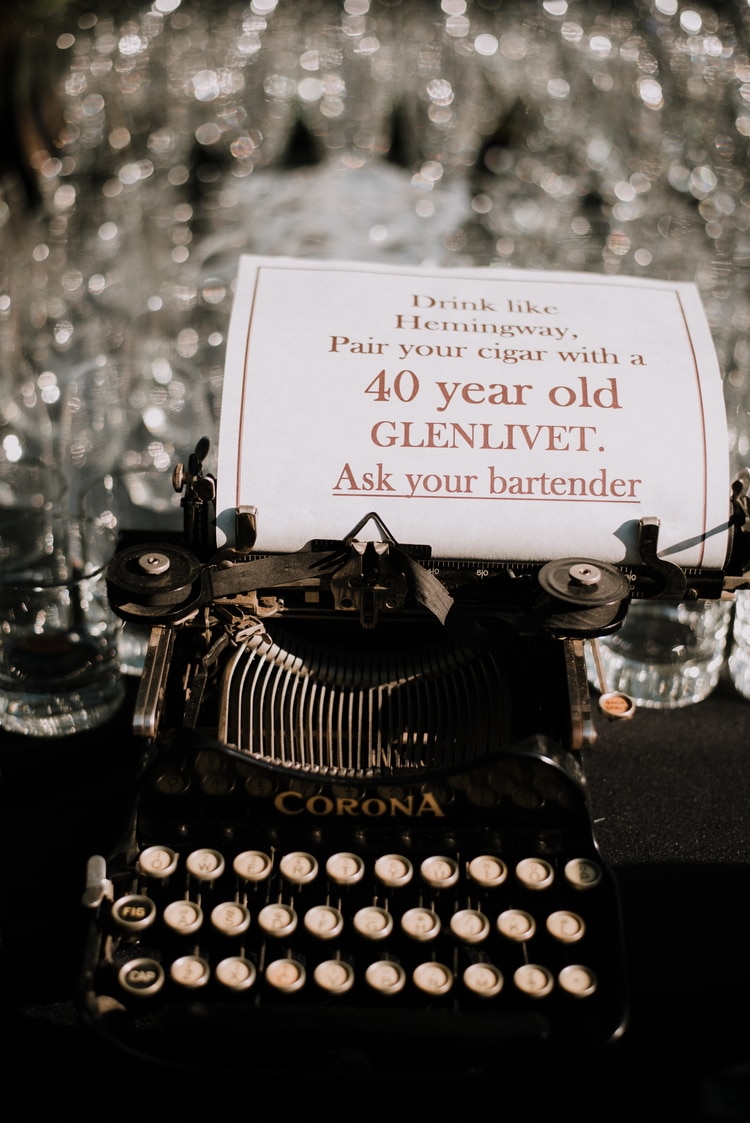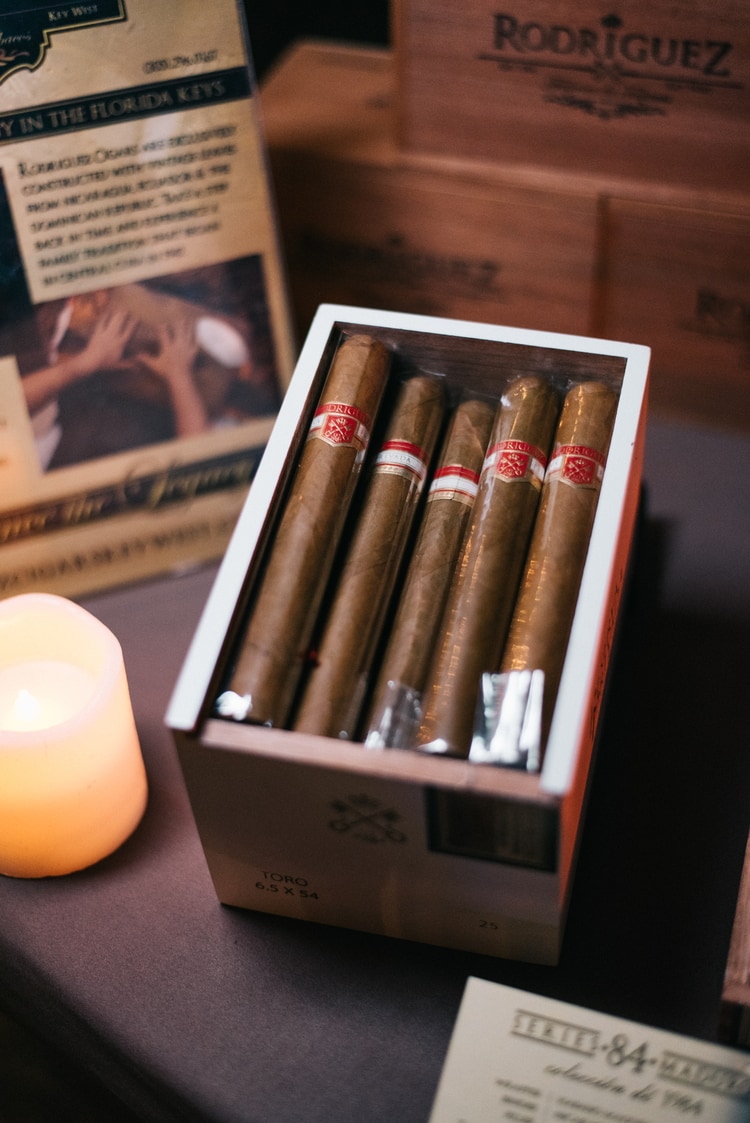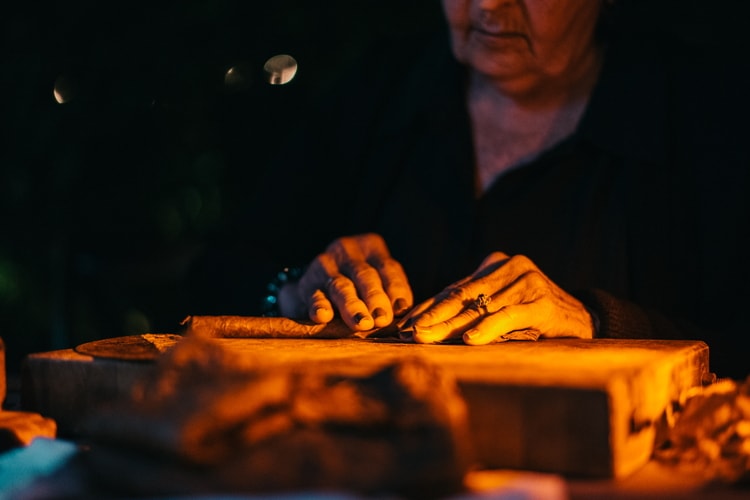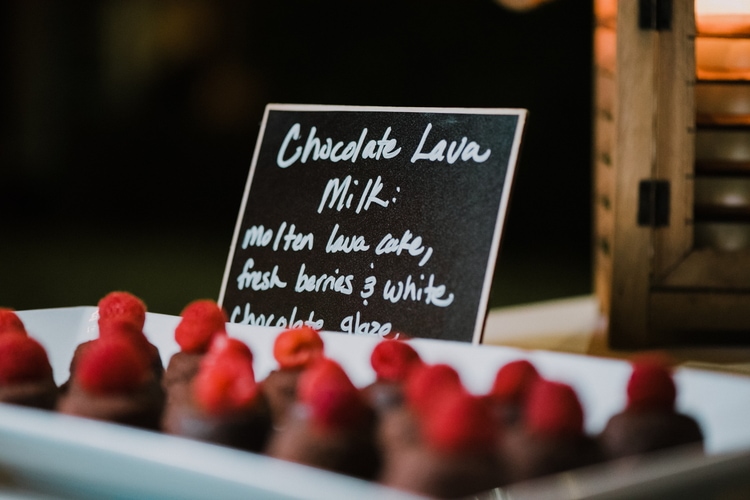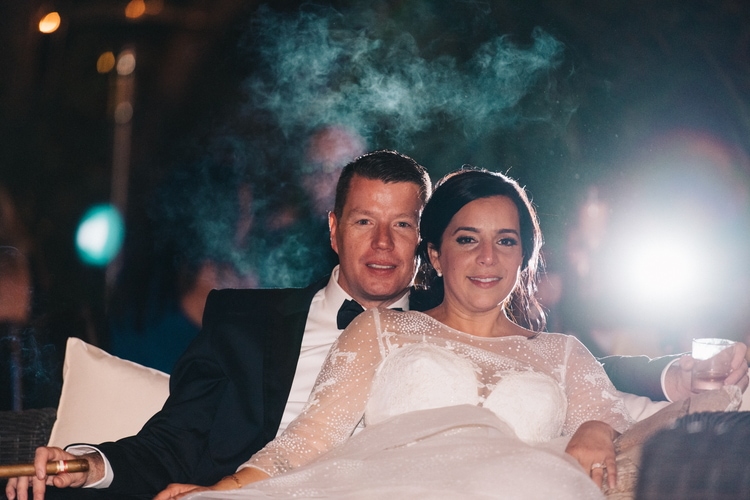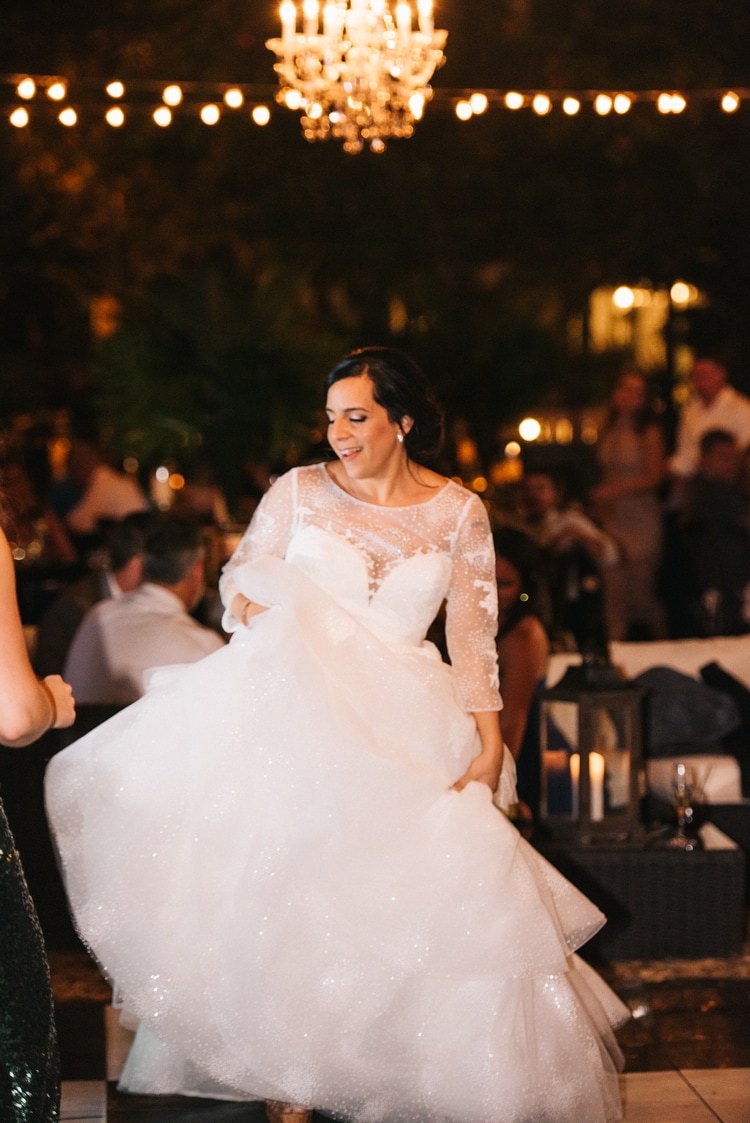 Q&A with the Bride:
Why did you choose to have a destination wedding at the Hemingway House in Key West?
We love Key West. It's our first pick for any kind of weekend runaway trips. Seven years ago on my first trip, we took the Hemingway tour and I knew if we ever got married this would be the first choice. I love the nostalgia of the home, it's beautiful landscape and of course, all the kitties are a super plus.
How many people attended your destination wedding?
85
What were your sources of inspiration when choosing your colors, flowers, cake, etc..?
Our colors were navy, cream, and gold, which to my husband's liking were Notre Dame colors. That was not on purpose.
Was there something unique or special that you incorporated into your wedding décor/theme?
My mother gave me her wedding veil. Although I couldn't wear it because it has turned color over the years, we used it as a backdrop for our memorial table. It was a perfect touch and my mother loved it.
What was your favorite wedding detail and why?
I loved our centerpieces. They were simple palm fronds but were so lush and made a huge impact. Our photographer Mike Freas of Foto by Freas is such an artist. His vision through the lens captured every detail that made our day special.
Was there any tradition that you skipped or a tradition that you put a "destination wedding" spin on?
We actually skipped a lot of traditions. First, we didn't have cake! I know…blasphemy right! I didn't feel that having a cake cutting photo was necessary. We also had amazing desserts from our caterer Great Events. We also skipped the bouquet toss and garter belt shenanigans. I feel all of these things may be important to some, however, our focus was on dancing and spending the most of our wedding with our guests. I don't think anyone missed out on these traditions.
What was the most memorable thing to happen on your wedding day?
I am kind of obsessed with Whitney Houston's version of the national anthem and also any type of military flyover. I wanted to play it but thought– how do you incorporate that in? So I let it go. Turns out my cousin/maid of honor Alison set up a little surprise with my DJ. She lip-synched the whole thing as the start of her speech. To top it off a commercial plane flew over right at the end. I'll never forget that moment. It's hard to surprise me.
What was your favorite part of having a destination wedding?
Our family and friends were forced to take a mini-vacation. We had a welcome cocktail party the night before and a fabulous brunch on the water the day after. Sometimes life gets so busy you forget to take a break. We wanted to provide a getaway for them.
What was the biggest challenge in planning your destination wedding?
When you plan so far in advance and have people coming from all different states, God likes to throw in some curveballs. Majority of my family is from New York even my maid of honor and that very weekend was supposed to be the worst blizzard on record. Flight changes were made daily and almost didn't happen at all.
What's your advice to other couples planning a destination wedding?
Do not skip a local wedding planner to help you. Vicky Furman the wedding organizer at the Hemingway Home was a dream come true. She was able to recommend so many local vendors that they know and trust. A good planner makes your day run smooth, a great planner helps you make it the best day ever! At the end of the day. It's the wonderful vendors that make your day perfect. It takes a village to plan a destination wedding. I'm honored these vendors made up mine.
Vendors:
Photographer: Freas Photography
Event Venue: Hemingway House Key West
Makeup Artist: Casa Salon
Hair Stylist: Casa salon
Makeup Artist: Casa Salon Bridal Hair & Makeup
DJ: DJ Frenchie
Floral Designer: Duarte Floral Design
Equipment Rentals: Eventfully Yours Rentals
Caterer: Great Events Catering
Officiant: Weddings Key West
Featured:

Unique Poolside Bachelorette Party Inspiration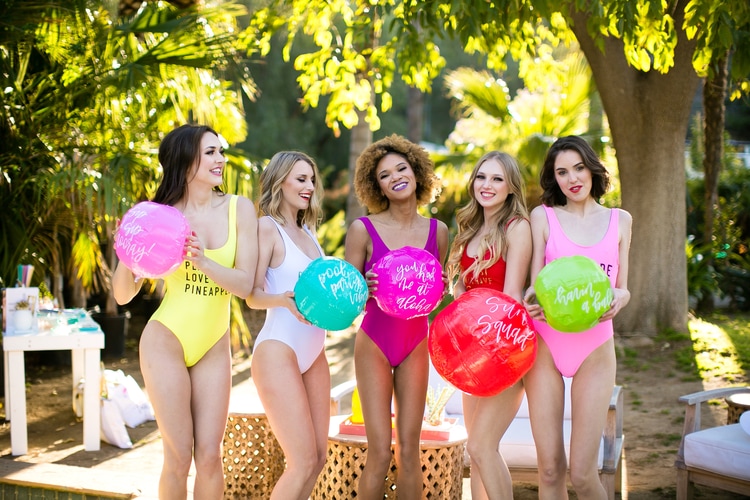 This unique tropical poolside bachelorette party is #GOALS! The décor was tropical, colorful and fun – bringing a cheery vibe that set the tone for a flawless and relaxed day. There were tons of personalized details –from sunscreen and chapstick, to soda and champagne, sun hats and fans, magazines, personalized tumblers, and even a wet bikini bag to hold their suit while they slipped into some adorable "Bride's Beaches" cover-ups. Of course, what's a good party without some fun games? Tons of fun ideas in this post. Read more
Featured:

New Orleans Destination Weddings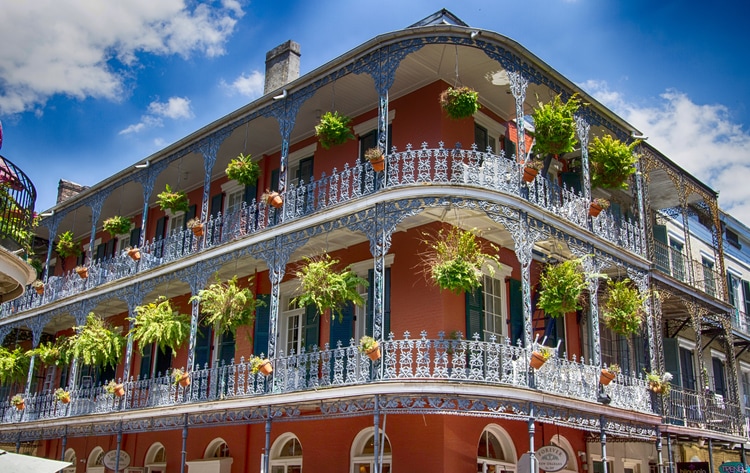 Here at Destination Wedding Details, we've seen it all: weddings at the beach, in the mountains, in the desert, and in pretty much every country. ALL beautiful, mind you… but through our years of observing what exactly makes for a GREAT wedding, we've surmised this: it must be FUN for you and your guests. So, ask yourself this: what city is more fun than New Orleans? Read our full post to discover when, where and how to get married in NOLA.
Cynthia is the founder and editor of Destination Wedding Details.She has over 15 years experience in the Marketing and Event industry and launched Destination Wedding Details in 2010, shortly after planning her own destination wedding. Cynthia uses her experience and genuine passion, to inspire brides who are planning their dream wedding away from home.