They met in London, got engaged in Granada, and married in Southern California's wine country… Alex and Tom's entire love story is like one big destination wedding extravaganza! With guests joining them from 14 different countries, it's no surprise that Alex and Tom went above and beyond to create an unforgettable experience for everyone. The gorgeous southern California countryside served as the perfect backdrop for their relaxed summer wedding. My favorite photos by Ian Andrew Photography are of the happy couple enjoying a minute alone while the light peeks through the vineyard rows. These two are stunningly photogenic to say the least.
A huge shout-out goes to Michelle Garibay Events for planning a ceremony and reception that honored everything this wonderful destination has to offer. The décor was simple, yet thoughtful: wine barrels and corks are found amongst the décor, and white and blush pink roses and peonies offer a bit of classic romance beside hints of gold and crystal details to round out the elegant vibe. What really stood out are the over-the-top seating charts that greet guests as they enter. Nothing says, "welcome to the party" like seeing your name on a 6-foot-high antique mirror!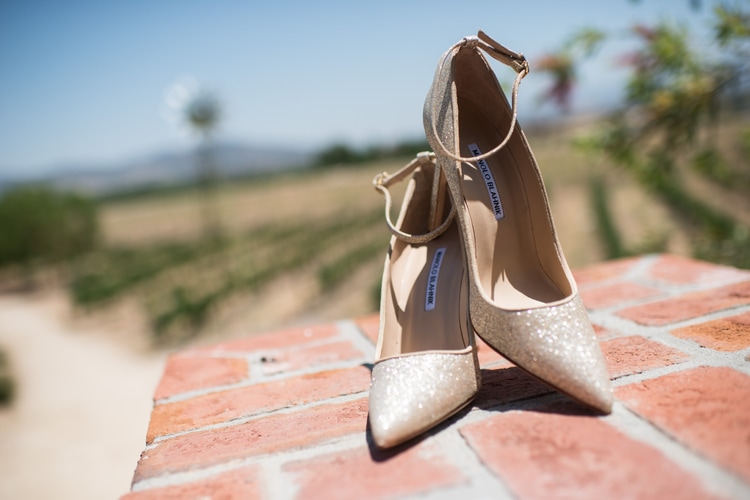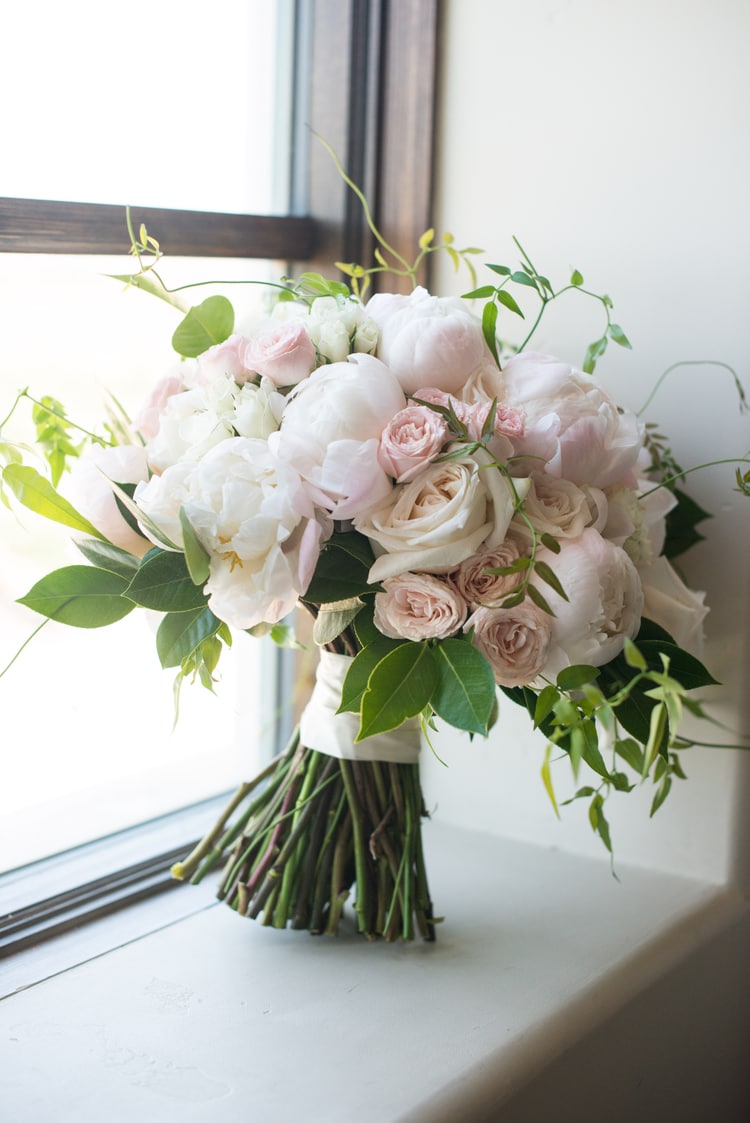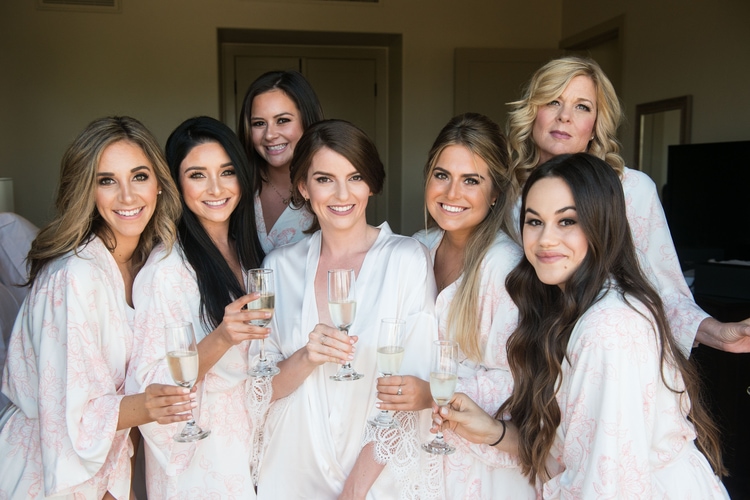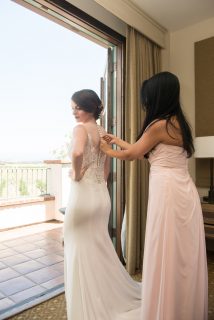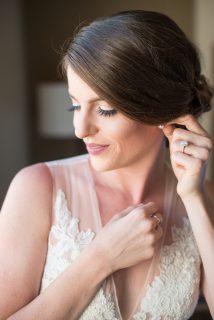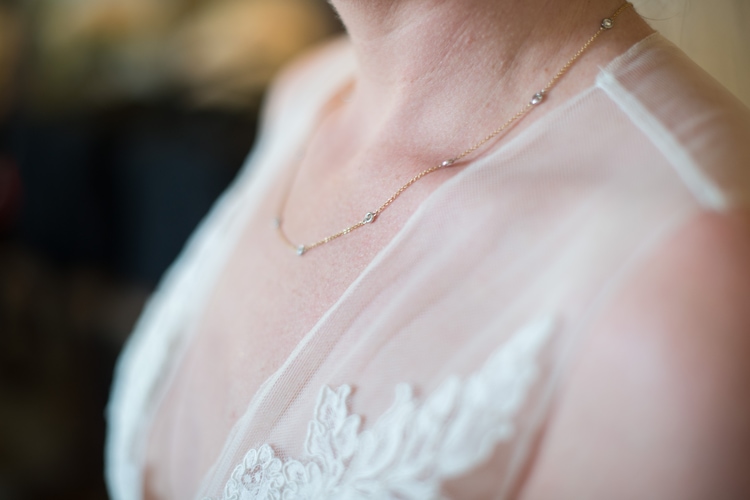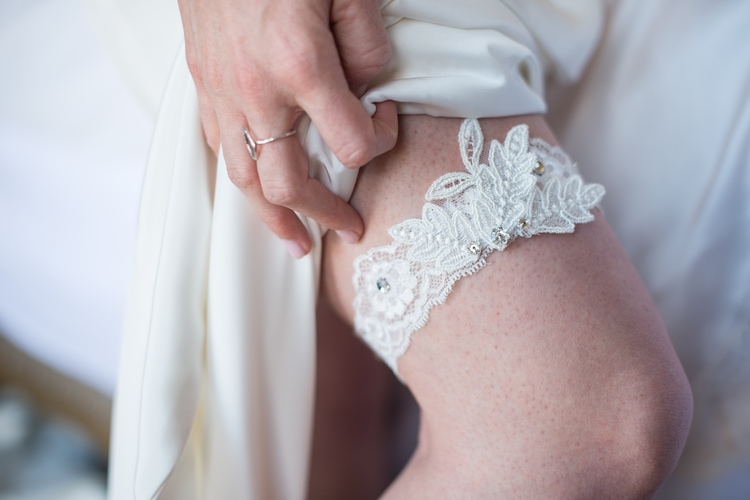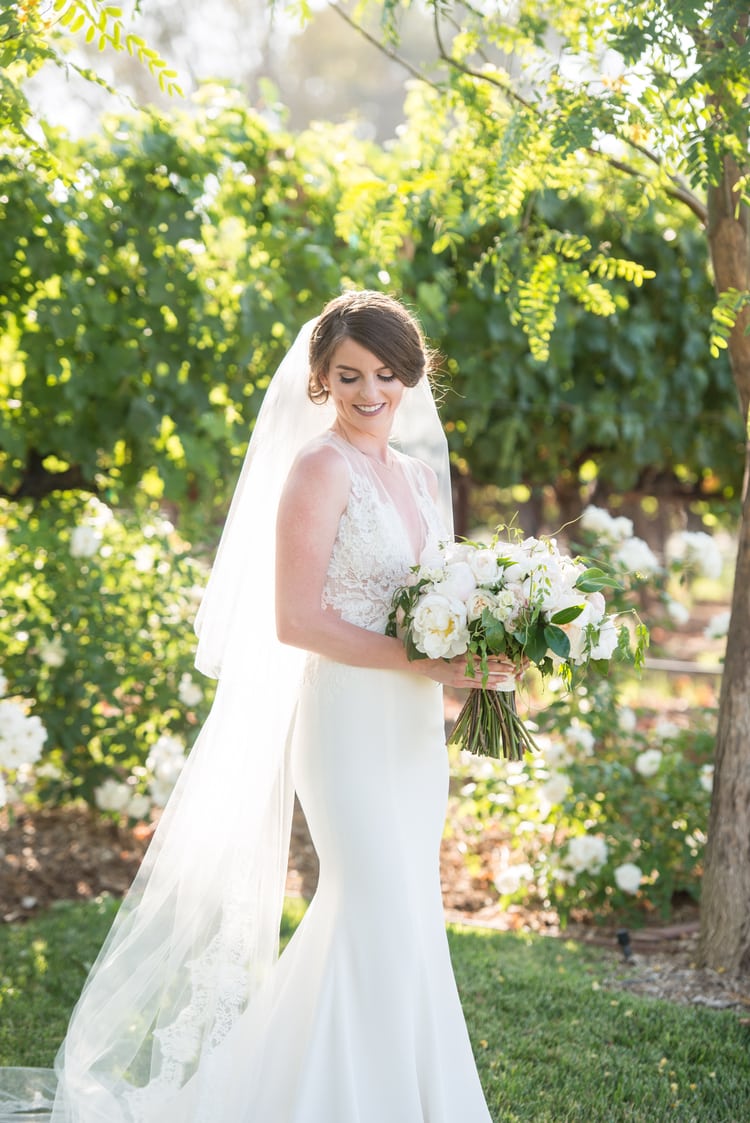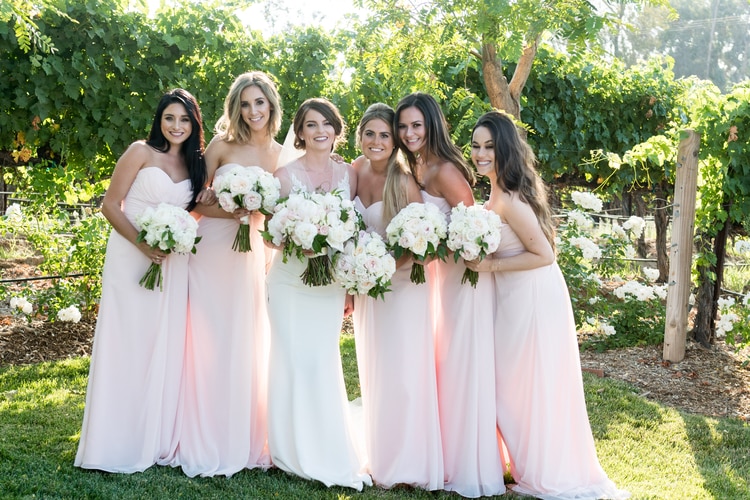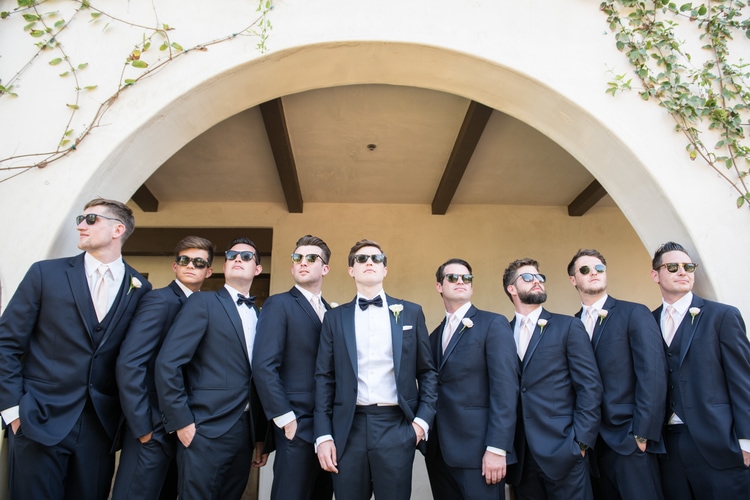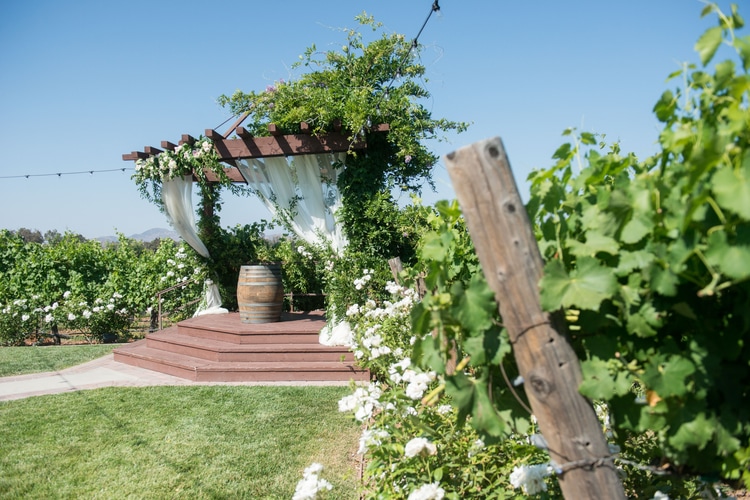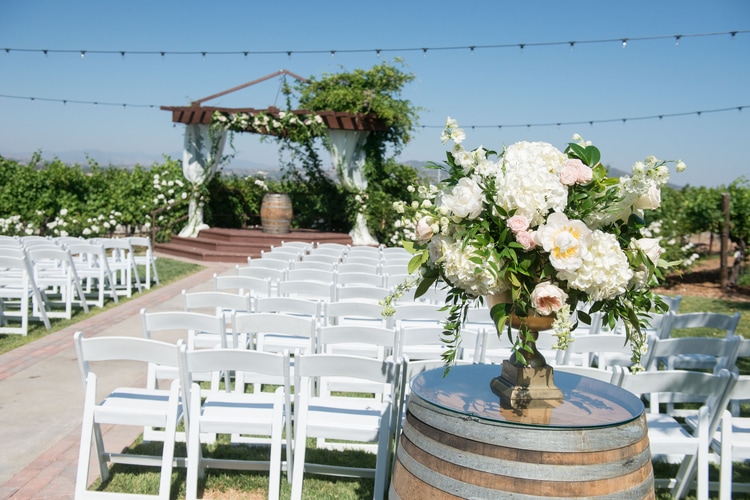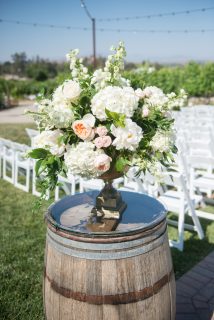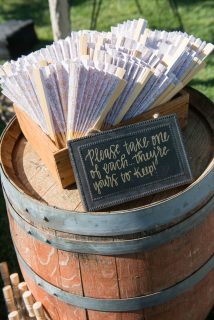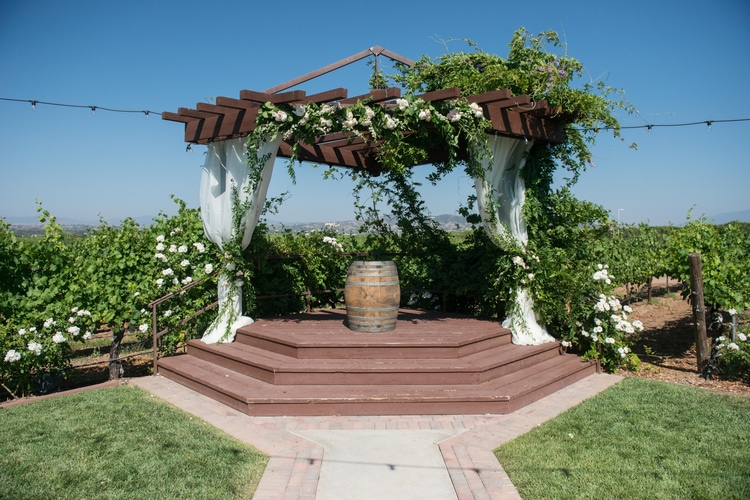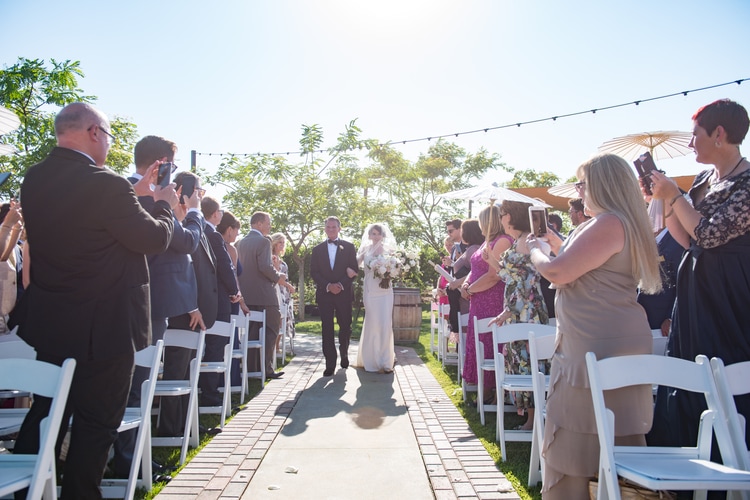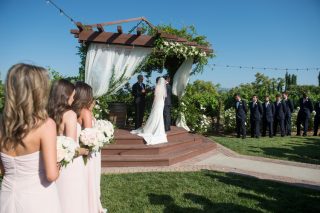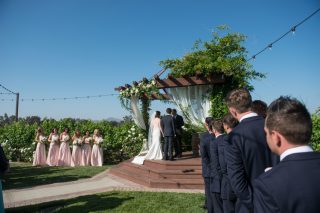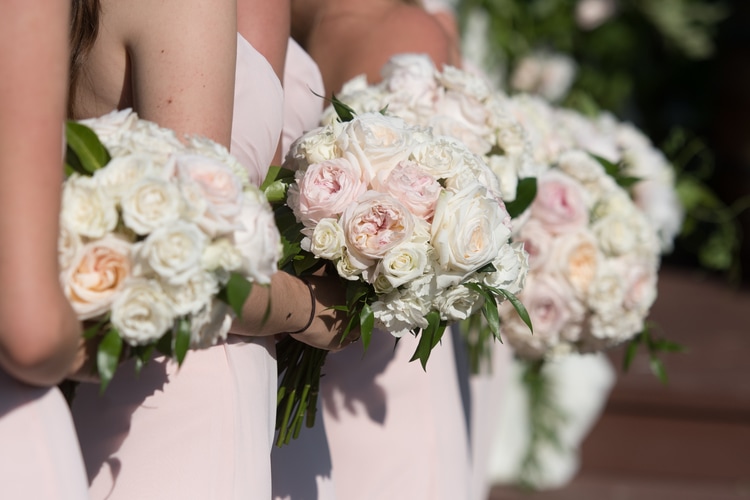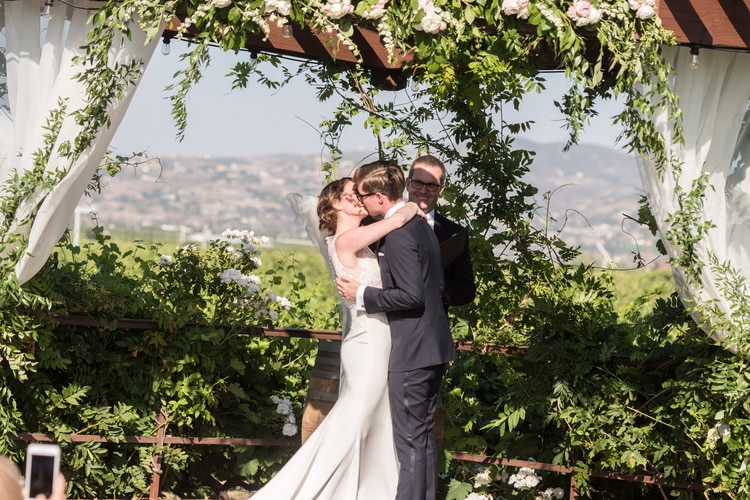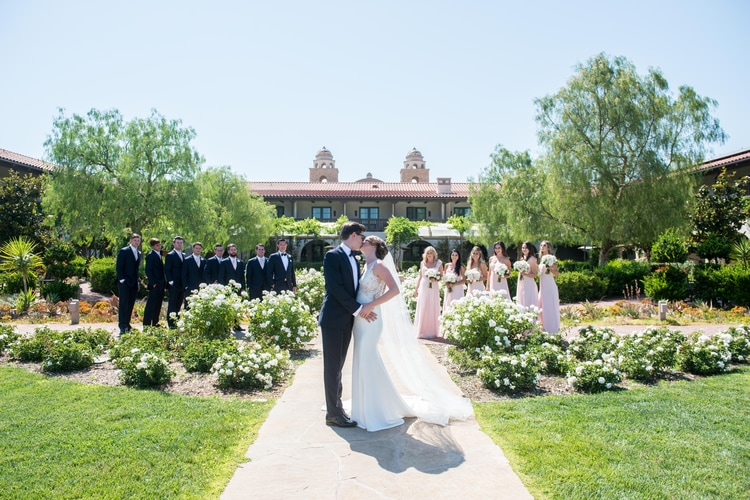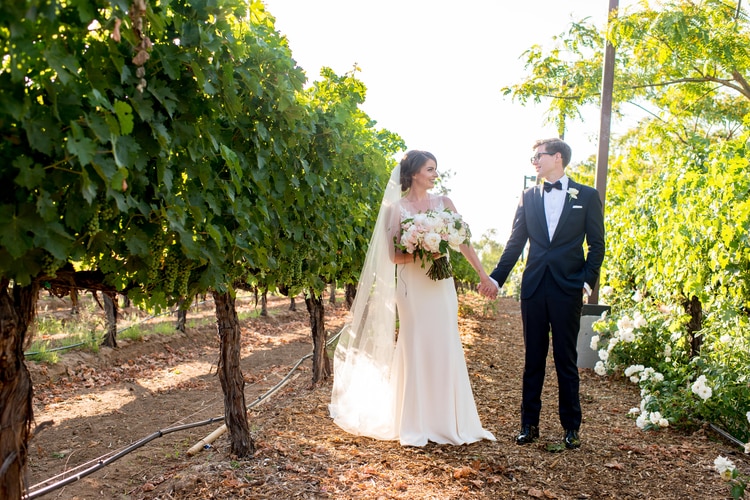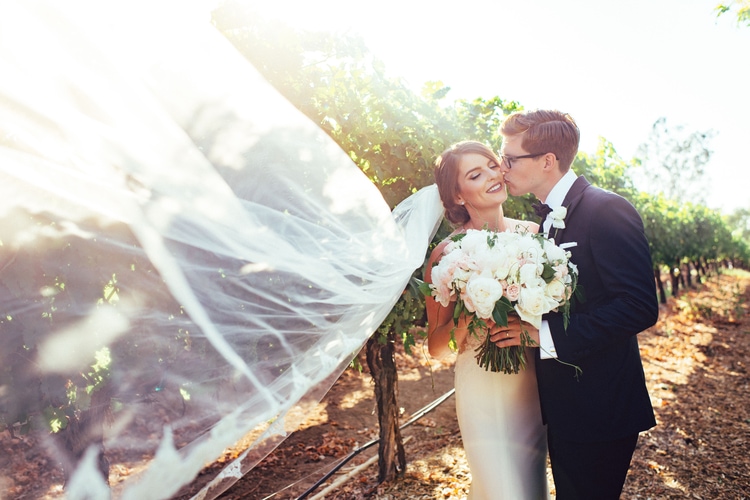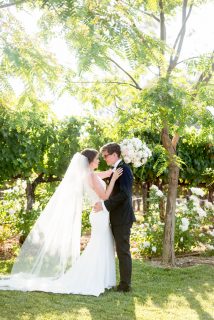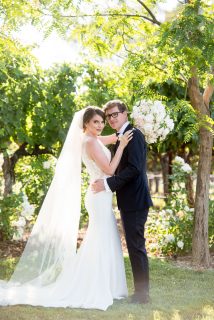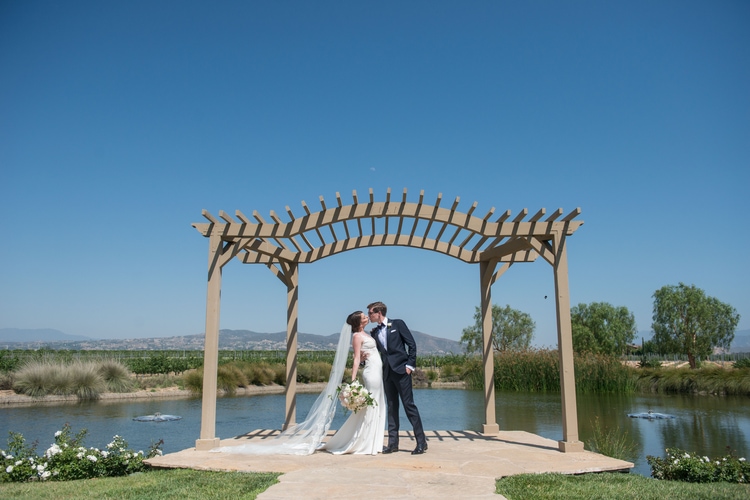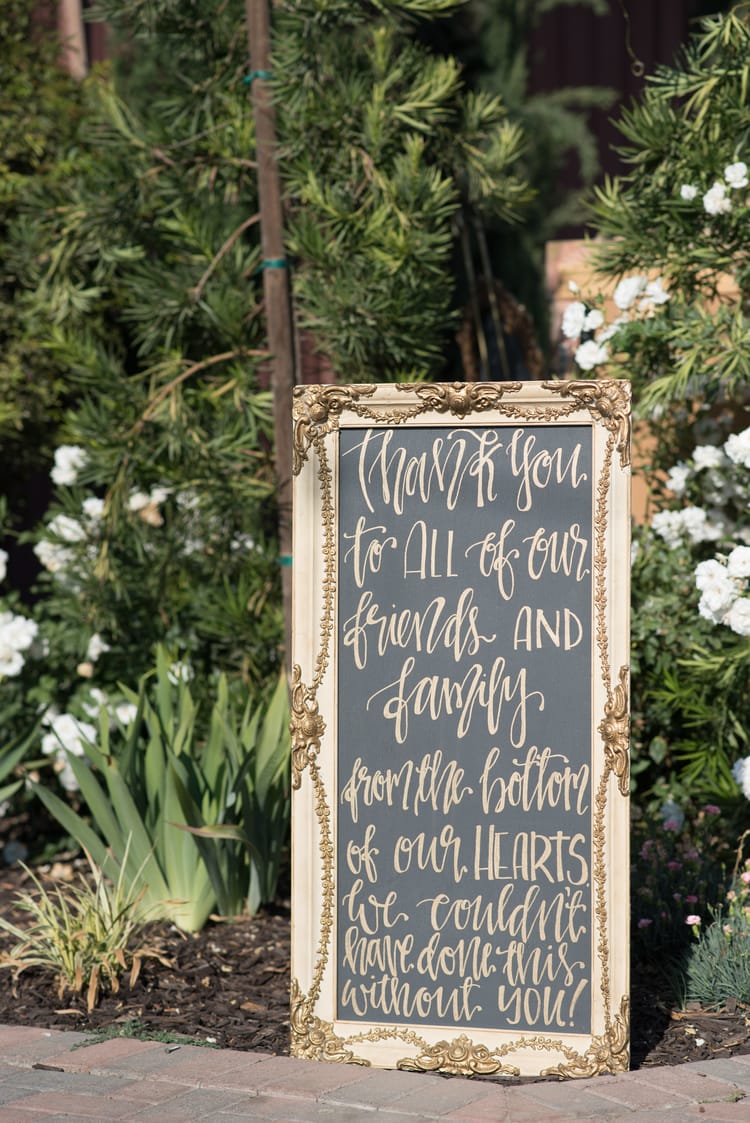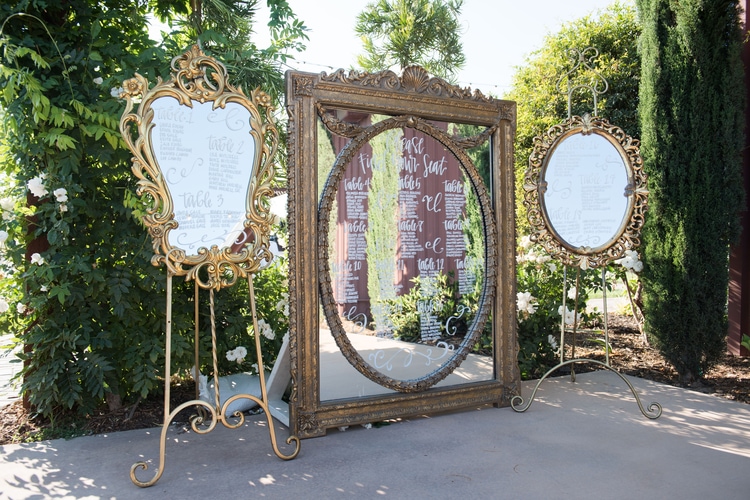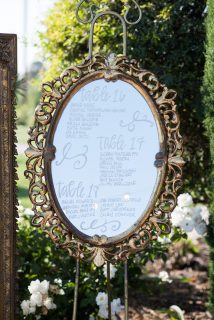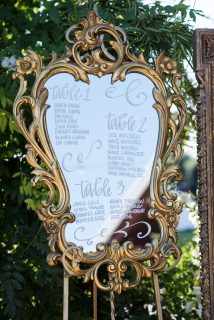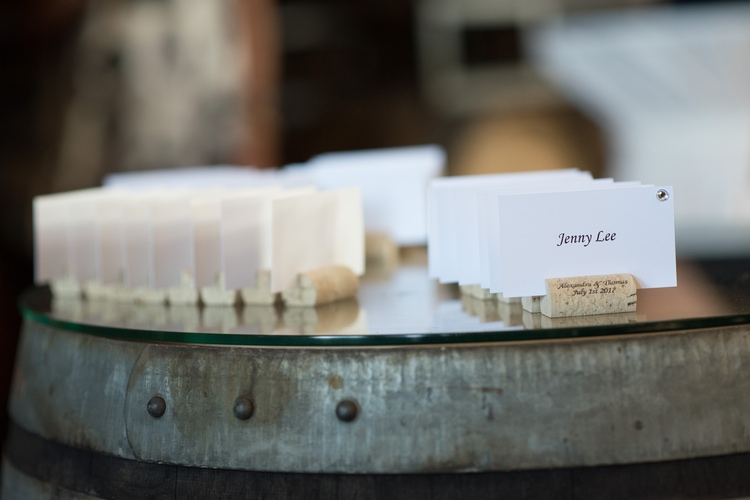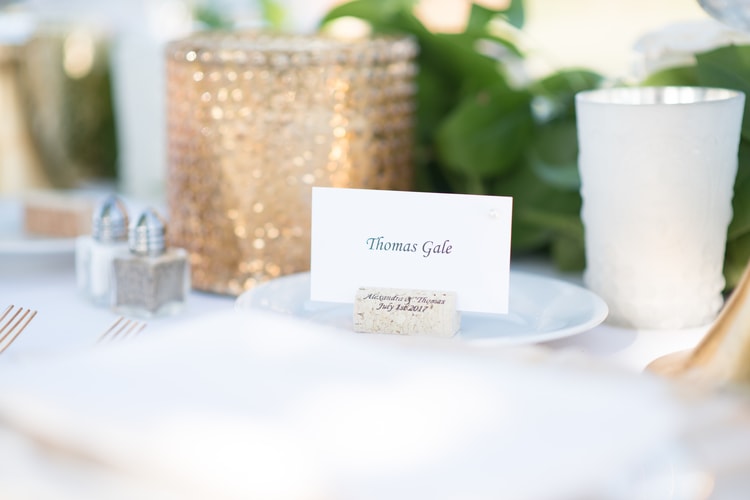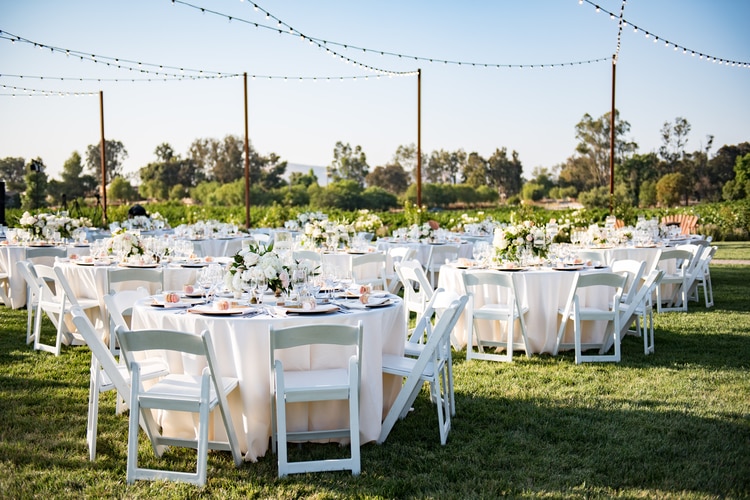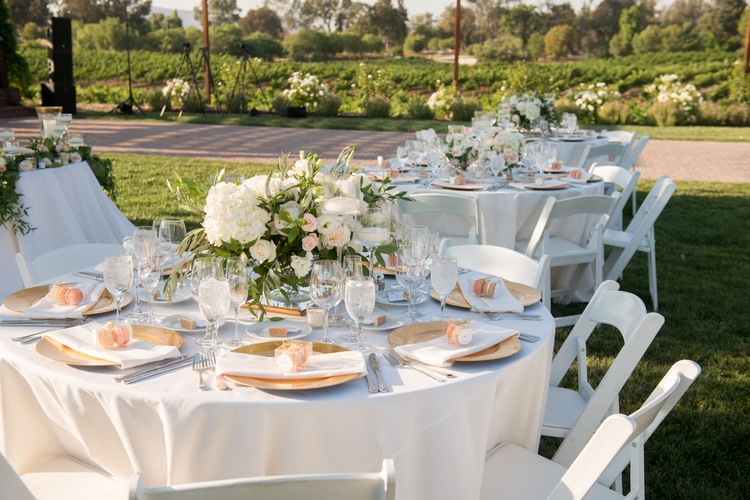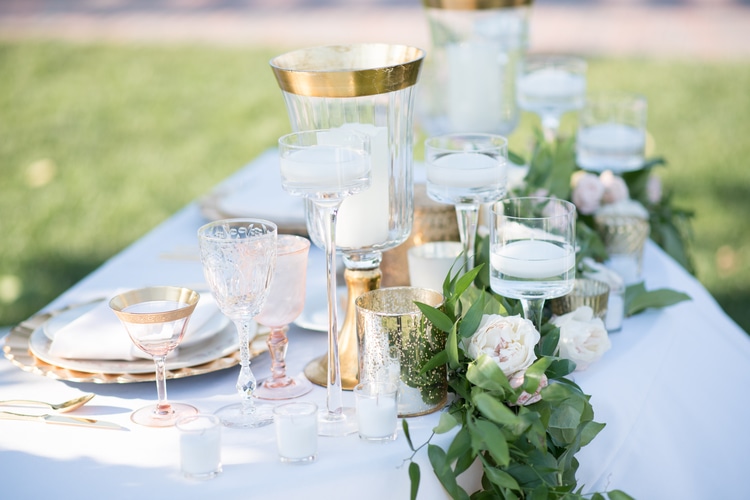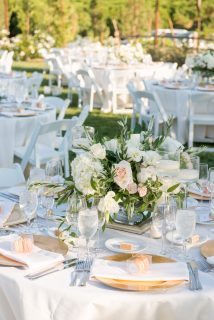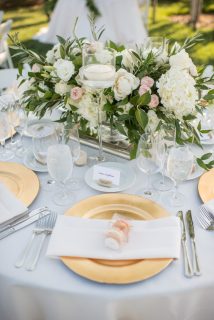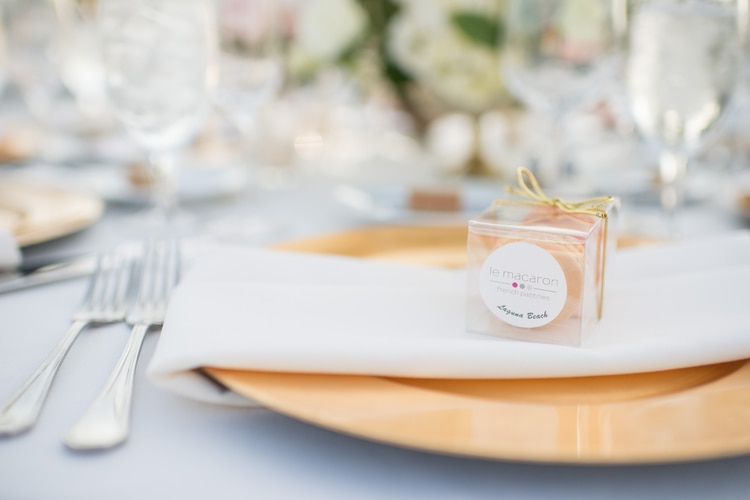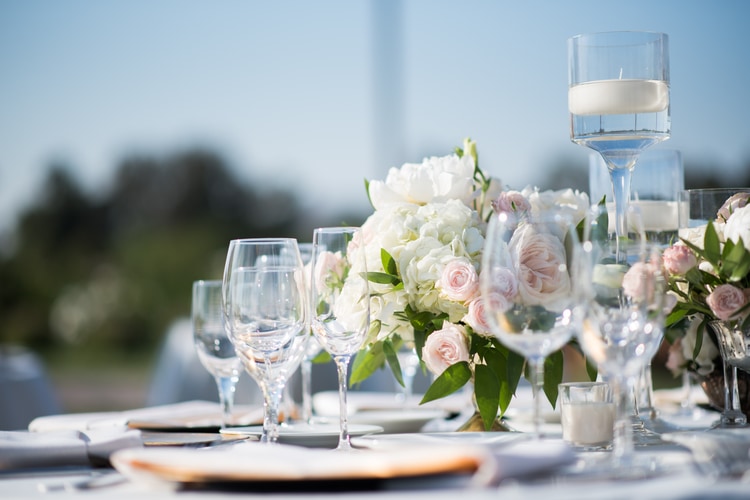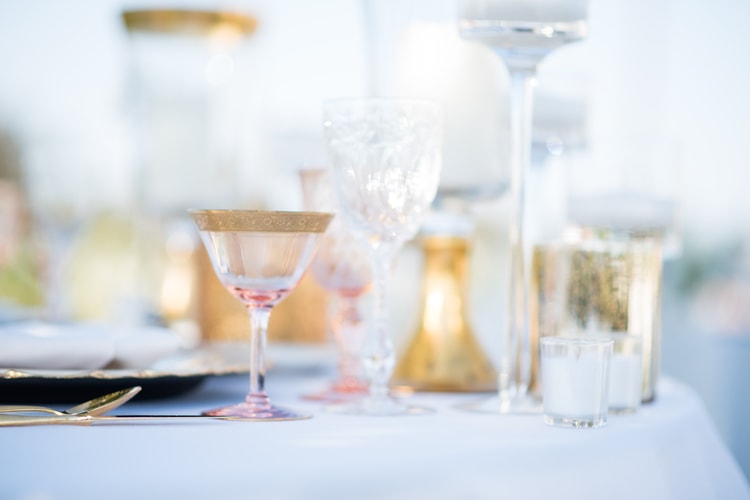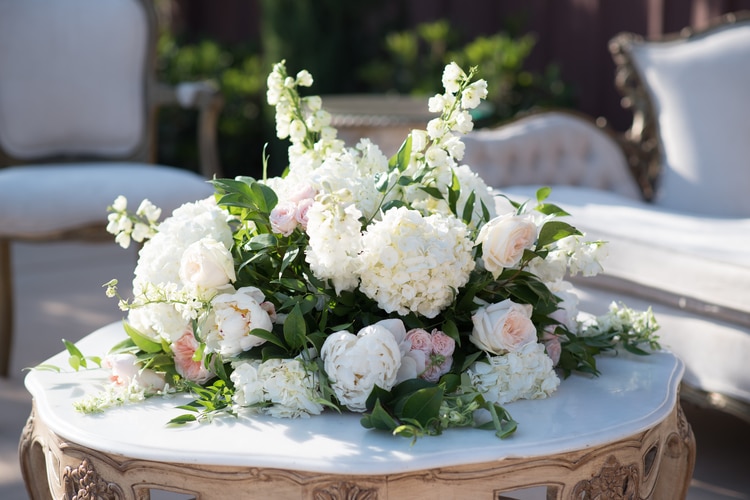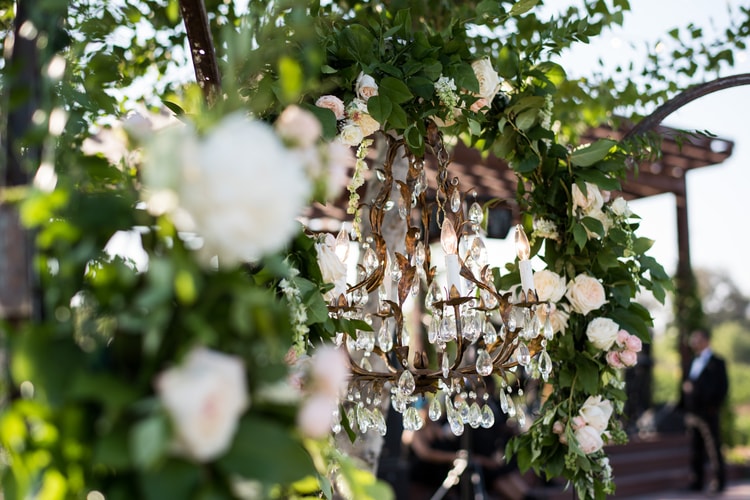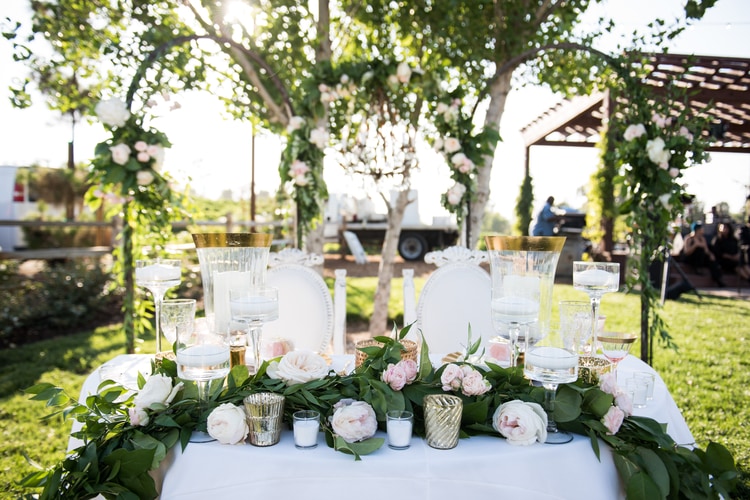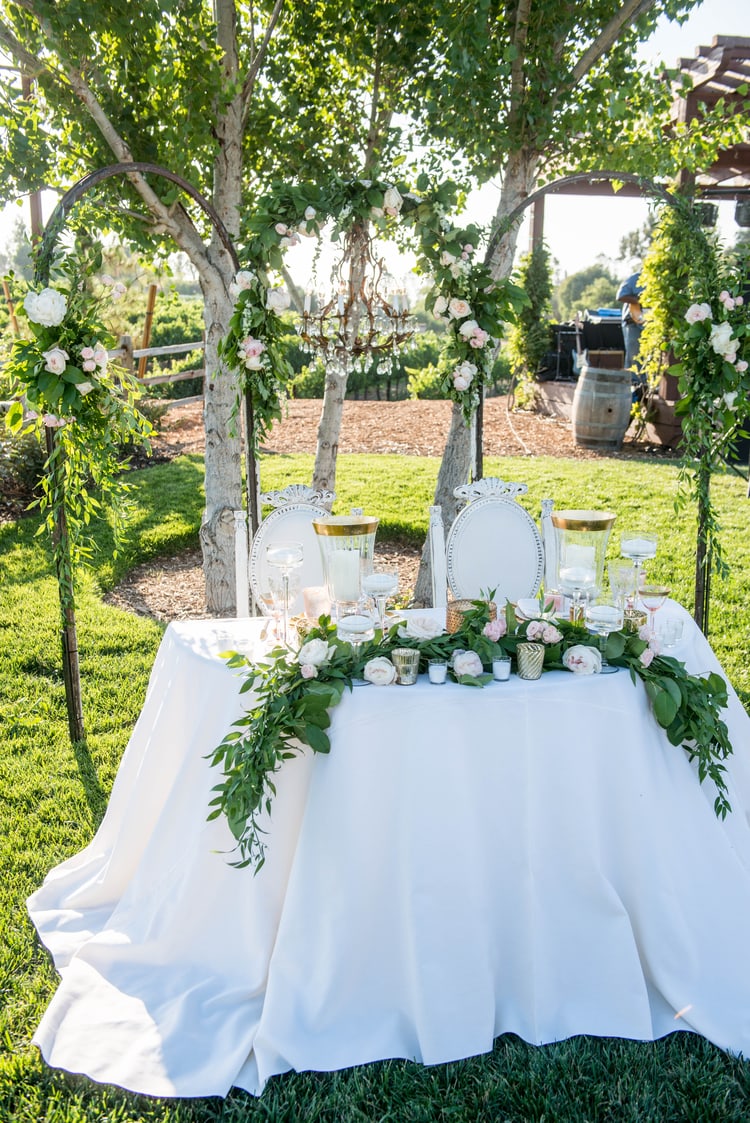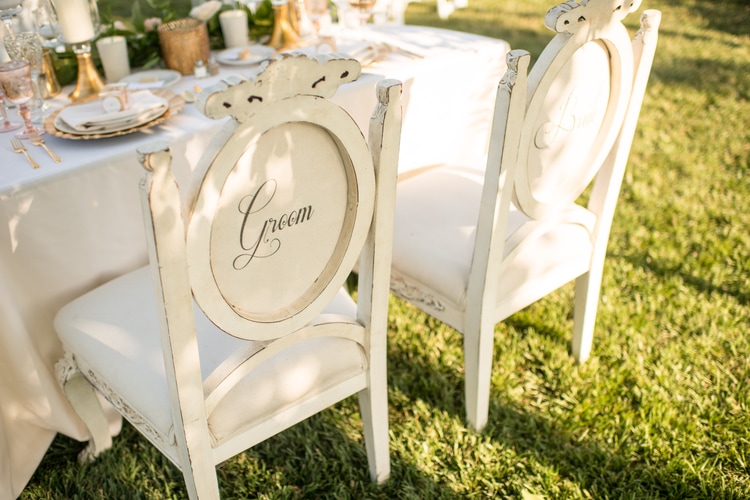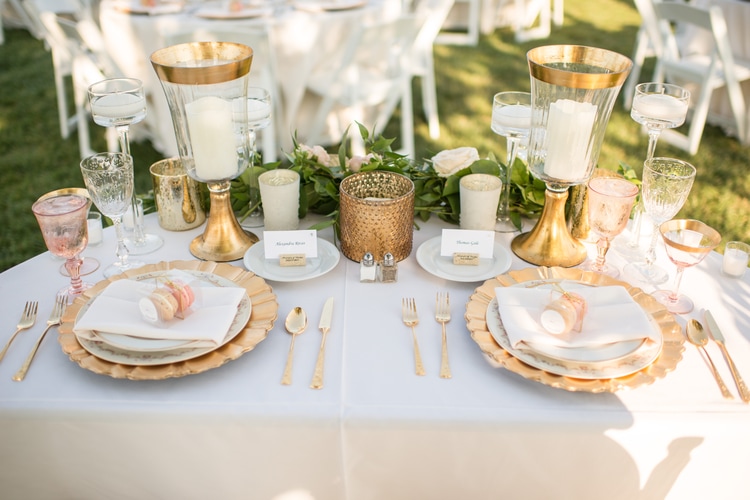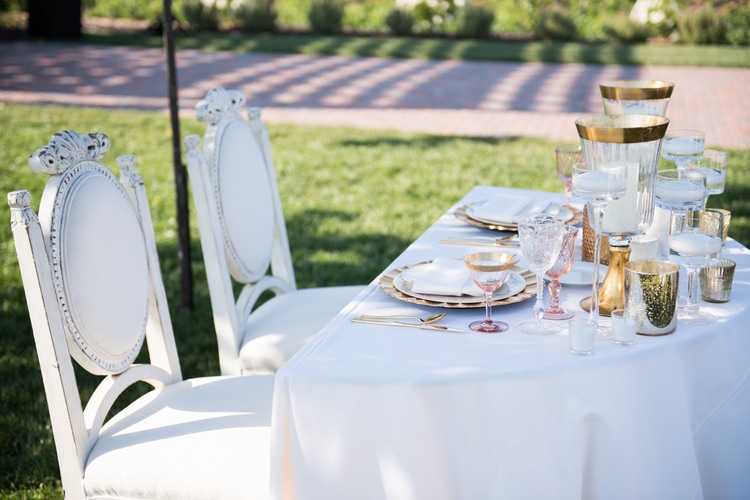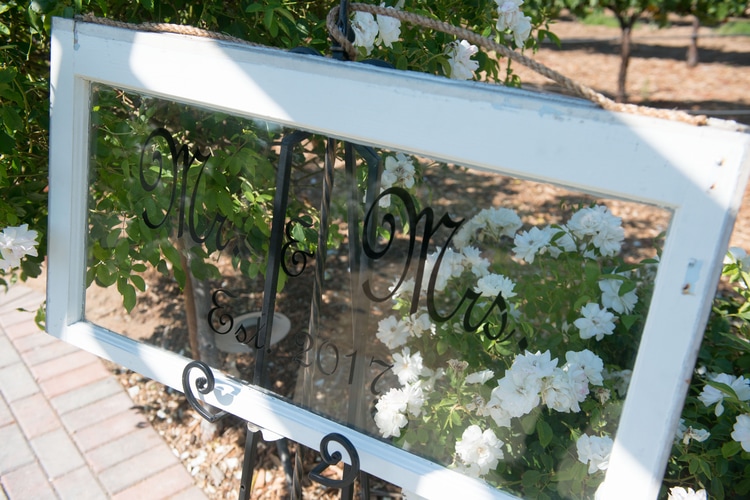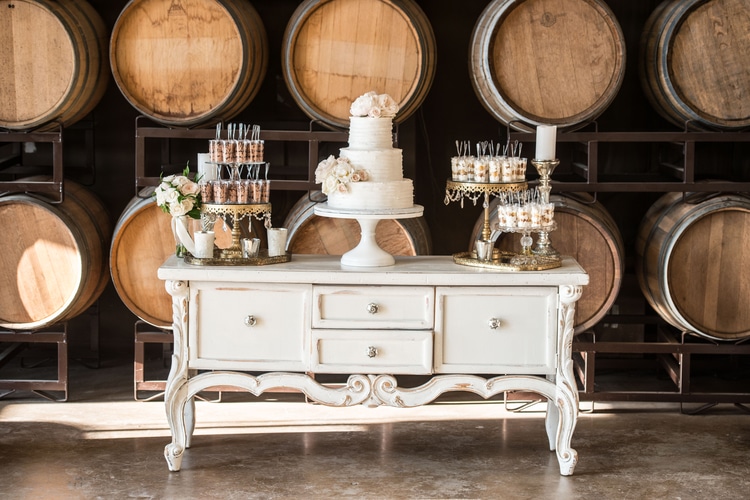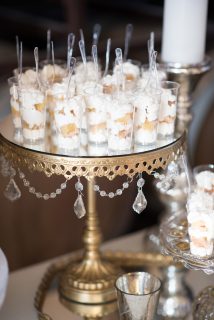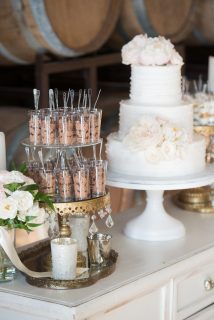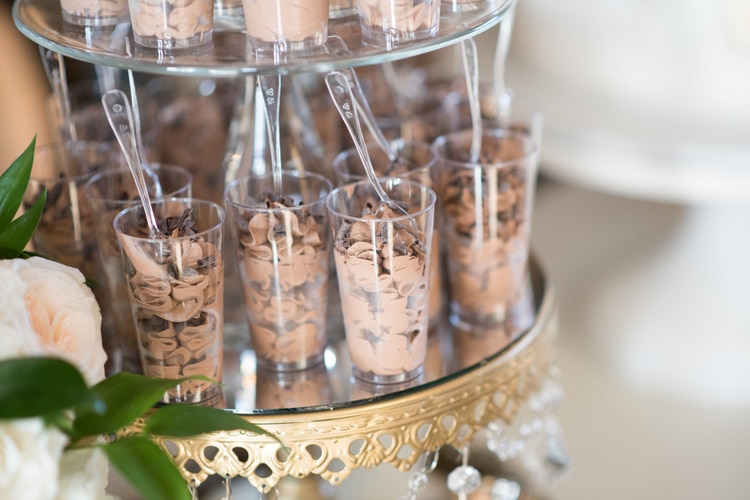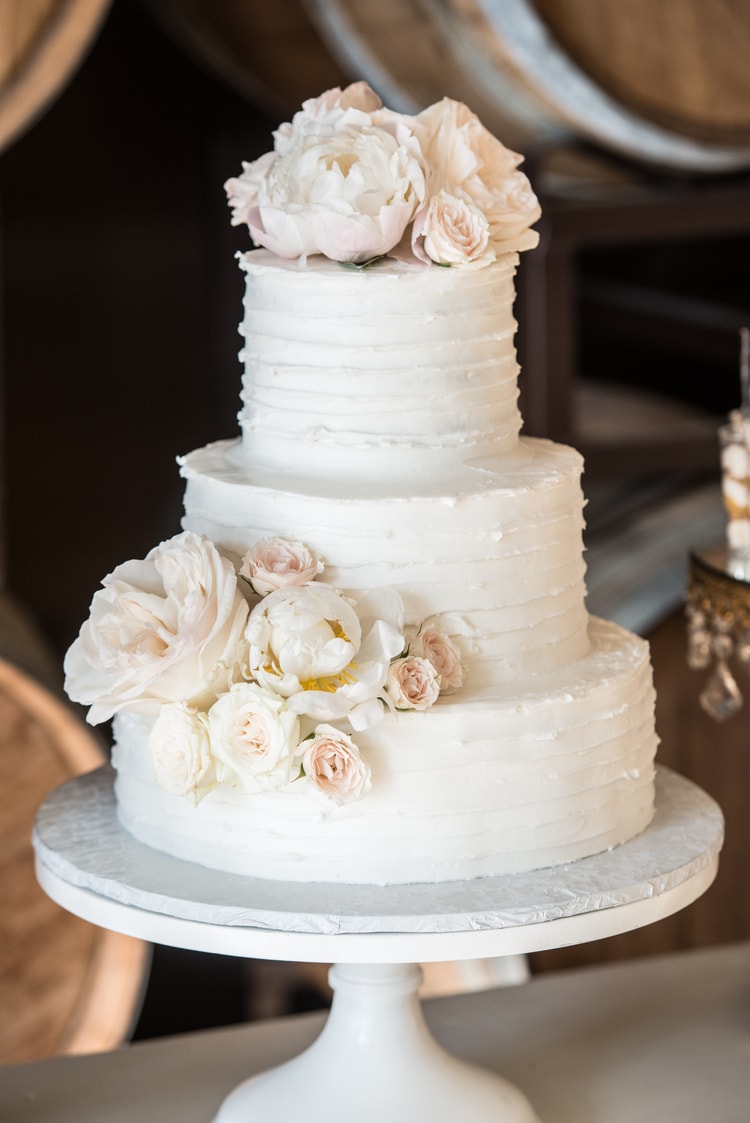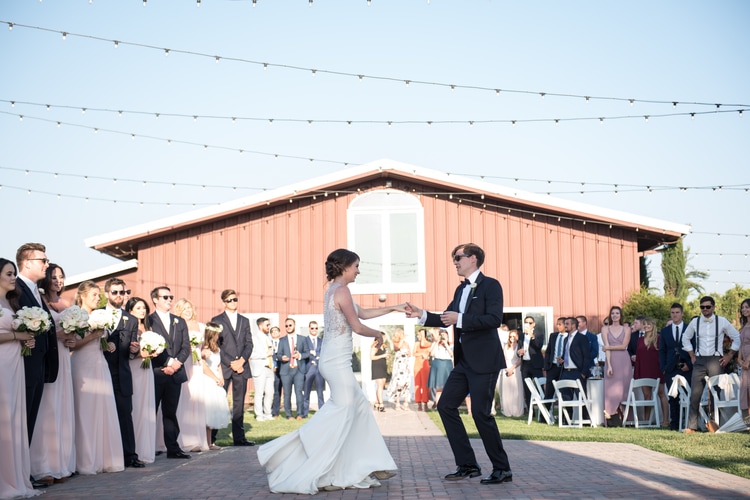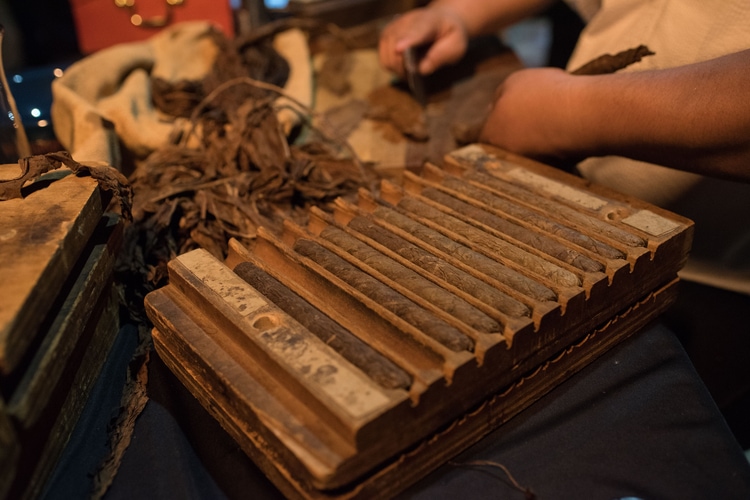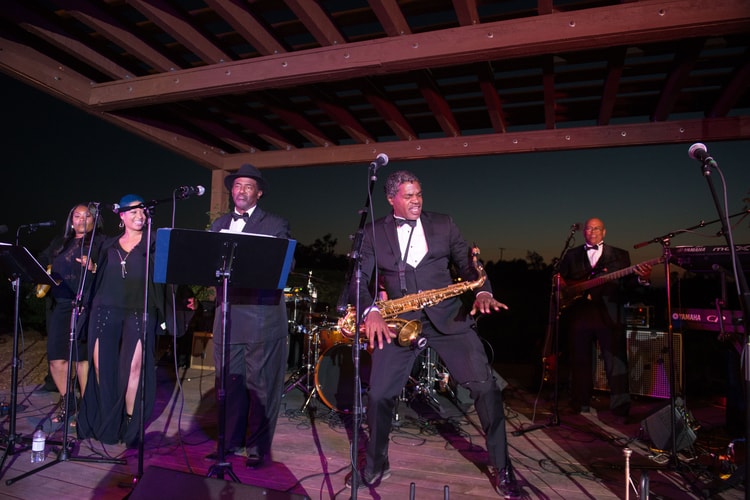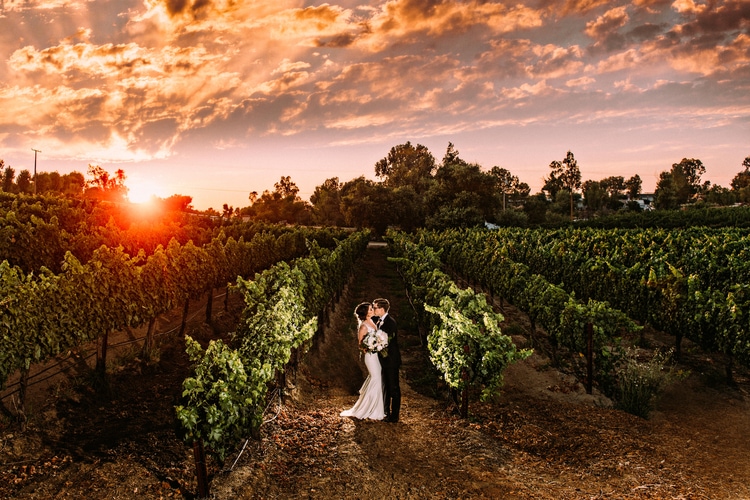 Winery Destination Wedding Video
Real Q&A with the Bride
How did you two meet?
We met in London in 2014 and believe it or not we met on tinder! Tom took me for dinner and the rest is history.
Tell us about your proposal story!
Tom proposed in Granada, Spain. Prior to meeting Tom I had lived in Spain and it was my favorite city in Spain! Fast forward two years to our first date, I had told Tom that there was a look out point at the highest point in the city that I loved. He remembered and popped the question in the very spot I have described. It was magical!
Tell us a little a bit about your wedding for your winery destination wedding.
Our vision was to have an outdoor wedding that had both the classic vibe but also that was relaxed. We wanted greenery, blush flowers and gorgeous accents.
What were your attire choices for your winery destination wedding?
Our wedding party was in blush and navy. It was great for a summer wedding with a vineyard backdrop.
Was there anything that you chose to splurge on or skip?
The most important for us was for our guests to enjoy themselves. We had people traveling from every part of the world. We wanted to have the best music and vibe possible. The Blues Breeze Band was absolutely incredible and just what we wanted!
What were your favorite parts of your winery destination wedding?
Walking down the aisle and seeing the look on Tom's face, there are no words. We were just was so happy to see the smile on our parents, friends and families faces. We were so blessed to have the most supportive parents throughout the wedding and it felt incredible to be surrounded by so much love and support. The memory of that feeling will never go away.
Tell us about your wedding flowers.
We went for blush and white roses and peonies with lots of greenery. The best way to get the flowers you want is to bring examples and color schemes. Soiree did such a great job of creating our vision and to providing the most stunning arrangements. Doing a test run of the arrangements was great because it allowed me to make any tweaks prior to making our final decision.
What did you choose as your wedding cake?
The wedding cake was simple but perfect. It was three tiered almond champagne sponge cake with raspberry and Chantilly cream filling and Buttercream frosting. It had flowers cascading down the front of the cake. We went for a smaller cake and also provided 2 other desserts to provide a variety to guests.
What did you do for favors for your winery destination wedding?
We had 2 macaroons for each guest when they arrived at their table. The macaroons were delicious and was a little pick me up before dinner.
Did you incorporate any DIY or handmade details into your winery destination wedding?
We had calligraphy on various mirrors for the guest table arrangements which was a beautiful touch. We also provided flip flops to all the ladies who wanted them for later on in the night. It was the little touches that people remembered the most.
Did you include any family heirlooms or special traditions?
We had different things from each of our backgrounds to represent who we are. The rehearsal dinner was British themed to represent my husband. We had a cigar roller to represent my father's Cuban Background. We celebrated bringing our families together and creating new traditions.
Do you have any advice for couples planning their destination weddings now?
The biggest piece of advice we can give is to not take it too seriously. Have FUN with planning and do your best to know let it stress you. Your wedding is about you and your partner, so do not lose sight of that!
What was the biggest challenge of planning your destination wedding?
It was so incredible to have all our loved ones in one place, it was so special! The hardest part was to be making decisions on your phone and envisioning it when you're miles away. Trust your gut and go with what makes you and your partner happy!
Vendors
Photography: Ian Andrew Photography
Ceremony & Reception Venue: Lorimar Winery
Event Planning: Michelle Garibay Events – Tiana Loyd
Videography: Love is Cinema
Floral: Soiree Floral Design
Invitations: Dove House Handmade
Wedding Cake: Cakes to Celebrate!
Rentals: Madam Palooza
Linens: GBS Linens
Officiant: Corey Pace
Catering: Vineyard Gourmet
Violinist: Haddy Music
Band: Blue Breeze Band
Lighting: Sterling Productions
Calligraphy: WS Designs
Photo Booth: Ant Farm Media
Cigar Roller: M Cigar Events
Favors: Le Macaron Pasteries
Wedding Dress: Rivini
Groom's Attire: Hackett
Bride's Shoes: Manolo Blahnik
Bridesmaid Dresses: Bill Levkoff
Veil & Garter: The White Dress
Groomsmen Attire: Men's Wearhouse
Jewelry: Winterson Jewellery
Submitted via: Matchology
Featured:

Unique Poolside Bachelorette Party Inspiration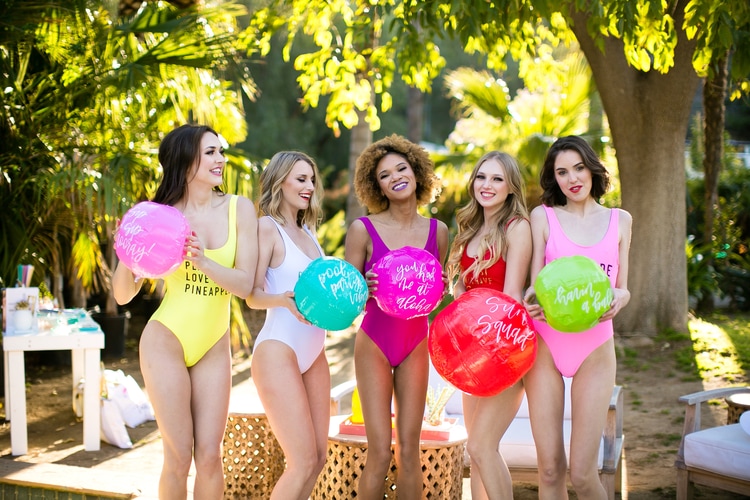 This unique tropical poolside bachelorette party is #GOALS! The décor was tropical, colorful and fun – bringing a cheery vibe that set the tone for a flawless and relaxed day. There were tons of personalized details –from sunscreen and chapstick, to soda and champagne, sun hats and fans, magazines, personalized tumblers, and even a wet bikini bag to hold their suit while they slipped into some adorable "Bride's Beaches" cover-ups. Of course, what's a good party without some fun games? Tons of fun ideas in this post. Read more
Featured:

New Orleans Destination Weddings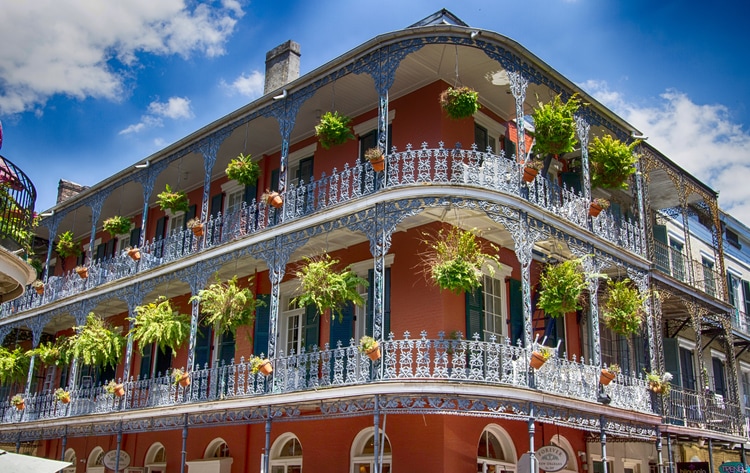 Here at Destination Wedding Details, we've seen it all: weddings at the beach, in the mountains, in the desert, and in pretty much every country. ALL beautiful, mind you… but through our years of observing what exactly makes for a GREAT wedding, we've surmised this: it must be FUN for you and your guests. So, ask yourself this: what city is more fun than New Orleans? Read our full post to discover when, where and how to get married in NOLA.
Erin is a New England native living in Cincinnati, OH. For the last six years she has served as Communications Manager for a large home service franchise, working as a freelance writer in her spare time. She has been a contributing editor for Destination Wedding Details since early 2017. Inspired by a desire to plan a uniquely personal destination wedding herself, Erin draws on experience to bring relatability and humor to her writing.