Imagine having a destination wedding in paradise with powder white sands and stunning tropical waters as your backdrop. Throw in an A-list event designer's inspired wedding packages and VIP treatment, and you've got yourself one rockin' destination wedding getaway at the legendary Hard Rock Hotels!
4 Reasons to have your destination wedding at Hard Rock
I've always been fascinated by Hard Rock Destination Weddings. If I could go back in time, this is exactly where I would have tied the knot. And you're about to see why.
1. Location, Location, Location
Although the Hard Rock has hotels all over the world, they offer all-inclusive designer wedding packages only in some of the finest beaches of Mexico (Cancun, Riviera Maya, Puerto Vallarta) and the Dominican Republic (Punta Cana). Each of the properties has a distinct personality that reflects the local culture, and a variety of venue options ranging from private beaches to elegant rooftop terraces.
2. Celebrity Designed Destination Weddings
But what really sets Hard Rock wedding packages apart from the competition is that they are all exclusively designed by celebrity event designer, Colin Cowie. After working with celebrities such as Kim Kardashian, Jennifer Lopez, and Oprah Winfrey, Cowie's wedding packages will make you feel like an A-list star, but without the celeb price tag. Ultra chic and elegant, you'll have not one, or two, but TWELVE Colin Cowie wedding collections to choose from so trust me, you're bound to find one that suits your own personal style. Here's a sneak peek at all of these fab packages.
On top of their amazing wedding collections, you'll also be in the trusted hands of their WOW and iWOW specialists who will help you coordinate all of the finer wedding day details. Read this post for my complete overview of all hard rock wedding details, costs, and photos.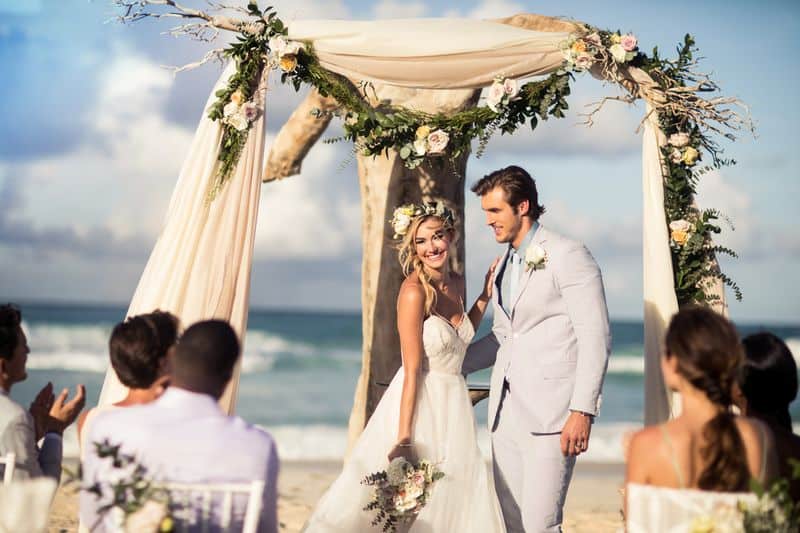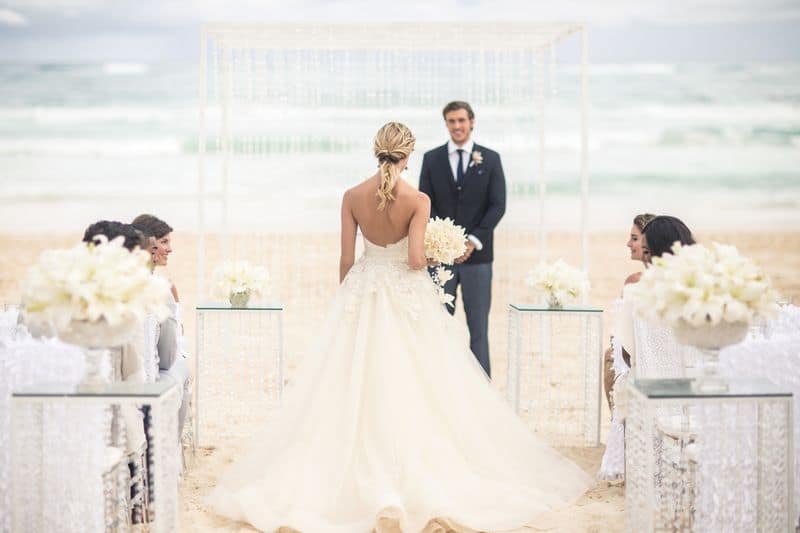 3. An Abundance of Group Wedding Perks
At the Hard Rock, it pays to have a big guest list. Depending on how many rooms your group books, you can get complimentary nights, room upgrades, free private cocktail receptions, dinners, and more! Check out all the group perks here.
4. A Memorable Experience for Your Guests
As amazing as their wedding packages are, we all know that a destination wedding is also a vacation for your guests and it's key to choose a resort that will provide an unforgettable experience for them. And if that's what you're going for, you'll be hard-pressed to find a more memorable resort. The Hard Rock has won all kinds of awards, including the Conde Nast Traveler 2016 Reader's Choice Award, which named 7 Hard Rock Hotels to their list. So, what exactly sets them apart, you ask?
All-Inclusive
When they say all-inclusive, they mean it. From backstage concert passes to top-shelf drinks to an abundance of dining options infused with each destination's local tastes – everything is included in your stay.
Music Amenities
As you can imagine, Hard Rock Hotels are rooted in a rock 'n' roll spirit, so you and your wedding guests will truly feel like rock stars. You'll all have access to a really cool music program, that lets you stream and download free music. They also have a fender guitar" room service" that lets you choose from a menu of 20 electric guitars to jam out on. You can even practice your DJ skills with a complimentary Traktor Kontrol Z1 controller and laptop delivered to your room, plus an iPad loaded with video lessons. Can you even imagine how much fun you and your entourage can have with this?!
Vibrant Night Life
Your wedding guests won't have to venture far to enjoy some exciting nightlife. They match the vibe of whatever destination they're located in, with clubs and lounges that are full of energy. Many of their locations even have live music.
Rest & Relaxation

When you're tired of jamming out, you can head over to the Rock Spa or relax with a game of Hard Rock Golf where the music moves you through a world-class golf course.
Family Friendly
Inviting kids? No worries! Hard Rock Hotels offer fun for the whole family with hangouts like The Little Big Club and Teen Spirit.