Awesome Wedding Travel Packages
That Will Save You Money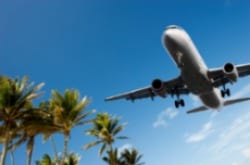 Destination Wedding travel packages are popping up everywhere as major airlines try to keep up with the growing popularity of "weddingmoons".
Are you wondering where you can find the best ones?
Keep reading to learn more about some awesome deals that will make the journey to "I do" more affordable not just for you, but for your friends and family too!
Popular Destination Wedding Travel Packages
Continental & Delta Destination Wedding Travel Packages
Both Continental Airlines (covacations.com) and Delta (deltavacations.com) have designed some attractive travel packages for couples tying the knot away from home.
Not only will you get some good discounts and offers, your guests can save some money on their travel too.
Every time your friends and family book an air & hotel package to attend your destination wedding, they''ll get a discount of $50 – $200 depending on the total package cost.
The airline will give you a promo code which you can pass on to each guests. All they have to do is enter that code at the time of purchase to get their discount.
What could be even better that?
Well, you will also get a $50 rebate for each air & hotel package that your guests purchase. Some resorts will even match the rebate – which can bring your total rebate up to $100 for each booking.
Many of the resorts included in their packages offer free or very cheap wedding packages if you stay a certain number of nights or have a minimum number of guests booking at the resort.
Once you reserve your wedding travel package, the airline's travel specialists will put you in touch with the resort''s on-site planner to start coordinating the details of your big day.
Continental and Delta also give you the option to reserve your destination wedding and travel package with a deposit, and pay the rest of your balance closer to the travel date.
There's always a but, so here goes…
They have restrictions, so make sure you read the fine print. At the time I wrote this, they have a required minimum night stay and will only give you rebates up to the total cost of your package.
American Airlines Packages
Have 10 or more people flying to your destination wedding? If your guests are all flying from different locations, they can each get a 5% discount off their flight.
You can get a better group discount if you have 10 or more people traveling on the same flight.
You''ll get a special code that you can pass on to your guests so they can apply it towards their airfare. AA will even send you some small invitation inserts with the promo code and simple instructions for your guests.
Hawaiian Air Packages
Hawaiian Air has a program called Wedding Wings that will give your guests discounted fares. Plus, you''re eligible for a free upgrade when 40 guests book a flight to your destination wedding.
Like the other airlines, they'll send you a free insert to inform your guests of the special promo code.
If you''re planning to get married abroad, there''s no reason you or your guests should be paying full price for your airfare and accommodations. Just do your research and you can end up saving significant time and money!
NOTE: The above information is based on my own experience and research I have done. Because things change so frequently, you should always check with the airlines to ensure that they are still providing these services and discounts.
Popular Section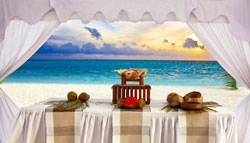 Find out how you can snag affordable destination wedding travel packages to visit your venue or resort – before you book the date!