Everything about Vanessa and Nicholas' Xcaret wedding was absolutely breathtaking. Not only was this wedding overflowing with culture, vibrant colors, succulents, Mexican food and live entertainment– it also had one of the most gorgeous reception entrances I've ever seen. The arch, which was first used in the ceremony chapel and then reused as the reception entrance, was decorated with an abundance of floral and fauna in bold, fun colors. It had to be assembled the night before the wedding and into the night! And I can see why. It is a pretty epic entrance to a reception dinner!
When I asked Vanessa about her choice of venue, she said: "I had always dreamed of a destination wedding and particularly in Mexico because of my heritage as a Mexican-American. Nicholas, who is British born and raised, was excited to take this venture with me and create our day in Mexico! We chose the venue after viewing an online image of The Chapel of Guadalupe (La Capilla de Guadalupe) on the Xcaret website. We are Catholic, so it was important for us be married in a church under God. We absolutely fell in love with the chapel for its aesthetics and significance! The alter is located over a cenote at the base of a Ceiba tree and an incredible rock carving of La Virgin de Guadalupe."
This destination wedding is one for the books, and I'm so excited to share it with you! A huge thank you goes out to the team at FineArt Studio for sharing these beautiful photos with us. Their talent never ceases to amaze me. I hope you enjoy this beauty!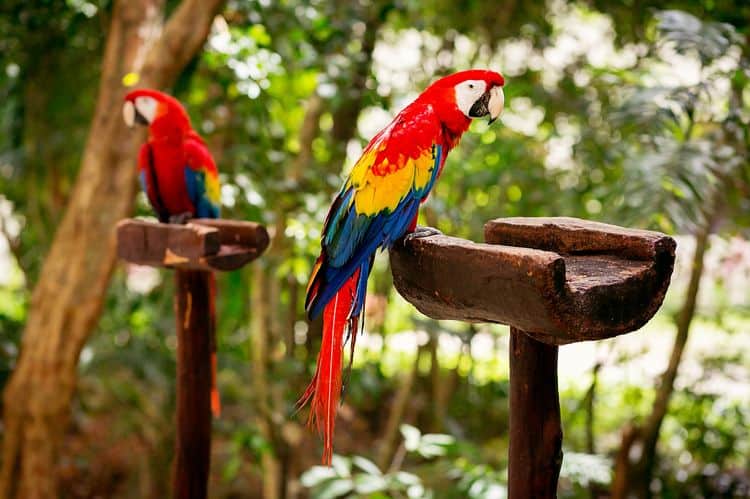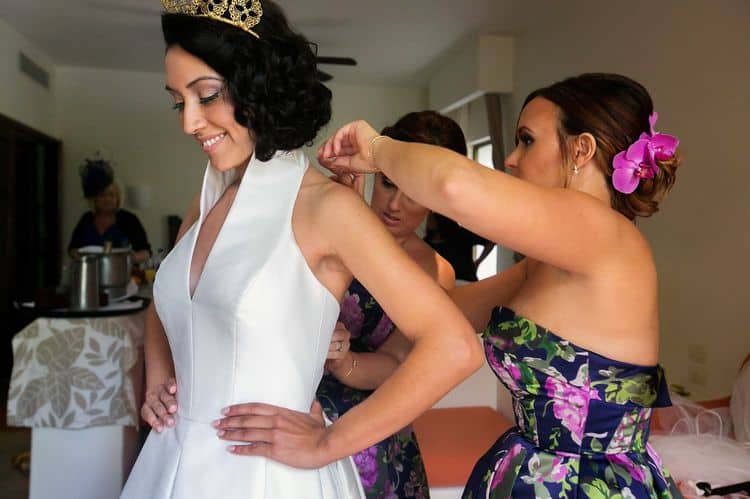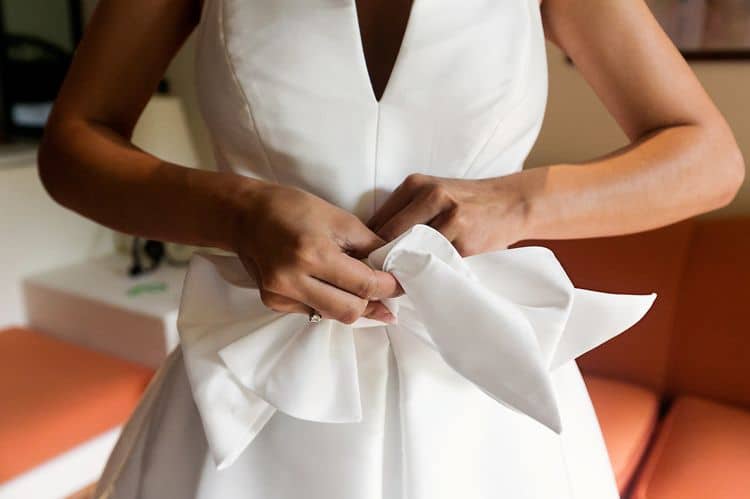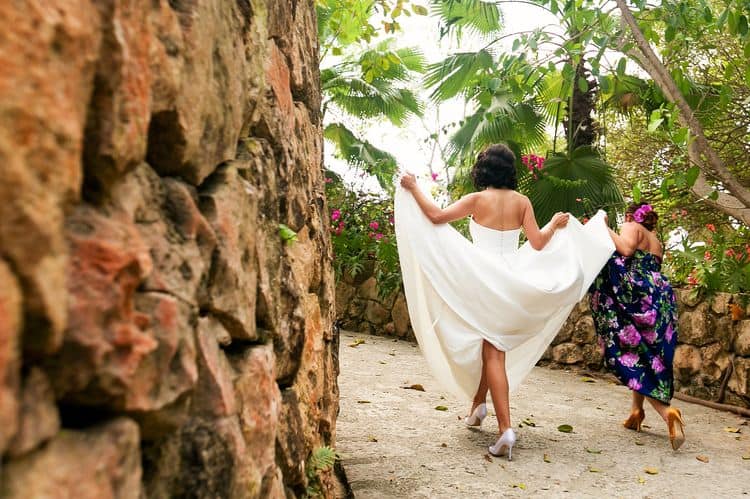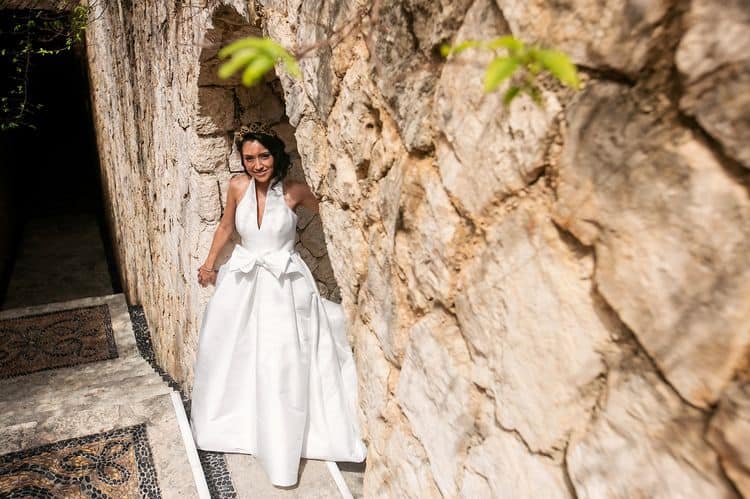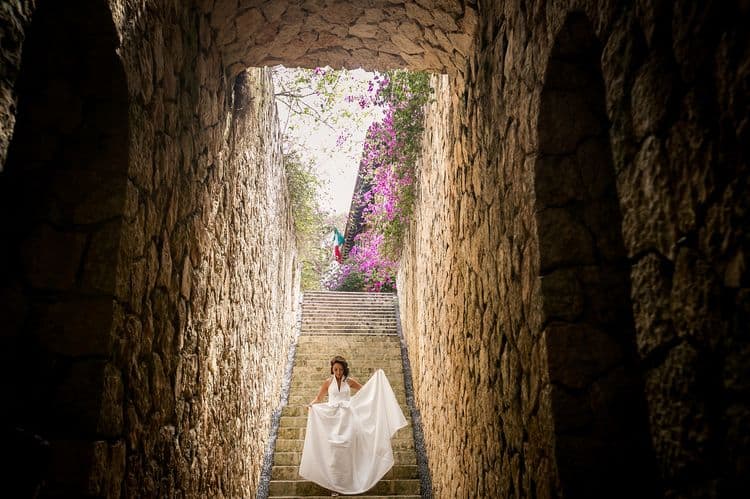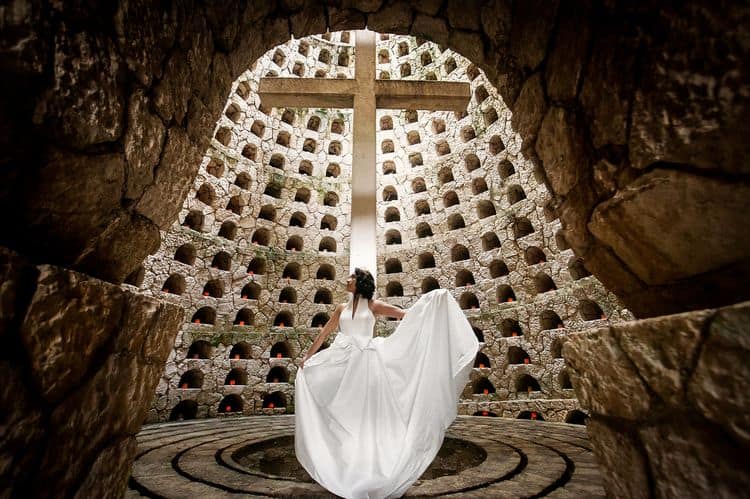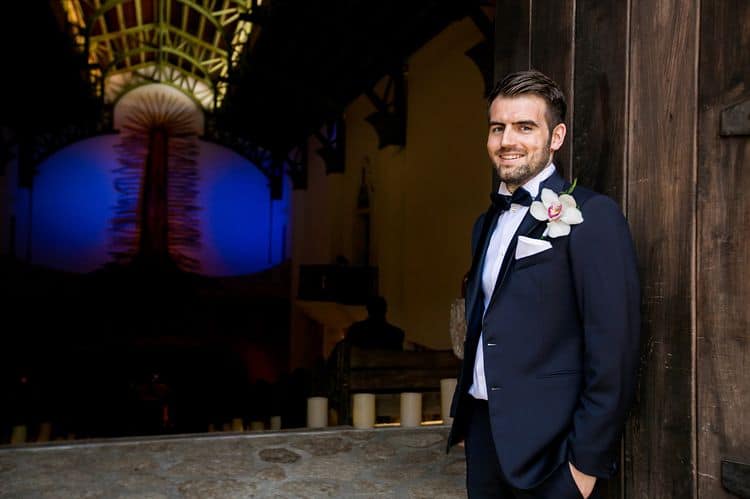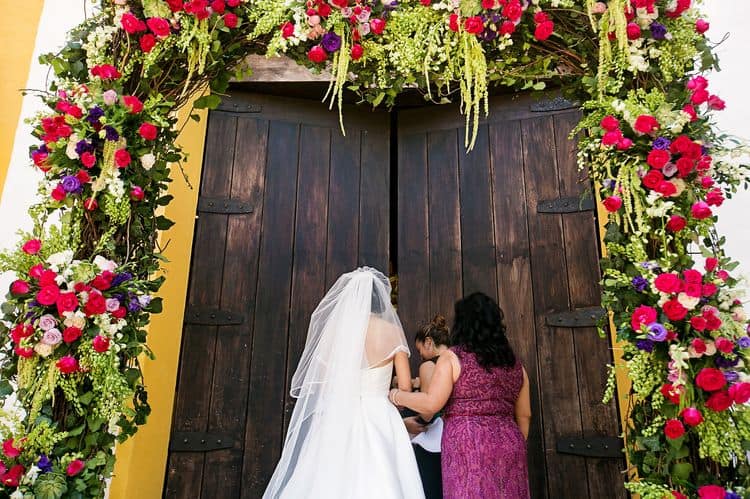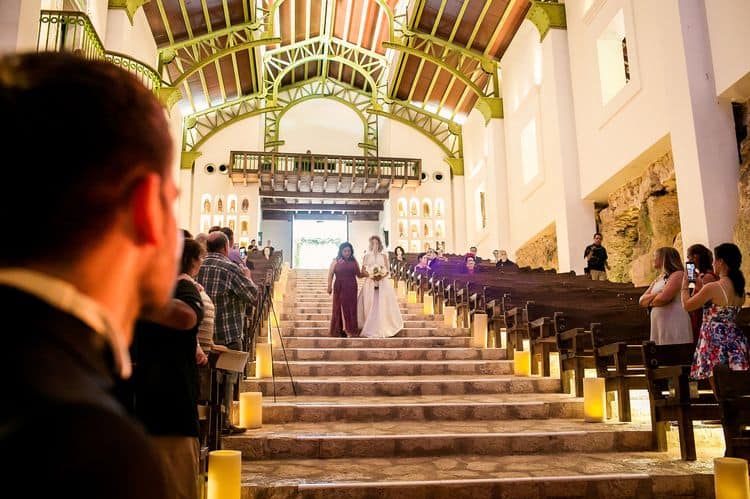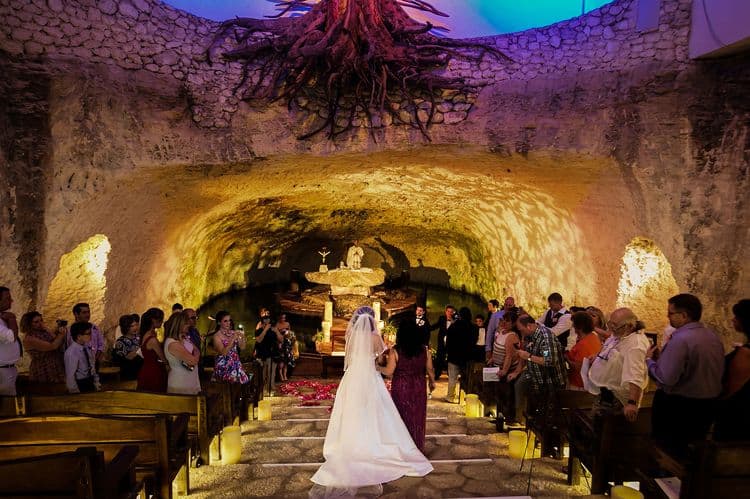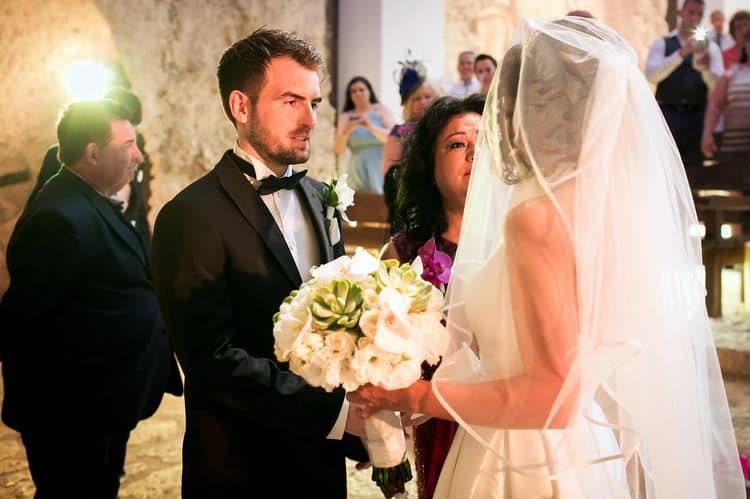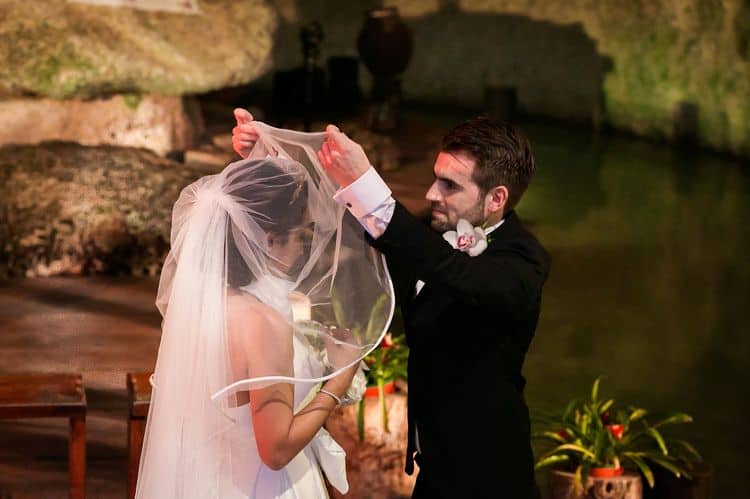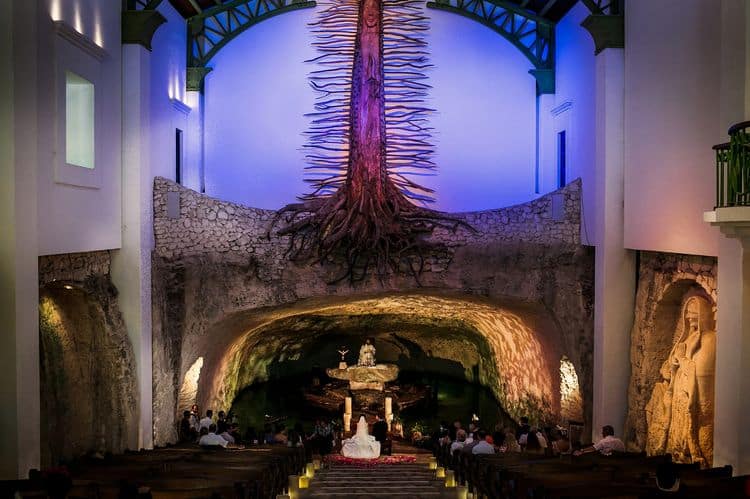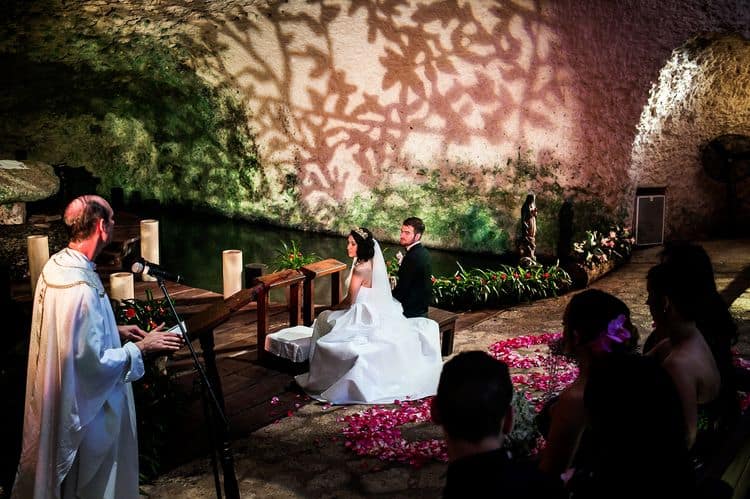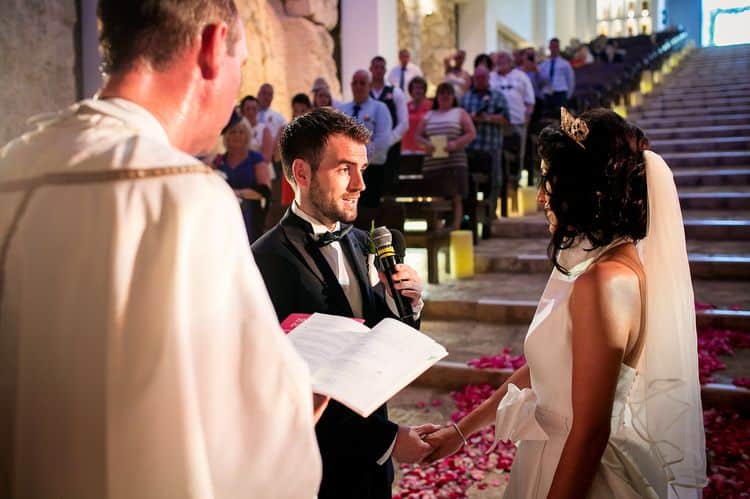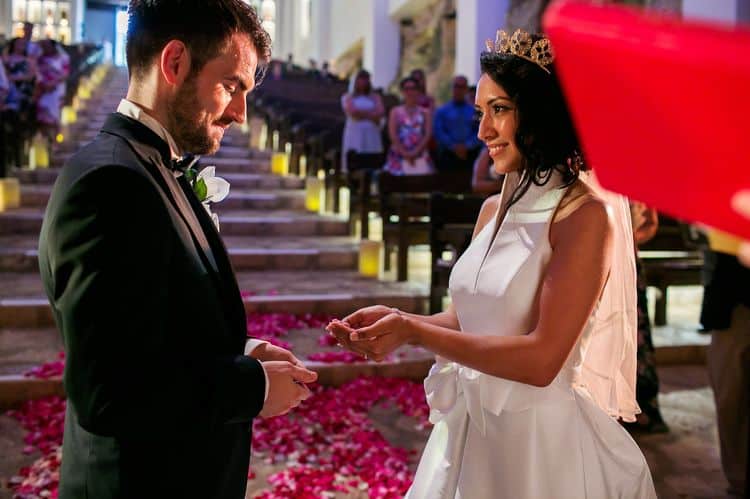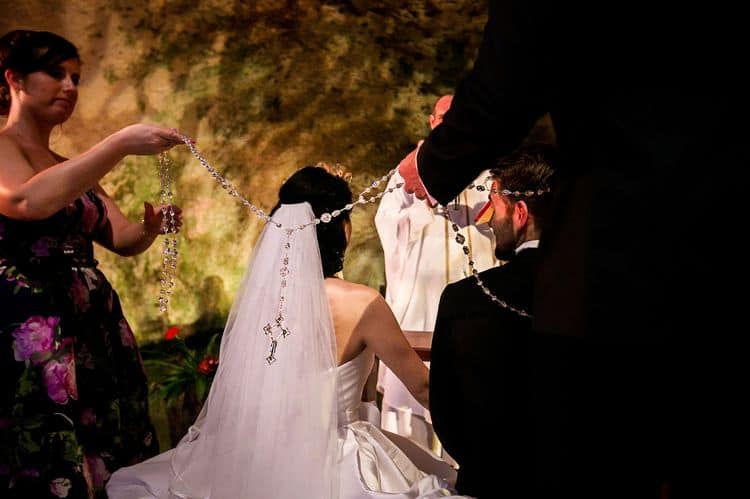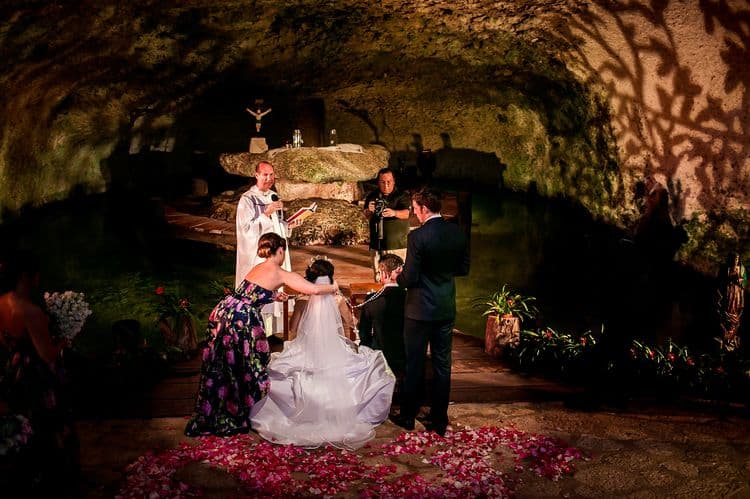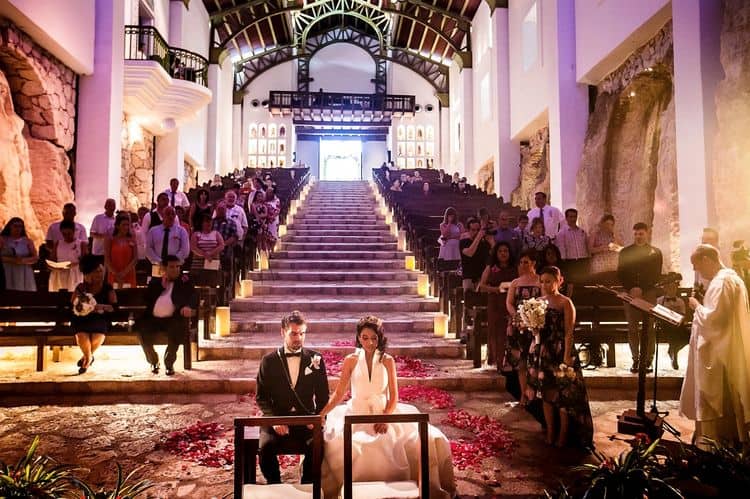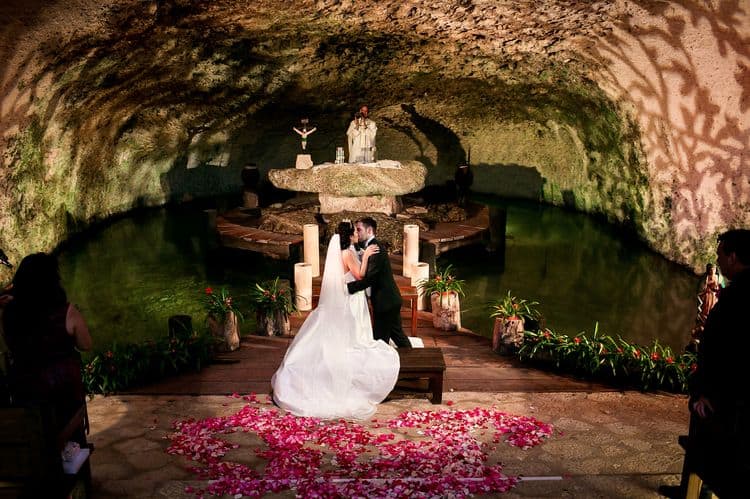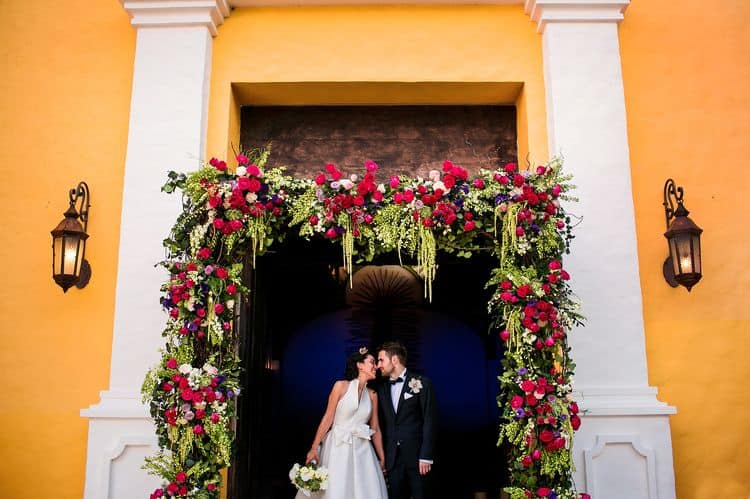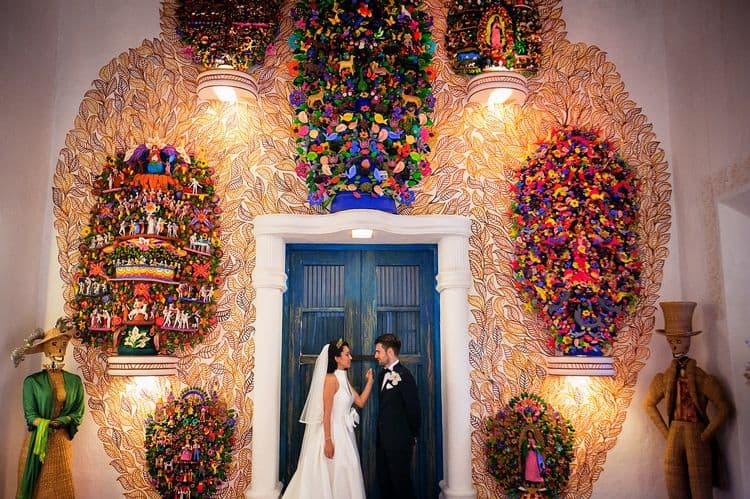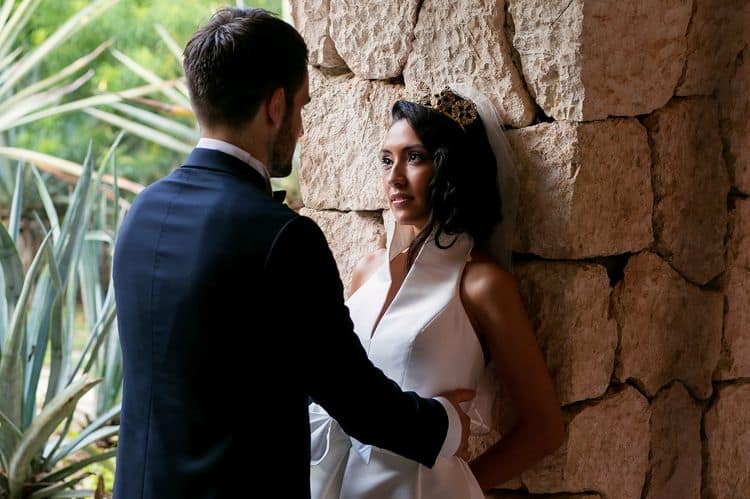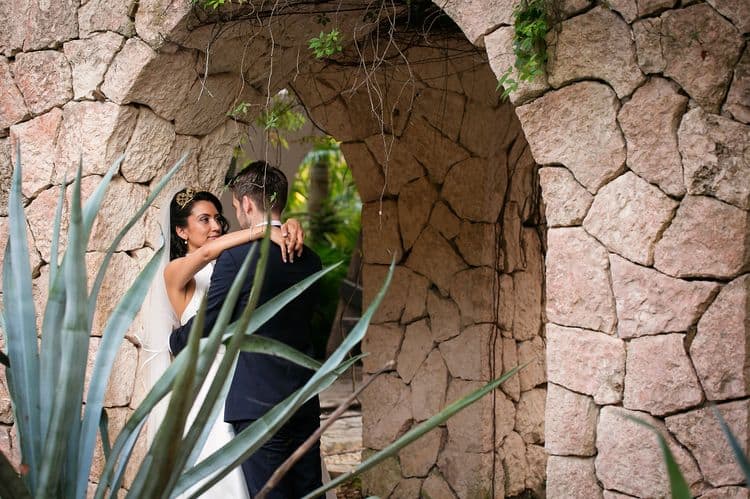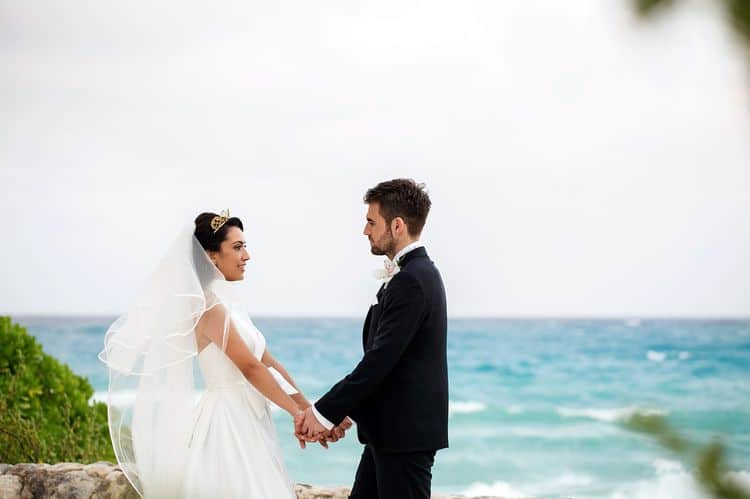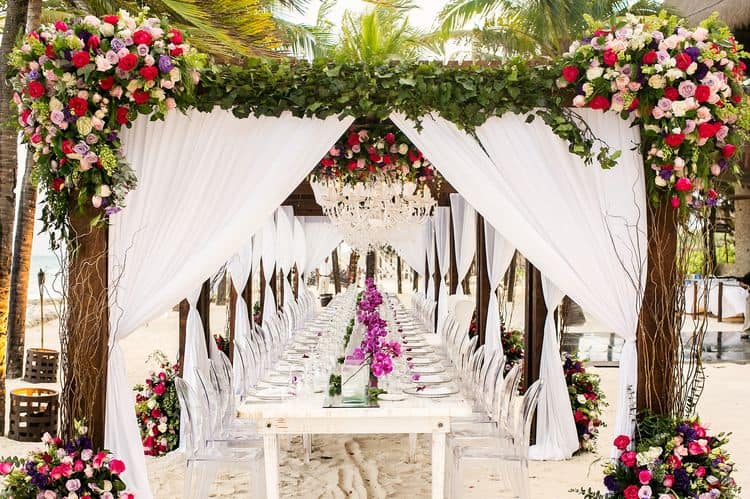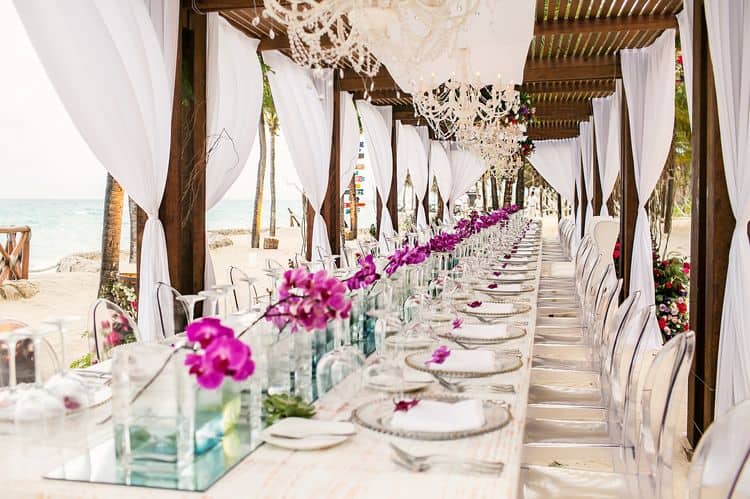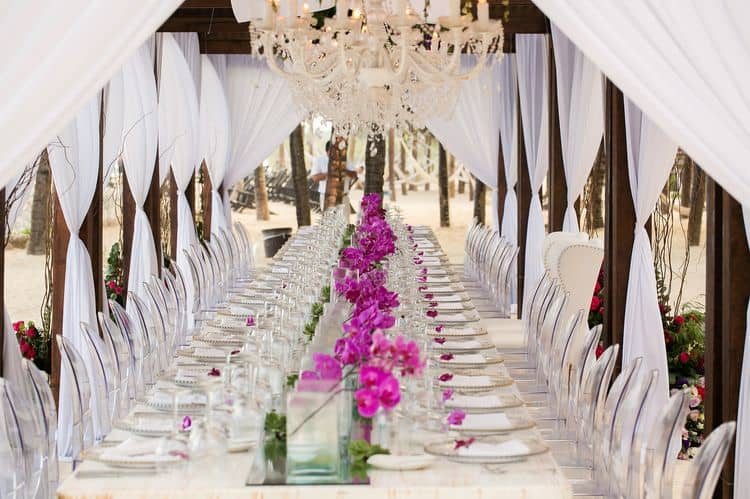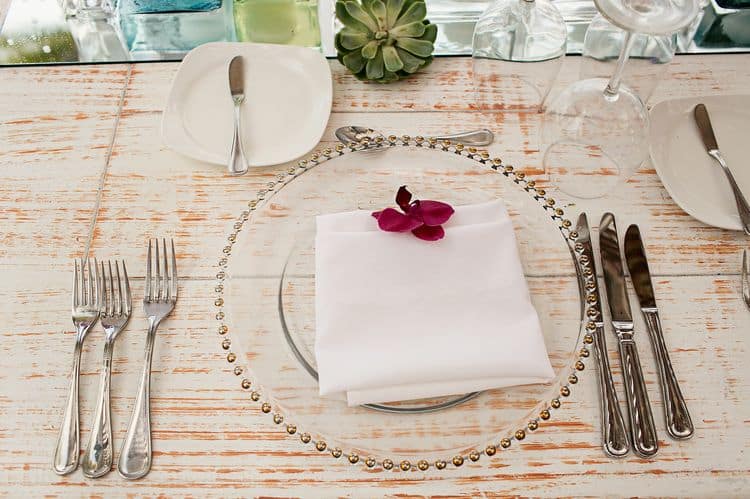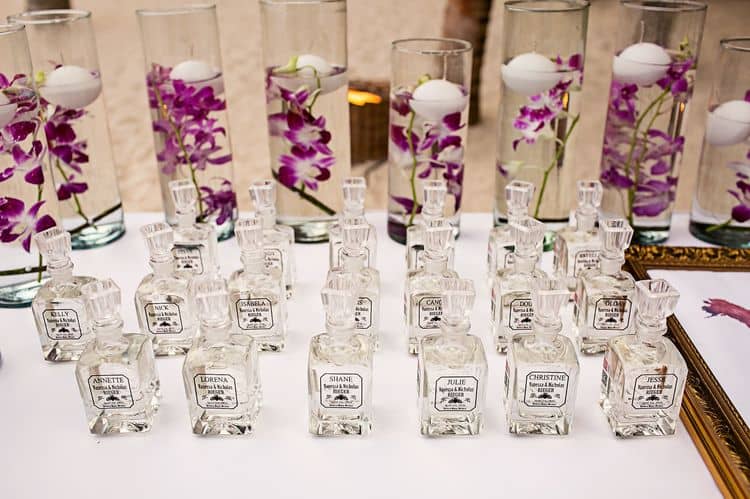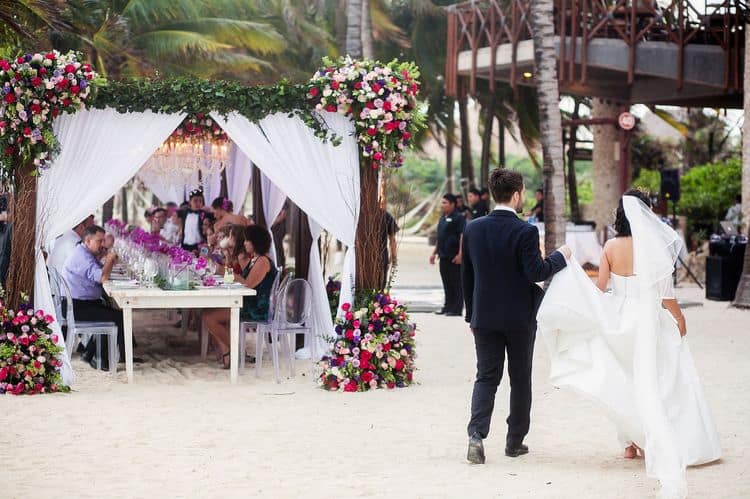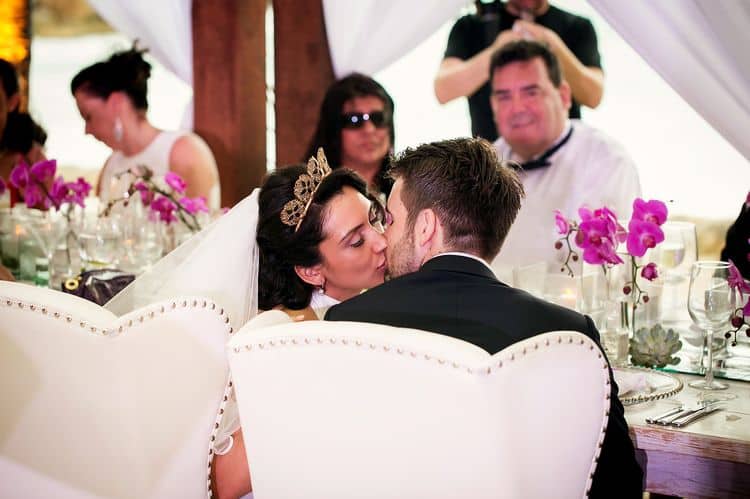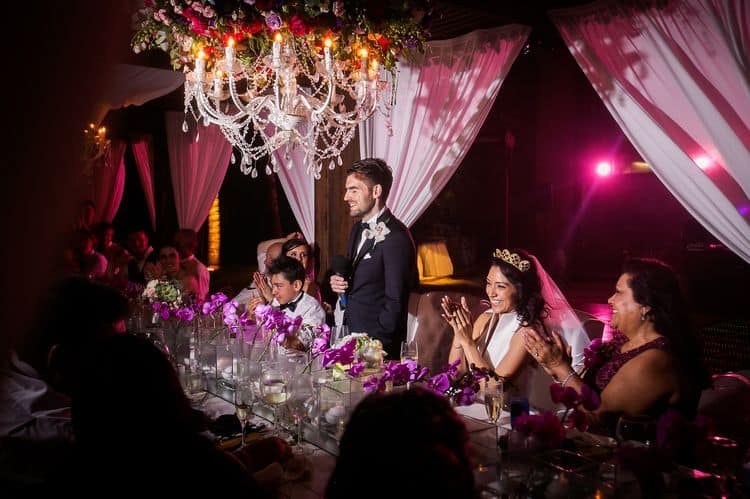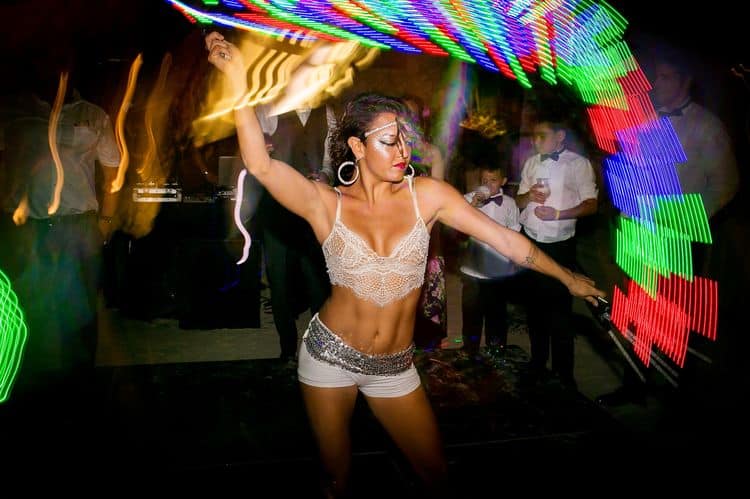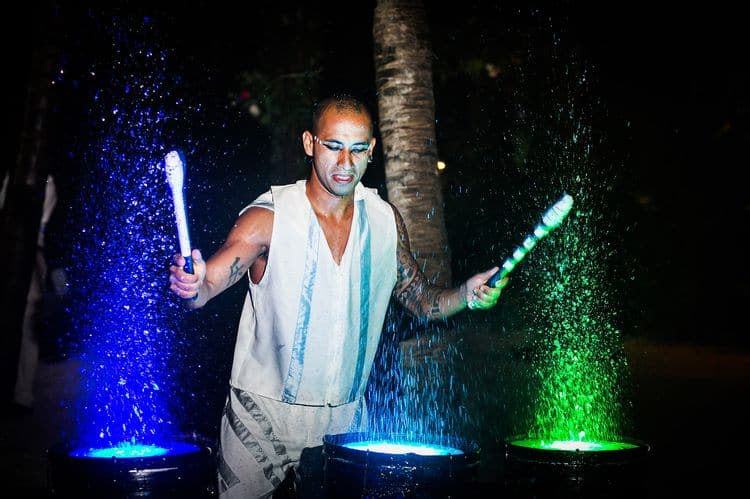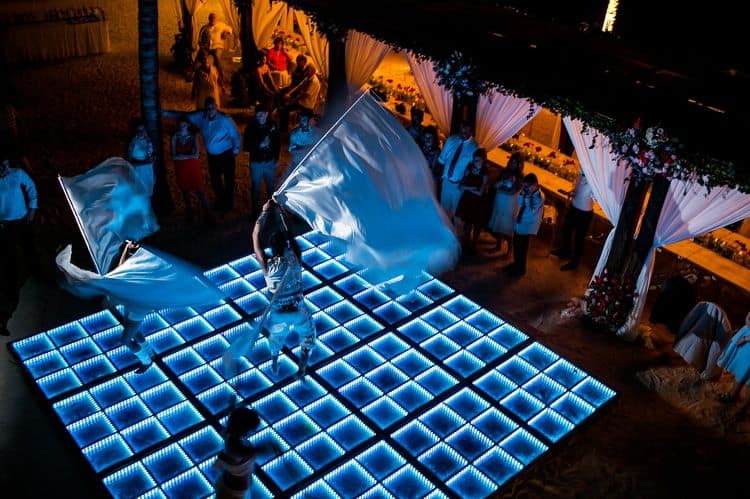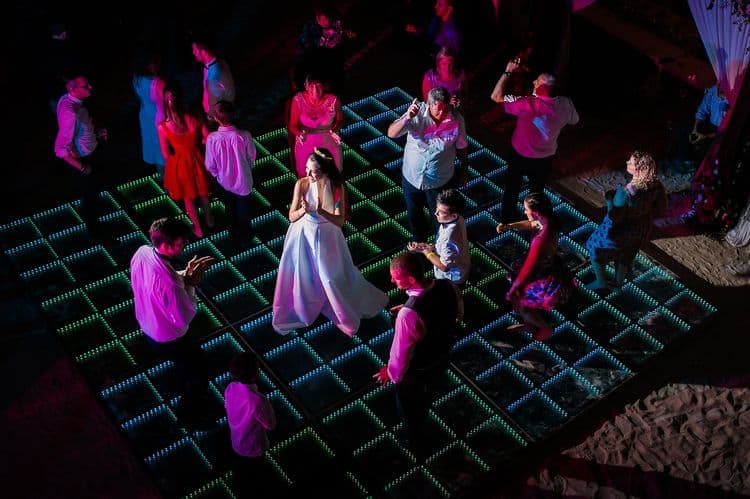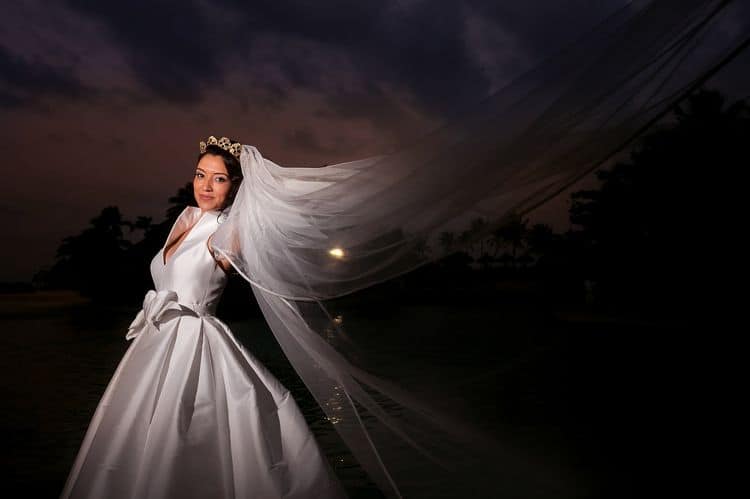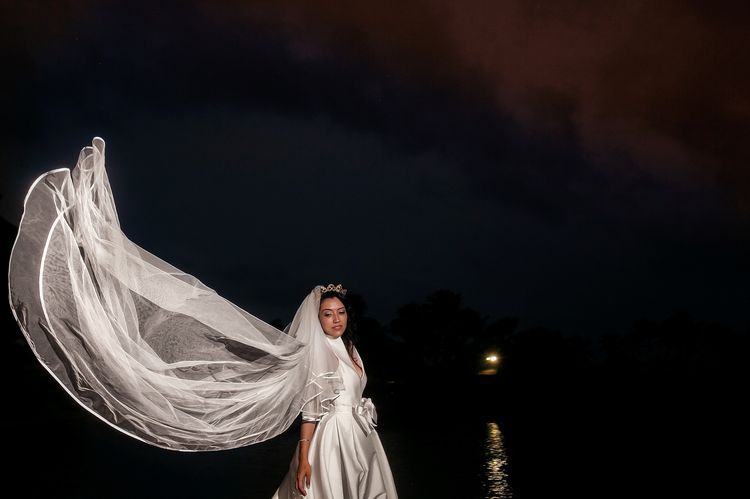 How many people attended your Xcaret Wedding?
The number of guests at our destination wedding was 50.
Was there any tradition that you skipped for your destination wedding?
A destination wedding is often thought of as an opportunity to stray from wedding traditions. To be completely honest, that was my exact intent! Yet, throughout the wedding planning process, we began to see the importance of the traditional aspects of weddings at "home". Although challenging, we were very traditional in the chapel (lasso ceremony, coins) and at the reception (bouquet toss, garter toss, first dance, toasts).
What was your favorite part of having a destination wedding?
My favorite part of having a destination wedding was getting married to my best friend, along with our son, family and friends in the most beautiful chapel I have ever seen and dancing the night away on the beach at sunset! It was absolutely stunning and breathtaking! Words cannot express how beautiful Xcaret is!
What was the most memorable part of your wedding day?
After the chaos of the days leading up to the wedding and the nervous/excited energy of the wedding ceremony, we missed our individual wedding vows during the ceremony! When the ceremony commenced, Nicholas and I hid in a quiet, little room to recite our vows to one another. It was exactly as it was meant to be. Perfect.
What was the biggest challenge in planning your destination wedding?
PAYMENT! Many vendors want cash on the day or bank transfers days leading up to the wedding. This is time consuming and it can take up to a week for international banks to SEE the payment!
If you could give advice to others planning a destination wedding, what would it be?
Plan ahead and ask for specifics from onsite and offsite vendors regarding payment and worst case scenario plans. Make sure that you keep hard-copies of receipts and emails on hand at your destination location because paperwork does get lost!
Vendors:
Photographer and Videographer: Fine Art Studio Wedding
Venue: Xcaret Park
Bridal Gown: Jesus Peiro
Bride's Shoes: Manolo Blahnik
Bride's Headpiece: Viktoria Novak
Groom's Attire: Armani
Bridesmaids Dresses: Fame & Partners
Hair and Makeup: Bride/Bridesmaid/Mothers: StylingTrio
Decorations and Flowers: Planner1Events
Etsy: Sunshine Labels
Featured:

Unique Poolside Bachelorette Party Inspiration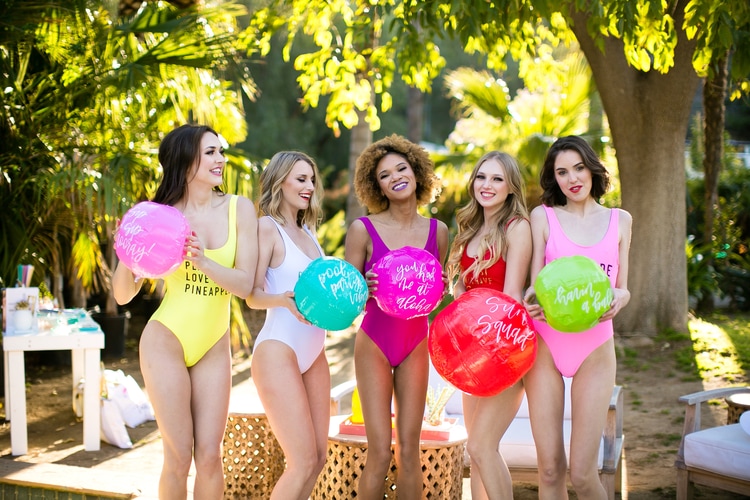 This unique tropical poolside bachelorette party is #GOALS! The décor was tropical, colorful and fun – bringing a cheery vibe that set the tone for a flawless and relaxed day. There were tons of personalized details –from sunscreen and chapstick, to soda and champagne, sun hats and fans, magazines, personalized tumblers, and even a wet bikini bag to hold their suit while they slipped into some adorable "Bride's Beaches" cover-ups. Of course, what's a good party without some fun games? Tons of fun ideas in this post. Read more
Featured:

New Orleans Destination Weddings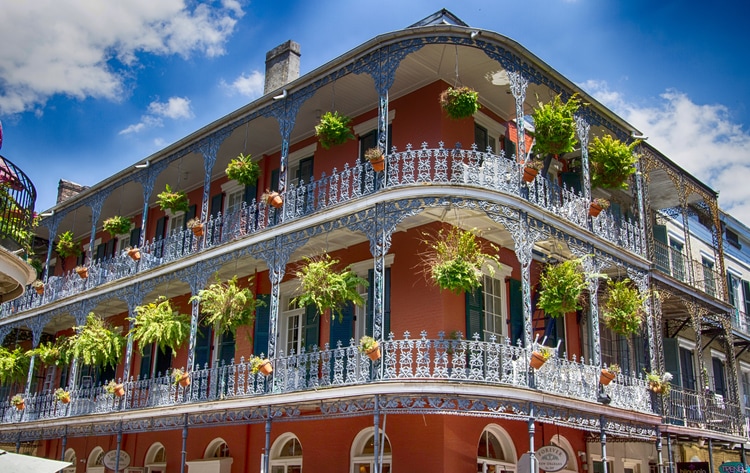 Here at Destination Wedding Details, we've seen it all: weddings at the beach, in the mountains, in the desert, and in pretty much every country. ALL beautiful, mind you… but through our years of observing what exactly makes for a GREAT wedding, we've surmised this: it must be FUN for you and your guests. So, ask yourself this: what city is more fun than New Orleans? Read our full post to discover when, where and how to get married in NOLA.
Cynthia is the founder and editor of Destination Wedding Details.She has over 15 years experience in the Marketing and Event industry and launched Destination Wedding Details in 2010, shortly after planning her own destination wedding. Cynthia uses her experience and genuine passion, to inspire brides who are planning their dream wedding away from home.