Looking for a creative save the date? Destination weddings open up a lot of creative possibilities!
Using cut out paper planes as a save the date for destination weddings is a pretty novel and unusual idea. I love it because it's fun, playful, laid back and unique – all the qualities of destination weddings.
Not only will these set the tone, and put your guests in a travel mood, they'll also conjure some feel-good childhood memories 🙂
But the very best part?
They are super easy to make and incredibly easy on the budget. Just download the FREE template and follow the easy step by step instructions below.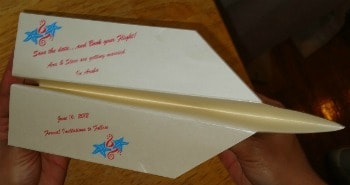 Materials
80lb metallic cover stock 8.5 x 11″
Tools
Paper cutter or scissors
Computer
Microsoft word or powerpoint
Printer
Save the Date, Destination Weddings Paper Plane Template
There are two different templates and you can choose depending on what software you own.
Microsoft Word template: this is the easiest to use but has the least design flexibility. If you're not comfortable with do-it-yourself projects, this is a very easy template to use. If you know how to type on a word document, you can use this template- it's that easy.
Microsoft Powerpoint: this template is also easy to use and gives you the most design flexibility. If you own powerpoint software, I suggest you use this template. You'll be able to make minor adjustments like rotating the text so that it reads at an angle like the example pictured above.
How to download the template
All you have to do is sign up for my monthly destination weddings tips & ideas newsletter and you'll be able to download the template instantly. Go ahead and do that now, it will take you 30 seconds.
Click here to subscribe to our monthly newsletter and receive the link to your free template.
After you download the file, follow the step by step instructions below.
How to customize the template using your own words, fonts and colors
Using your mouse, highlight the words in the text box and replace them with your own wedding lingo.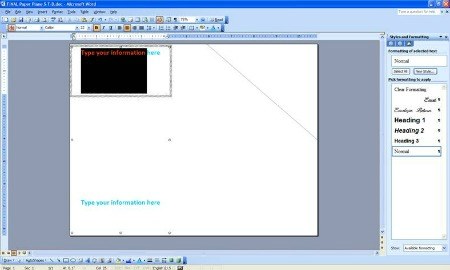 Once you''re happy with your wording, select your font type from the drop down menu.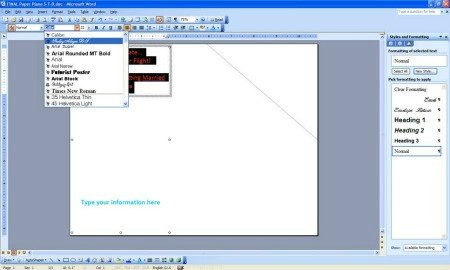 Next, choose your desired font size from the drop down menu
TIP: Don't choose a font size that is too large or you will alter the formatting of the template. Depending on your font type, the maximum font size you should use is 24.***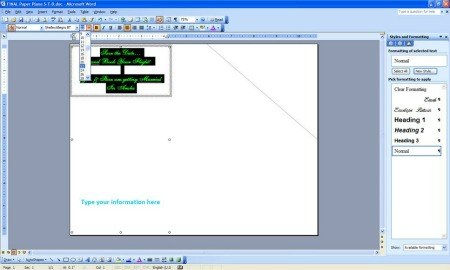 Choose the font color for the text – highlight all the words, then choose a color from the font color drop down menu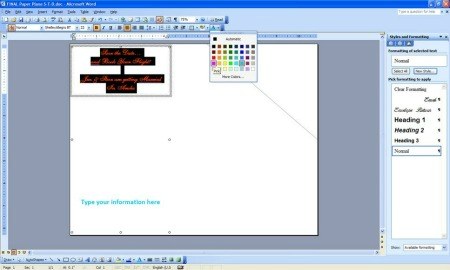 Now put your mouse inside the text box on the bottom of the page and repeat all the steps from above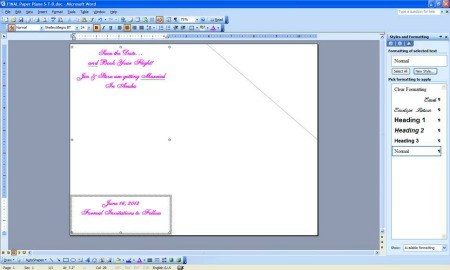 You're done with this part. Pretty simple, huh?!
How to print, cut and fold your save the date destination weddings template to look like a paper airplane
Print the page. You will probably see this message, "The margins of section 1 are set outside the printable area of the page. Do you want to continue?"Click: YES
Fold the sheet of paper the long way, making sure the words are facing out towards you

With the paper folded in half, use your paper cutter or scissors to cut along the dotted line

Now you're going to unfold the sheet of paper, and fold it again but this time the words are going to face in so that the blank side of the sheet is facing out towards you.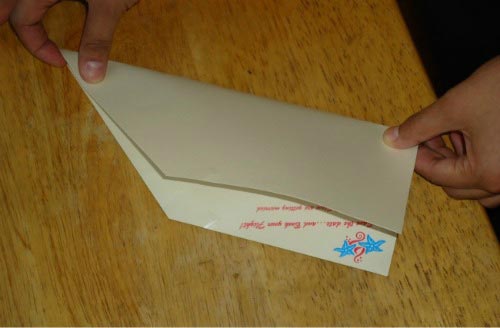 Next fold the side flaps, one at a time, so that the text is facing outward towards you again.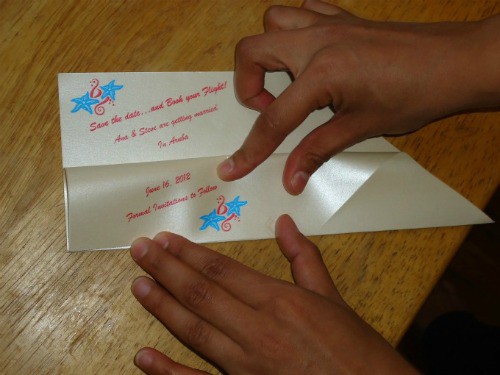 And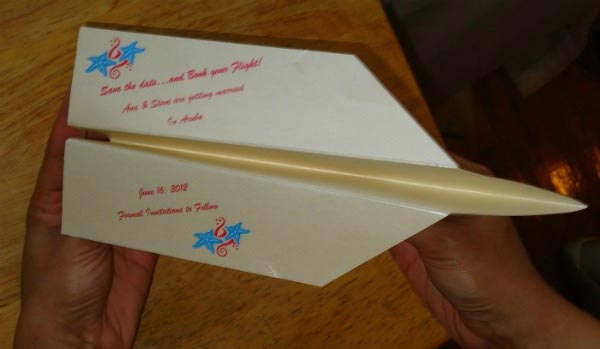 That's all folks!
A save the date for destination weddings that is as fun and unique as it is easy and affordable.
Related Articles
Featured:

Unique Poolside Bachelorette Party Inspiration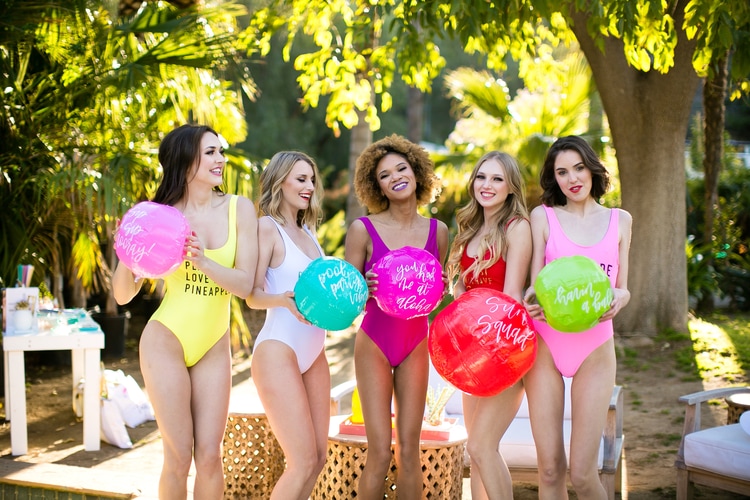 This unique tropical poolside bachelorette party is #GOALS! The décor was tropical, colorful and fun – bringing a cheery vibe that set the tone for a flawless and relaxed day. There were tons of personalized details –from sunscreen and chapstick, to soda and champagne, sun hats and fans, magazines, personalized tumblers, and even a wet bikini bag to hold their suit while they slipped into some adorable "Bride's Beaches" cover-ups. Of course, what's a good party without some fun games? Tons of fun ideas in this post. Read more
Featured:

New Orleans Destination Weddings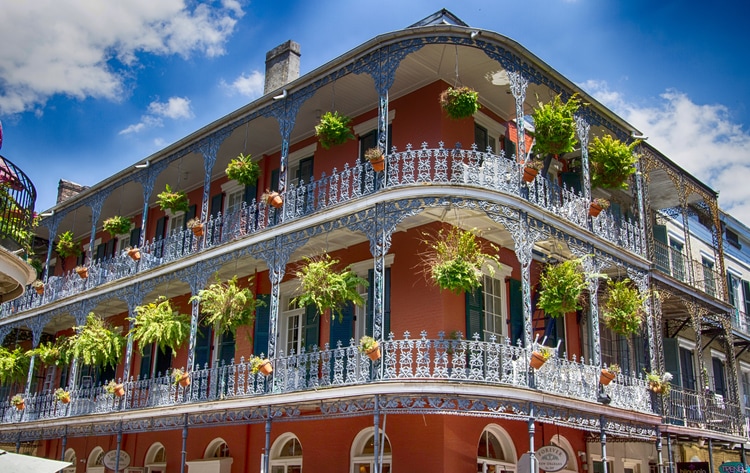 Here at Destination Wedding Details, we've seen it all: weddings at the beach, in the mountains, in the desert, and in pretty much every country. ALL beautiful, mind you… but through our years of observing what exactly makes for a GREAT wedding, we've surmised this: it must be FUN for you and your guests. So, ask yourself this: what city is more fun than New Orleans? Read our full post to discover when, where and how to get married in NOLA.
Cynthia is the founder and editor of Destination Wedding Details.She has over 15 years experience in the Marketing and Event industry and launched Destination Wedding Details in 2010, shortly after planning her own destination wedding. Cynthia uses her experience and genuine passion, to inspire brides who are planning their dream wedding away from home.