Have you considered doing a "first touch wedding photo shoot" right before your destination wedding ceremony? Never heard of it? I'll tell you all about it because it's a great alternative to the increasingly popular trend known as the "first look". A "first look" is when the bride/groom steal a few moments to themselves before the wedding, just the two of them…and their photographer. There are many arguments for and against "first look photos" and only you know what's right for you. I've never interviewed a couple on this blog who has regretted their first look photos. Most brides/grooms loved having those few special moments before the ceremony to connect privately. And there is no doubt that the photos are always emotional and stunning! But while some people love them, there are others who hate first look photos.
I've always been torn about this topic. Yeah, the photos are great but there's no way I was personally doing a "first-look" when I got married. I'm non-traditional when it comes to almost everything – except that. I could not wait to see my groom's expression as I walked down the aisle dressed in white. The anticipation built as I got closer and closer. And the look of awe in my hubby's eyes just minutes before we became one, is something I'll never forget. I'm sure the moment was equally special for those who had a "first look". But you know… different strokes for different folks.
My point is that first looks are not for everyone. So if you're torn about whether or not you want to have a first look, I want to introduce you to a great alternative: the first touch wedding photo shoot. A "first touch" is when you steal a few moments to yourselves before the ceremony but the groom doesn't actually see you. Sometimes the couple will simply stand on opposite sides of a door, hold hands and bask in the moment. Other times they'll read a sweet note to each other, or they'll just take comfort in being together and taking in the enormity of the moment free of distractions.
I LOVE first touch photos! That's why I've rounded up some of the most creative and moving first touch photos I've published on Destination Wedding Details to show you that there are other options if you're not into the idea of seeing each other before the ceremony. Check them out!
First Touch Wedding Photos
Save this to Pinterest for later

Featured:

VOTE for The Best Destination Wedding of 2017 and WIN!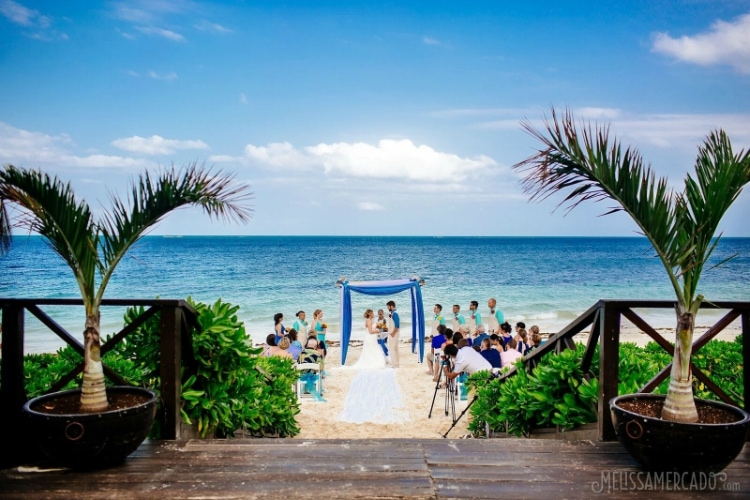 It may be a new year, but I'm still swooning over all the destination weddings from 2017! And I'm so excited because the list for The Best Destination Wedding of 2017 has been narrowed down to just 10 finalists. Now it's YOUR turn to vote for the best of the best! And when you vote and share, you'll be entered to win $500 cash!

Editor/Founder
at
Destination Wedding Details
Cynthia is the founder and editor of Destination Wedding Details.She has over 15 years experience in the Marketing and Event industry and launched Destination Wedding Details in 2010, shortly after planning her own destination wedding. Cynthia uses her experience and genuine passion, to inspire brides who are planning their dream wedding away from home.