This month's featured idea is Destination Wedding Monograms. I love wedding monograms because they're a super cheap and easy detail that allows you to weave your personality into your big day even if you don't have a "theme" per se. In this post I'm going to show you where you can get a free DIY monogram that is insanely easy to make, and then I'm going to give you some ideas of where you can use that monogram.
Free diy Destination Wedding Monogram Maker
My monogram was custom made by ForTheModernBride.com, but I recently found an awesome website, Designmantic.com where you can create your very own customized monogram. It is super easy to use and best of all it's free! I took a few screengrabs to show you how easy it is to use.
Step 1 is to just type the names of you and your fiancé. Easy enough.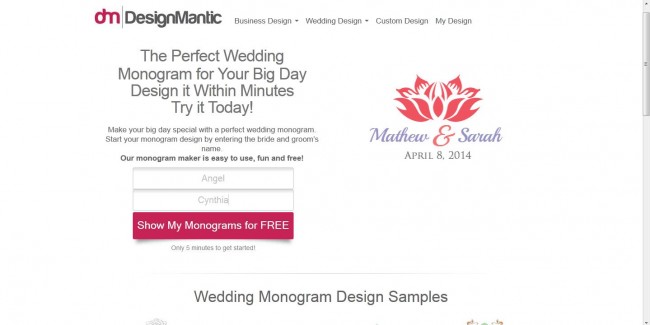 After clicking the button, I was presented with 25 pages full of different monogram options (that's over 200 different options) –from the simple to the elaborate. All you have to do is choose your favorite.
And don't worry if you don't like the font or color scheme because you can customize that in the next step.
I chose the one pictured all the way on the bottom right because it has palm trees and looks tropical!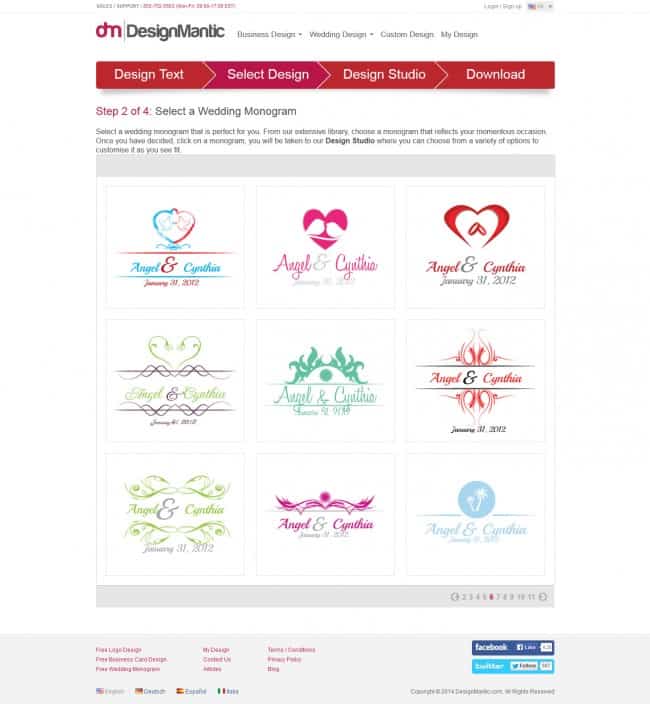 In the next step, you get to change the colors to match your wedding colors. You can also change the font type or size if you see another option you like better. Pretty cool, huh?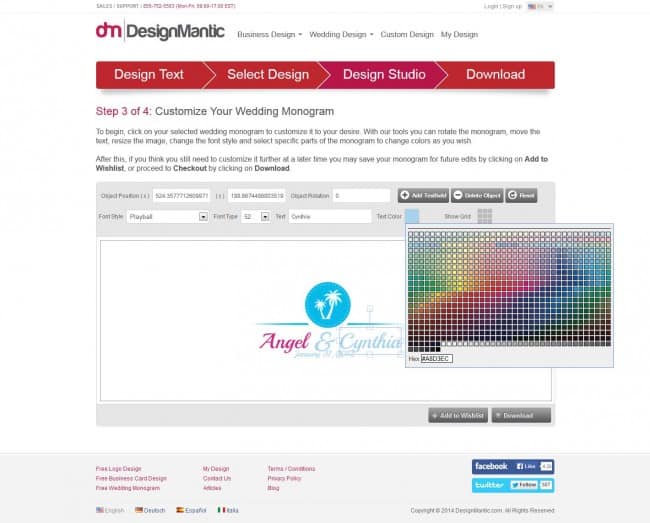 This is also the step where you get to put in your wedding date.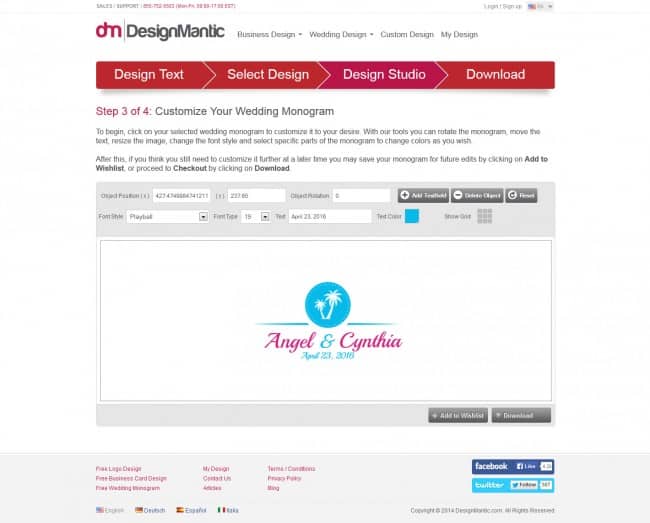 And that's it, you're done designing! Now it's time to download your masterpiece.
Downloading Your Monogram
Now, you click on the "download" button on the bottom right. The next page will show you some wedding card designs based on the colors you chose for your monogram. This is totally optional and you don't have to choose any, but it's pretty cool to have the option isn't it?
If you're not interested, just click on the button labeled "No, Thanks".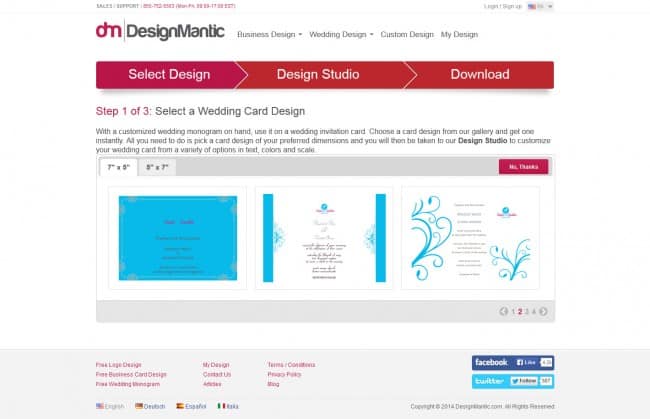 Now you will be taken to a login window. If you don't have a username/password you can create one by just entering your basic information.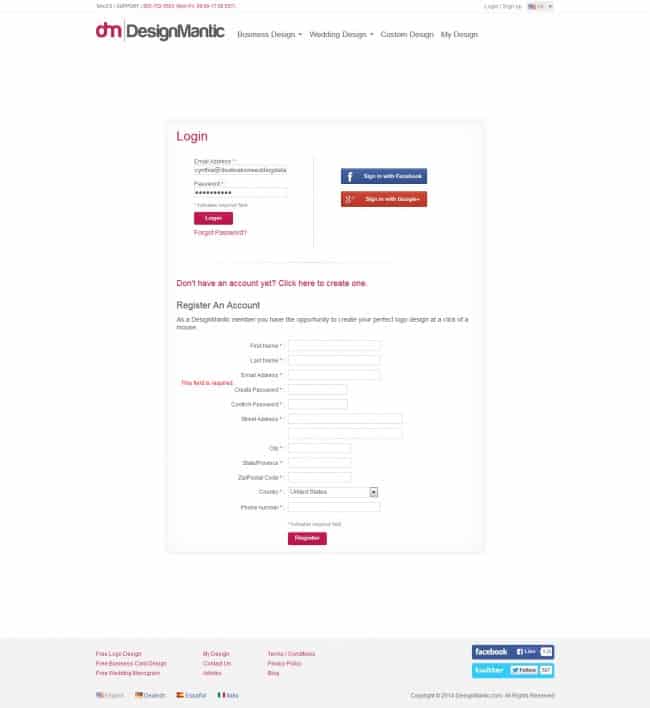 Once you log in, you'll see your shopping cart. Click on the button labeled "continue to checkout".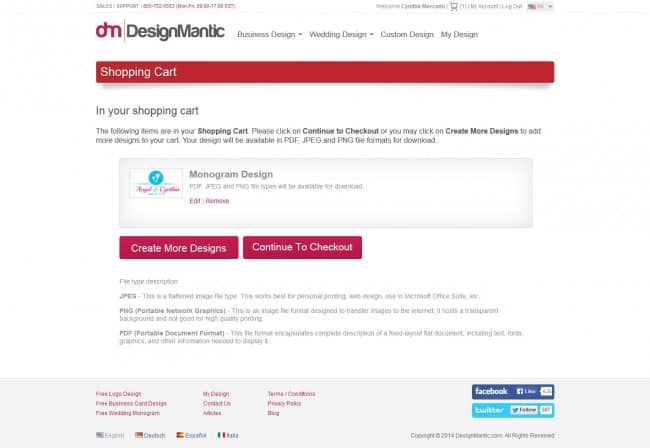 Now you'll see some check boxes for terms & conditions and another one asking you to spread the love and promote the website in exchange for the free monogram. Check the boxes, click on the button labeled "Complete order and proceed to checkout".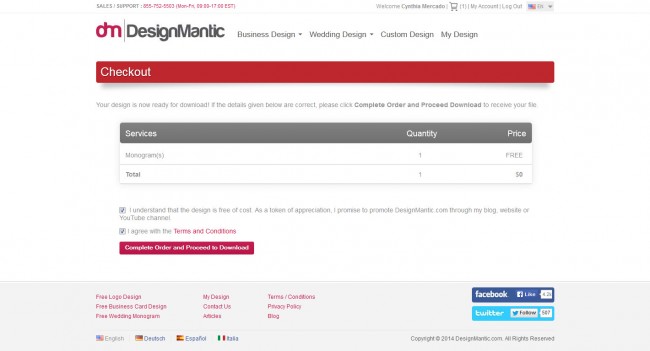 You'll see a screen with download instructions….
And then a page with your designs. Don't panic if you see that you don't have any purchased logos. You don't. You designed a monogram so go ahead and click the link under Monograms labeled "purchased". You're not technically "purchasing" it, but that's the label they gave it so just roll with it…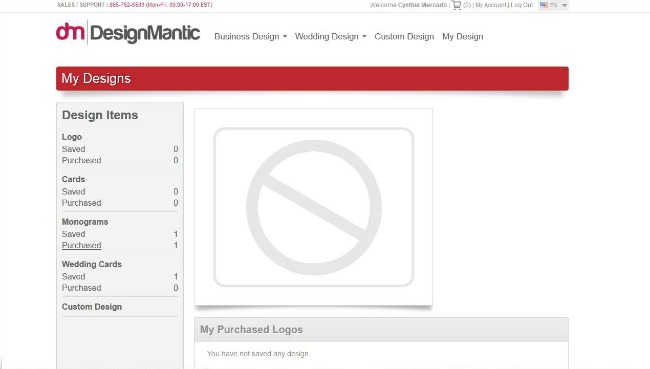 And then you get to the final screen where you can download your monogram as a PDF, PNG and JPEG. I suggest you download it as a JPEG and PNG because those are the formats you'll need when you print your monogram on your wedding products.
And here's my final product. But remember, you can customize your monogram with any icons, colors and fonts you want.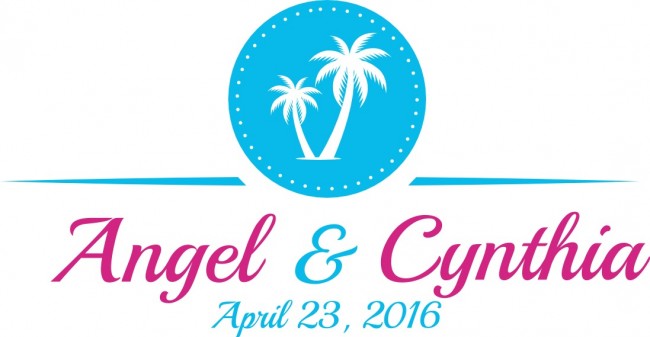 Ideas of where to use your wedding monogram
Although monograms are awesome, the key is to keep it subtle and not overdo it.
I don't recommend branding every nook and cranny of your wedding venue. I think it's a great idea to use your monogram on your stationery such as save-the-dates and invitations. And then have it make a cameo appearance at each wedding venue but in a subtle and scattered way.
For example, you can print your monogram on the letter or brochure that you insert in your welcome bags. At the ceremony, your monogram can be printed on your programs to keep the consistency of all your stationery . And then your monogram can make another appearance at your reception – whether it's on the favors or aisle runner.
Here are just some of the ways I used my monogram in my destination wedding. I had it printed on my aisle runner, ceremony programs and the beach towels that I gave my guests in their welcome bags.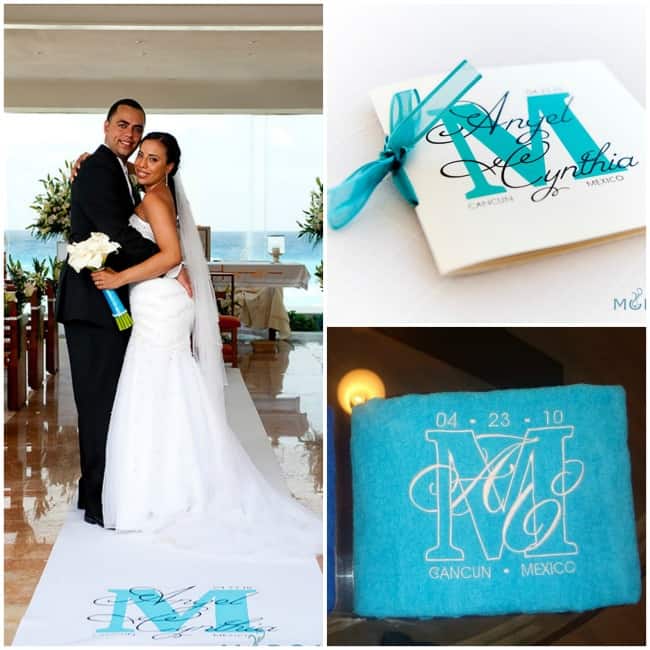 See how it's weaved in throughout the wedding but without overloading every single element of the day with the monogram because that can be well… overkill. You can check out more pictures of my real destination wedding to get more ideas.
Now go and print your own design anywhere your heart desires but please don't overdo it. Remember subtlety is key.
Featured:

Enter to WIN a FREE Destination Wedding Valued at $30,000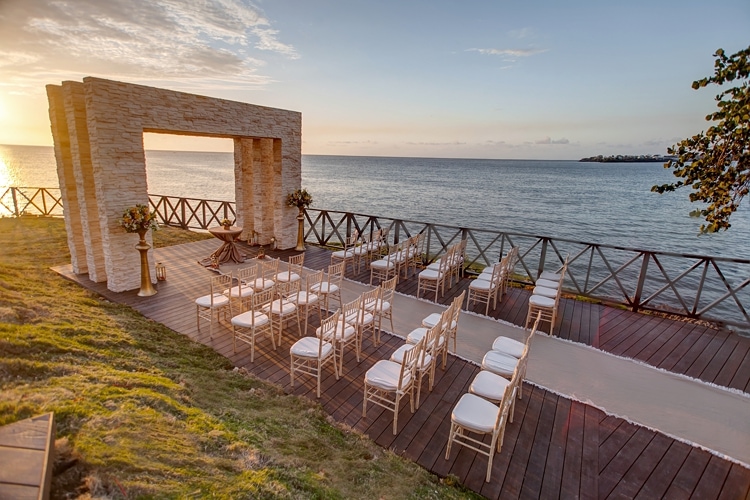 How would you like to win a TRULY FREE destination wedding at a luxury all-inclusive resort? I'm so excited to share all the details of this amazing contest with a prize valued at $30k. It's really easy to enter and if you win, you'll get free roundtrip airfare, 7-night accommodations at a luxury all-inclusive resort, a free ceremony and private reception with a bouquet, DJ, dance floor, cake, centerpieces photography & videography package… the works. As if that wasn't enough, even your wedding guests would get free 5-night all-inclusive resort stay, free excursions, and private airport transfers. This is an amazing giveaway so go ahead and stop what you're doing right now because this is quite literally the opportunity of a lifetime. READ MORE
Featured:

Unique Poolside Bachelorette Party Inspiration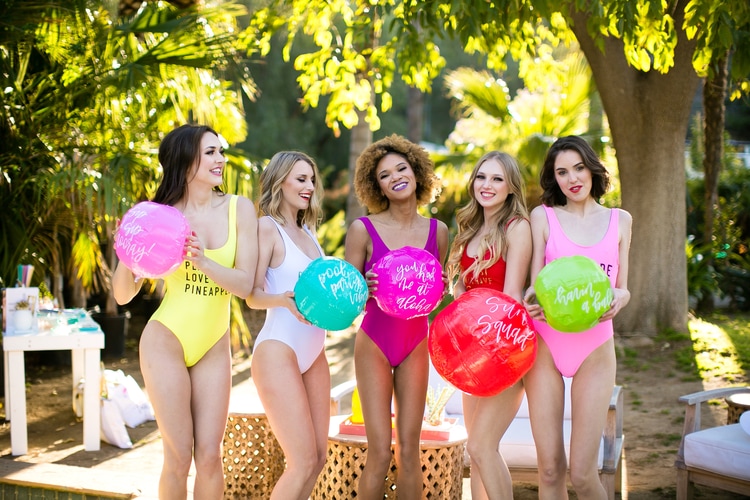 This unique tropical poolside bachelorette party is #GOALS! The décor was tropical, colorful and fun – bringing a cheery vibe that set the tone for a flawless and relaxed day. There were tons of personalized details –from sunscreen and chapstick, to soda and champagne, sun hats and fans, magazines, personalized tumblers, and even a wet bikini bag to hold their suit while they slipped into some adorable "Bride's Beaches" cover-ups. Of course, what's a good party without some fun games? Tons of fun ideas in this post. Read more
Cynthia is the founder and editor of Destination Wedding Details.She has over 15 years experience in the Marketing and Event industry and launched Destination Wedding Details in 2010, shortly after planning her own destination wedding. Cynthia uses her experience and genuine passion, to inspire brides who are planning their dream wedding away from home.