This wedding is about to put the biggest smile on your face! Ariadna and Laura's rainbow wedding exudes pure love and bliss – every part of their wedding, from their flowers to their cake, was full of bright, beautiful colors… these ladies wanted their decor to be an expression of their personalities while making the day cheerful and joyous, and they nailed it! I wasn't even there and I'm grinning ear to ear scrolling through these photos captured by WeddingDayStory.
I love how each of the brides added their own personal touch to their wedding day, like the red ribbon on Laura's dress, and the purple details on Ari's dress. And those succulent place cards? So unique! And don't even get me started on that gazebo… The colored fabrics swaying on the pergola are just stunning!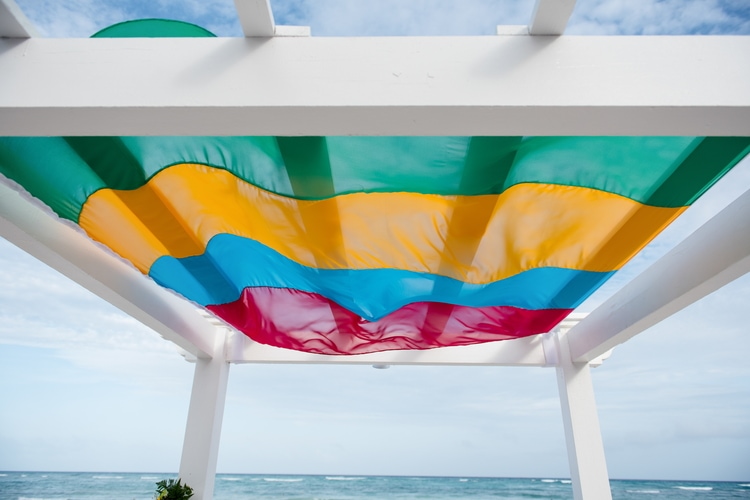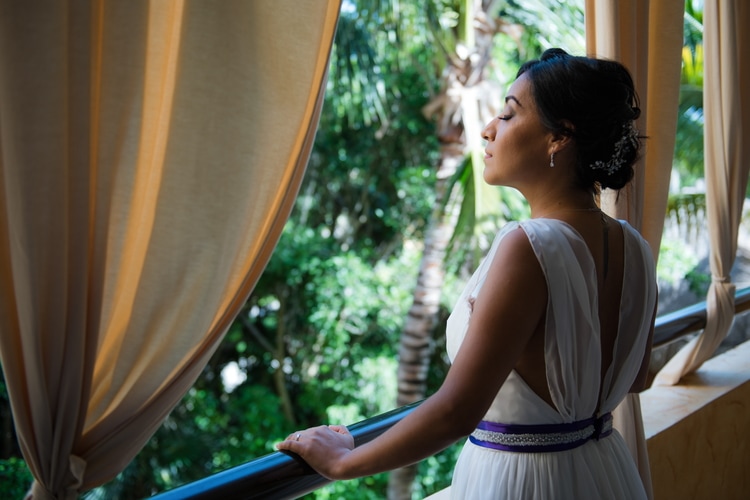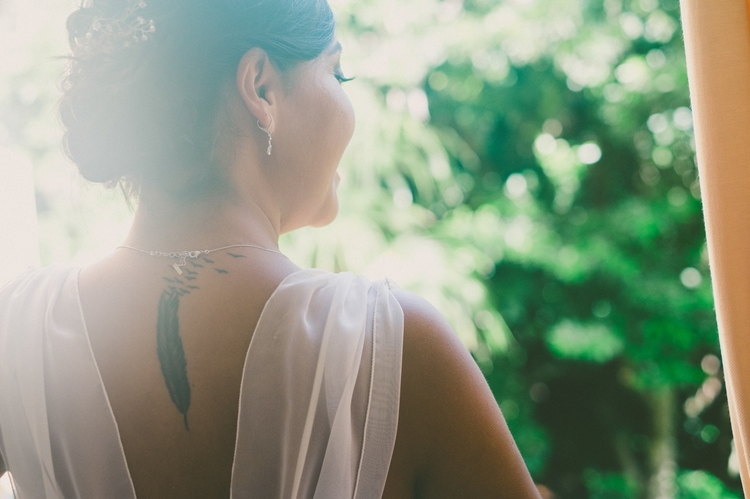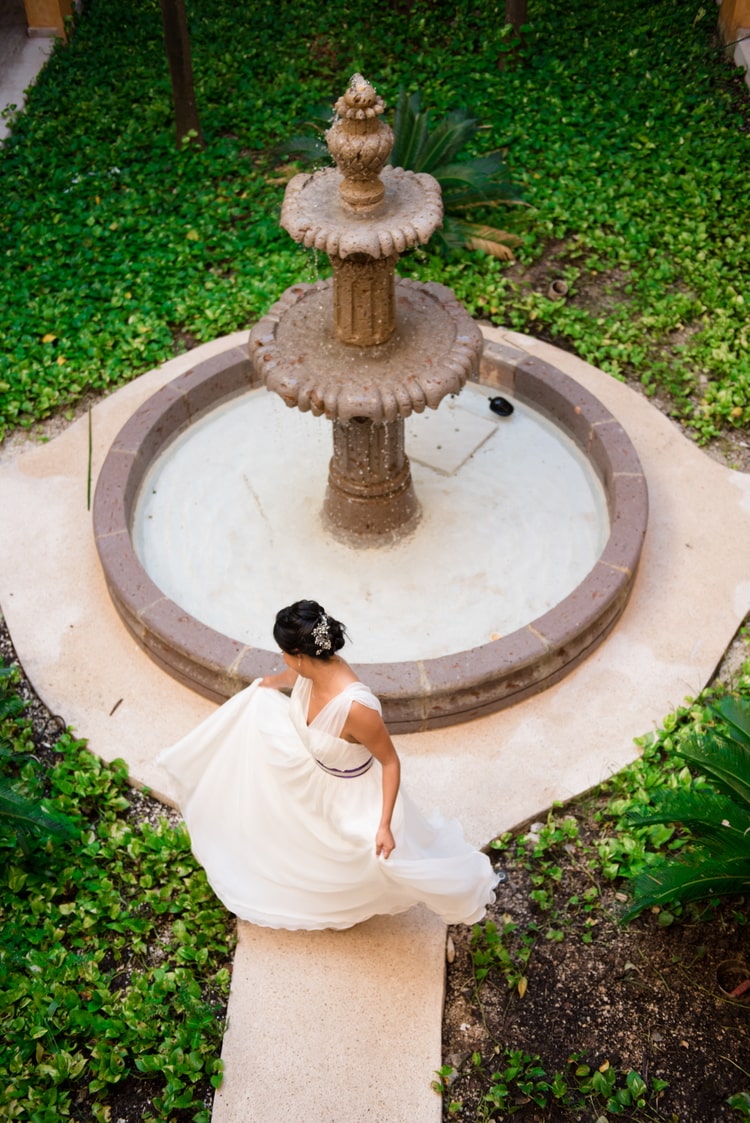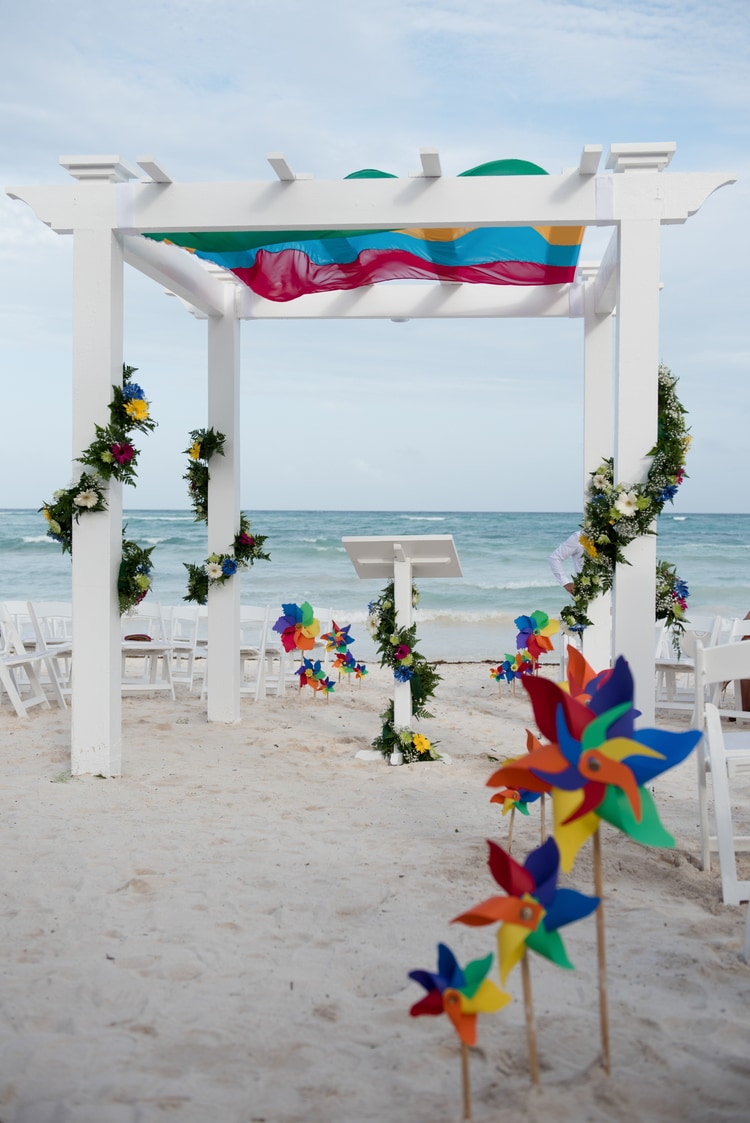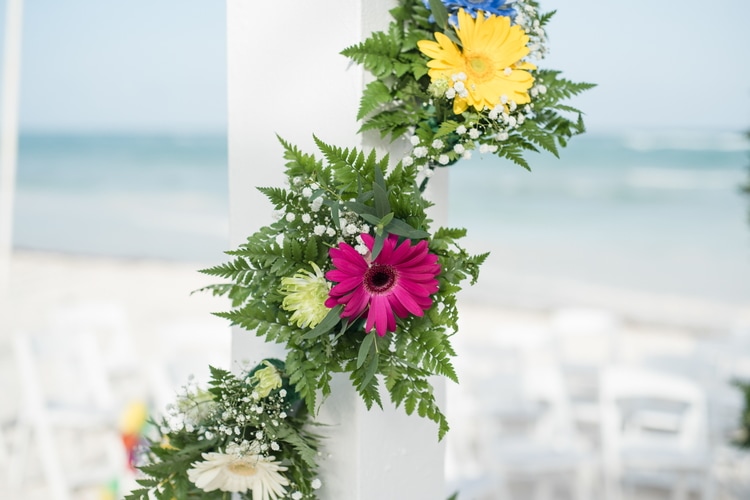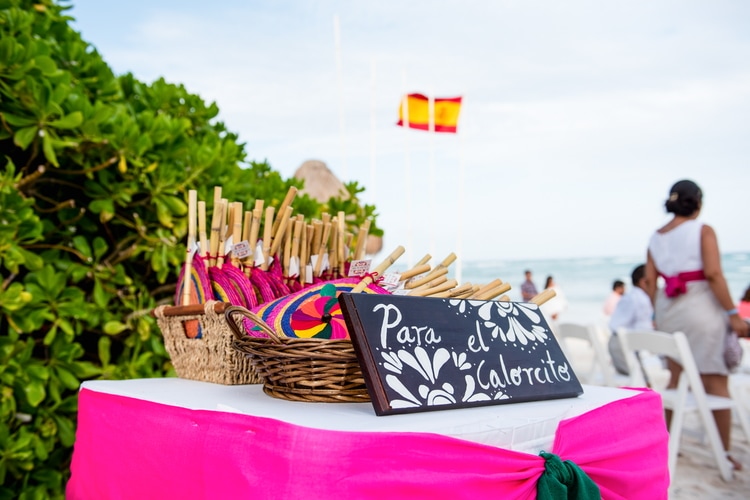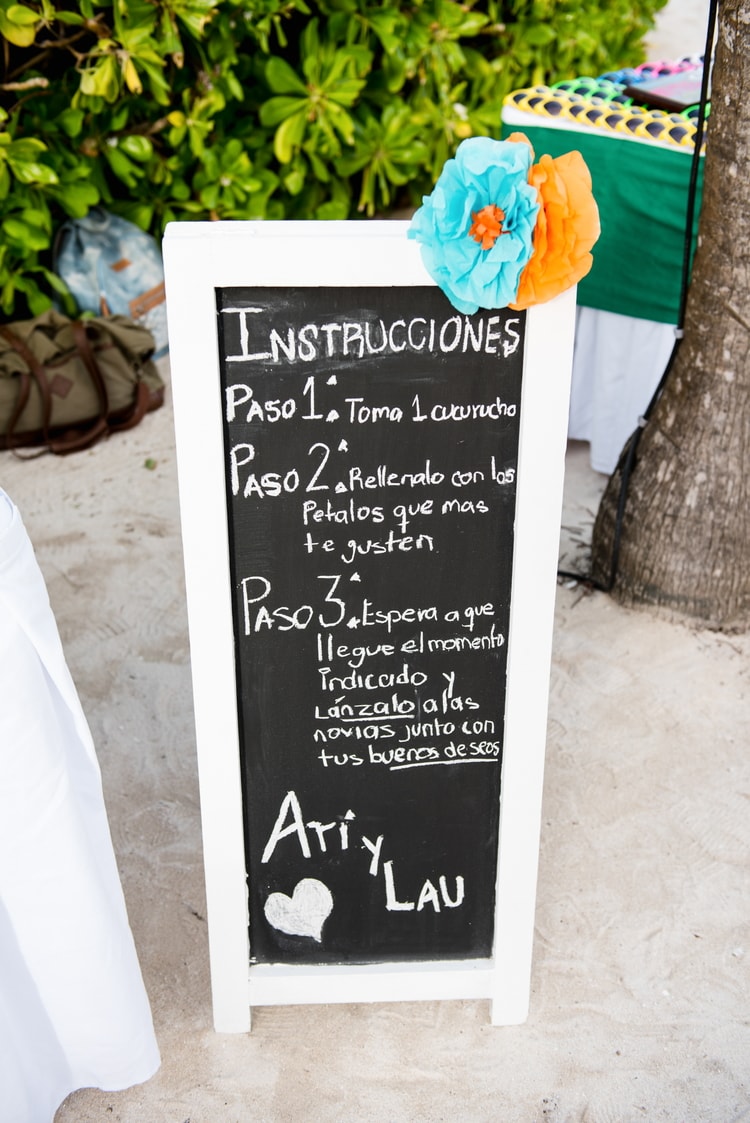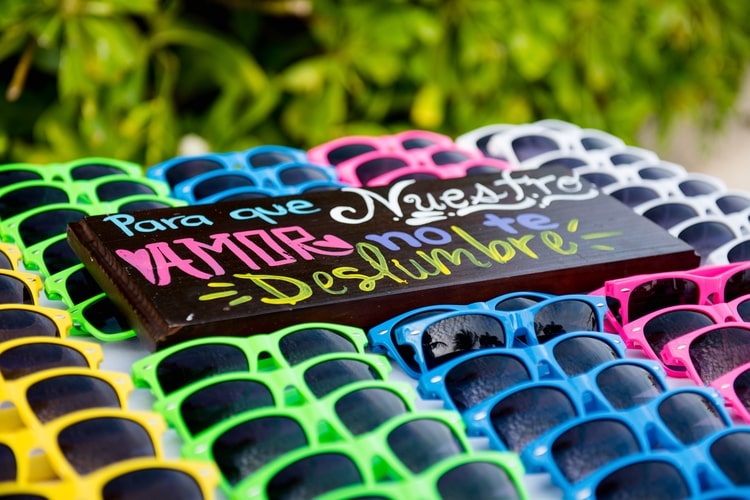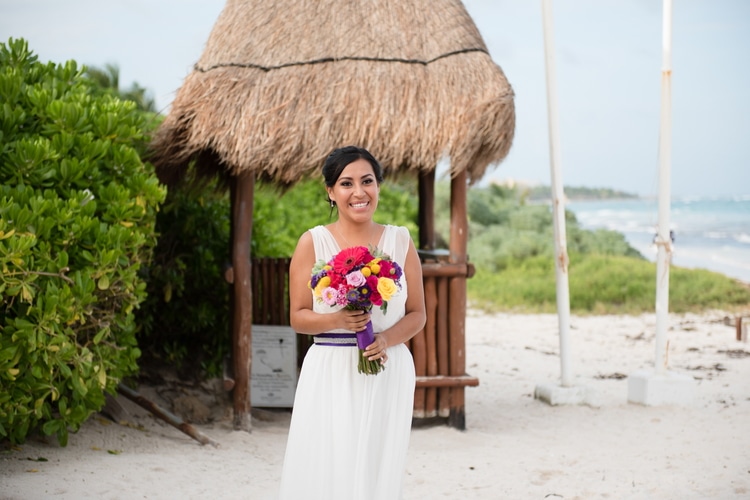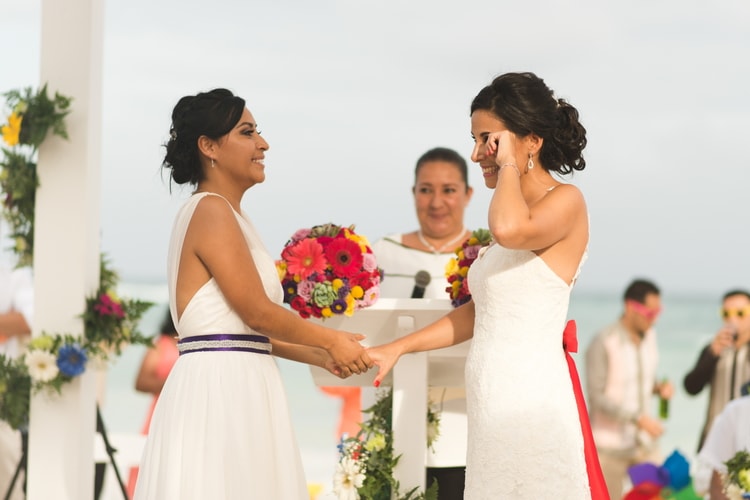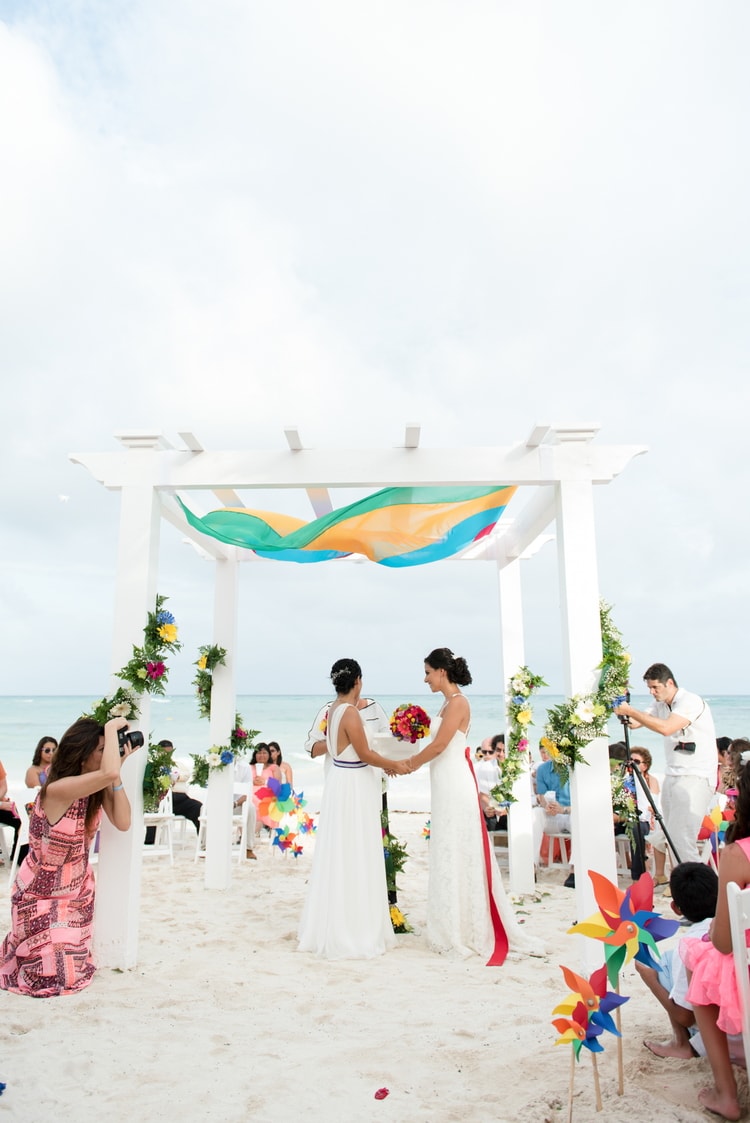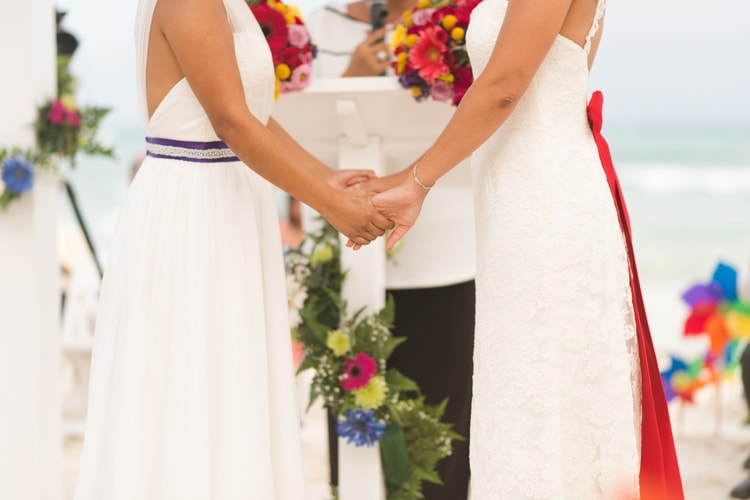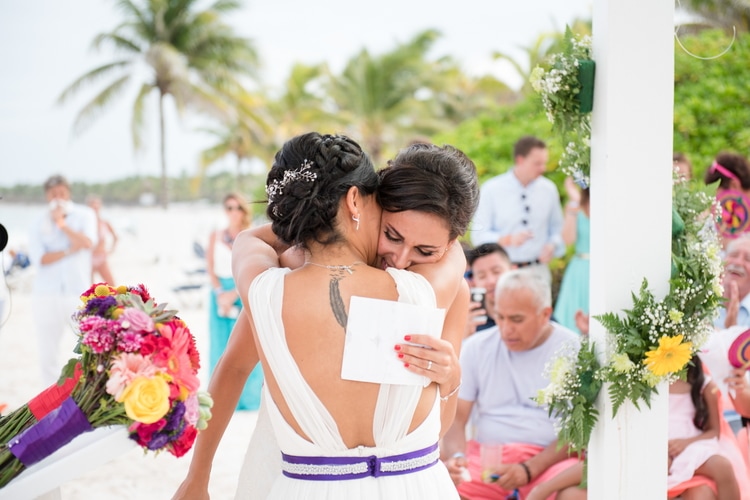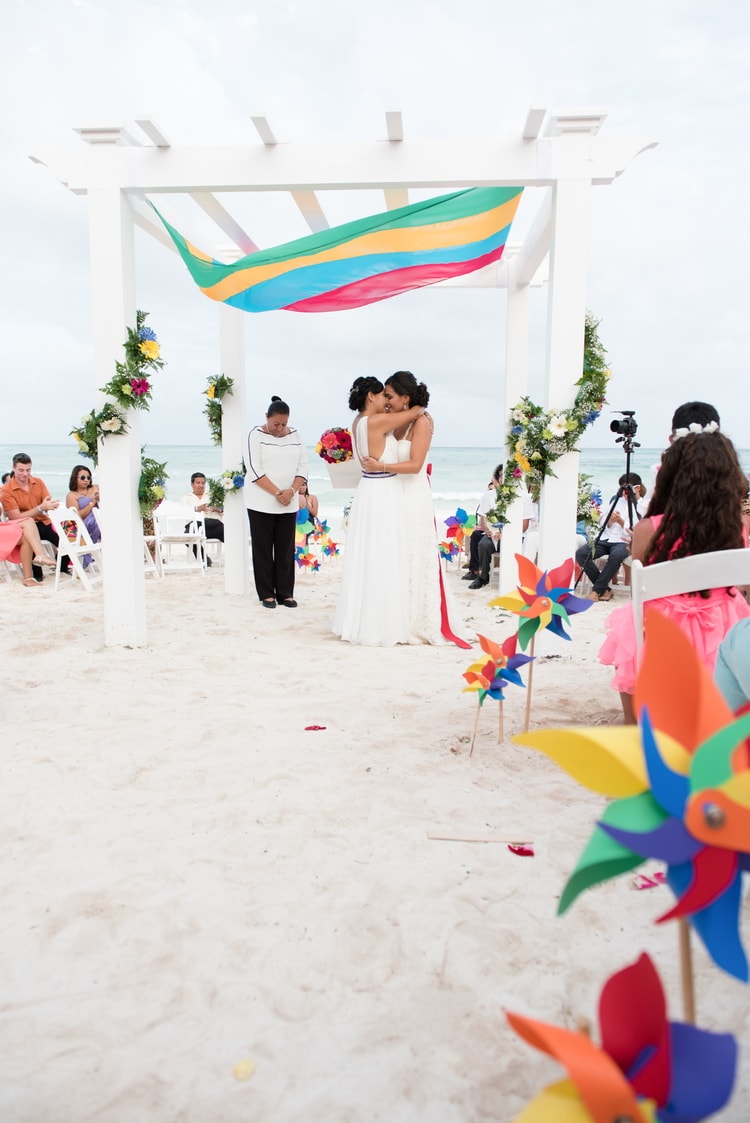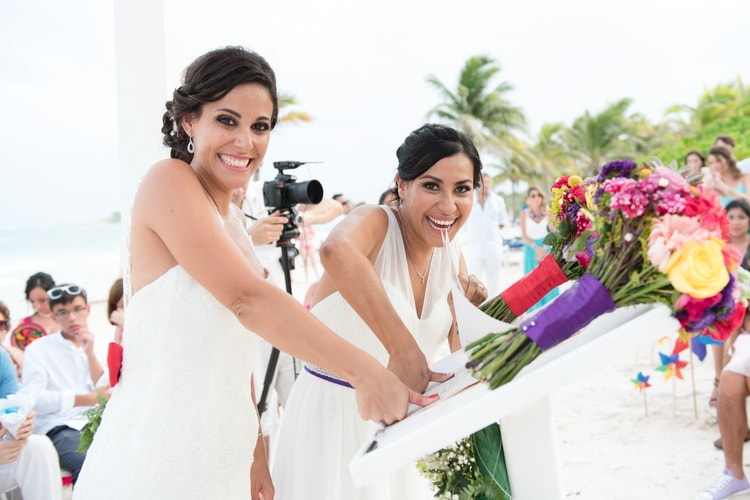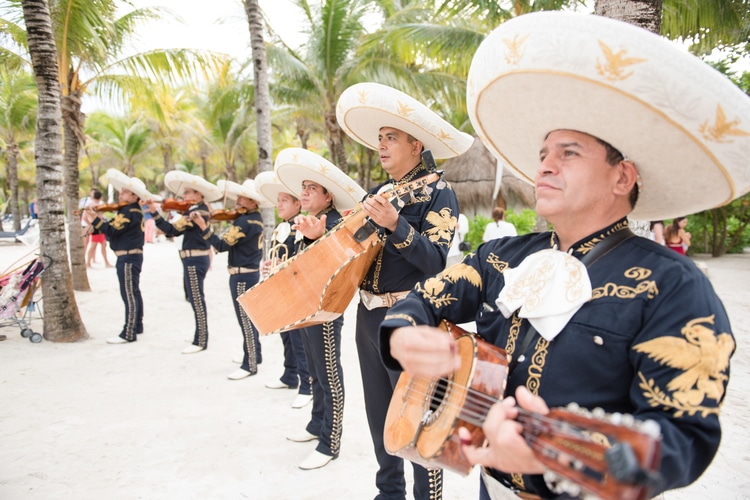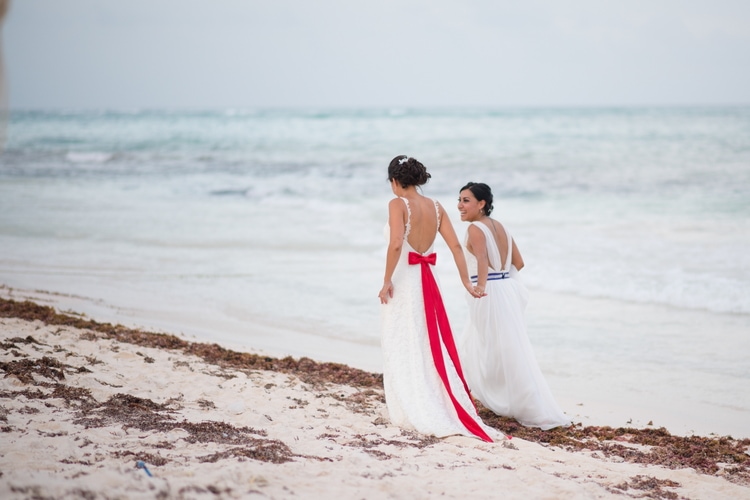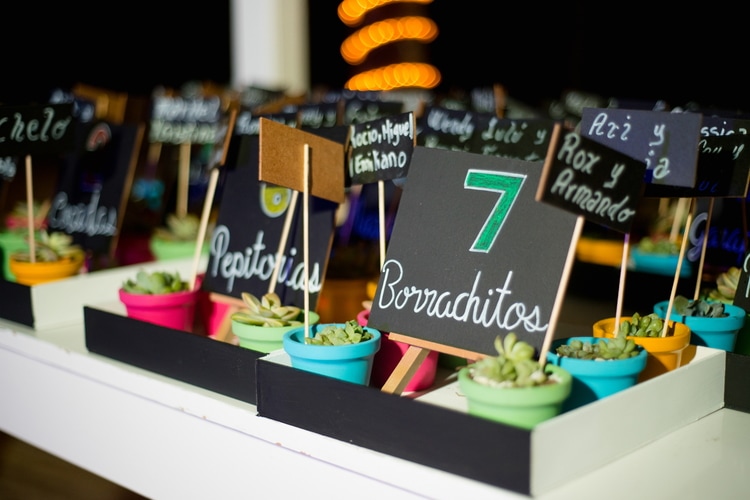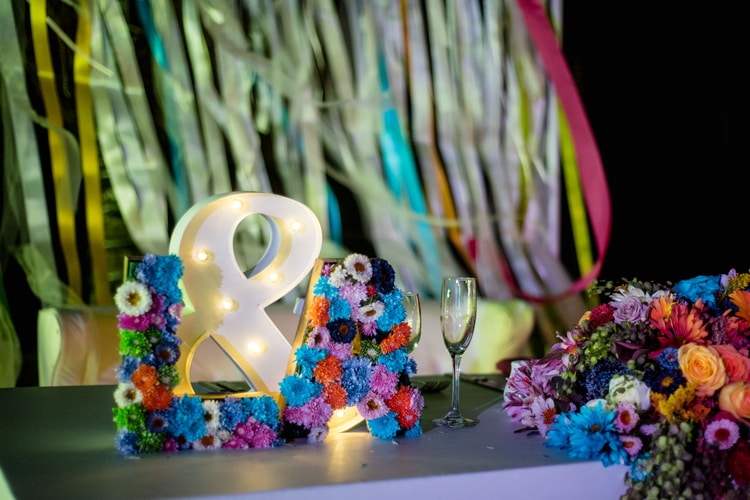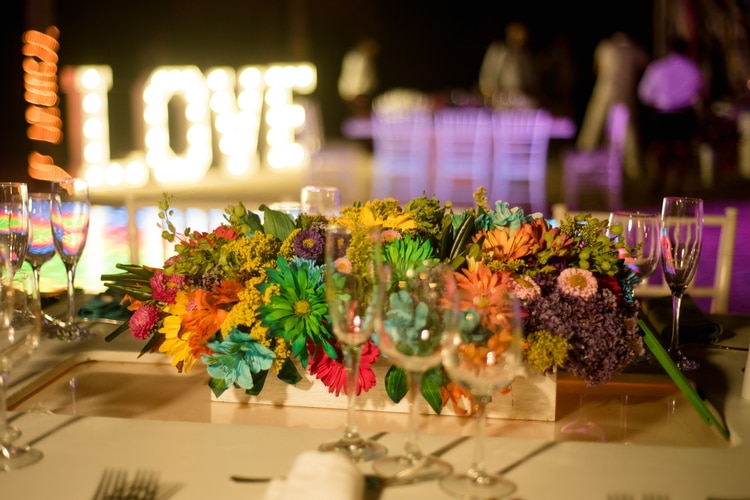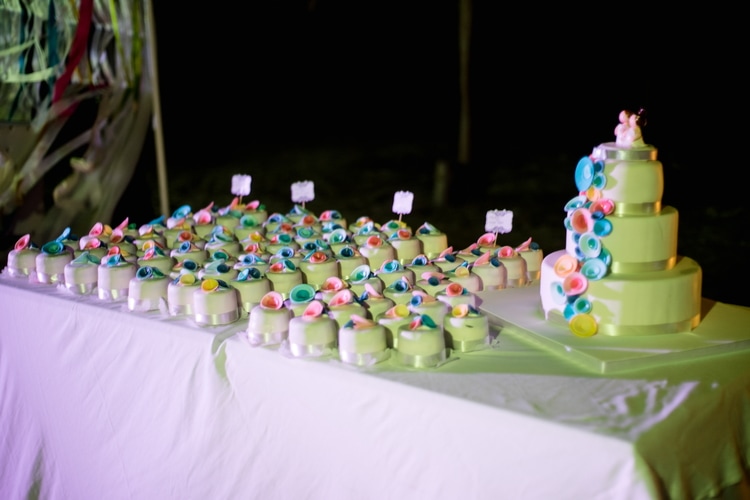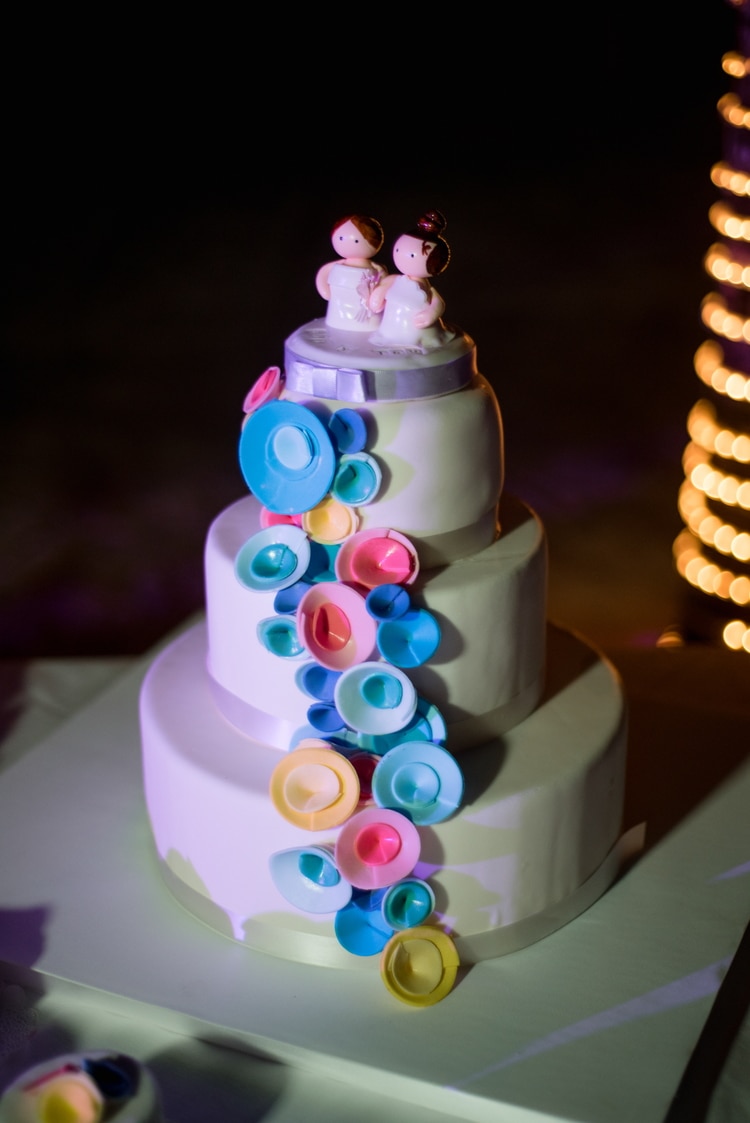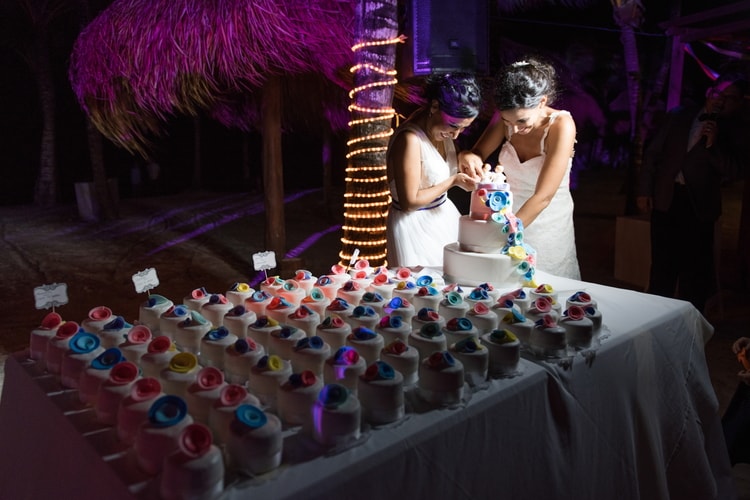 Q&A with the Bride
Tell us about your rainbow wedding! What was the inspiration behind your day? Did you have a specific theme,
style or color palette? Did you incorporate any cultural or religious traditions in any part of your day?
Our greatest inspiration for planning the wedding was the place where we met and our personalities. We both love the beach, the sea and the soft sand of the Caribbean, so we wanted all these elements to have an important place inside our big day! We are very happy people and we love music, so we decided that the decoration and the theme would be cheerful colors that are full of life (green, yellow, fuchsia and blue). We decided to spend a good portion of our budget on the musicians! So, we looked for a person with whom we identify so that we play live during the ceremony our favorite songs and with a special touch. The mariachi and live band were both essential. The mariachi played as we were leaving the altar to celebrate, and a live band played during the party.
Let's talk wedding decor. How did you decorate your rainbow wedding?
The decoration of the ceremony was inspired by cheerful colors, so we decided to use colored fabrics to cover the white pergola of the altar where the religious ceremony was held, and on the way to the entrance to the altar we put colored "rehiletes" that brought life and uniqueness to the way they received the breeze of the sea with singular joy! All the guests were given colorful sunglasses so that everyone could have that touch of joy. There were also flower petals to be thrown at us when we left the altar. We also delivered fans made palm leaves and artisan colors.
What were the flowers like in your rainbow wedding?
Our bouquets were designed to have a lot of color and we asked them to include some of our favorite flowers that are the "succulents". The bouquets were very similar, but Laura's had more red flowers and Ari's had more purple tones, hhich are our favorite colors! The centerpieces were also made with succulents and flowers in shades of red, purple, yellow and green.
Did you personalize the day in any way ? What were some of
your favorite parts of your rainbow wedding?
We added live music throughout the wedding day, ceremony, cocktail, dinner and party. They also put signs with phrases of love near each area where our guests would be. Our favorite part was the ceremony, since it was the most emotional moment of the day and in which all our guests filled us with their good vibes and love.
Let's talk fashion. How did you choose your wedding day look?
Our dresses were designed to be something simple with some personal touches. We knew it would be very hot, so we chose to use very light fabrics and use minimal decoration. Laura's dress was made by a fashion designer in Spain with the elements that Laura proposed and added a touch of red ribbon on the back of the dress – that's her favorite color. Ari's dress was made in Mexico by a designer. Although it took some time to communicate the style that she wanted, the final result was very good. Of course she also added a touch of purple ribbon (her favorite color) around the waist.
How did you meet? Tell us about the proposal.
We met in a joint project in the hotel where we work at. We went to several parties of friends we had in common. I proposed (Ari) on a trip to the island of Ibiza in Spain during a concert by an artist that we both really like and both of us really wanted to see for a long time. I took advantage of the moment when our favorite song come on to take her (with the help of a friend) to a more private place without her suspecting, and in that place surrounded we were surrounded with fireworks. As soon as I had opportunity I gave her the ring and I did the proposal! And she of course said yes!! 🙂
What was the most anticipated or special moment of your wedding day?
The moment we first saw each other at the ceremony walking towards the altar.
Do you have any wedding planning or marriage advice that you would like to share with other couples
planning their day?
Our main advice is not to stress about things that can go wrong or on the wedding day, and enjoy your family, friends and every moment of that day because it will fly by!
Vendors
Photographer: WeddingDayStory
Event Designer: Eventio
Accommodations: Grand Palladium Resort & Spa
Featured:

Enter to WIN a FREE Destination Wedding Valued at $30,000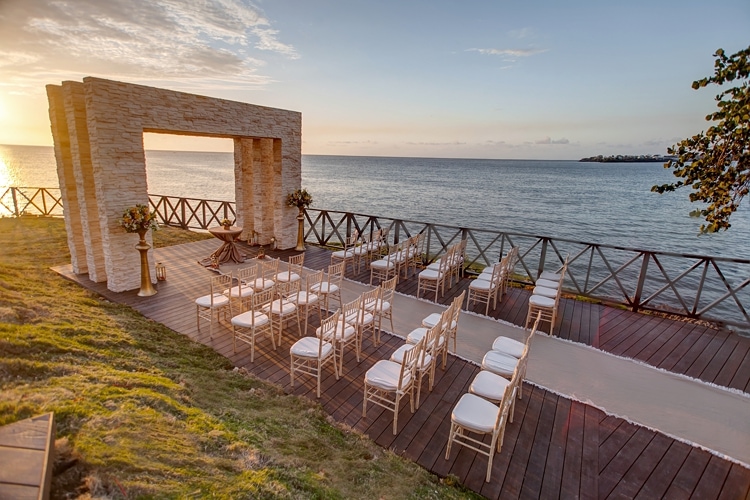 How would you like to win a TRULY FREE destination wedding at a luxury all-inclusive resort? I'm so excited to share all the details of this amazing contest with a prize valued at $30k. It's really easy to enter and if you win, you'll get free roundtrip airfare, 7-night accommodations at a luxury all-inclusive resort, a free ceremony and private reception with a bouquet, DJ, dance floor, cake, centerpieces photography & videography package… the works. As if that wasn't enough, even your wedding guests would get free 5-night all-inclusive resort stay, free excursions, and private airport transfers. This is an amazing giveaway so go ahead and stop what you're doing right now because this is quite literally the opportunity of a lifetime. READ MORE
Featured:

Unique Poolside Bachelorette Party Inspiration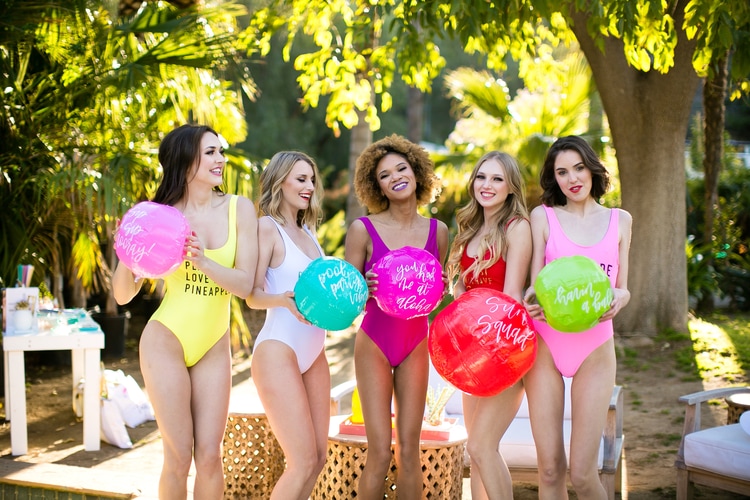 This unique tropical poolside bachelorette party is #GOALS! The décor was tropical, colorful and fun – bringing a cheery vibe that set the tone for a flawless and relaxed day. There were tons of personalized details –from sunscreen and chapstick, to soda and champagne, sun hats and fans, magazines, personalized tumblers, and even a wet bikini bag to hold their suit while they slipped into some adorable "Bride's Beaches" cover-ups. Of course, what's a good party without some fun games? Tons of fun ideas in this post. Read more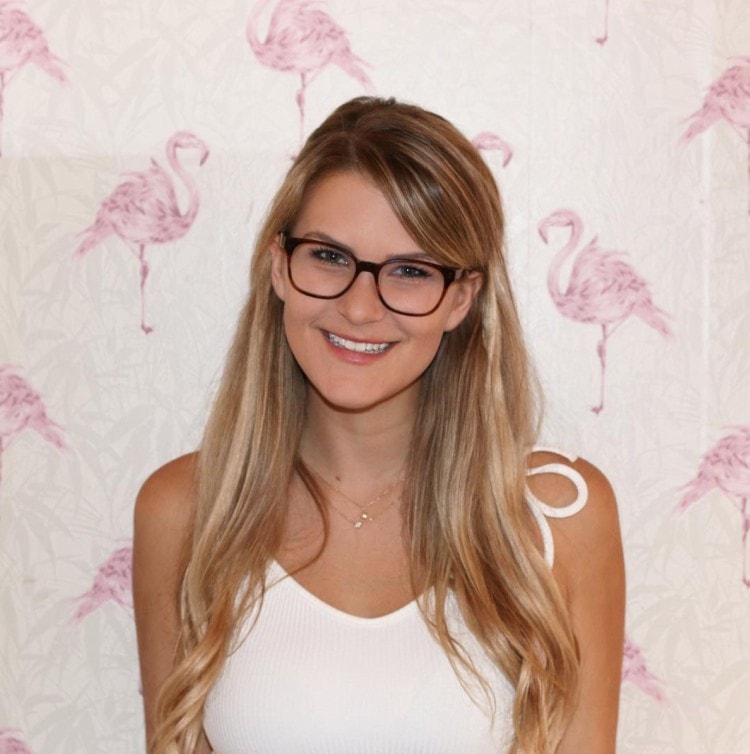 Sol is a travel enthusiast who after graduating with a degree in marketing and taking a sabbatical to travel, realized that she couldn't be tied to one place. She has been traveling ever since. You can find her at a different cafe each day sipping on matcha lattes and getting productive, and at night she's dreaming of a new destination or planning her next getaway. You can be sure she will be planning her own destination wedding one day – and it will be full of inspiration drawn from DestinationWeddingDetails.com!