5 Best Destination Wedding Decorations:
Today we're going to countdown the 5 best Destination Wedding Decorations that have appeared on this blog over the past year.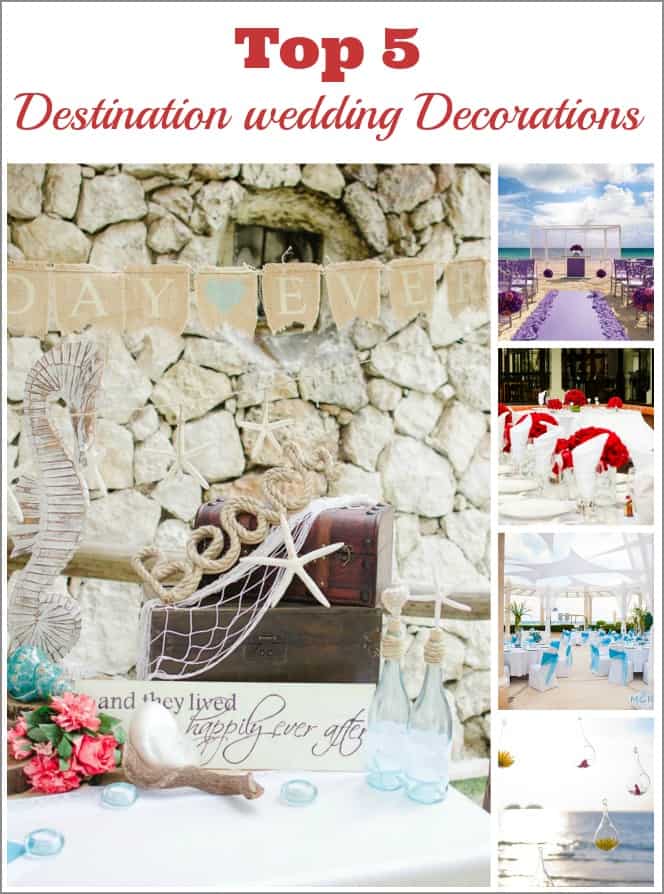 I'm a big fan of end-of-year lists. You know which ones I'm talking about – most memorable moments, most popular songs, etc.. So as I sat here and reflected on the amazing year we just had, I thought it would be fun to share a few Destination Wedding Detail countdowns of our own.
Over the next four days, we're going to look back on the top destination wedding details across six categories:
Each list is made up of my favorite images from this blog and also the images that you (my readers) made popular by pinning /repinning most often on Pinterest and sharing on Facebook or Twitter.
5 Best Destination Wedding Decorations
5. Whether or not you're a fan of purple wedding decorations, you have to admit that this entire decor at the Palace Resorts in Cancun, looks pretty striking against the ocean backdrop.
4. I absolutely love, love, love how these bold black magic roses pop against the simple and crisp white linen covering the tables. It's simple, yet bold and romantic all at once. And it's not really the color scheme you would expect for a wedding on the beach which is all the more reason to love it;)

See more photos from this wedding here: Romantic Destination Wedding in Riviera Maya
3. I was blown away when I saw this decor at a Costa Rica Destination Wedding. It is unlike anything I've seen before and because I love anything that's unique and out of the box, it landed in the #3 spot of our top 5 best destination wedding decorations.
2. Up next is the decor from the destination wedding of yours truly:) I might be a little biased but I still love all the details that went into decorating this space. From the flowing fabric adorning the columns of the ocean front gazebo, to the turquoise chair sashes tied to the side – it was simply breathtaking.
See More Photos from this wedding here: Real Cancun Wedding
1. It's not a surprise that this next image went viral on Pinterest with thousands of pins/repins/likes. But this is just one of many equally stunning images from this destination wedding in Dominican Republic. This wedding was full of unique and classy beach themed wedding decorations that will blow you away.
More images from this wedding can be found here: Beach Themed Wedding in Dominican Republic
More from this Category:
Featured:

17 Welcome Bags & Favors Your Guests Will LOVE (and ones they won't)!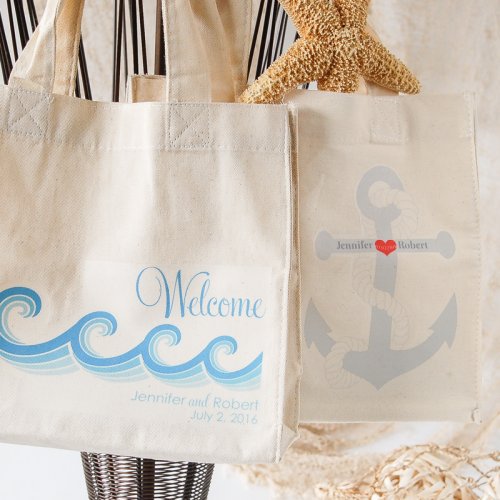 Welcome bags and favors are a great way to show your love and appreciation to your family/friends who are attending your destination wedding. To get some ideas of the best favors and welcome bags, we polled hundreds of destination brides who already got married. They shared their thoughts on the type of welcome bag items and favors their guests loved, as well as the misses.
Featured:

Destination Wedding Invitations in a Bottle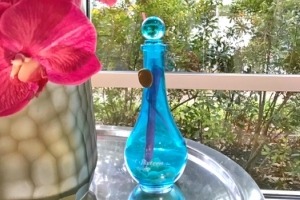 How do you tell your guests they're about to embark on the most magical trip of their lives? With the most unique beach wedding invitations, of course! We got these stunning "Invitations in a Bottle" sent to us in the mail and were blown away! This is probably the most fun way to set the tone and make an impression when you announce your destination wedding.