Best Destination Wedding Centerpieces:
Over the past few days, I've been counting down my favorite destination wedding details of the year. In this post, I'll share this blog's 5 best destination wedding centerpieces of the year.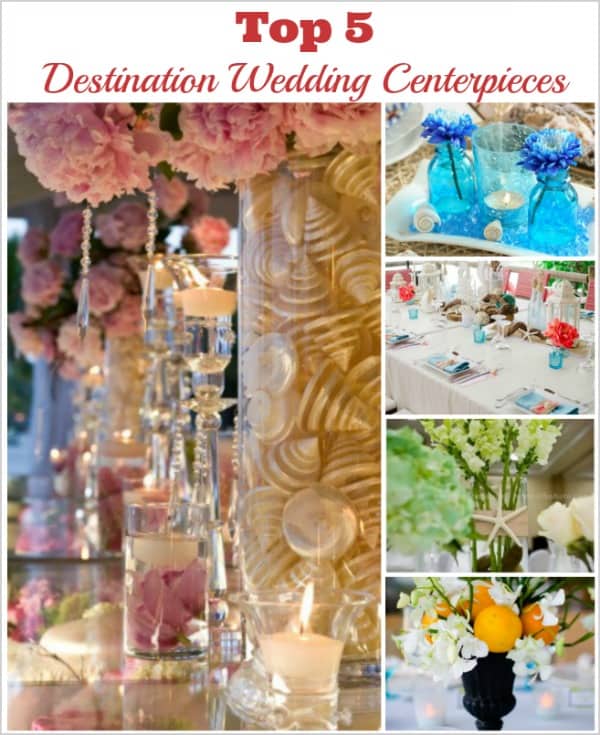 Not only are these my favorite arrangements of the year, they're also the images that you (my readers) have made popular on Pinterest and Facebook.
5 Best Destination Wedding Centerpieces
5. There are so many reasons why this gorgeous centerpiece made my list. For starters, I'm absolutely fascinated by fruit wedding centerpieces. I think that it's such a practical, cost effective and unique way to dress up your tables. Fruits are also tropical & bright which is just perfect for a destination wedding. But aside from the fruit, what makes this wedding centerpiece stand out from the crowd is the addition of orchids and candles. The cast iron vase was a nice elegant touch to bring it all together.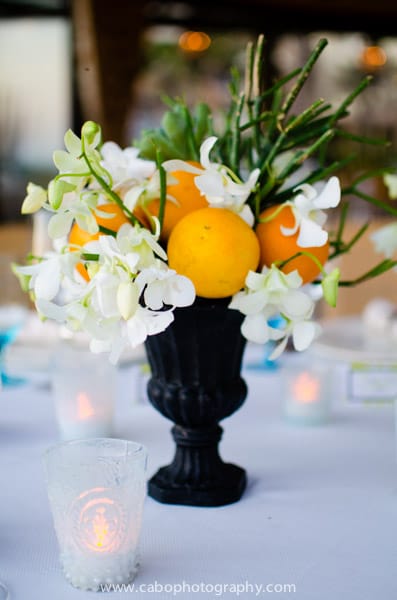 Photo By: Cabo Photography
See more photos from this wedding here: Real Destination Wedding in Cabo San Lucas
4. If you're having a beach wedding, but you're more into traditional decorations, here's a centerpiece that will let you have the best of both worlds. This is a simple and classy arrangement of white flowers with just a single starfish glued to the front of the vase to bring in the beach theme.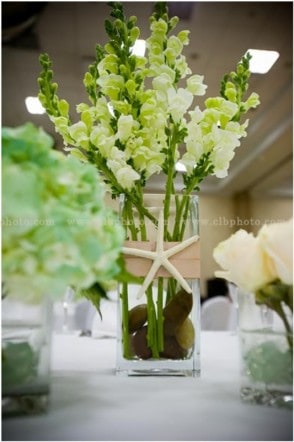 Photo By: Rose, Petals & Lace
3. The image below came from one of my favorite posts in the Real Destination Wedding section of this blog. Judging by how many pins/repins it got on Pinterest, it was also one of the reader's choice for best destination wedding centerpieces. The table arrangement featured some really pretty details including seahorses, turquoise candle holders and vases holding a single pink flower, cylinder vases filled with starfish, and even a message in a bottle!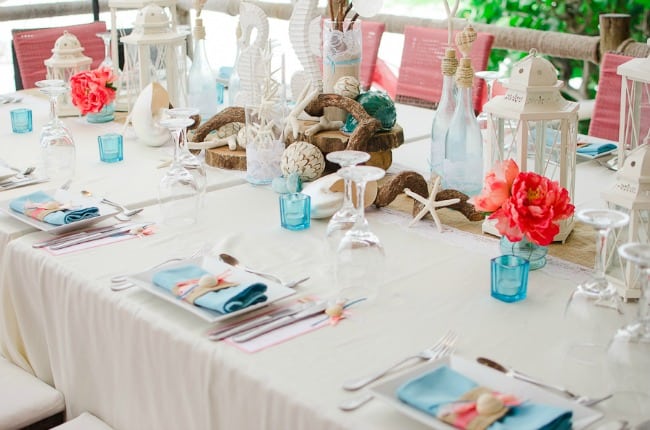 Photo By: Wendy Alana Photography
See More of this wedding here: Real Beach Themed Wedding
2. I love turquoise, candles, and simplicity – which is why I was blown away when I first saw this next centerpiece. It's such an easy and inexpensive way to dress up your tables. What makes it stand out is the detail – the cracked vase holding the votive candle, the single stem blue flowers, the seashells, and the blue jewels at the base of it all. This was a runaway hit on social networks and I got a ton of comments from the readers when I first posted it.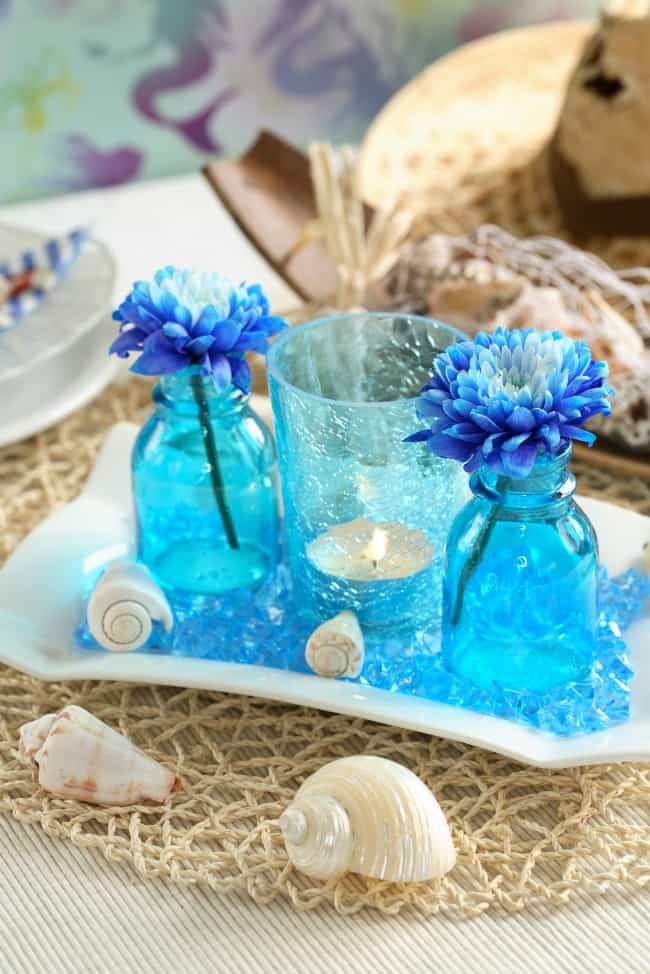 See More Beach Themed Wedding Centerpieces
1. This was hands down one of my absolute favorite centerpieces of all time. When I first saw it, I got lost in all the intricate details – the pretty pink peonies in tall cylinder vases filled with pearl color seashells, the hanging crystals, the orchids submerged in small cylinder vases and topped with a floating candle and the votive candles surrounding it all and adding a touch of romance. I was fascinated when I first saw it and I still am. I chose it as #1 in the list of best destination wedding centerpieces because I think it's perfect for a destination wedding, especially if you're going for romance and drama with some beach themed details.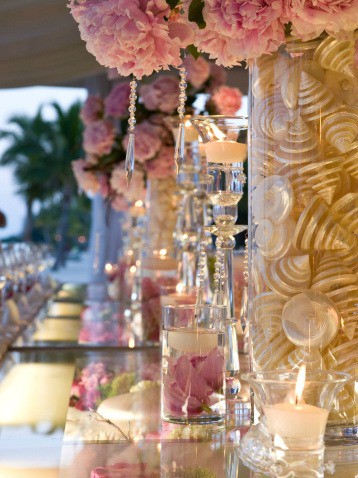 Photo Credit: Michael Steighner/MDSimages.com/Getty Images
Hope you were inspired by our list of Best Destination Wedding Centerpieces. We look forward to even more awesome inspiration in the coming year!
More:
Featured:

Unique Poolside Bachelorette Party Inspiration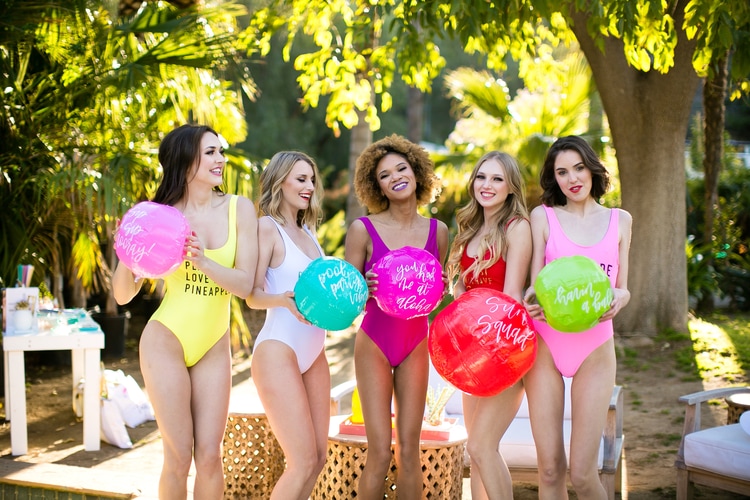 This unique tropical poolside bachelorette party is #GOALS! The décor was tropical, colorful and fun – bringing a cheery vibe that set the tone for a flawless and relaxed day. There were tons of personalized details –from sunscreen and chapstick, to soda and champagne, sun hats and fans, magazines, personalized tumblers, and even a wet bikini bag to hold their suit while they slipped into some adorable "Bride's Beaches" cover-ups. Of course, what's a good party without some fun games? Tons of fun ideas in this post. Read more
Featured:

New Orleans Destination Weddings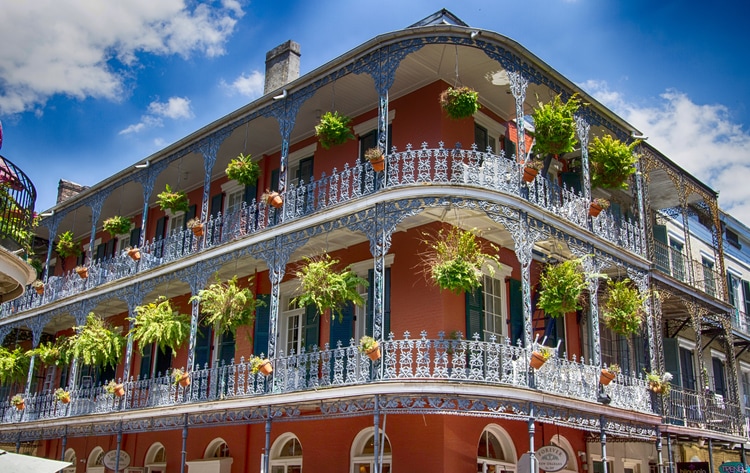 Here at Destination Wedding Details, we've seen it all: weddings at the beach, in the mountains, in the desert, and in pretty much every country. ALL beautiful, mind you… but through our years of observing what exactly makes for a GREAT wedding, we've surmised this: it must be FUN for you and your guests. So, ask yourself this: what city is more fun than New Orleans? Read our full post to discover when, where and how to get married in NOLA.
Cynthia is the founder and editor of Destination Wedding Details.She has over 15 years experience in the Marketing and Event industry and launched Destination Wedding Details in 2010, shortly after planning her own destination wedding. Cynthia uses her experience and genuine passion, to inspire brides who are planning their dream wedding away from home.