Destiny and Cole were married in a supremely gorgeous beachfront destination wedding at the Barcelo Maya Caribe Resort in Riviera Maya, Mexico. Their intimate ceremony honored the beauty of their chosen destination by keeping the décor simple and elegant. With the natural beauty of the sand, surf and lush palm trees… you don't need much! Their chuppah was however beautifully arranged with flowing drapery and local flowers that matched the beachy white and aqua color scheme seen throughout the décor and attire. Speaking of attire, my absolute favorite detail was in the footwear… or lack thereof. I am obsessed with the ladies' barefoot sandals… such a cool concept, and great way to keep the attire dressy, while still respecting the fact that wearing shoes in the sand is a ridiculous idea. Because hey, if you're gonna go barefoot in the sand… you can still look fly!
The photographer, Britani Edwards, captured these two love birds on their special day wonderfully. I'm especially loving the photo of the couple on top of the huge rainbow "RIVIERA MAYA" sign – it's like it was built for wedding pics! Destiny looked absolutely angelic in her lace gown, and Cole looked handsome and relaxed. Another really cool idea (that I'll be stealing) is that for the reception, Destiny and Cole asked each of their guests to submit a song request that would play throughout the night – so you really could jump out on that dancefloor and scream, "this is my song!"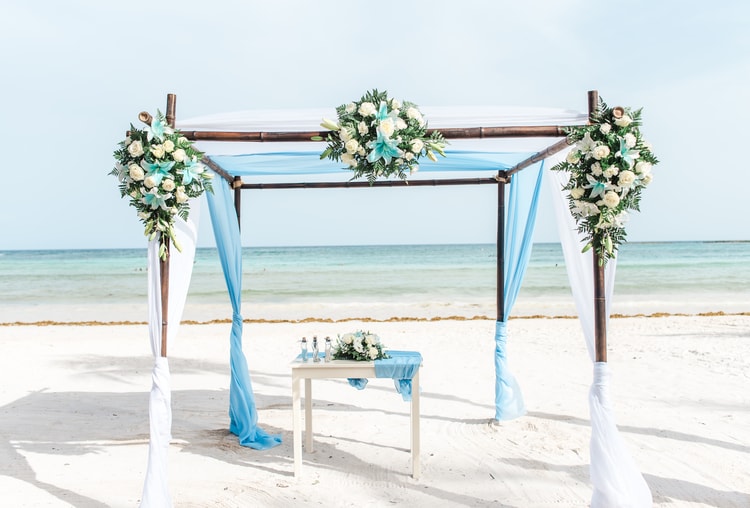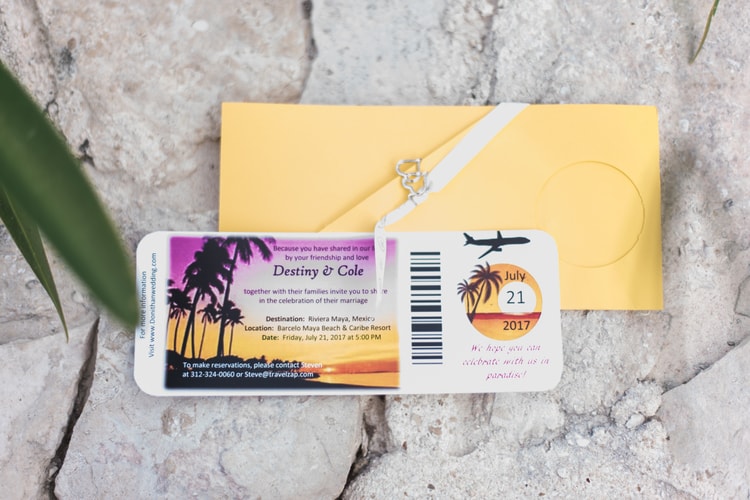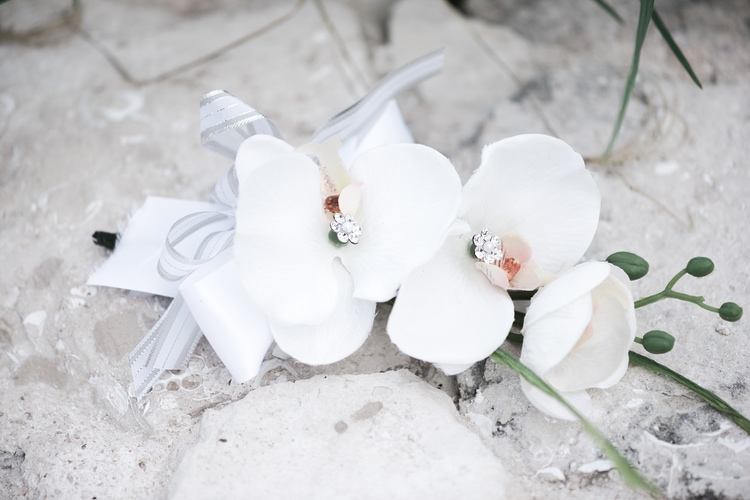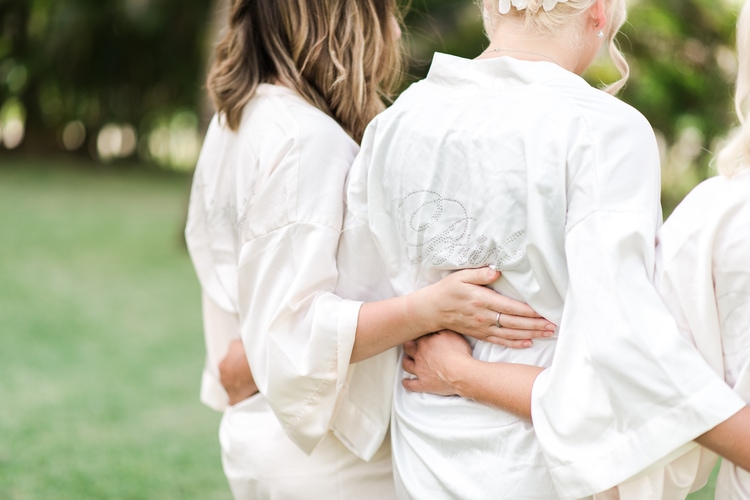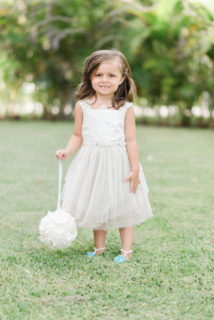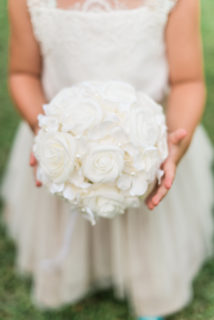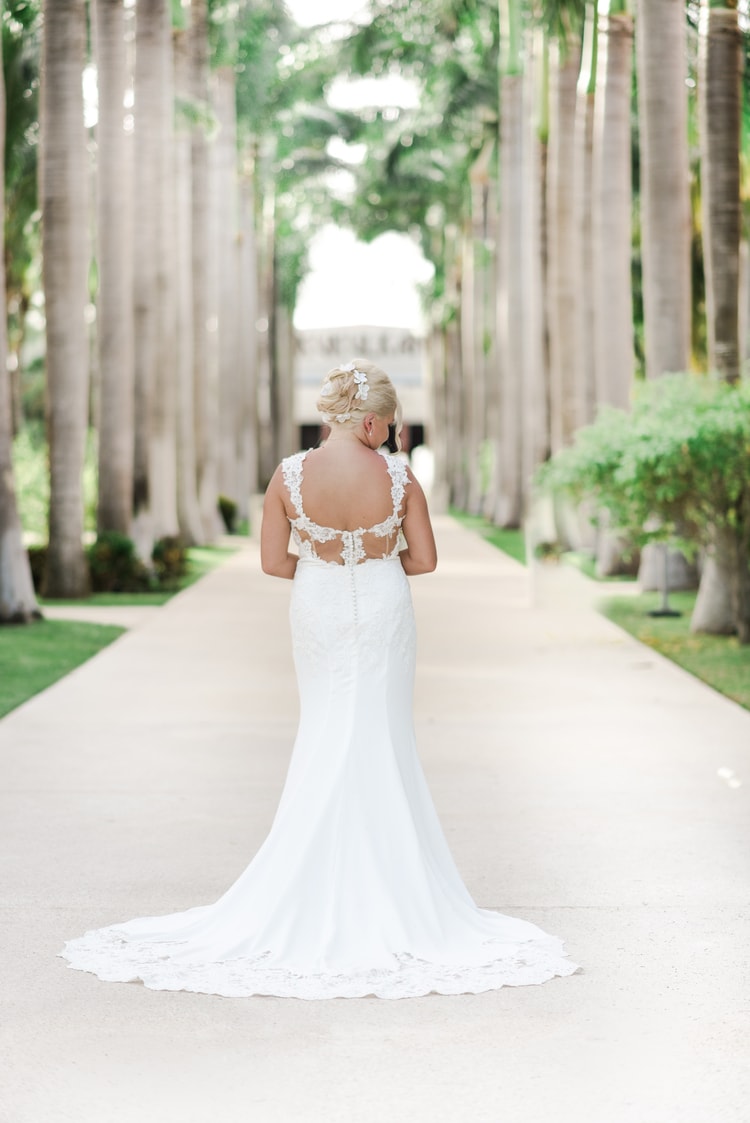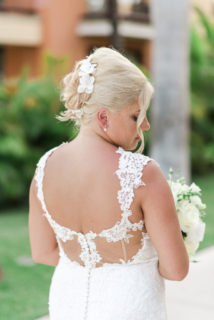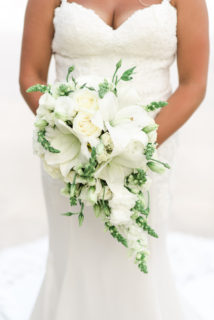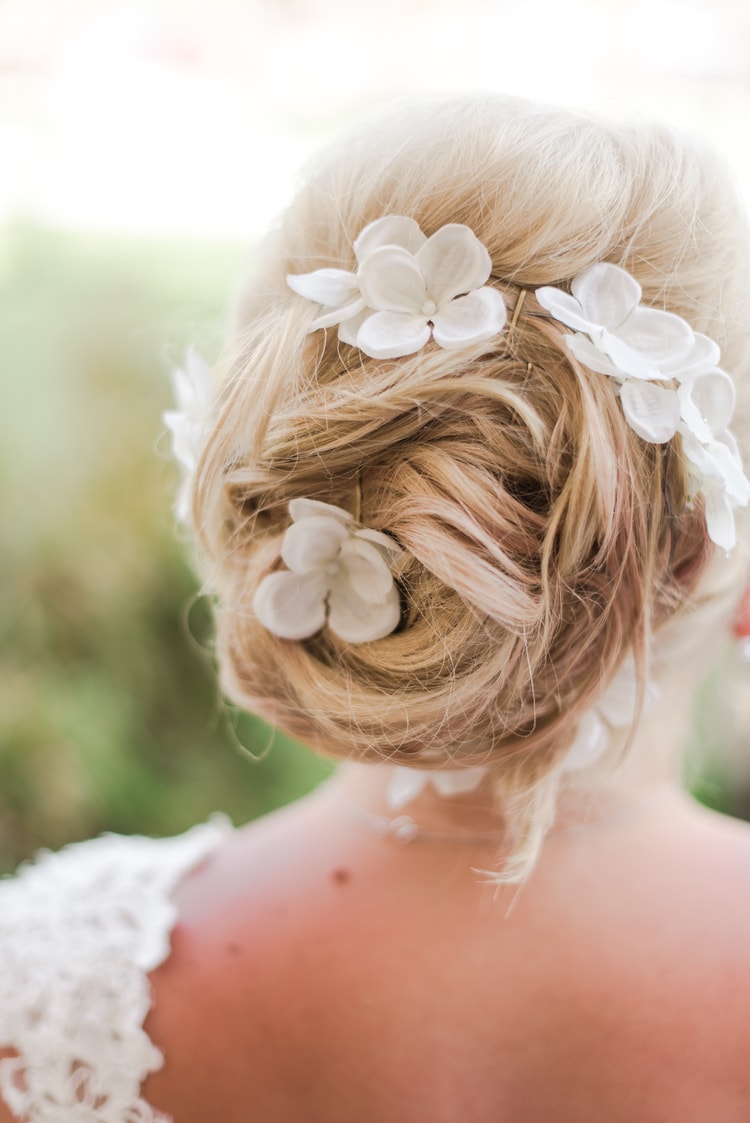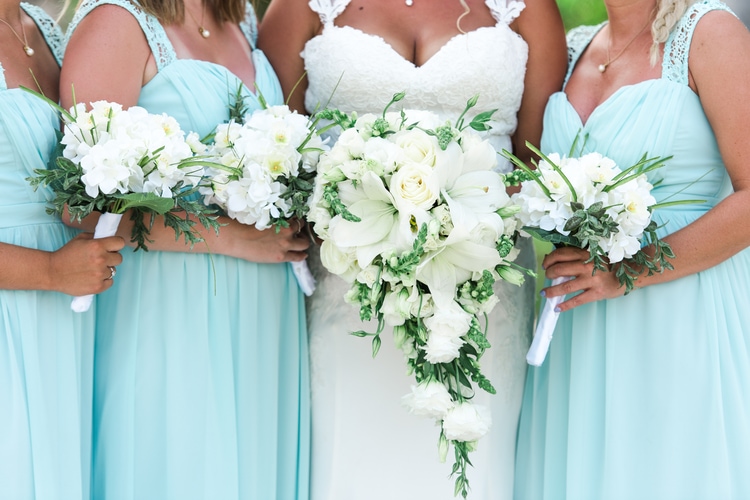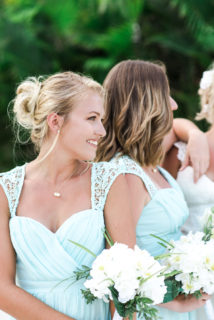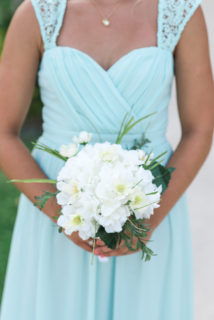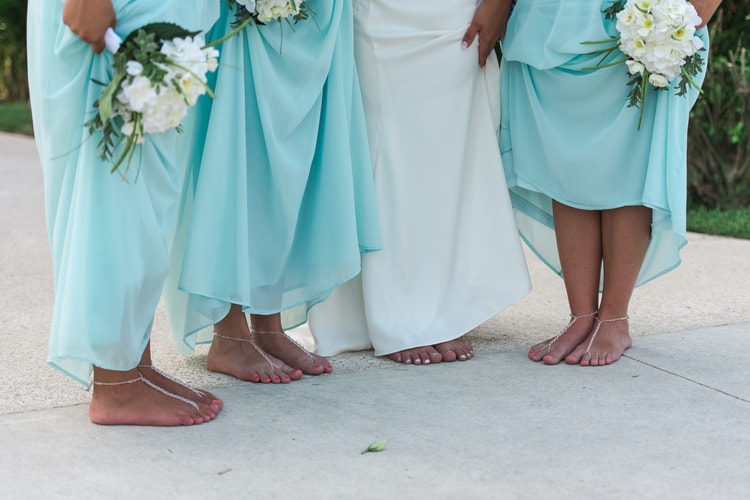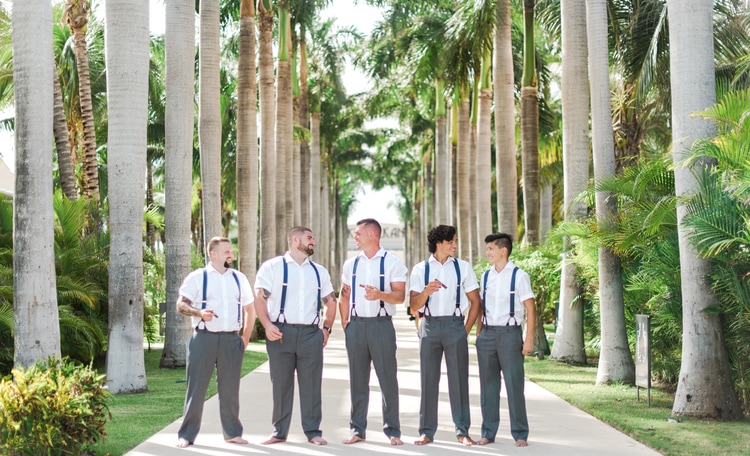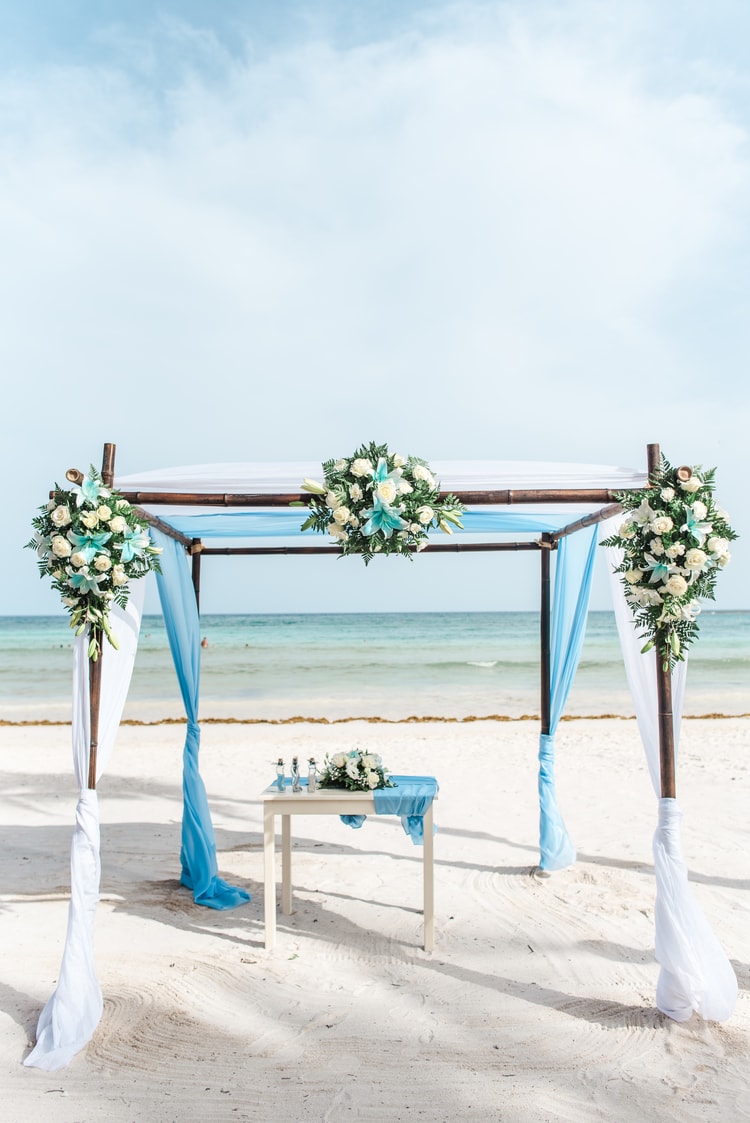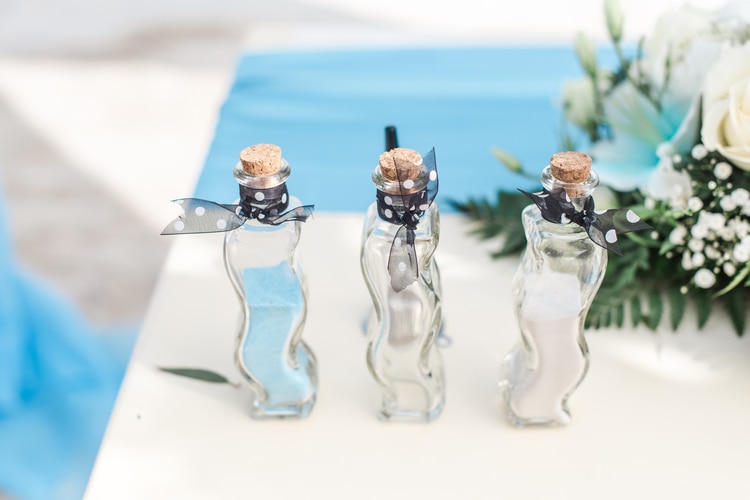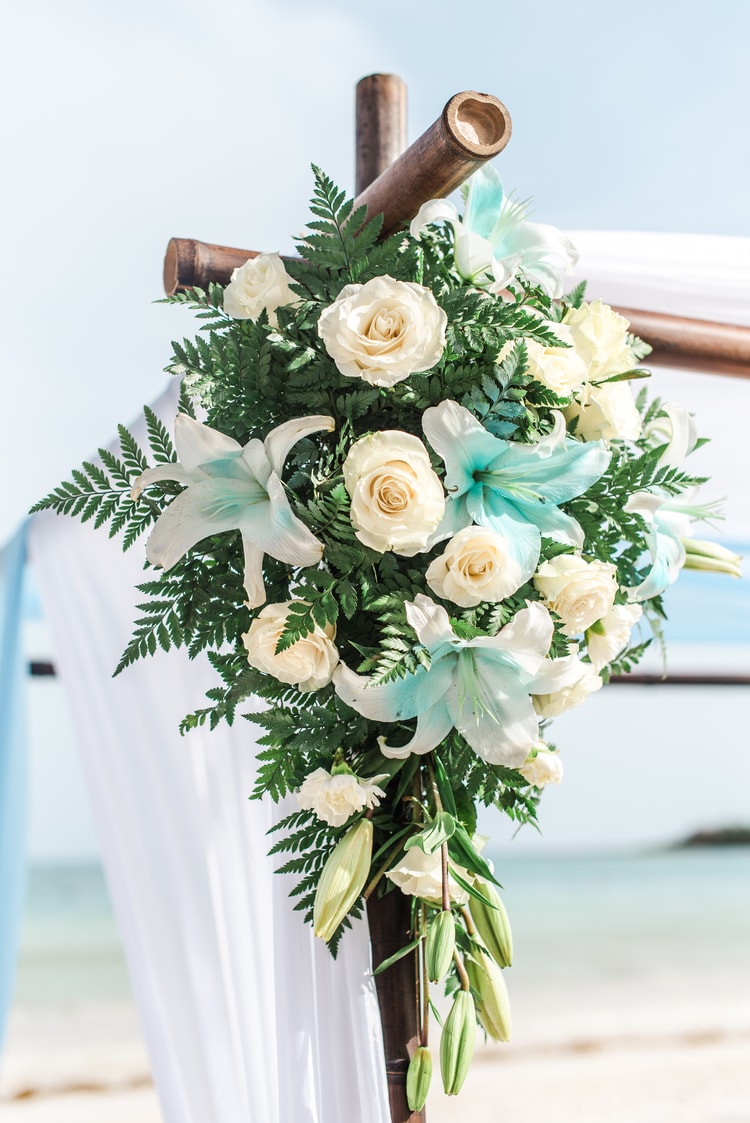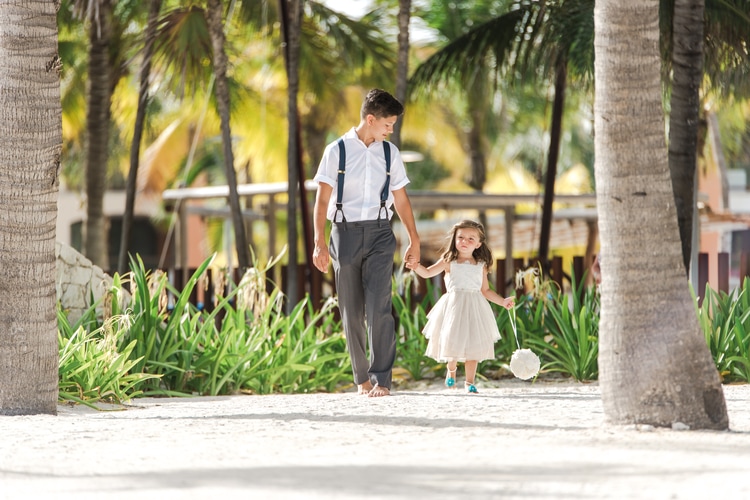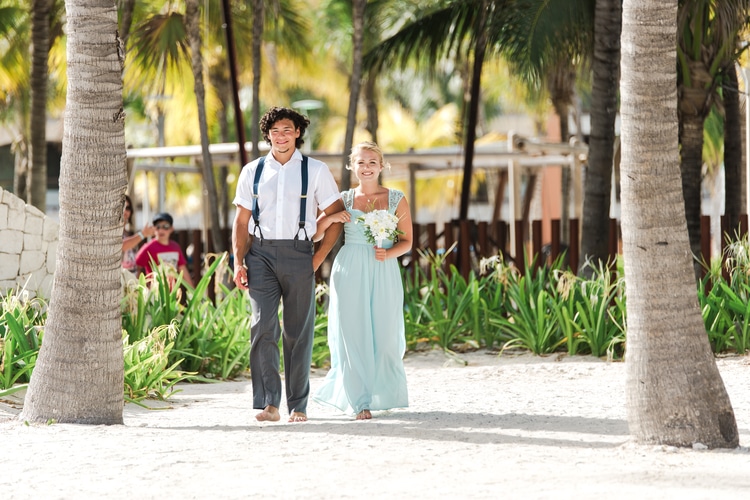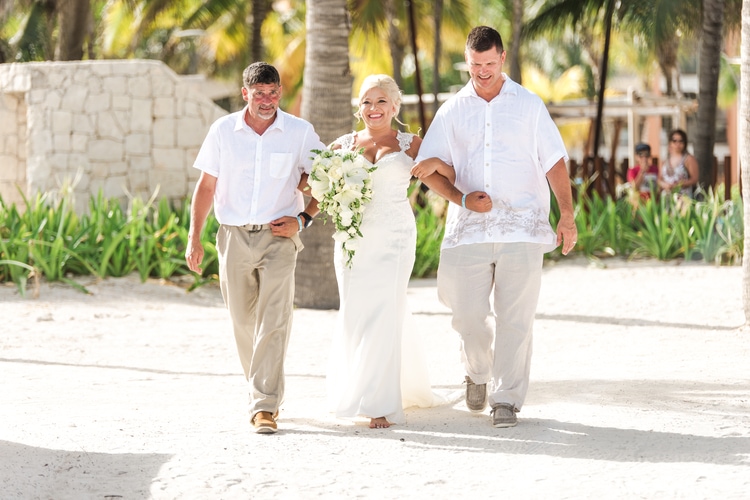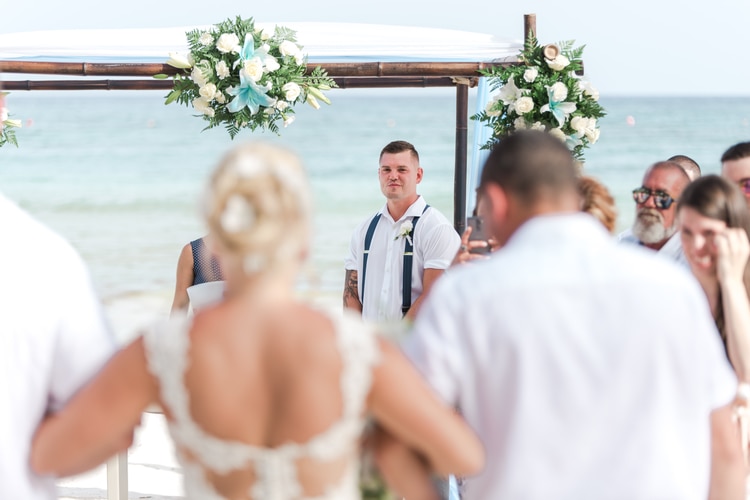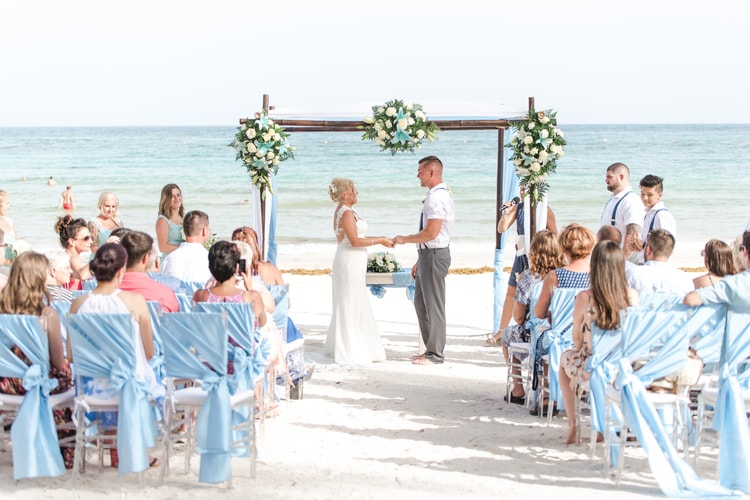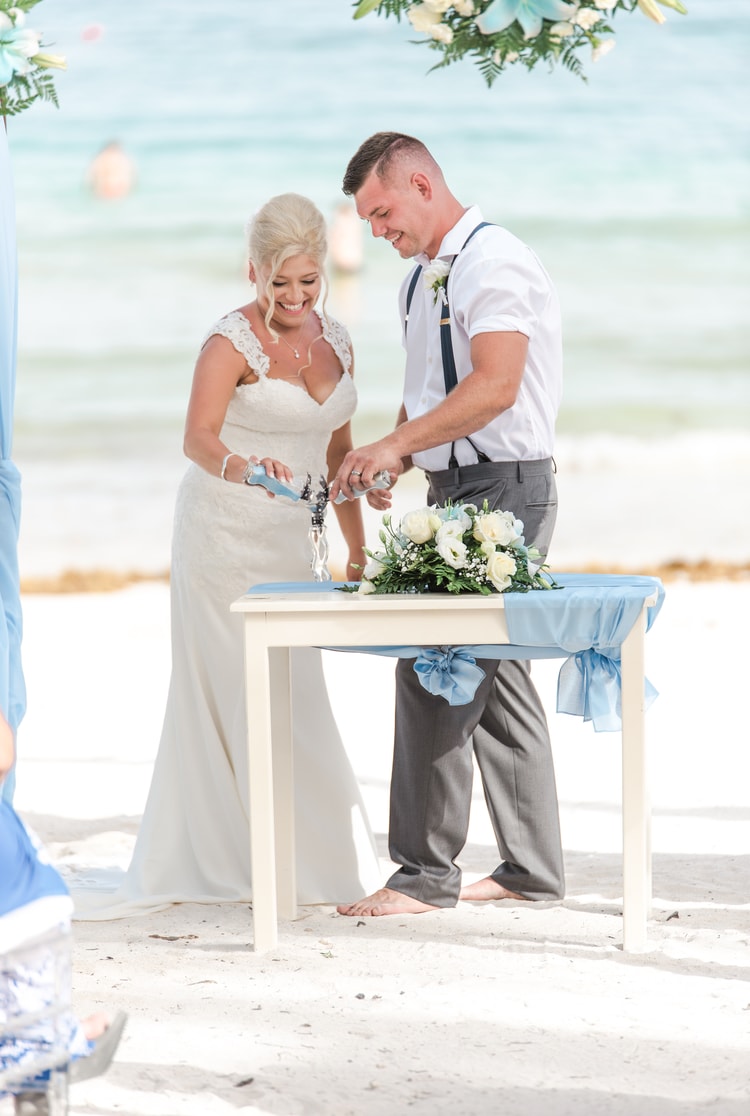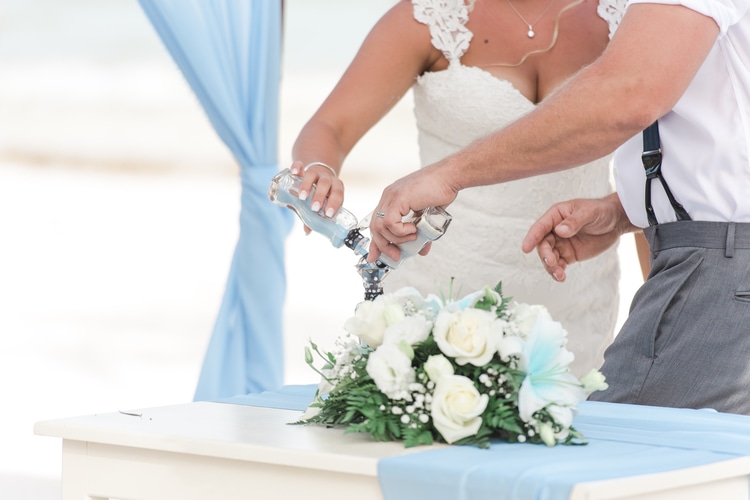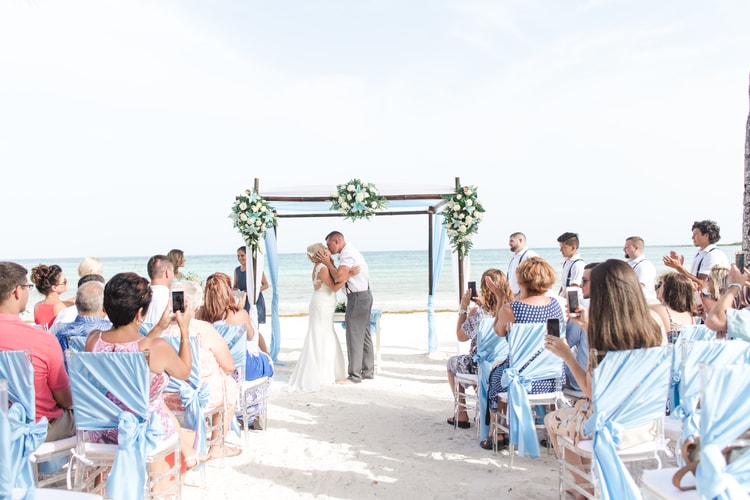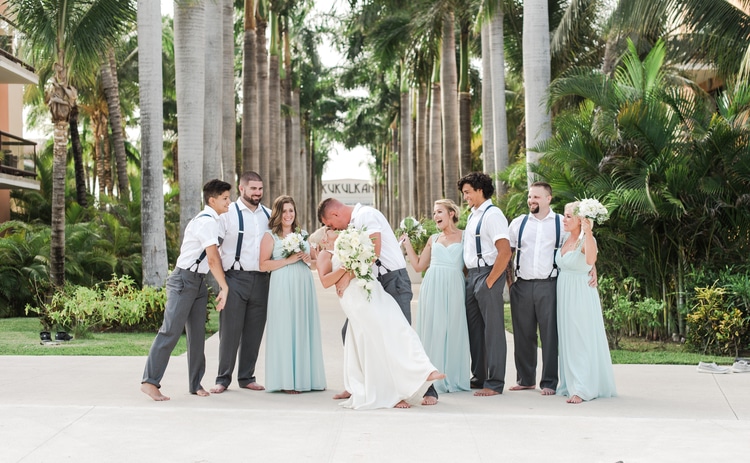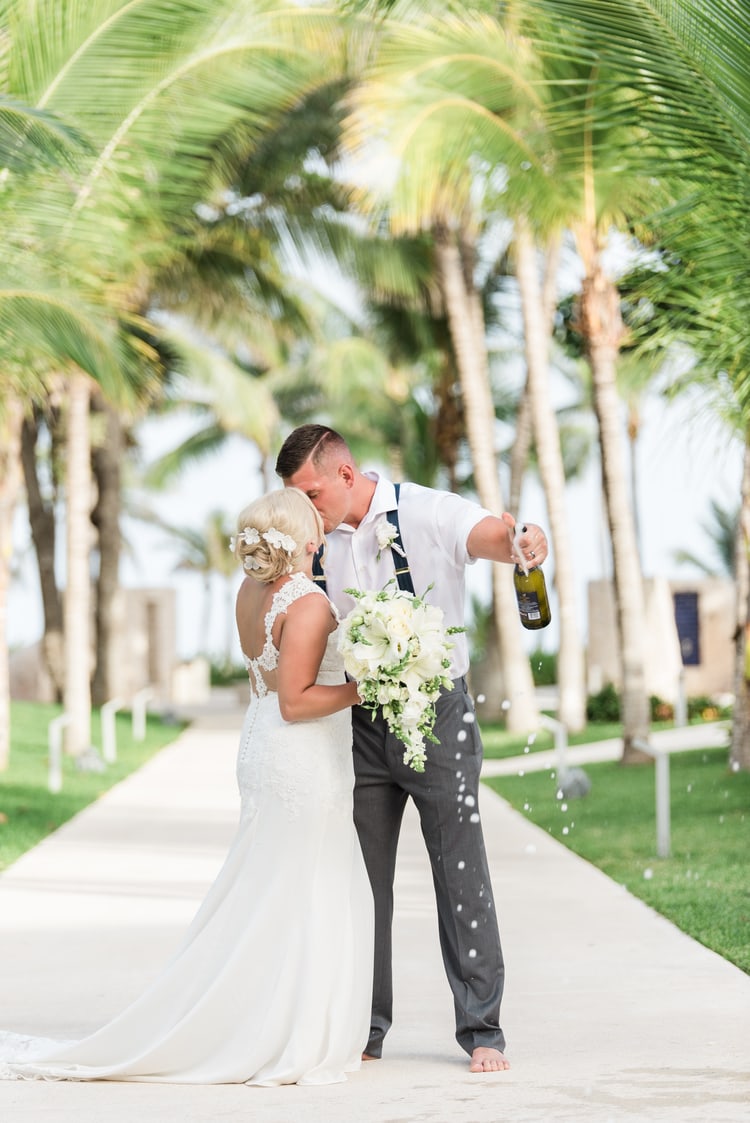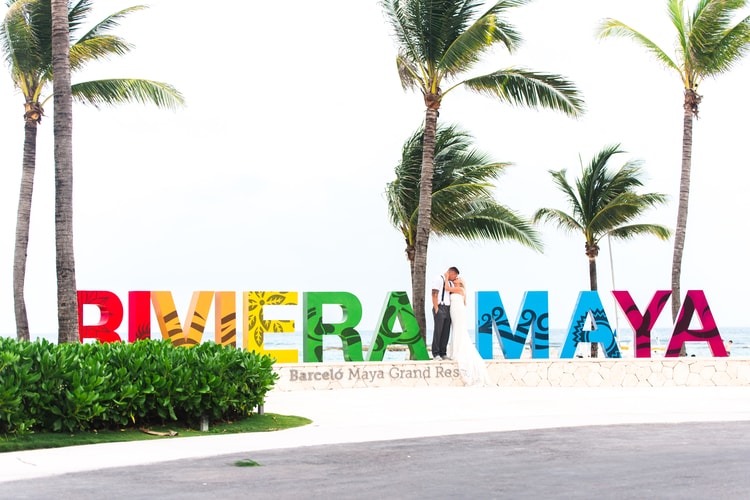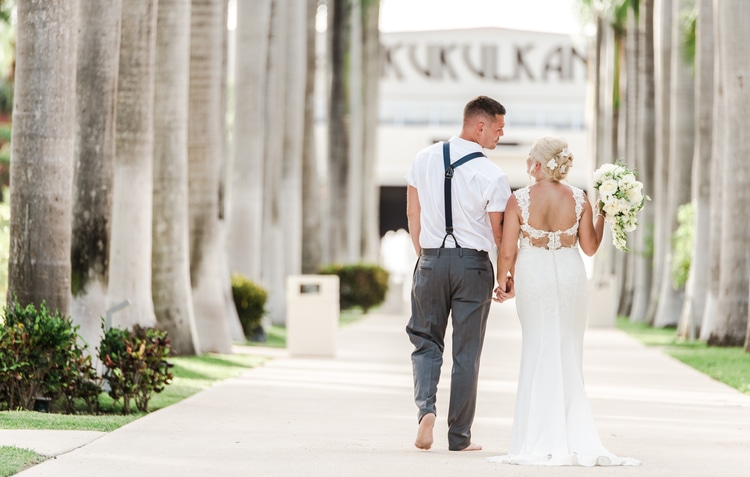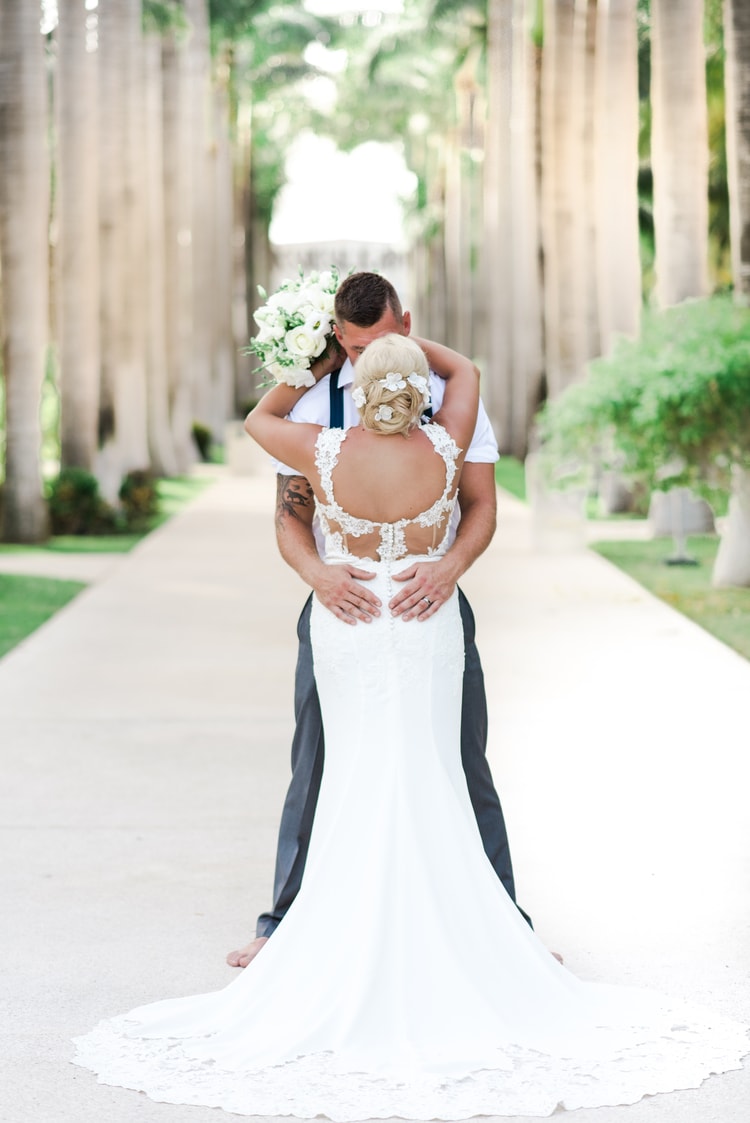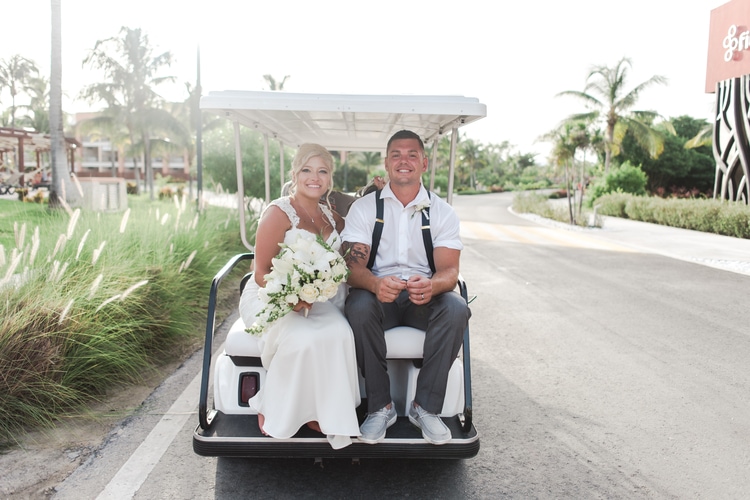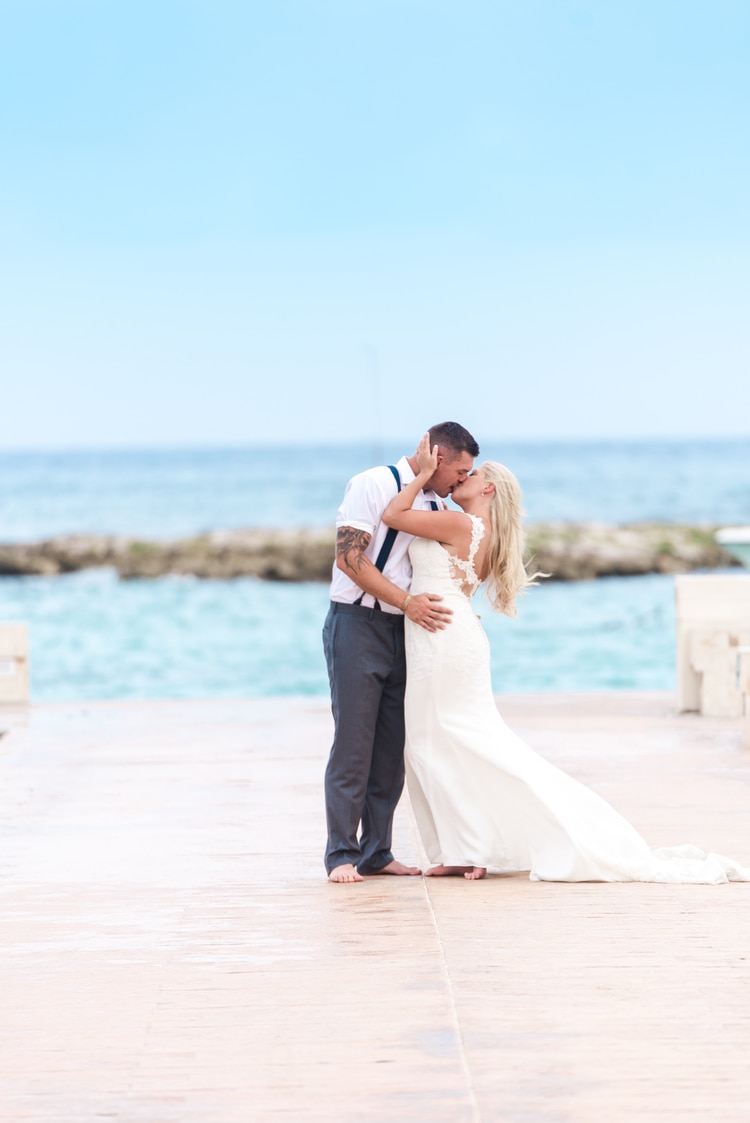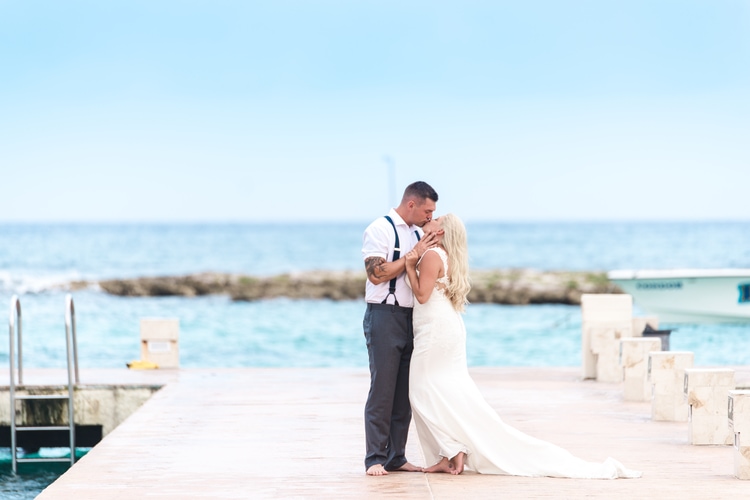 Real Q&A with the Bride
How did you meet? Tell us about the proposal.
We met through friends. For the proposal he had friends hang a sign in our home for when we came back from a trip and tied the ring around our dog's neck. When I walked in the house I saw the sign and then turned around to him down on one knee and our dog sitting next to him. There was no way I could say no to both of those sweet faces!
Tell us about your Barcelo Maya Caribe Destination Wedding! What was the inspiration behind your decor?
The inspiration for our day was our location. It was a destination wedding in Mexico, so we wanted everything to be very beachy. We stuck with shades of blue for the color palette, and local flowers for decor.
Let's talk wedding decor. How did you decorate your space for the ceremony and the
reception?
Most of the decor was taken care of by the resort we stayed at. We did have the selection of color scheme, flowers, and huppa. We tried to keep the decor simple since we didn't want to take away from the natural decor of the location. The beach was our main focus!
What were the florals like for your destination wedding?
The flowers were a huge part of the style for our wedding. We did DIY for the

bridesmaid bouquets so they would be easy to travel with. We tried to stick with simple

neutral colors for the girls flowers. We ended up with white, yellow, and greenery. All the

flowers were local to the area in Mexico. The flowers for the Huppa used on the beach

were also broken down after the ceremony and repurposed at the reception for the head

table. All flowers were white, yellow, blue with different greenery.
Did you personalize the day in any way?
We made welcome bags for all of guests. They included a few items to use the day of the wedding like fans and bubbles. The rest of the items were small snacks and gifts from each of our hometowns. We also personalized our DJ list for the day of the wedding. With a small guest list we were able to ask each guest for a song of their choice. It made the reception a great time with everyone involved and on the dancefloor.
Let's talk fashion. How did you and the groom choose your wedding day looks?
Even though it was a beach wedding we wanted some traditional elements. I noticed a lot of girls going with short sundresses but I still wanted the wow factor of a beautiful full length dress. I tried to find something as light as possible knowing the weather was going to be 90 degrees or warmer. We did the same thing with the groom. We wanted traditional with a beachy flair. We didn't want shorts or linens so we picked a gray pants and opted for suspenders instead of a tight tie or jacket. Both of us went barefoot to add to the beach theme.
What was the most anticipated or special moment of your destination wedding?
The most anticipated moment of our day was when I first saw Cole. It made all the time and planning worth it. We tried to make the day about the two of us and family and with a smaller destination wedding we were definitely able to achieve just that!
Do you have any wedding planning or marriage advice that you'd like to share with
other couples planning their day?
Don't stress! I know weddings can be stressful and we all want to make sure that the day will be perfect. I tried to constantly remind myself that this day was just about us! Enjoy every moment. We planned for a year and the day went by so quickly! However, since we had the destination wedding we were able to get a few extra days with loved ones!
Vendors
Photographer: Britani Edwards Photography
Venue: Barcelo Maya Grand Resort
Featured:

New Orleans Destination Weddings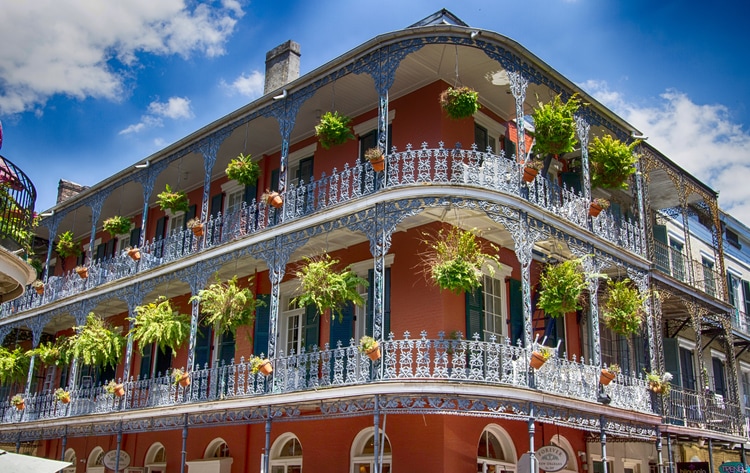 Here at Destination Wedding Details, we've seen it all: weddings at the beach, in the mountains, in the desert, and in pretty much every country. ALL beautiful, mind you… but through our years of observing what exactly makes for a GREAT wedding, we've surmised this: it must be FUN for you and your guests. So, ask yourself this: what city is more fun than New Orleans? Read our full post to discover when, where and how to get married in NOLA.
Featured:

Destination Wedding Invitations in a Bottle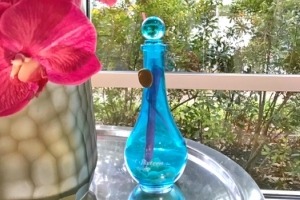 How do you tell your guests they're about to embark on the most magical trip of their lives? With the most unique beach wedding invitations, of course! We got these stunning "Invitations in a Bottle" sent to us in the mail and were blown away! This is probably the most fun way to set the tone and make an impression when you announce your destination wedding.