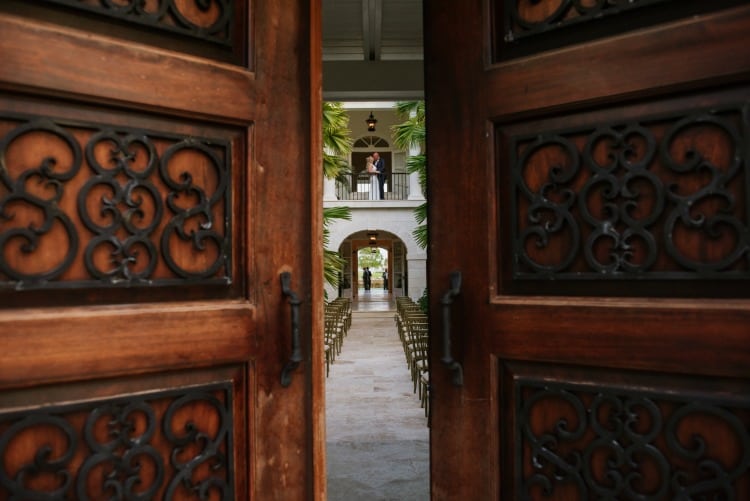 If you are reading this post it's likely you've already chosen the Dominican Republic as your primary wedding destination or are in the process of selecting a place to tie the knot. Maybe you feel a connection with the country and just want to add a taste of its culture to your upcoming event.
The white sandy beaches, turquoise sea, diverse landscapes, well connected airports and abundance of accommodation options make the Dominican Republic an ideal place to get married. Its rich culture, a combination of Spanish and African heritage, will give you the necessary inspiration to make your day unforgettable. We may be biased, but it is just because we know Punta Cana inside out and can easily picture your beautiful wedding with its impeccable backdrop. A good Punta Cana wedding photographer can help you create and capture your romantic memories in a stunning wedding album.
Whether your dream is to plan an authentic Dominican wedding or just spice things up a little with a few Dominican wedding traditions, here are a few customs for you to consider.
Dominican Wedding Traditions
Arras
A symbolic ritual for the bride and the groom where they show their willingness to provide for each other and to share everything they have. A young attendant, usually a little boy, passes a tray with 13 coins to the priest. Then the priest blesses the coins and gives it to the groom and he in turn presents it to the bride.
A Small Bridal Party
Dominican wedding parties are usually pretty small. Sometimes it consists of a flower girl, a ring bearer, the "coin boy" from the Arras ceremony, a bible carrier for the religious nuptial and the godparents (padrinos/madrinas). The godparents are the witnesses and are normally the bride's father and the groom's mother. Keeping it so small is very convenient. Since you've chosen a destination wedding, your guest list may be shorter than you'd like. If so, don't let it get you down, but rather think of it as a Dominican wedding tradition. Also, since having witnesses is a requirement to get officially married in the Dominican Republic, the tradition of "padrinos/madrinas" comes in handy.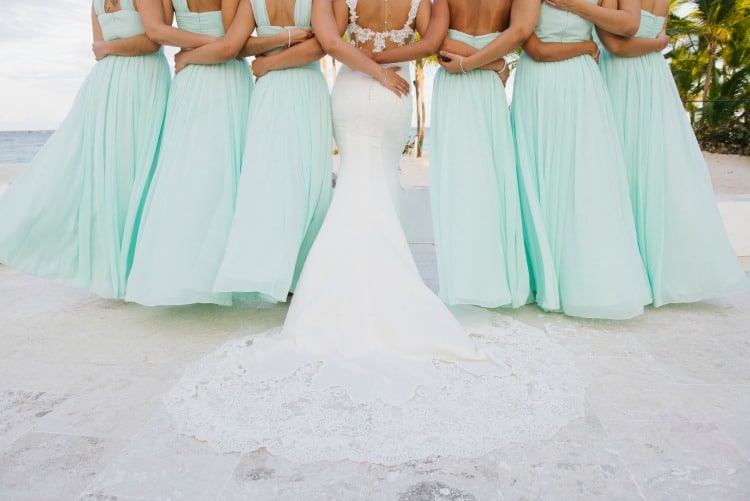 A Relaxed Approach
Unlike in other cultures in the Dominican Republic it is ok for the bride and the groom to see each other before the ceremony. Following this tradition can save you time by having the photo session before the ceremony. The church is not divided into the groom's and the bride's sides – your guests can sit wherever they want.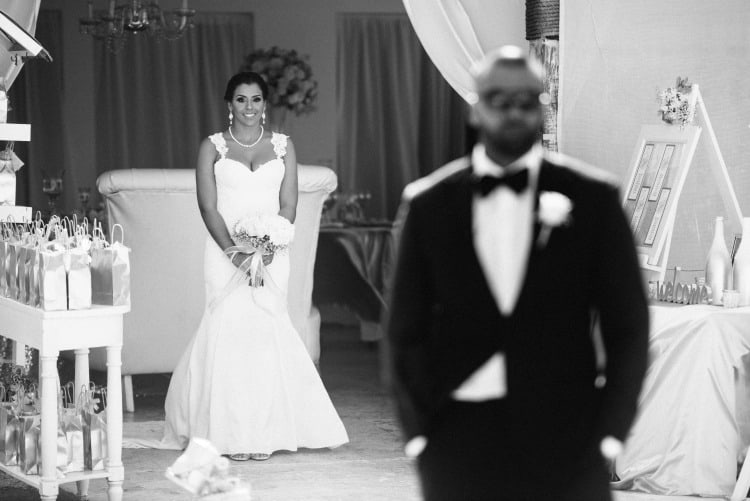 The Religious Way
If this is the approach you opt for, you may like to offer a bouquet to the Virgin of La Altagracia. The Virgin of La Altagracia is the patron saint of the island who has protected it since the 16th century – she is the most important saint for Dominicans. Just be sure to let the priest know about your intentions beforehand so that they are able to allocate time for the ritual when you would present the flowers to her image.
Cantada Ceremony
Perhaps, this is the most fascinating tradition. The guests sing throughout the wedding instead of relying on background music or a band. If you and your guests are fans of karaoke you are guaranteed to create a lot of amusing memories together.
Merengue
No merengue, no Dominican wedding! It is that simple. You cannot ignore the official dance of the Dominican Republic and you wouldn't want to because it is really fun.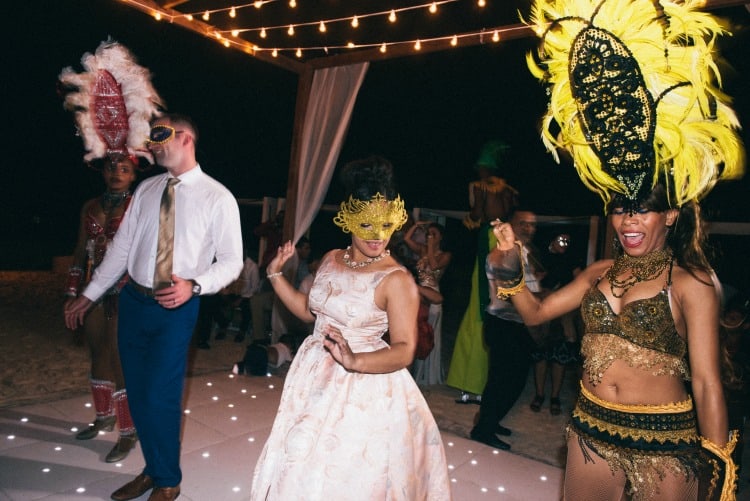 Local Flavors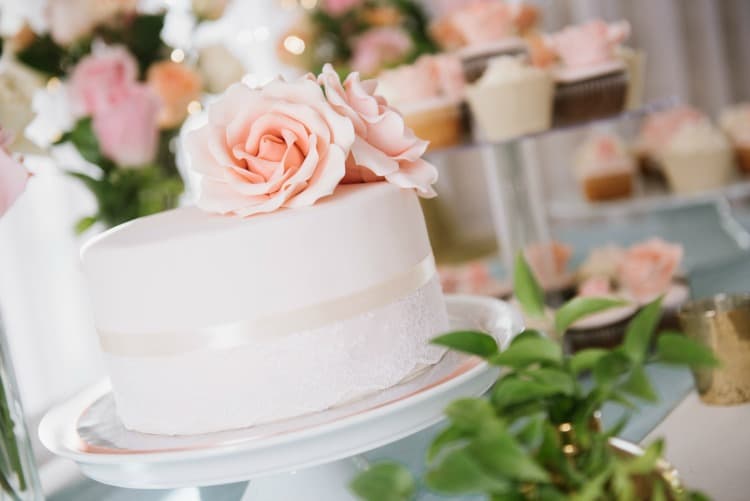 Mini desserts are very popular and you can find them in any little sweet shop in the Dominican Republic. Traditional sweets include dulce de leche, dulce de coco, tropical fruits in syrup etc.
Pasteles en hoja are similar to Mexican tamales, but vary in ingredients
And here comes the king of all dishes from the Caribbean – El arroz con habichuela (rice with beans).
Interesting facts:
The guests don't wait outside the church for the marrying couple. After the ceremony they proceed directly to the reception.
The invitees don't carry their gifts to the reception, they take the goodies to the bride's house before the wedding day.
Featured:

Unique Poolside Bachelorette Party Inspiration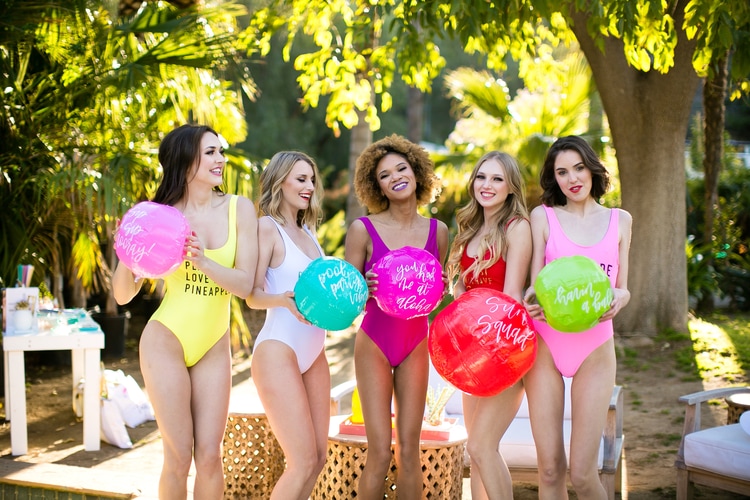 This unique tropical poolside bachelorette party is #GOALS! The décor was tropical, colorful and fun – bringing a cheery vibe that set the tone for a flawless and relaxed day. There were tons of personalized details –from sunscreen and chapstick, to soda and champagne, sun hats and fans, magazines, personalized tumblers, and even a wet bikini bag to hold their suit while they slipped into some adorable "Bride's Beaches" cover-ups. Of course, what's a good party without some fun games? Tons of fun ideas in this post. Read more
Featured:

New Orleans Destination Weddings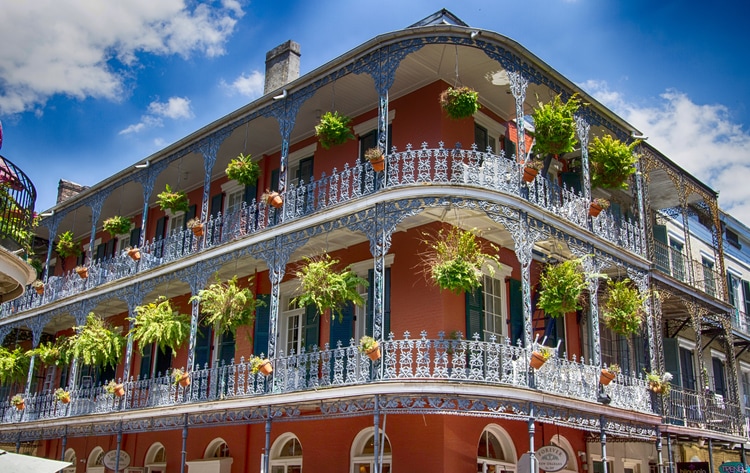 Here at Destination Wedding Details, we've seen it all: weddings at the beach, in the mountains, in the desert, and in pretty much every country. ALL beautiful, mind you… but through our years of observing what exactly makes for a GREAT wedding, we've surmised this: it must be FUN for you and your guests. So, ask yourself this: what city is more fun than New Orleans? Read our full post to discover when, where and how to get married in NOLA.
Megan Wilson combines her skills and professional background to bring higher-level perspective into her work. Currently, she is sharing her experience and vision on the hot topics from the world of photography.