All Inclusive Destination Weddings are extremely popular these days. But like everything else, they're not cut out for everyone. In this post I'm going to talk about the pros and cons of all inclusive destination weddings. I'll tell you about all the questions you need to ask before you book your wedding date. And finally, I'll share a list of some of the best all-inclusive resorts out there.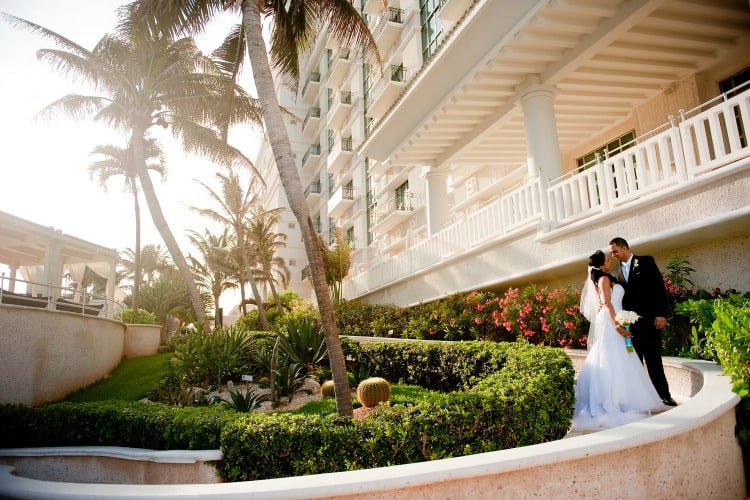 Advantages of All Inclusive Destination Weddings
This is a great option if you're looking for a fuss-free destination wedding where everything is handled for you. Most resorts have an on-site planner who will take care of every detail so that you can just relax and enjoy your big day.
All-Inclusive means that everything is included in your package -room rate, food, drinks, tips, taxes, and a basic ceremony (sometimes a small reception too). You can pretty much just pack away your wallet because you won't have to shell out a dime during your stay.
Most all-inclusive resorts have pre-set destination wedding packages so you can just choose the one you want and their planner will take care of the rest.
Some even offer free all-inclusive destination wedding packages if you book a minimum number of nights in a premium room category, or guarantee a certain number of guests will book rooms.
So far, so great, right?
You might have read up until this point and thought to yourself, "this sounds perfect for me, say no more!" But keep in mind that depending on your budget, expectations, and personality, all inclusive destination weddings might not be the best fit for you.
Disadvantages of All Inclusive Destination Weddings
Because all inclusive destination weddings are so popular and easy to book, there are usually other weddings booked on the same day and even at the same time of yours. This is a huge no-no for some couples. Especially if you're the type of person who wants personalized attention on your big day.
With other weddings taking place on the same day, you could be treated like just another number instead of getting the personalized attention you rightfully deserve.
You might not even have a private ceremony because they're usually held among other resort guests who will love to invite themselves to look on as you exchange vows.
Another thing to keep in mind?
All Inclusive destination weddings often include photography, flowers, cake and other items in their package. This could be fantastic if you don't want to be bothered and want it to be as fuss free as possible.
But brides sometimes find that the resort's vendors are sub-par or don't offer the services you've always dreamed. So if you want to bring a fabulous outside photographer, some all inclusive resorts either won't allow it or will charge you an additional fee.
An all-inclusive resort might also not be a good fit for you, if you're a foodie who loves to explore different local restaurants. It won't make sense to pay for the resort's food and drinks, if you're going to be out and about dining and drinking at outside restaurants.
Contrary to popular belief, there are instances where you might actually save money by staying at a resort where you pay for everything a la carte.
This brings me to my next point…
Some of your guests might get sticker shock when they see the rates, and think that an all-inclusive is out of their budget (even though it could actually be cheaper if they always eat/drink inside the resort). If they feel this way, they might choose to stay elsewhere. But when booking all inclusive destination weddings, resorts will often charge you a hefty guest pass fee for those not staying on site. And this can add up to big bucks.
Which type of resort you choose is a matter of preference. All inclusive destination weddings are awesome and the only option for many couples, so if you've decided this is how you want to tie the knot, your next question might be…
What are the best resorts for all inclusive destination weddings?
Popular Resorts for All Inclusive Destinations Weddings
Here's a list of some of the most popular resorts with awesome beach wedding packages.
Sandals
Beaches
Dreams
Riu
Palace Resorts
Royal Resorts
Excellence Resorts
Check out our destination wedding vendor directory to find awesome all inclusive resorts.
If you want to plan a destination wedding at an all-inclusive resort in Mexico, check out this post for a really great list of all inclusive resorts in the Riviera Maya and Cancun area.

Questions you should ask before you book an all inclusive destination wedding package
Do they have an on-site wedding planner/coordinator and do they assist with legalities, documents and other marriage requirements?
What are the times and locations available for your ceremony? Can they send you photos of the layout for each location?
How many people can each ceremony/reception location accommodate?
Is the ceremony in a private area?
How many ceremonies do they book each day and how far apart are they (time & distance)?
What types of packages do they offer? Are the packages pre-set or can you make substitutions or choose elements individually (food, decoration, drinks etc.)?
Can you bring outside vendors and if so, is there a fee?
Is there a fee for guests staying off-site?
Do they have pictures of real weddings they''ve planned?
How much deposit do they require and when is the balance due?
Is it an adults-only or family friendly property?
What type of liquor is included in the package (house brands or premium)?
How many rooms does the property have?
Can you reserve a block of rooms at a group discount?
What is the total room rate per night including taxes?
What''s the cancellation policy?
How far is the airport and do they offer transfers/transportation?
Do they anticipate any construction or renovations during the dates you plan to stay there?
If the resort has sister properties, will you have access to the restaurants, pools and bars at the other properties?
All Inclusive destination weddings can be beautiful, fuss-free and memorable if planned right and you know what to expect.
Check out my post on different types of destination wedding venue options and the pros/cons of each.
Featured:

All Inclusive Site Visits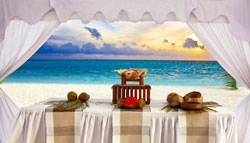 Do you want to visit the best all inclusive resorts and see for yourself what their destination wedding packages are all about? Find out how you can visit some of the top venues with the guidance of an expert destination wedding planner – before you book the date! Click here to read more…
Featured:

Unique Poolside Bachelorette Party Inspiration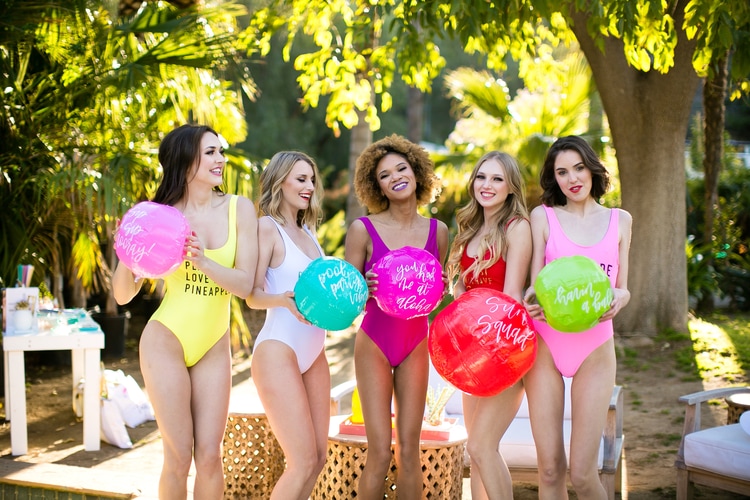 This unique tropical poolside bachelorette party is #GOALS! The décor was tropical, colorful and fun – bringing a cheery vibe that set the tone for a flawless and relaxed day. There were tons of personalized details –from sunscreen and chapstick, to soda and champagne, sun hats and fans, magazines, personalized tumblers, and even a wet bikini bag to hold their suit while they slipped into some adorable "Bride's Beaches" cover-ups. Of course, what's a good party without some fun games? Tons of fun ideas in this post. Read more
Featured:

New Orleans Destination Weddings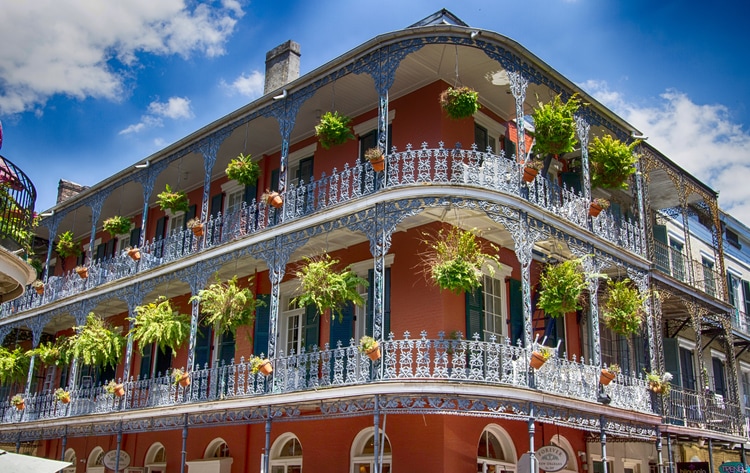 Here at Destination Wedding Details, we've seen it all: weddings at the beach, in the mountains, in the desert, and in pretty much every country. ALL beautiful, mind you… but through our years of observing what exactly makes for a GREAT wedding, we've surmised this: it must be FUN for you and your guests. So, ask yourself this: what city is more fun than New Orleans? Read our full post to discover when, where and how to get married in NOLA.
Cynthia is the founder and editor of Destination Wedding Details.She has over 15 years experience in the Marketing and Event industry and launched Destination Wedding Details in 2010, shortly after planning her own destination wedding. Cynthia uses her experience and genuine passion, to inspire brides who are planning their dream wedding away from home.