What a breath of fresh air! Today's featured styled wedding goes to show that Hawaii is the boss of all bosses when it comes to destination weddings. Yes, Hawaiian beaches are some of the world's very BEST – but Hawaii is so much more than that! When I asked Tara Morenfeld from Sky Reef Photography about the inspiration behind this shoot, she said: "The idea was this is 'not your mama's tropical Hawaii wedding'. The theme was modern Hawaii garden wedding. We wanted to focus on a fun, young, minimalist style with a splash of local artistry." And boy did they nail it! Keep reading to learn more about what Tara had to say about all the spectacular details and the talented vendors who helped bring this tropical garden fairytale to life!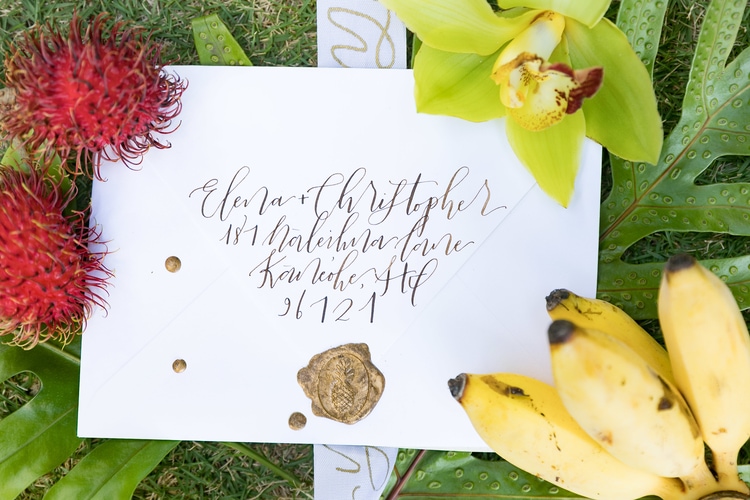 The calligraphy was one of my favorite details of the shoot. Sarah from The Simple Flourish has such beautiful and creative style. I just love the writing on the leaves and ribbons.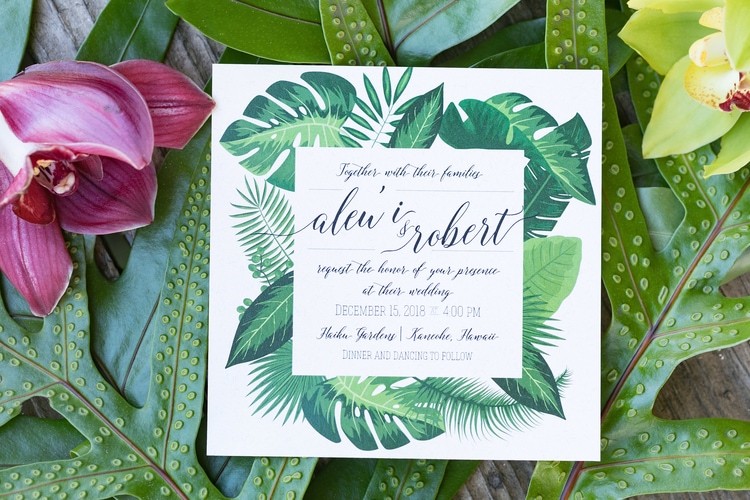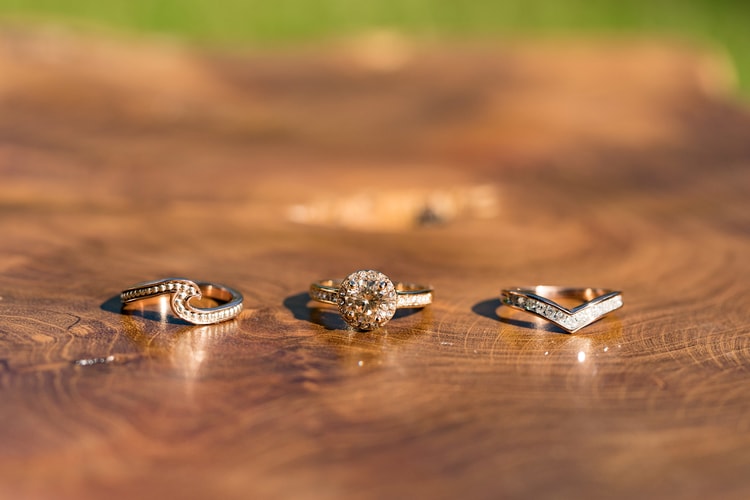 The dress is always my favorite part of the wedding and this gown was perfect. The gown was custom made by Miyuki Liem Bridal.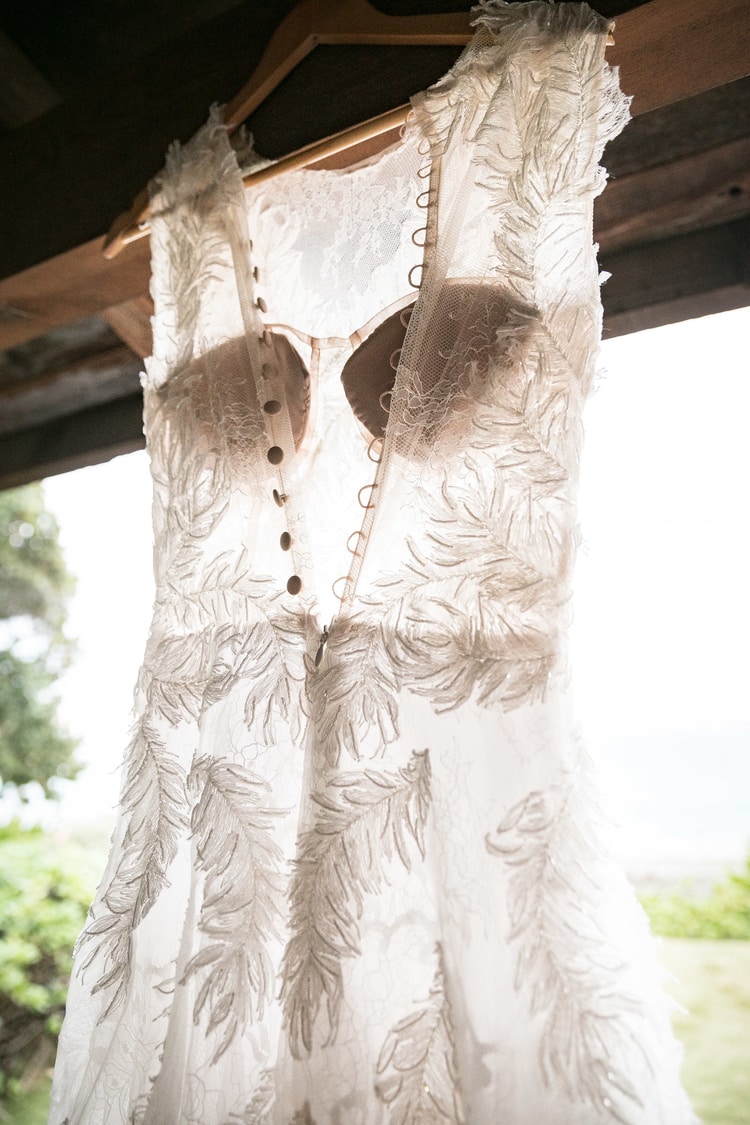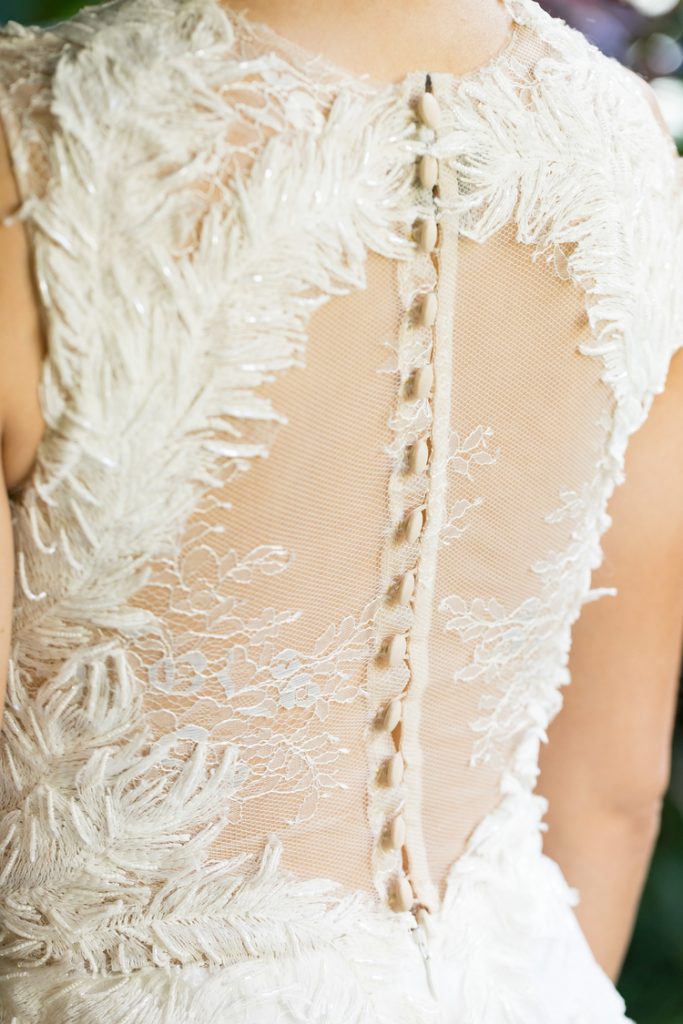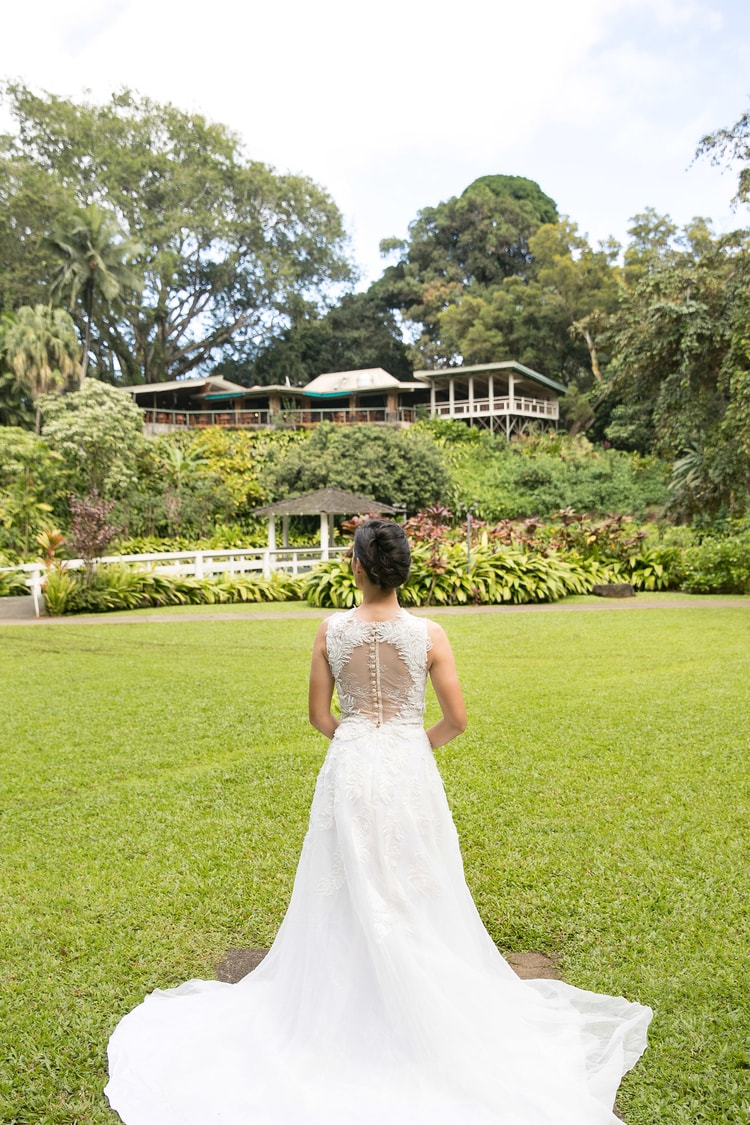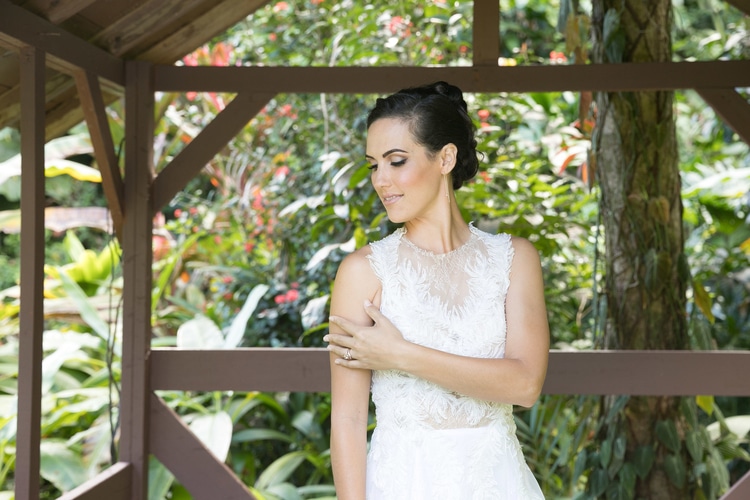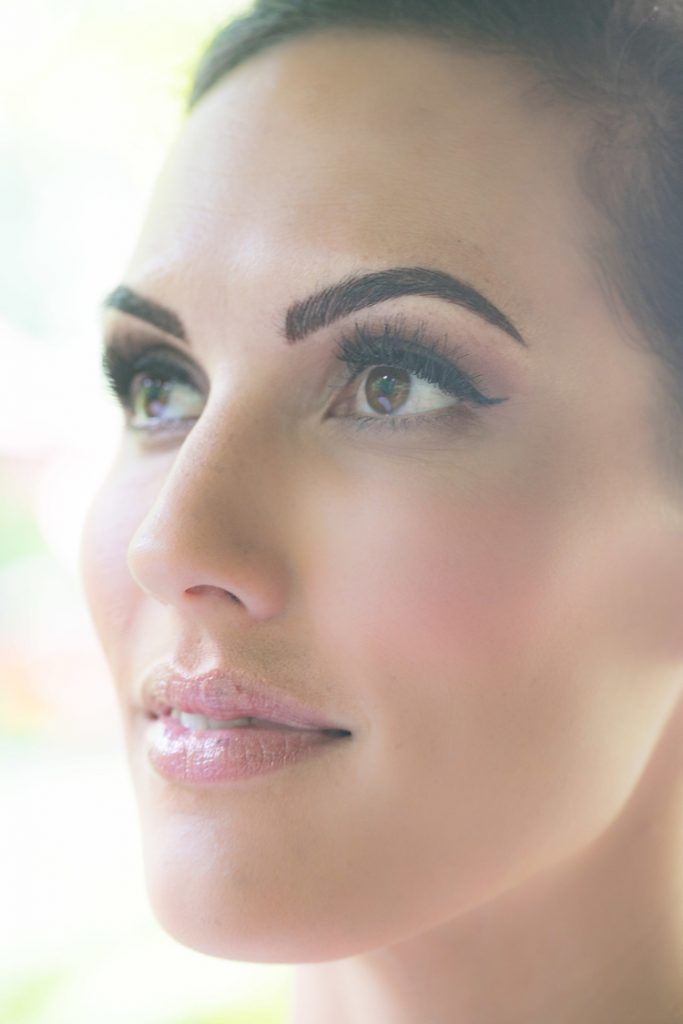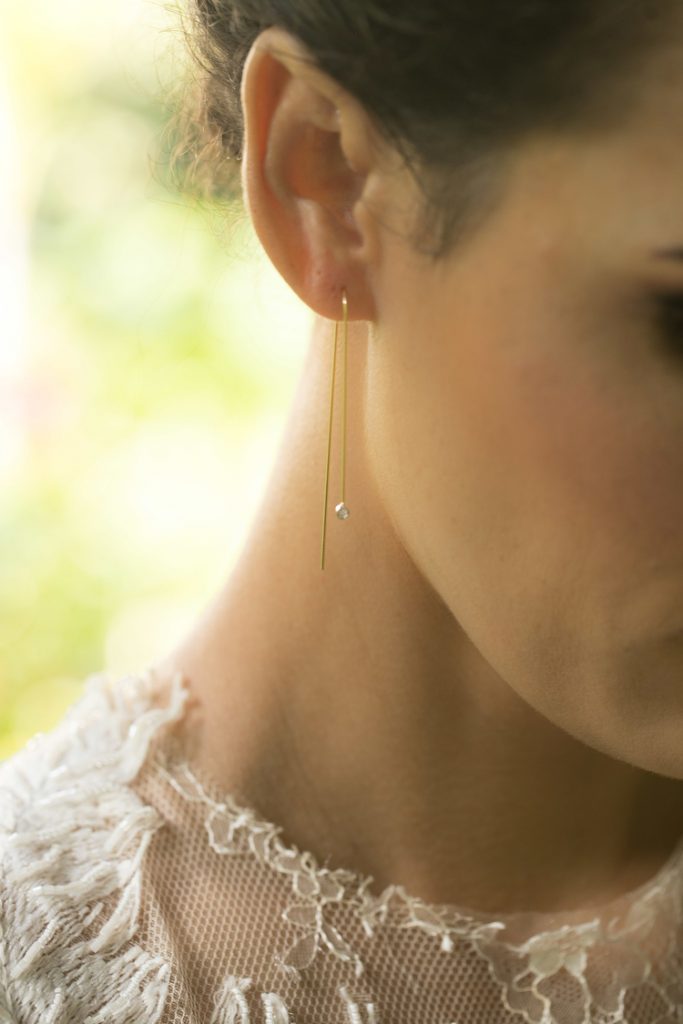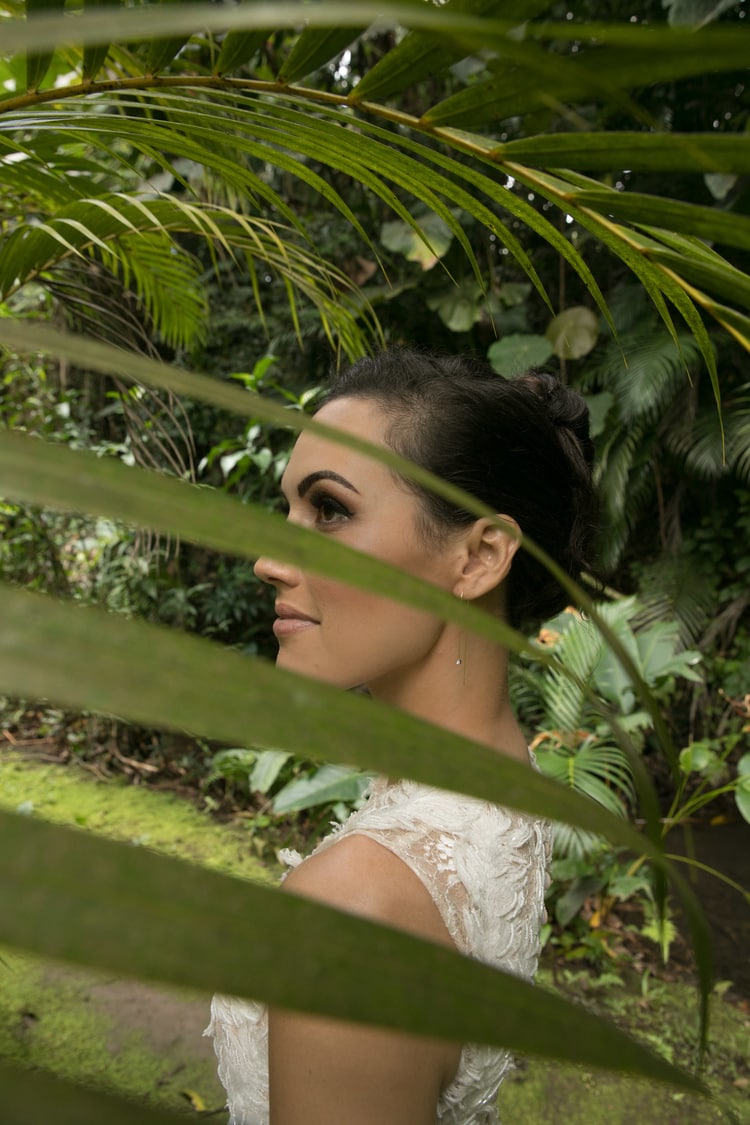 Vanessa, the event planner also created the flower bouquet and the hanging flower's in the arch. She focused on greenery and leaves. The great thing about using leaves in your wedding is that leaves hold up very well in the humidity and are very cost effective. This bouquet and floral arrangement is a great idea for brides who want to save money on florals.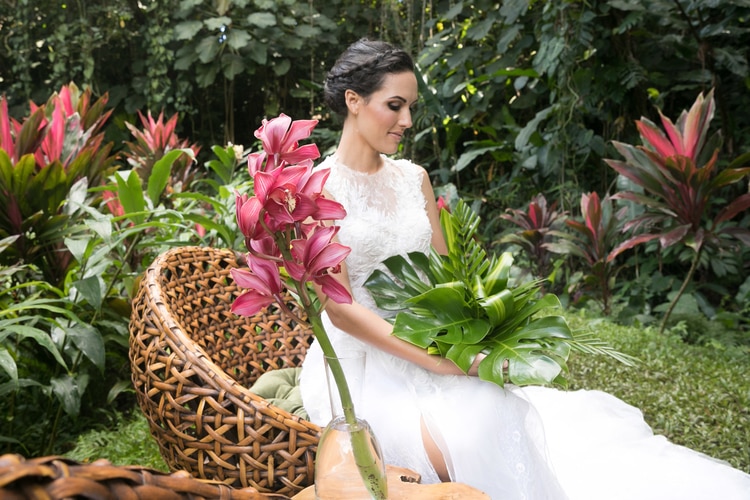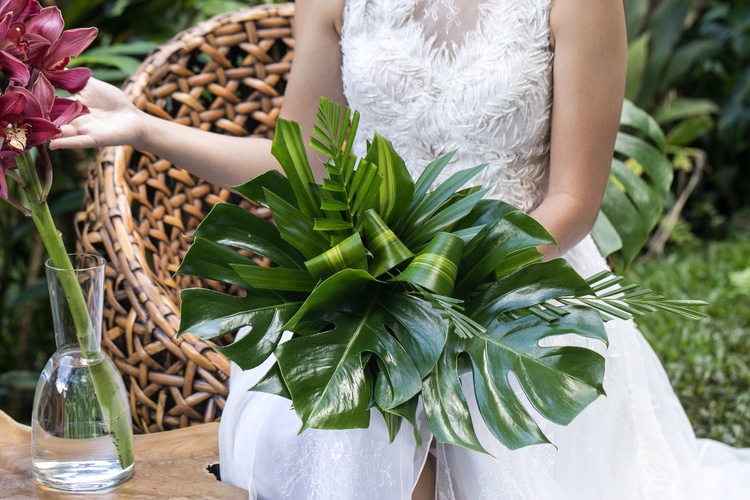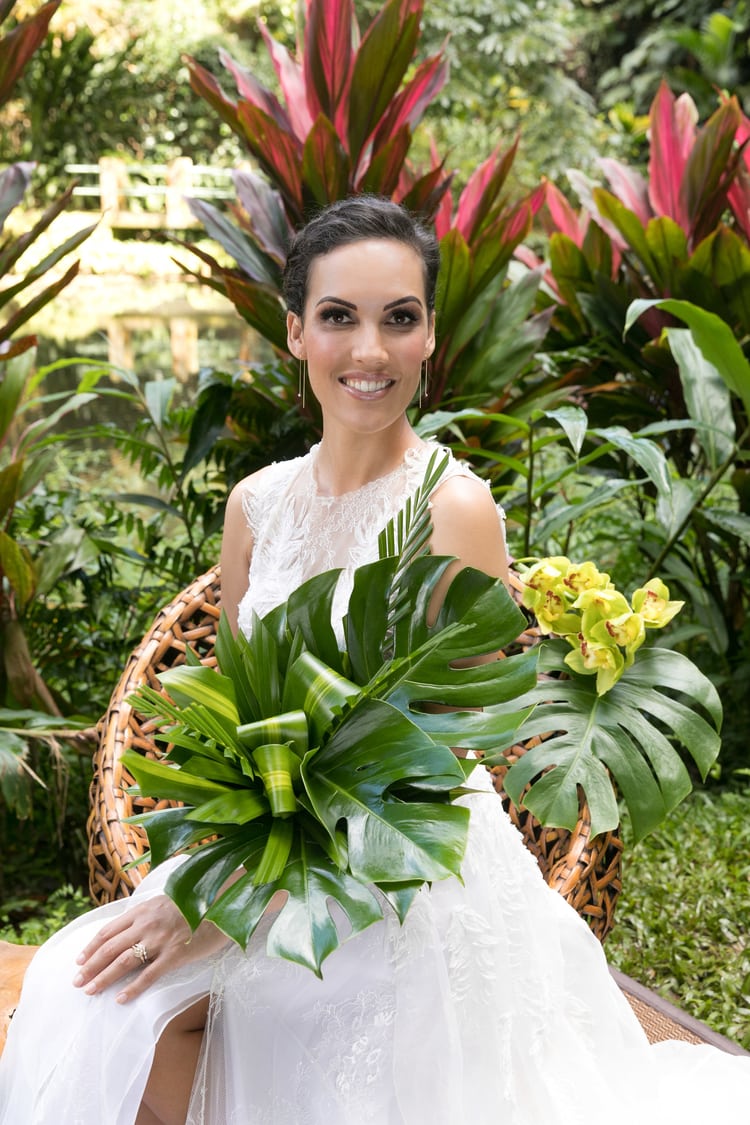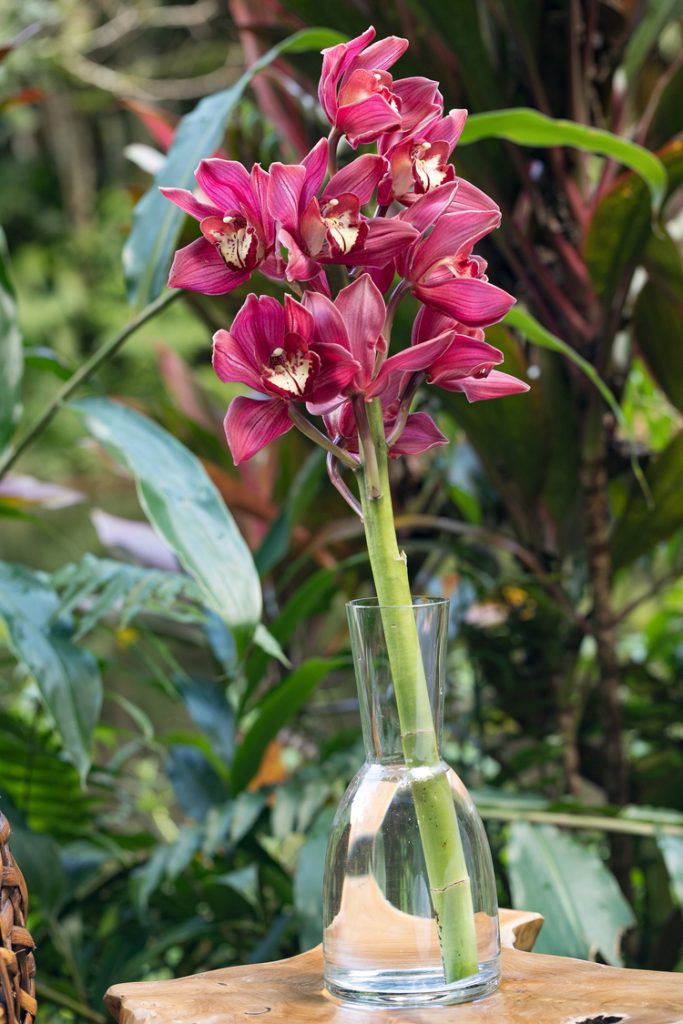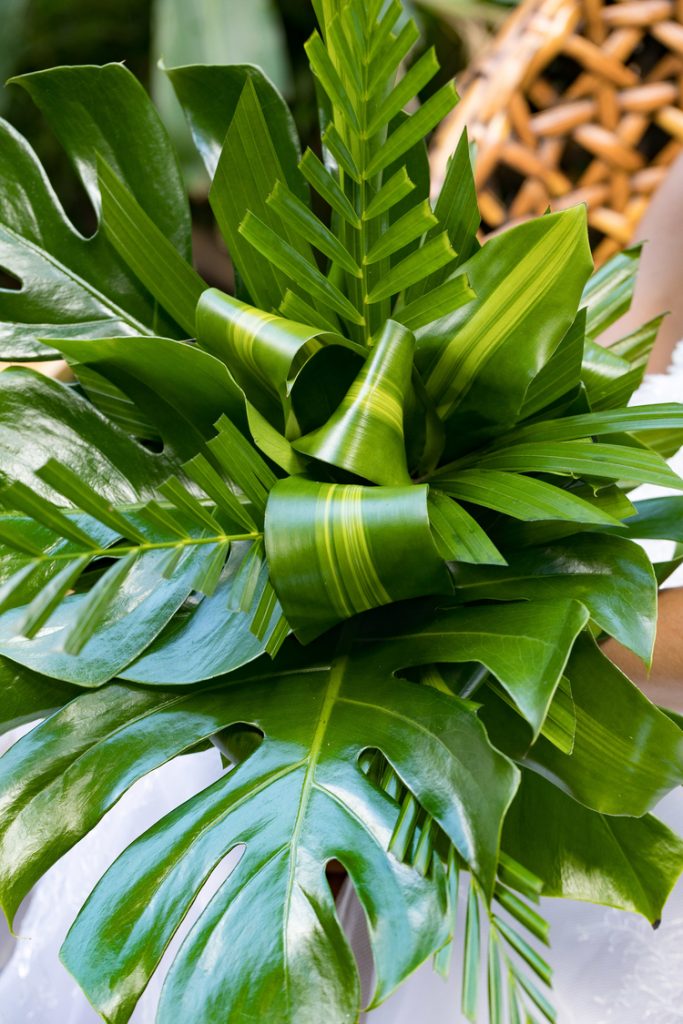 The garden atmosphere at Haiku Garden is magical and is such a hidden gem in Oahu for locals and destination brides alike. Haiku Gardens is located on the east side of the island in Kanhoe. The venue showcases a breathtaking botanical Garden and a beautiful, open-air Tahitian Chapel. In the center of the venue, there is a gazebo afloat in a pond filled with koi fish. The foliage makes you feel like you are in a tropical jungle and serves as some epic photo spots for both you and your guests. The venue is like a built-in photo booth, every single angle of this place is its good angle.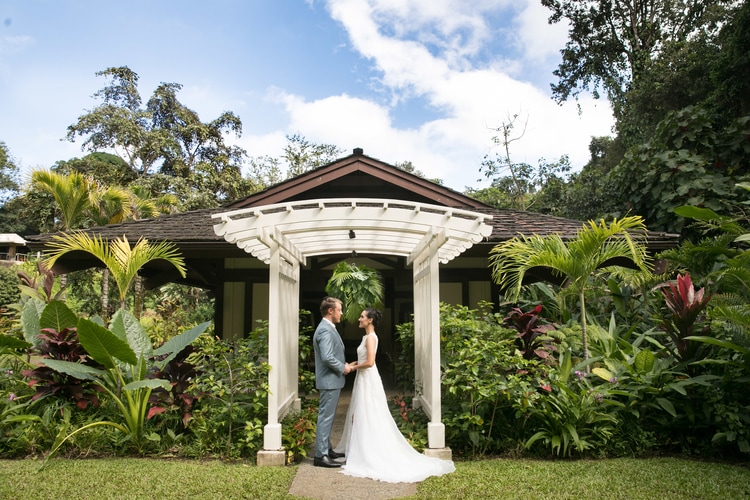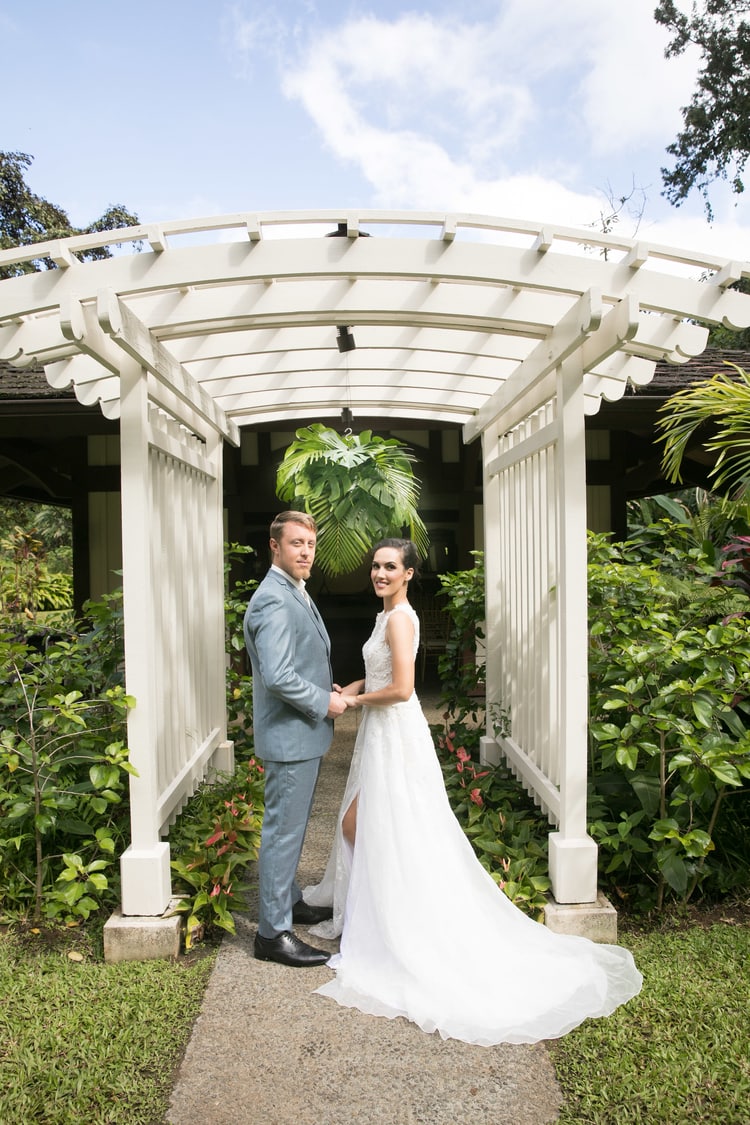 There are three things that really set this shoot apart shave ice toast, eco-friendly confetti by Thimblepress and a Harley Davidson motorcycle.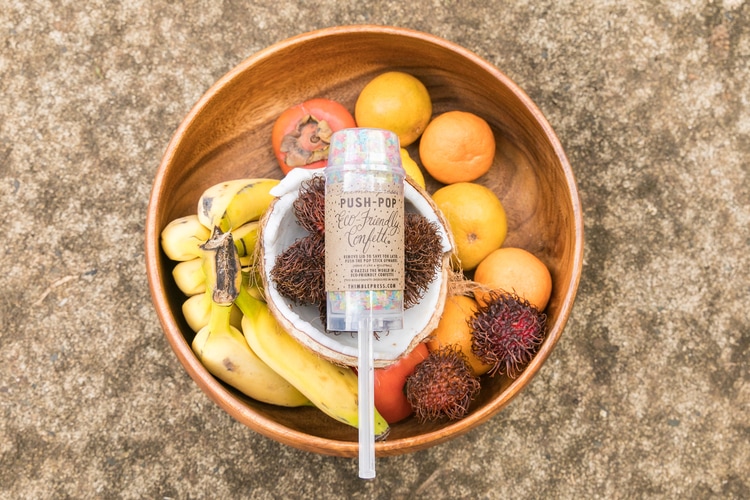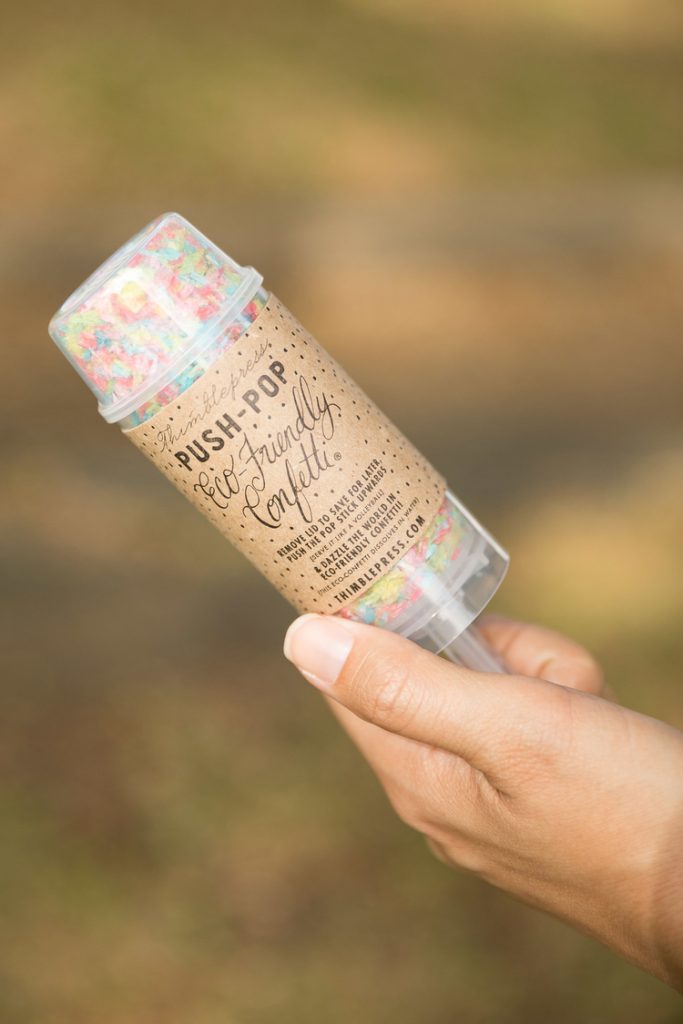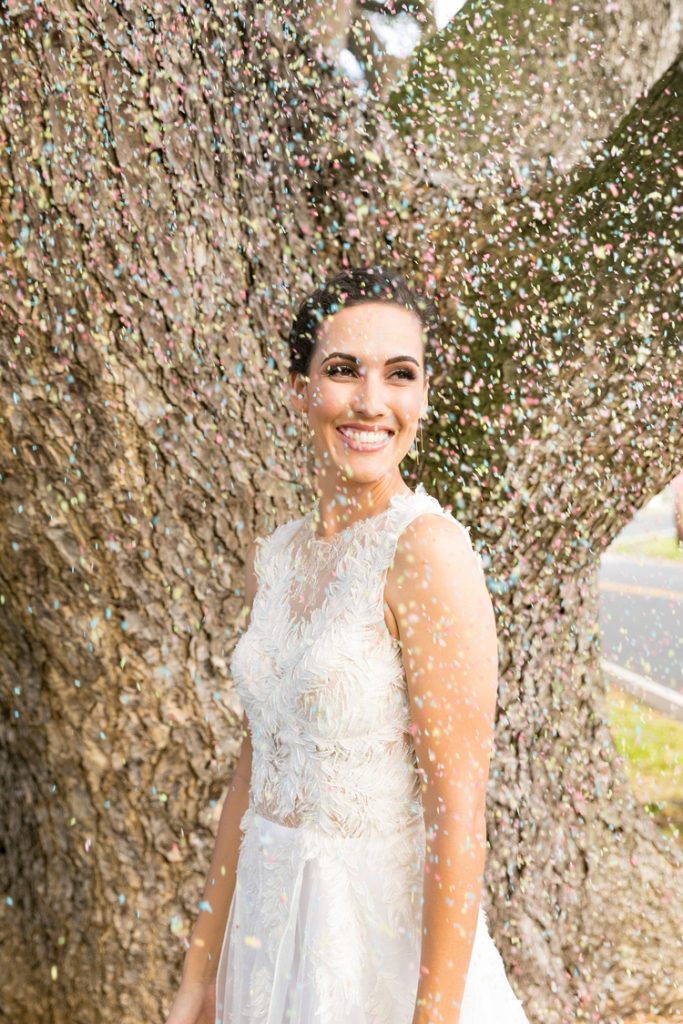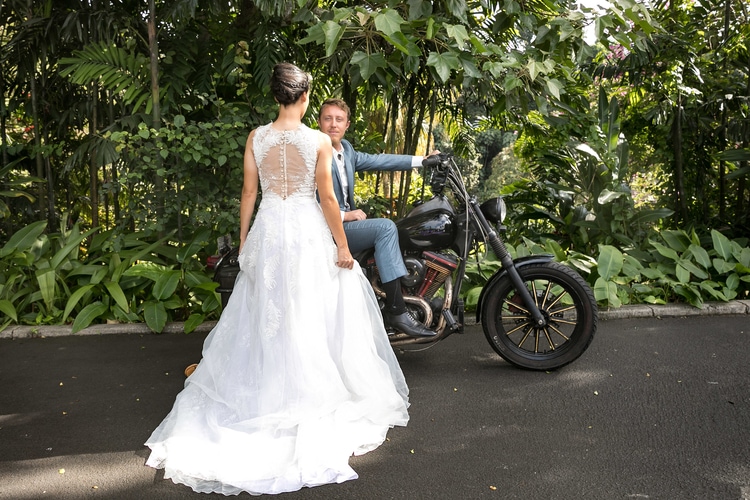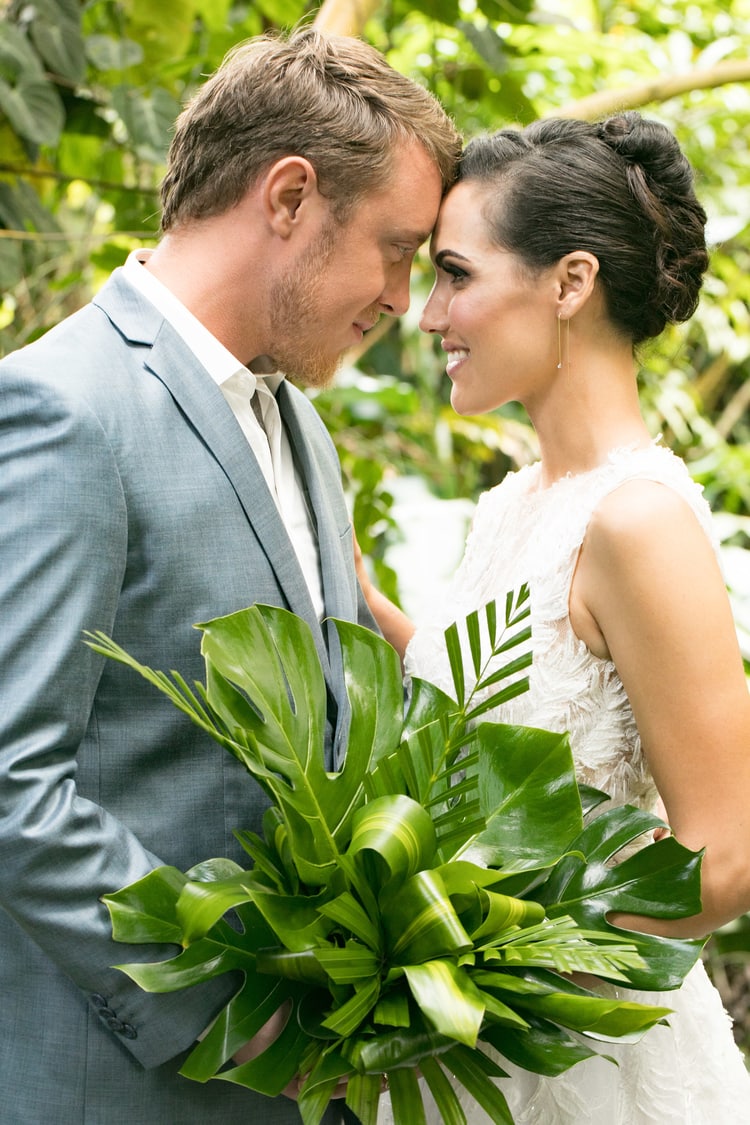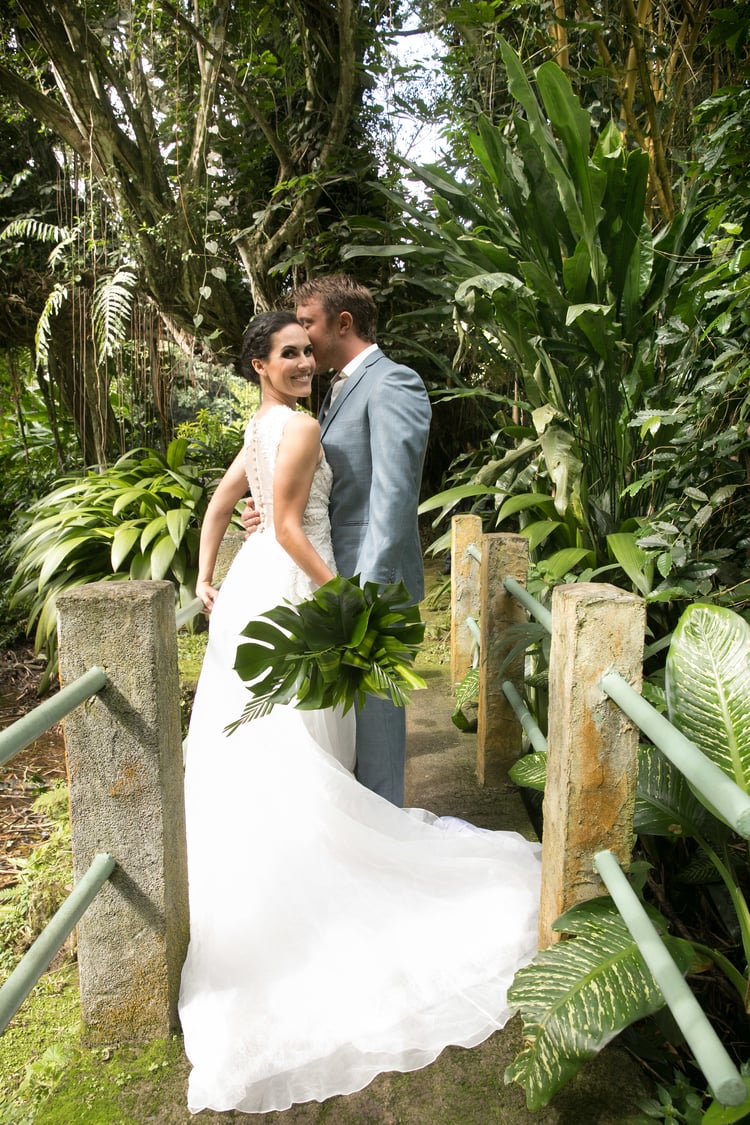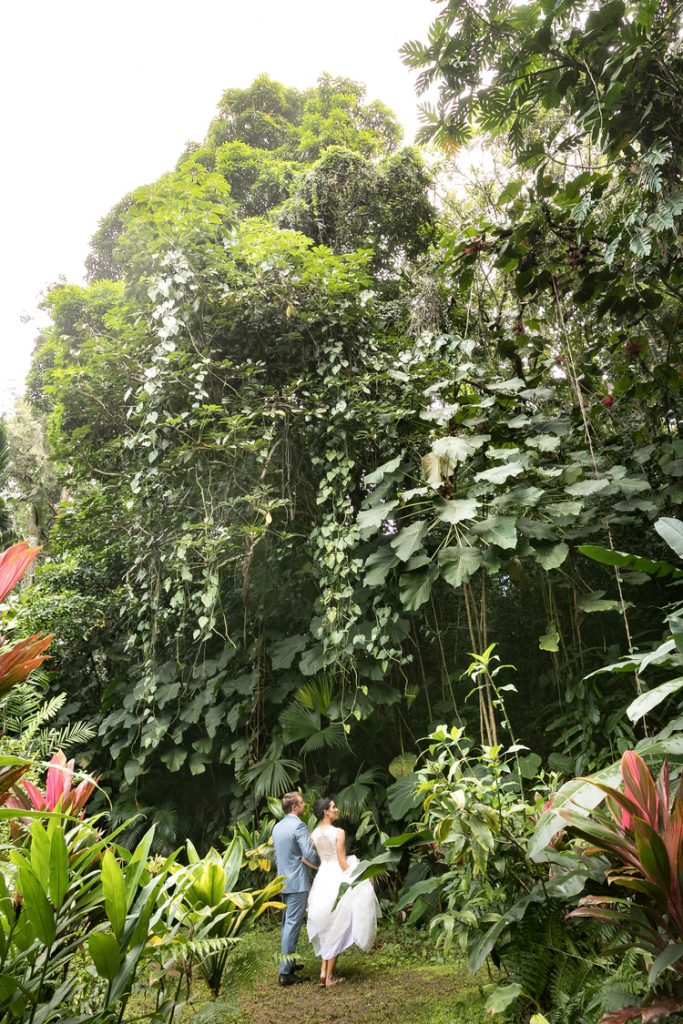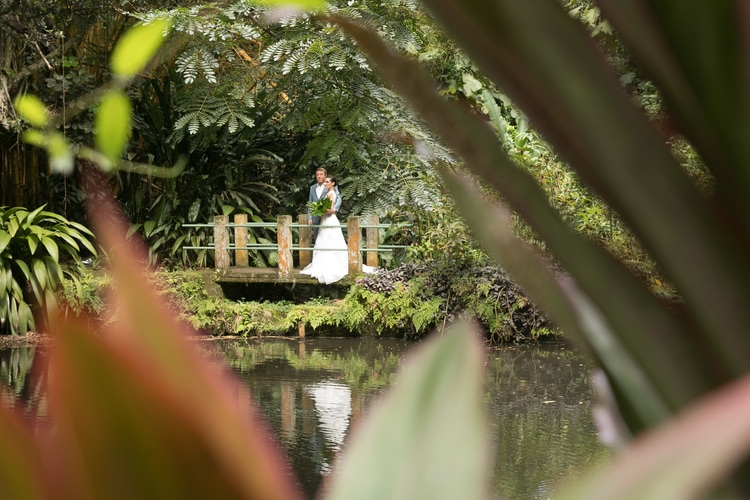 What really set this venue apart from so many others in Hawaii is it is not at the beach and because of this, couples get so many amazing versatile photos of themselves. The ambiance of this place is serene. With all these unique and different backdrops you will never get tired of this venue. It offers so many creative approaches from a photographers perspective. Haiku garden truly delivers Hawaii beauty in this private and secluded garden paradise. At the top of the venue, there is a great restaurant called Haleiwa Joes and I recommend the tuna poke. As you sit at their beautiful wooden tables you can see the mountains and the clouds. This place is perfect if you are looking for a botanical garden with all the amenities.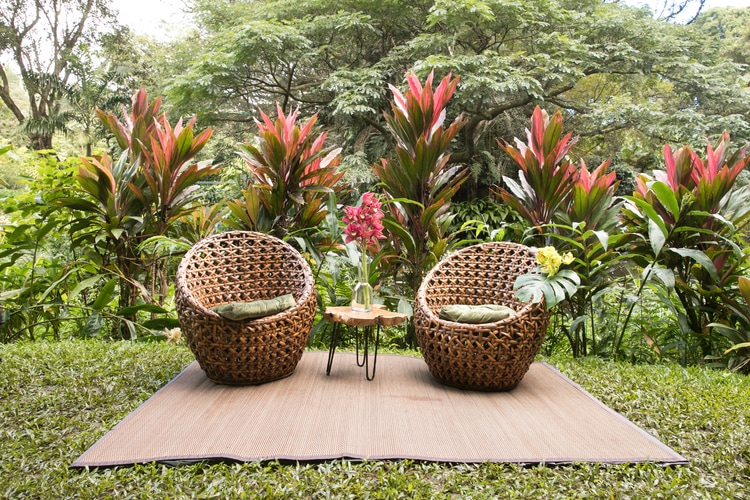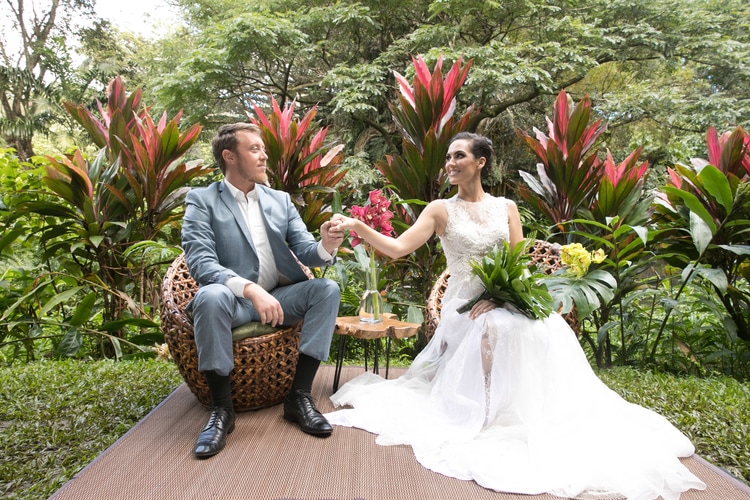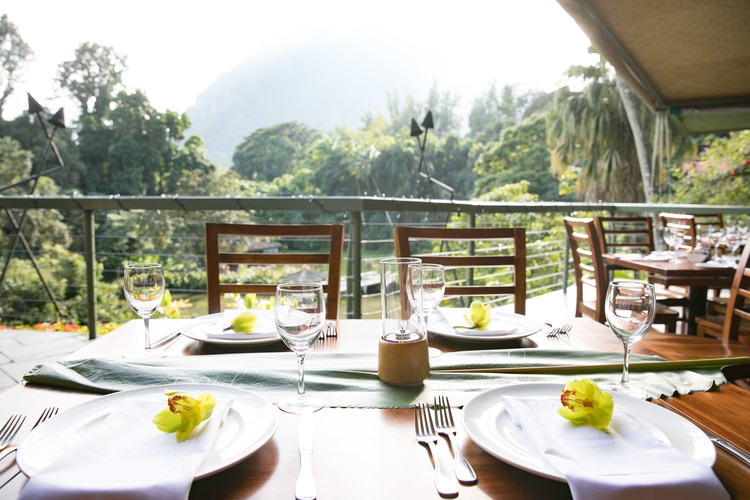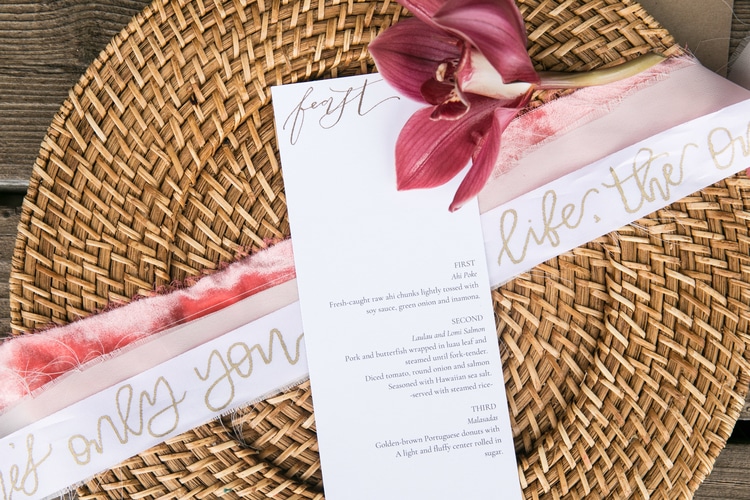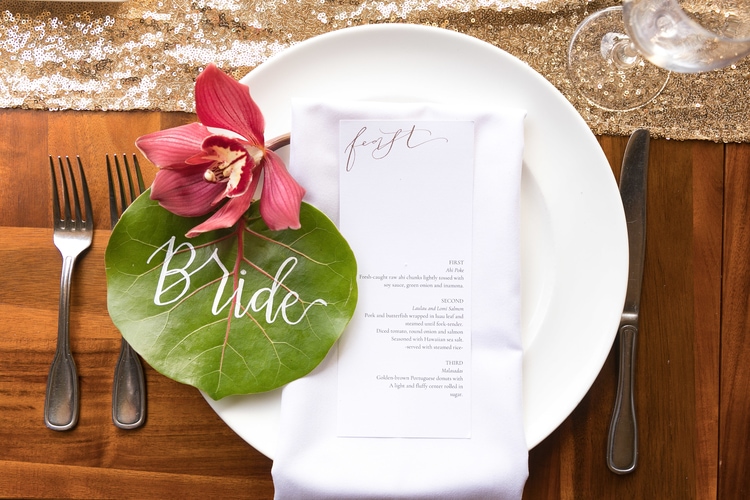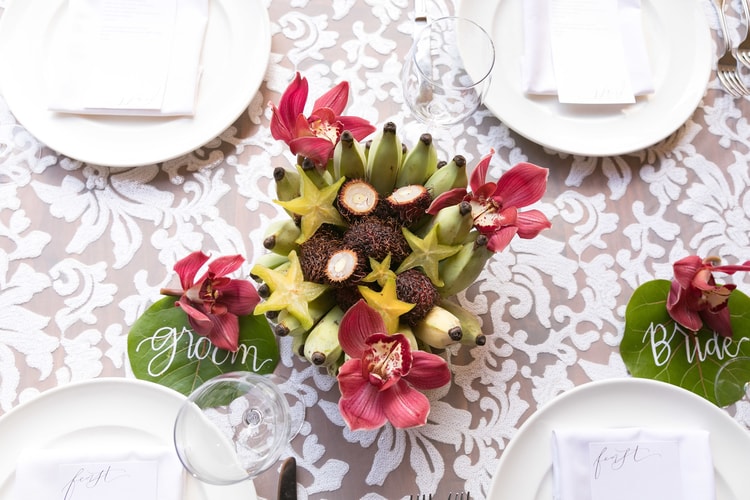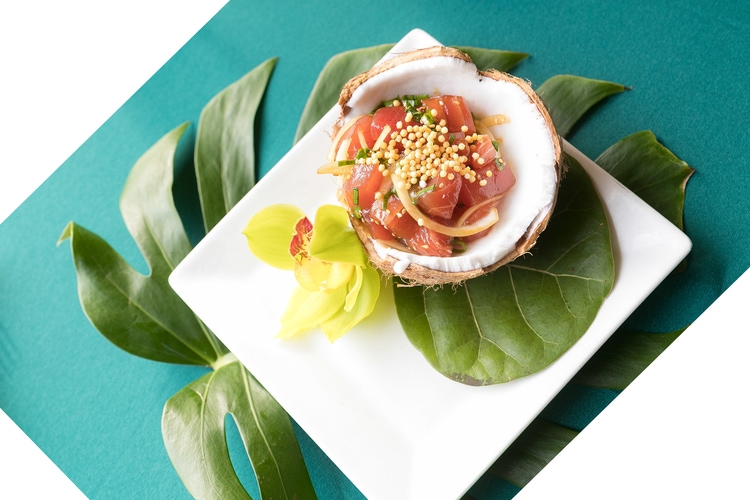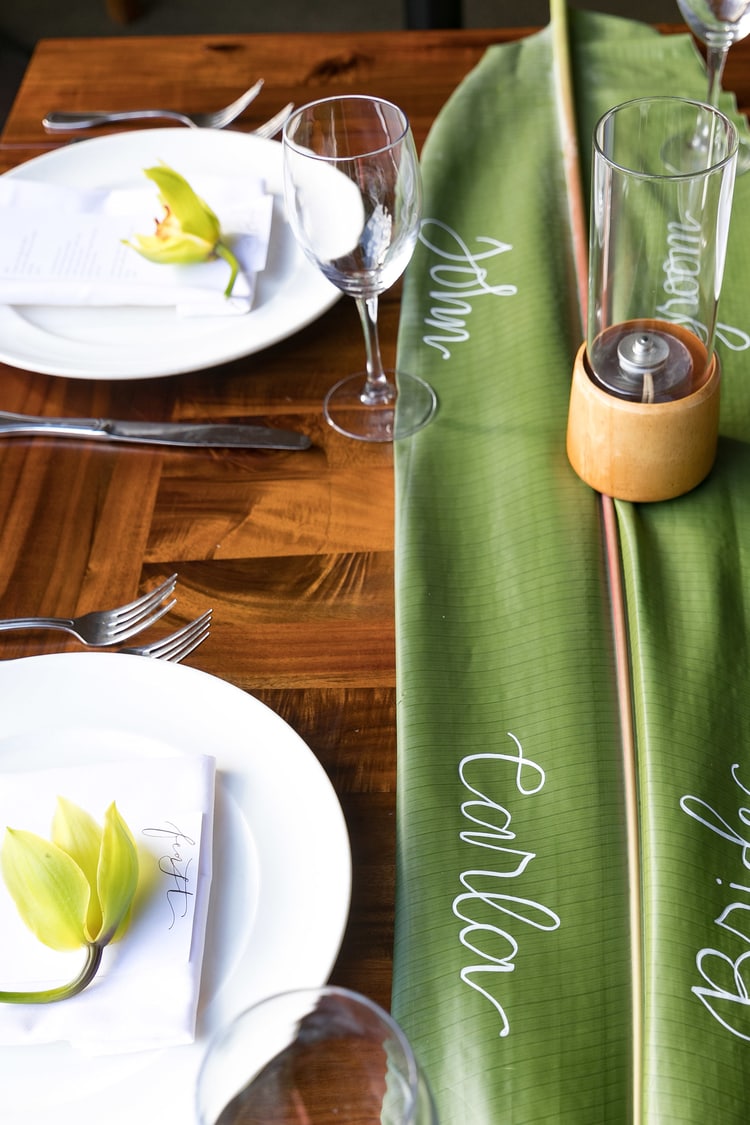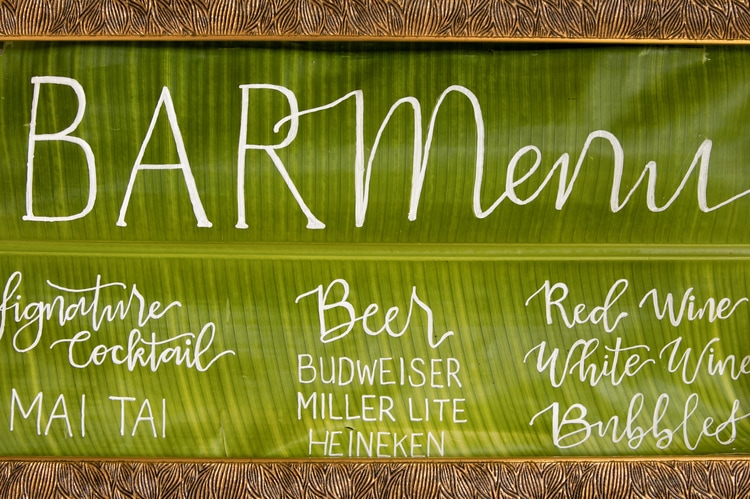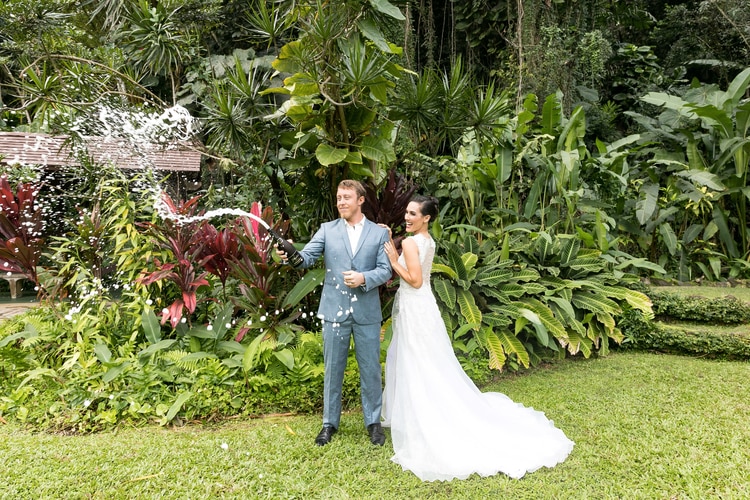 The cake was hand painted by Our Treats Design, to look like watercolor.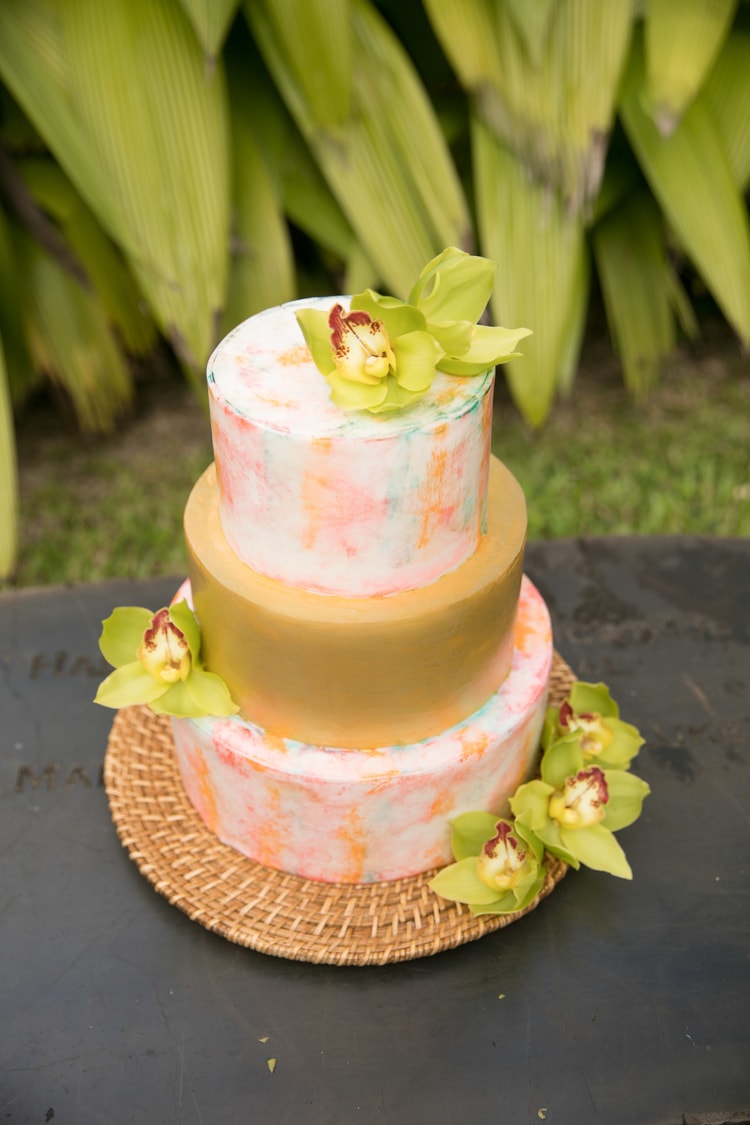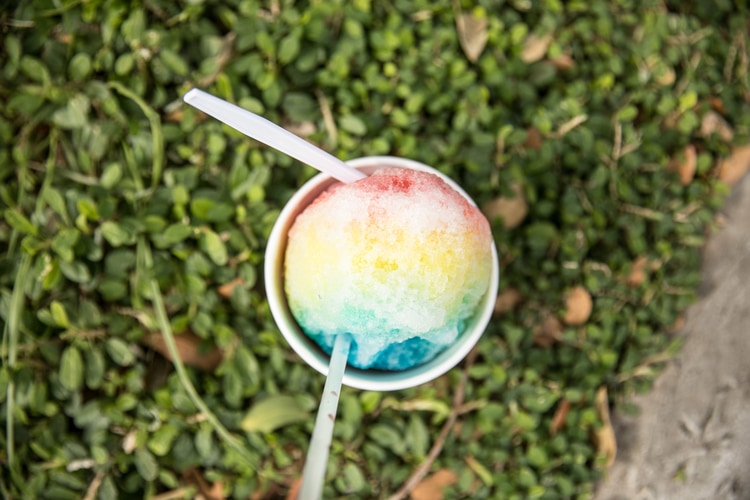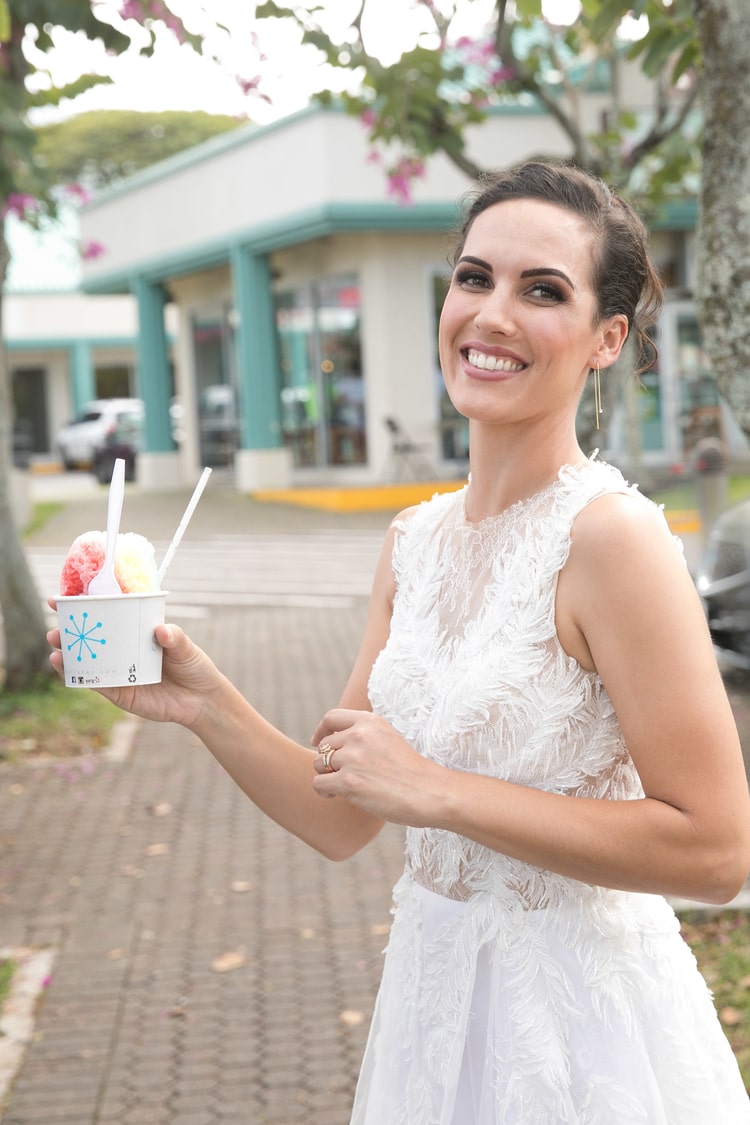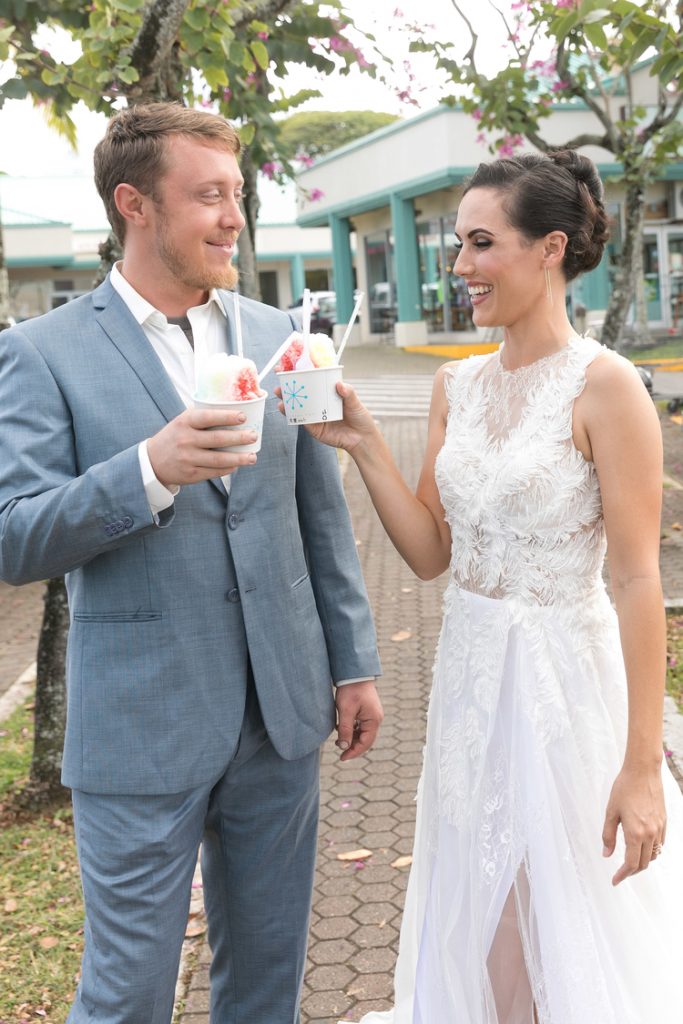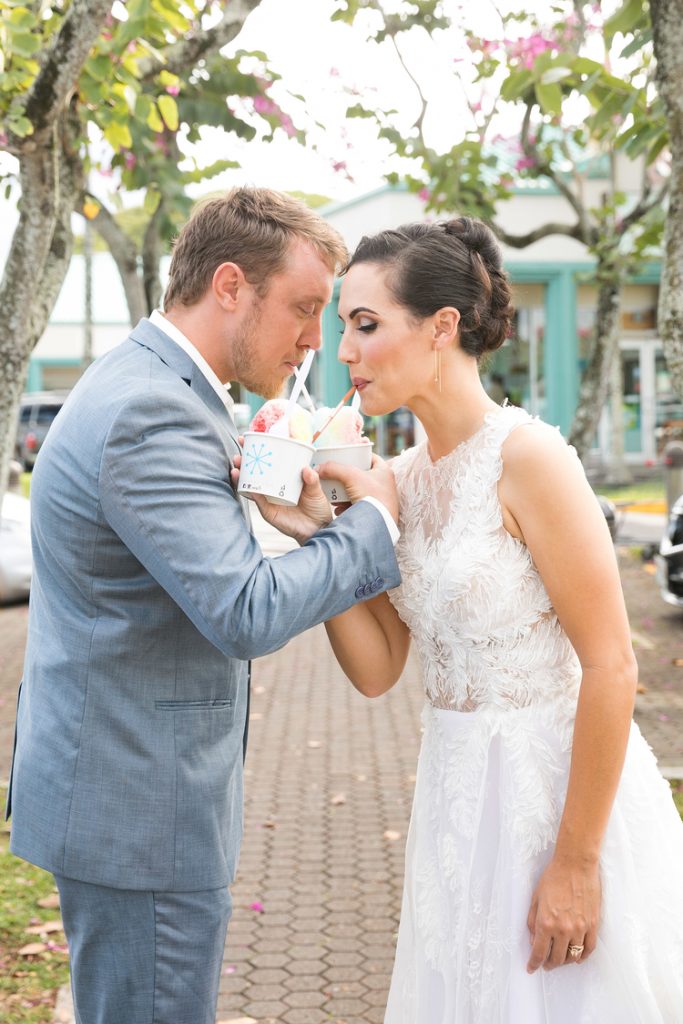 Vendors:
Photographer: Sky & Reef Photography
Venue: Haiku Gardens
Planner + Florist: Vanessa Olsen
Videographer: Blake Abes
Rentals: Ambien Rentals
Cake: Our Treats Design
Dress Shop: White Hot Hawaii
Calligrapher: The Simple Flourish
Jewelry: V Boutique
Makeup & Hair: Sassarella
Confetti: Thimble Press
Stationary: Ink Topiary
Linens: Party Crush Studio
Dress Designer: Miyuki Liem Bridal
Shave Ice Shop: Rainbow Crack Seed
Catering: Haleiwa Joes
Featured:

Unique Poolside Bachelorette Party Inspiration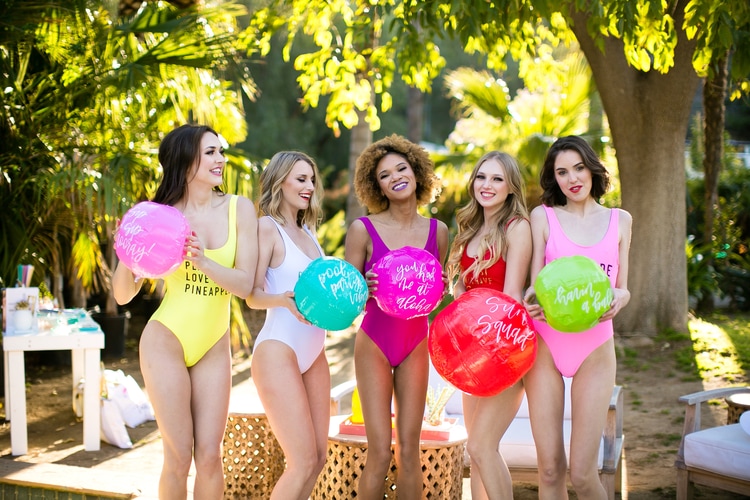 This unique tropical poolside bachelorette party is #GOALS! The décor was tropical, colorful and fun – bringing a cheery vibe that set the tone for a flawless and relaxed day. There were tons of personalized details –from sunscreen and chapstick, to soda and champagne, sun hats and fans, magazines, personalized tumblers, and even a wet bikini bag to hold their suit while they slipped into some adorable "Bride's Beaches" cover-ups. Of course, what's a good party without some fun games? Tons of fun ideas in this post. Read more
Featured:

New Orleans Destination Weddings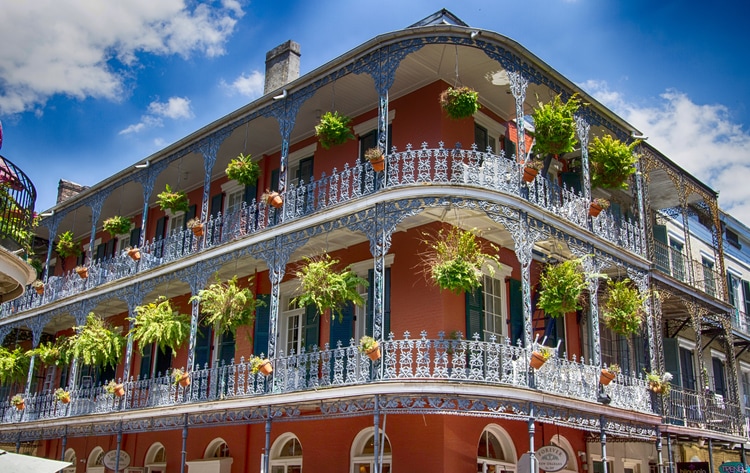 Here at Destination Wedding Details, we've seen it all: weddings at the beach, in the mountains, in the desert, and in pretty much every country. ALL beautiful, mind you… but through our years of observing what exactly makes for a GREAT wedding, we've surmised this: it must be FUN for you and your guests. So, ask yourself this: what city is more fun than New Orleans? Read our full post to discover when, where and how to get married in NOLA.
Cynthia is the founder and editor of Destination Wedding Details.She has over 15 years experience in the Marketing and Event industry and launched Destination Wedding Details in 2010, shortly after planning her own destination wedding. Cynthia uses her experience and genuine passion, to inspire brides who are planning their dream wedding away from home.